Art Buchwald Humor Awards for 2011
by Sachi Sri Kantha, January 11, 2011
Pinochchio Award for longer nose under stress: Professor Rajiva Wijesinha (MP and advisor to President Mahinda Rajapaksa)
Award citation: "The one about excessive civilian casualties is nonsense, the one about attacking hospitals is nonsense, the one about trying to starve the civilians is nonsense." [The Hindu, Chennai, Sept.3, 2011]
January 17th marks the fifth death anniversary of American humorist Art Buchwald (1925-2007). Incidentally, the 3rd anniversary of this Art Buchwald humor awards also is marked for this date.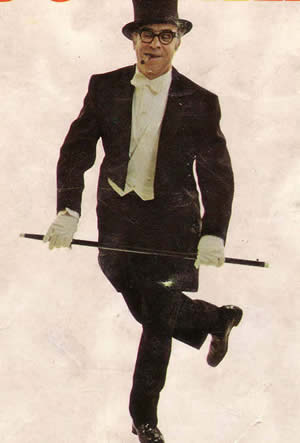 First, I pay tribute to Art Buchwald's memory by honoring 15 news-making South Asians (India, Pakistan, and Sri Lanka), based on their achievements in 2011. Though there had been requests to expand the range (the number and included countries) of these humor awards, to keep the 'dignity' of the persons honored, I have opted to limit the selection as they have been in the past. Please note that award citations presented were mostly derived from the award recipient's own tongue and deed.
Secondly, as appendix, I provide five of Art Buchwald's most enjoyable columns in my collection chronologically arranged, which had appeared in his syndicated sources. These columns are as follows:
'A Degree in Sleaze' (1987)
'Parents learn how to stay close to son' (1989)
'If I were a rich Man' (1997)
Bill Gates and Me (1999)
'Farewell to a Friend' (2001)
Last year I included three conditions for the selection of the Art Buchwald Humor Awards. (1) Competition for these awards is tough as only 15 awards are offered; (2) Competitors have to convince only a jury of one, who cannot be influenced by cash awards, honorary titles or agents, and (3) Self nominations are strictly forbidden. This year, I also include a warning note. Humor-challenged sourpusses are welcome to quit reading now itself. Complaints on the selection will not be entertained. Here are my 15 choices for Art Buchwald Humor Awards for 2011.
Pinochchio Award for longer nose under stress: Professor Rajiva Wijesinha (MP and advisor to President Mahinda Rajapaksa)
Award citation: "The one about excessive civilian casualties is nonsense, the one about attacking hospitals is nonsense, the one about trying to starve the civilians is nonsense." [The Hindu, Chennai, Sept.3, 2011]
Rodney Dangerfield 'I don't get no respect' Award: Professor Ratnajeevan Hoole
Award citation: "I applied for VC (post) by the appointed process. At that time when I was elected by the Council to the list of 3 from which the President selects one, various people have recommended me for appointment. That is the only time I have had to deal with him or communicate with him. In December at the only one-to-one meeting during the VC appointment process, he promised to appoint me at a personal meeting." [The Hindu, Chennai, Aug. 11, 2011]
Nostradamus Award for cryptic prediction: Ananth Palakidnar (deputy news editor, Sunday Observer, Colombo)
Award citation: "Dangerous reptiles such as snakes and crocodiles have surfaced in several human habitats in the Eastern Province, since the flood waters in the region began to recede, sources said. The civilians who had left their home and become internally displaced due to the recent floods in the East are now facing the danger of deadly reptiles, which are found in the surrounding areas of their homes, sources said." [Sunday Observer, Colombo, Jan. 23, 2011]
Cervante's  Sancho Panza Award for illiteracy and being proud of it: Douglas Devananda (the token Tamil minister in President Mahinda Rajapaksa Cabinet)
Award citation: "I am a Tamil. A Tamil of Sri Lanka. I as a Tamil, who has been elected to parliament on the Tamil votes, completely reject the Darusman report, which is a flawed one and it has not been prepared with any legal authority or moral responsibility." [Daily News, Colombo, April 29, 2011]
Hemingway's crap-detector Award: K.T.Rajasingham (the editor of Asian Tribune website pretending to be an electronic newspaper) for the best assembled anti-LTTE crap collection.
Award citation: "In April 2011 Asian Tribune will enter 11th year of publication and we decided to bring changes in Asian Tribune's content and appearance." [twitter.com/KT Raja/ Feb.28, 2011]
Houdini Award for disappearance from public view: Sonia Gandhi (President of the Congress Party, India).
Award citation: "A veil of secrecy continues to shroud the illness of Congress President Sonia Gandhi with even Indian missions in the US not being kept in the loop about where she is being treated…Neither the Indian embassy in Washington nor the Indian consulate in New York are disclosing in which hospital in the US, Gandhi is being treated." [Indo-Asian News Service (IANS), New Delhi, Aug. 8, 2011 update]
CIA Award for straight-faced lie: jointly shared by ex-Pakistan President Pervez Musharaff and current Pakistan President Asif Ali Zardari [widower of Benazir Bhutto]. Both were notable benefactors of Sri Lankan army in its war with the LTTE.
Award citation: "Osama bin Laden might have died of kidney failure in a cave in Afghanistan after becoming separated from a dialysis machine he had used in recent years, Pakistan's president General Pervez Musharraf, said in an interview published here." [John F.Burns, 'Is bin Laden dead of kidney disease?' International Herald Tribune, Jan. 21, 2002] "Pakistan's president (Asif Ali Zardari) said his intelligence agencies believe Osama bin Laden may be dead, but he added there is no proof." [Associated Press report, Daily Yomiuri, Apr. 29, 2009]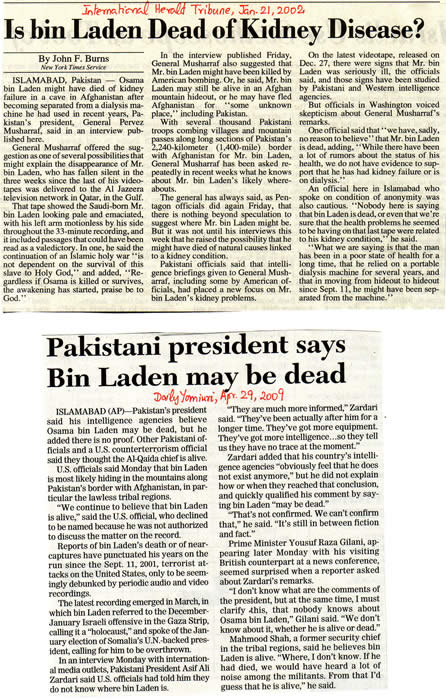 Washington Irving's Rip Van Winkle Award for long sleep: Major General Shavendra Silva (Deputy Permanent representative of Sri Lanka at the UN)
Award citation: "All who came to surrender irrespective of the 'colour of the flag' they were waving were accepted. 'It could've been white, black or any other colour. We were only concerned of the people who were coming in as they were our own citizens and not foreigners." [Daily Mirror, Colombo, Sept.7, 2011]
Charles Dickens Award for fiction writing: Lakshman Hulugalle (Director General, The Media Centre for National Security, Ministry of Defence, Public Security, Law and Order)
Award citation: for publishing the book 'Ape Kalaye Weerayo' [Heroes of Our Times] in 2010 about the lives of President Mahinda Rajapaksa and Secretary of Defence, Gotabhaya Rajapaksa, the giant force behind the successful humanitarian operations from 2006 to 2009 [www.nationalsecurity.lk/ website information]
Niccolo Machiavelli Award for stupid intelligence: B.Raman (ex-head of RAW, and India's spymaster).
Award citation: "Nowhere is the erosion of the Indian political influence more evident than in Sri Lanka where despite our assistance to the government of Sri Lanka in it successful counter-insurgency operations against the Liberation Tigers of Tamil Eelam (LTTE) we have not been able to protect either the interests of the Sri Lankan Tamils or the lives and livelihood of Indian Tamil fishermen, who have been repeatedly at the mercy of the Sri Lankan navy." [http://ramanstrategicanalysis.blogspot.com/ Feb.26, 2011]
Judas Iscariot Award for treason: Vinayagamoorthy Muralitharan aka Karuna (currently a deputy Minister in President Mahinda Rajapaksa's Cabinet)
Award citation: "Deputy Minister Vinayagamoorthy Muralitharan aka Karuna strongly denies former US Ambassador in Colombo Robert Blake's claim that he fled Sri Lanka and secured refuge in Tamil Nadu in early 2004 with the help of the then President Chandrika Kumaratunga. 'Ambassador Blake's accusation is absurd', the National List MP told the Island..Blake in a secret diplomatic cable dated May 18, 2007, alleged that Karuna had directed his cadres while being in Tamil Nadu, where he remained till July 2006…" [Shamindra Fernando, Karuna deplores 'US embassy lies', Sunday Island, Colombo, Dec. 30, 2010]
King Dutugemunu Award for bravery in honoring the dead: unidentified Sri Lankan army personnel in Jaffna
Award citation: "Following the cremation of Parvathi Amma on Tuesday, February 22, the ashes were awaiting the ritual collection the next day. During the night an unidentified group had desecrated the ashes by shooting three dogs on the cremation spot. The murdered dogs were then laid on the ashes which had been scattered on the floor…The Sunday Leader contacted Military Spokesman Major General Ubhaya Medawala for comment. He denied that there was any involvement on the part of the military. He further stated that 'the reports of harassment by the military of all those attending the funeral are fabricated'. When asked about who would have had access to firearms to kill the dogs, he stated that he did not know. " [Dinouk Colombage, 'Prabhakaran's mother's ashes desecrated', Sunday Leader, Colombo, Feb.27, 2011]
 [Note: Parvathi Amma, noted in the award citation was the mother of LTTE leader V. Prabhakaran. This is a newly instituted award. For those who are history-challenged, King Dutugemunu was recognized in Sri Lankan history for properly honoring his aged, fallen foe Tamil King Ellalan (Elara), following the duel they had while being mounted on elephants in 161 BC. It has been recorded in Mahawamsa that Dutugemunu arranged a royal funeral for King Elara and decreed that all who pass the site where Elara was cremated should go silently and on foot. This decree continued until mid 1850s.]
Shakespeare's Yorick skull Award for 'infinite jest, of most excellent fancy' on human rights: jointly shared by Rajan Hoole, K. Sritharan and madam Radhika Coomaraswamy.
Award citation: 'Alas, poor Yorick!...Where be your gibes now? Your gambols, your songs, your flashes of merriment, that were wont to set the table on a roar? Not one now to mock your own grinning?' [Hamlet, Act V, scene 1]. All three recipients of this award are currently in silent hibernation somewhere!
Mahatma Gandhi non-violence Award for military purchase: Manmohan Singh (India's current prime minister)
Award citation: "India has acquired US military hardware worth a whopping $10 billion. Equipment bought from the US include the USS Trenton (now INS Jalashwa) troop carrier ship, P8I maritime reconnaissance aircraft, Hercules C130J heavy lift transporter aircraft and other items. Despite the total volume of these transactions, the cables show that the US still longs for that "breakthrough sale," especially the mega-order of 126 multi-role combat aircraft, now made possible by the agreement on End-Use Agreement and on licensed manufacture in India". [D. Raghunandan, 'Wikileaks and US-India defence agreement', The Hindu, Chennai, Apr. 29, 2011]  This was the de facto bill for Manmohan Singh's first official state visit to the White House during the administration of U.S. President Barack Obama in November 2009!
Mein Kampf Award for trash talk: Gotabaya Rajapaksa ( Presidential sibling and the current secretary of defence, Sri Lanka)
Award citation: "Ensuring zero civilian casualties was an overriding priority for everyone involved in the humanitarian operations, from the political leadership to the military personnel on the field of battle. Training on human rights, international humanitarian law and the law of armed conflict as well as highlighting the necessity to protect civilians has been integral to the training syllabi of the Sri Lankan Armed Forces for many years. " [keynote address delivered in Colombo, May 31, 2011, http://www.defence.lk website]
Appendix
Five columns of Art Buchwald that had appeared in syndicated sources are provided. I have arranged them chronologically. The fourth column was an eulogy to famed editorial cartoonist Herbert Lawrence Block (1909-2001).
A Degree in Sleaze
[Daily Yomiuri, Tokyo, July 1, 1987]
"Washington School of Applied Ethics and Morality. Can we help you?"
"My son is coming to Washington this summer and I would like to know if you are giving any courses in hypocrisy, betrayal and sleaze?"
"Yes, we have an excellent curriculum that will lead either to a bachelor's degree in stonewalling or a master's degree in perjury."
"Can you give me some idea of what you're offering?"
"We have a popular class in lying. We hold moot congressional hearings in which the student is challenged to wriggle out of answering any compromising questions."
"How does he do that?"
"By using the Elliott Abrams defense. When asked a question the student is taught to reply something like, 'It probably happened but I don't remember it,' or 'I don't remember it but if  you say it took place I'll accept your word.' "
"Is Abrams the instructor?"
"No, he has nothing to do with the school. But the students look on him as a role model."
"It doesn't surprise me. He's everybody's role model."
"If your son is working in Washington this summer I would advise that he take a seminar in special prosecutors."
"I didn't know you could take a whole seminar in them."
It's essential if you're going to work for the administration. Let's say, for example, your son, while in Washington, gets involved in a defense factory bribery case. In exchange he receives stock and cash as a reward. As soon as it becomes public what he is up to, he is entitled to his own special prosecutor. We demonstrate how he can face up to a prosecutor while keeping damage for himself to a minimum."
"How is it done?"
"The student asks for immunity and then agrees to rat on all the other people involved with his scheme."
"But isn't that dirty pool?"
"No, dirty pool is another course where government officials learn how to help polluters get around the EPA."
"Since we're talking about morality, do you have any studies in adultery?"
"Your son can take adultery, but he won't get any credit for it."
"What about greed?"
"Greed is required, and you can't graduate without it. We teach that there is nothing wrong with being greedy if it's in your country's best interests."
"My son hopes to work with one of the federal agencies. Is there a lot of sleaze involved with this?"
"It depends on how much work he does for the vested interests. We offer all the standard white-collar crimes. What out students do with them is their business."
"My son wants to know if you teach students how to shred incriminating documents."
"Each student is required to own a paper shredder and burn bag. The burn bag can also be used to carry his lunch."
"You have a fun school."
"We try to make our students good citizens, even if they have to lie to do it. As Ollie North said, 'There is more to government than rewarding your friends and punishing your enemies."
"How much more?"
"Come to think of it, not much."
*****
Parents learn how to stay close to son
[Philadelphia Inquirer, Jan. 13, 1989]
I receive a lot of interesting calls at my office. My favorite so far this year was from a mother who lives in Bethesda, Md.
"I wonder if you'd mind answering some questions on the U.S.-Soviet missile treaty?" she said.
"I would be happy to," I told her. "Why do you ask?"
"My son is home from college and he has to write a term paper on disarmament."
"I see. Why doesn't you son call me himself?"
"He's very busy. He needs to get his car tuned, and the only time he can see his girlfriend is when he comes home."
"Don't you think there is something wrong with a son asking his mother to do his term paper for him?"
"I don't mind," she replied. "There is so little he needs from me these days. Was it Reagan's idea or Gorbacheve's to reduce the missiles in Europe?"
"Look ma'am, I don't mind answering your questions, but if you do the work, your son isn't going to get anything out of it."
"Oh, yes, he will. If the paper is any good, they'll give him an A."
"That's not what I mean. Mothers shouldn't be writing term papers for their children."
"Why not? We pay their tuition."
"The term paper itself isn't important – gathering the research for it is what helps make the scholar."
"Well, I'm sure my son would research the material if he could spare the time. He was never lazy when he lived at home."
"Whose idea was it for you to do this paper?"
"Both of us. He kept complainin that his entire vacation was being ruined because he had to look up facts about ICBMs. Since I didn't have any other comments, I volunteered to help him. After all, he is flesh and blood."
"But if you just give him all the information, he won't understand any more abut disarmament than he does now."
"If  he gets stuck, he can always call me. I always like to hear his voice."
I didn't know what to tell her. "Somehow I feel party to a crime," I said.
"Mrs. Lipkin always helped her son Milton with his papers, and now he works for the State Department. Will you please tell me everything that took place in Geneva before they reached an agreement?"
"That'll take  a long time."
"I'm not going anywhere. My son is using my car."
"Apparently there is no child abuse in your family."
"None whatsoever. We're very close."
"I'm sure you are. But I would still prefer to discuss disarmament with your son."
"What's the matter? Are you afraid that a woman can't understand it?"
"It's not that. What concerns me is, if something I tell you about the missile treaty is wrong, your son would never forgive you."
"He has in the past," she told me. "Once I did a paper for him on Tolstoy. Are you going to help me or not?"
"Why are you so impatient?"
"He has to get the paper in by Monday, and my husband needs at least a day to type it for him on his computer."
*****
If I were a Rich Man
[International Herald Tribune, Oct. 9, 1997]
You may have noticed that Forbes magazine just came out with its list of the 400 richest people in America.
You may also have noticed that I didn't make the list.
Before you come to any conclusions, I'll tell you why I was excluded. I asked Steve Forbes to leave my name off it. Getting on a list of this kind can cause a person more trouble than it's worth.
First of all, as soon as the billionaires find out how much you've got, they all want to borrow money.
The last thing I need is a call from Bill Gates or Warren Buffet saying, "We're thing of buying the Coca-Cola Company and wondered if you could get us over the hump until Tuesday."
Then, I'll hear from Ted Turner, who'll say something like, "Look I gave one billion dollars to the United Nations. Jane thought you might be interested in throwing in a billion for the Atlanta Blood Bank."
So I told Forbes, "What I don't like about your list is that you always get my total assets wrong. You figure in my sister's home in New Jersey along with my oil and gas reserves in Oklahoma, and what have we got? An IRS mess."
Forbes was not sympathetic. "The public has a right to know what you're worth. If you're going to eat Perdue chicken, our readers should be informed about who gets the white meat and who gets the dark. You can't hide your rich and famous lifestyle from our reporters."
It bothers me because I don't own a lot of homes around the world – I don't even have a yacht. It's not easy to spend a billion dollars, even in good times, particularly if you shop at a discount grocery.
Once you buy a power lawn mower and a pair of Nike sneakers, there's nothing left to spend money on.
Ever since the list was published, I've been getting calls from people who were on it. They all call to say how sorry they are that I wasn't included. They are treating it like a major tragedy.
I also got a call from a credit card company spokesman who said they were cancelling my credit card because I was a risk. I told them I couldn't care less.
I only mention all this because I don't want the readers to think that my omission from the 400 list means that I am flat broke.
I could buy and sell Ross Perot and Rupert Murdoch any day, but I don't want to as billionaires hat competition. Besides, there's plenty of room on my private 747 for all of us.
*****
Bill Gates and Me
[Mainichi Daily News, Apr. 4, 1999]
Bill Gates has just written a book entitled 'Business (AT) the Speed of Thought' in which he has listed the 'Ten New Rules concerning Computer Networking'.
Without stealing his thunder, I also have 10rules which I will eventually put in a book. They are not as sophisticated as Mr. Gates' are, but then again, I don't have his money.
When turning on your computer, try to remember your password. Many people cannot boot up their machines because they can't recall if they named their password after their wives, their children, or the girl next door.
Do not hit  any key you are not certain of, as it will only make you lose the file on your hard disk. You may ask, 'which key?' No one knows which button on your computer will make you lose everything you have written for the last two days.
Spilling coffee or Coca-Cola on your keyboard will cause more trouble than the drinks are worth.
Do not put a computer in a microwave oven if it does not warm up.
If you have difficulty in getting the font you want, do not call the computer maker to talk to someone. They will put you on hold for three days until you starve to death.
There is no such thing as a friendly computer. It will stab you in the back as soon as you turn to answer the telephone.
A computer is so simple even a child can use it – as a matter of fact, ONLT a child can use it. Do no try to do anything on a computer unless someone under 13 is standing next to you.
The more bells and whistles a computer has available, the less chance you have of doing anything on it.
The Internet is as good a way as any to say 'Hi' to people who live in New Guinea.
There is no way of getting rid of an outdated computer other than to get in your car and drive it to a salt mine in New Mexico.
*****
Farewell to a Friend
[International Herald Tribune, Oct. 17, 2001]
I take time out from what is going on right now to say good-bye to the cartoonist Herb Block. The words 'great American' have been used too frequently in ourlives, bu my 'greatest American' was Herb. He satirized and ridiculed the hypocrisy of his country for 53 years. He took on everyone, including presidents, other world leaders and all the power brokers in the United States. We needed him very badly to protect us from the scoundrels.
Presidents had a hard time when they were depicted by Herb. He was responsible for more canceled Washington Post subscriptions than anyone else on the paper.
We were friends. He kidded me that I had an easy job during the Nixon years, and I replied, 'Not as easy as yours.'
The papers were full of print and the president could miss an article that was critical of him, but all it took was five seconds to scan a Herb Block cartoon to have the person ridiculed go up the wall.
Although subscriptions to the Washington Post  were constantly being canceled by the White House, people say Richard Nixon still looked at the editorial page when no one was watching.
I give Herb full credit for Nixon's resigning. Nixon couldn't survive the drawings of him unshaven and coming out of the sewer.
When Nixon said, 'I am not a crook,' Herb bragged that he finished his drawing in 15 minutes.
Other presidents did not escape Block's pen if he thought they were up to no good. Dwight Eisenhower, John F. Kennedy, Lyndon Johnson and every president up to George Bush the second felt the Block needle.
One of his favorite targets was Senator Joe McCarthy, who waged a war against innocent people by claiming they were Communists. While the country was confused, Herb gave us a McCarthy with a four-day-old beard so we would be sure to know he was the bad guy.
While Herb sketched with his poison pen, in everyday life he was a very gentle man, trusted by people in all walks of life.
One of the things that bugged him was when someone tried to give an idea for a cartoon. He always said he got very uptight because if someone else mentioned it to him he felt he couldn't use it. I think our friendship was based on the fact that I never said, 'Hey Herb, have I got a good idea for you.'
Herb never gave away the original cartoon, but he Xeroxed copies for the people who requested them. He got upset when someone he satirized asked for a signed copy of the drawing. If a person he had just done a number on wanted the cartoon, he considered it a bad day.
Herb Block was a very young 91 years old. He was  drawing more brilliantly at the end than ever before. We grieve at his passing – at the same time we're grateful he was with us for such a long time.
*****