The Scars Remain
Sexual Abuse In The North And East
by Raisa Wickrematunge, The Sunday Leader, Colombo, January 15, 2012
There were also whispers of human trafficking, which Sivagnanam said could be worsening with more buses traveling from the South, and more tourists moving around in Jaffna.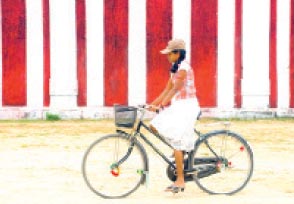 Picture Courtesy: www.aaminanizar.blogspot.com
Going towards the arid North and East, it is a common sight to see women riding bicycles, cycling from village to town to get weekly food supplies. The less well-off women take the bus, and sometimes even hitch rides from passing trucks, as The Sunday Leader witnessed in Batticaloa last year.
The resourcefulness of these women to get around might indicate their independence, but this, some say, is an illusion.
A recent report released by the International Crisis Group, a non governmental organization, spoke of the insecurity women in the North and East feel. Among their daily realities are domestic violence, alleged sexual abuse by the military and economic instability.
A response of sorts was given by US Ambassador Jaliya Wickramasuriya.
Amazingly, he first claimed that there were no rape cases in Sri Lanka, claiming that Sri Lankans were disciplined as part of their culture. He then acknowledged that there might be a "couple of cases" adding this was the case in every country.
Pointing out that the current Attorney General and Chief Justice were women, Wickramasuriya said Sri Lanka's workforce was composed of 50% women, in response to concerns raised in the report that a patriarchal society was being created in the North and East, with few positions given to Tamil women in the military, for instance.
How true are Wickramasuriya's claims? Is the reality as rosy as he would like everyone to believe?
President of the Women's Development Centre, Saroja Sivachandran is based in Jaffna. She says she sees many cases of sexual abuse, an average of around 10 a month.
There is the case of Radha*, a seven year old child who was raped by an Advanced Level student. A case was filed and the perpetrator was made to pay compensation. Small comfort for such a traumatic experience.
Then there is Ambika* a Point Pedro girl who was raped by a cousin. Here too, a case was filed. In Savachcheri, Saraswathi* a young child, was abducted from her push-cycle and raped.
These are just some of the cases received by the Centre on a regular basis. The social stigma of rape is so strong that Sivachandran refuses to divulge the victim's names, for fear of further traumatizing them.
Two visiting University of Virginia law students who had traveled to the North and East also spoke of the cases they encountered. Calleigh McRaith, who visited villages in Mannar, said she heard that several former LTTE cadres, who were working at a garment factory as part of their rehabilitation programme, had been raped by the managing staff at the factory and sent back early.
Myriad Problems
The situation in the North is exacerbated by the new IDP 'camp culture'; where both men and women were forced to live in close proximity with little privacy. Sivachandran spoke of husbands leaving their wives to have affairs.
"Everyday there are cases, often of husbands becoming violent or abandoning their wives," Jaffna GA Imelda Sukumar said. She added though that development officers were working hard to ensure that women were protected and that legal action was taken against the perpetrators.
A problem everyone is afraid to talk about are the cases of the military sexually abusing women. While Sivachandran had heard of several incidents, none of them were followed up. People were too afraid to go against the Army. "If the people do not come forward, we cannot prove it. We cannot do our jobs," she explained.
The Army also frequently visited ex-cadres at their homes to monitor how they have integrated into society, Callie said. This, she said, led to fear that they could be beaten or their families assaulted in their own homes. Many decided not to leave their homes for fear that the military could assault their family while they were out.
Some women also complained of degrading treatment, such as strip searches, by Army personnel.
Women in the North and East face myriad problems. While those living in the IDP camps desperately need basic facilities like water, toilets and proper housing, teenage girls who had lost their parents were often left homeless. Relations often did not want to take young girls into their houses. The girls would also "get a bad name" if a man helped them, she said.
A major contributor to domestic abuse is alcoholism. More and more youth are turning to alcohol. There were even open bars in front of schools, Sivachandran complained. What is more, the area offers few employment opportunities, leading to a higher poverty level. Arguments about income often led to husbands abusing their wives and sometimes even deserting them.
There were cases reported in Kilinochchi and Mullaitivu of young mothers throwing out infants and leaving them to die. Each segment had its own set of problems, and the Women's Development Centre was trying its best to support all of them.
"It is the Government's responsibility to address all these problems. NGOs cannot do everything," she said.
President of the NGOs in Jaffna, C. V. K. Sivagnanam said the constant military presence created a fear psychosis amongst women. War widows face a huge problem, considering it is socially unacceptable for them to remarry. At the same time, they have to struggle to make a living on their own.
Despite the instances of abuse, Sivagnanam said that he did not consider them abnormally high or culturally damaging. He, too, had heard of cases of the military sexually abusing women in Kilinochchi, the Wanni and Mullaitivu, but once again, no one was willing to openly testify.
There were also whispers of human trafficking, which Sivagnanam said could be worsening with more buses traveling from the South, and more tourists moving around in Jaffna.
Sivagnanam vehemently denied that Jaffna culture was patriarchal. He pointed out that several women held high Government positions, from the Government Agent Imelda Sukumar to several school principals and judges. Positions are reinforced by culture, he said, with women often deferred to in minor decision making.
Despite Wickramasuriya's platitudes, it is obvious from speaking to those stationed in the area that the Crisis Group's report is not inaccurate. There are instances of rape, violence and economic insecurity. Low income and alcoholism are often contributory factors to domestic violence, while cultural stigma often prevents those in desperate circumstances from receiving help. The military too are known to abuse women, though no one is willing to come forward to testify to this.
Tourists may be flooding in and development occurring, but the scars of war have yet to fade from the North and East. The Crisis Group's report might be reopening old wounds, but a little acknowledgment that a problem exists would have been more productive than Wickramasuriya's complete denial, which must come as a slap in the face to those like Radha, Ambika and Saraswathi.
*Names changed to protect identities