Chronology of Suicide Bomb Attacks by LTTE Tamil Tiger Terrorists in Sri Lanka
by SPUR Australia, accessed March 21, 2012
A chronology by the most anti-LTTE group. Note the number of total civilian casualties detailed here. Note also that several attacks against the military and police are included. The police report to the Ministry of Defence. This list is useful for comparing civilian casualties attributable to each side in the war. Like other internal conflicts such as Guatemala, the State is responsible for approximately 90% of the civilian casualties. -- Editor
[Civilian casualties documented by Tamil Centre for Human Rights]
Power Point presentation by Peter Chalk on the suicide terrorism at the Oslo WAPS conference (Please download the PDF File). Listen to his talk atwww.svik.org/sound/chalk.mp3
2009 April 20 - Three LTTE suicide bomb attacks target fleeing Tamil Civilians as Thousands Rescued by Sri Lanka Army 17 civilians including women and children have been killed
2009 March 10 - LTTE suicide bomber attacks Milad Festival - Akurassa [Updated] The latest updates on brutal terrorist attack at the national Milad Festival in Sri Lanka , indicates that 10 civilians were killed and at least 35 others , including a government minister were injured. An LTTE suicide bomber attacked the Jumma mosque at Godapitiya, in Akurassa , in the Matara district around 10.30 , this morning (Mar 10). According to the defence sources , the LTTE terrorist has targeted the Islam devotees attending the national Milad-Un-Nabi celebration , held at the mosque. The Milad-un-Nabi , the birthday of the Prophet Mohammed is celebrated as a national festival in Sri Lanka. Meanwhile , hospital sources say Minister Mahinda Wijesekara who was also attending the celebration has suffered injuries, in the explosion. The sources add that another 15 people with injuries have been admitted to the government hospital Matara. The LTTE is a ruthless terrorist outfit fighting for a mono ethnic separate state for Tamils in Sri Lanka since 1983. Lead by its psychopathic chief V. Prabhakaran, the outfit has slaughtered tens of thousands of innocent civilians during its three decades of terror campaign against Sri Lankan citizens. The LTTE has been engaged in a systematic and brutal ethnic cleansing campaign against Muslims and Sinhalese living in the North and Eastern Provinces in its fanatical attempt create an ethnically pure Tamil State in the Island nation (Sri Lanka Defence Ministry).
2009 February 09 - LTTE continues targeting Tamil civilians: suicide bomb attack at IDP rescue centre - Kilinochchi - At least 23 people including 8 civilians were killed and 64 others including 40 civilians reported injured when an LTTE woman suicide bomber blew herself at an IDP rescue centre, North of Visuamadu in Mullaittivu this morning (Feb 9) at around 11.30 a.m. 3 woman soldiers were also among the military fatalities reported. According to defence observers, LTTE terrorists have perpetrated the attack targeting the civilians in reprisal, for defying LTTE's orders to take-up arms. Exact casualty figures are yet to be estimated as tension prevails in the area. Security forces immediately cordon off the area, while medical units were rushed to the site, the sources said. Women and children are said to be among the many reported killed and injured in the suicide bomb blast, security sources said. Ambulances carried the wounded to the Kilinochchi hospital. The female suicide bomber had arrived among the civilians who were seeking protection with security forces in guise. The bomber had blown herself before being screened, the reports further said. Earlier, LTTE terrorists used a 13 year old child suicide bomber against the advancing 55 Division troops in Chalai on 4th Feb. Observers of LTTE activity have expressed concerns over the likelihood of the LTTE increasing such attacks targeting civilians to enact a large scale carnage instilling fear among the people who are entrapped in the non-liberated regions in Mullaittivu (Full report in Sri Lanka Defence Ministry).
2009 January 02 - LTTE suicide bomb explosion in Colombo - A female LTTE suicide bomber has exploded herself in front of the Air Force camp in Slave Island , Colombo this evening causing damages to a civilians bus plying from Moratuwa to Pettha (Jan 2). According to the available information, the suicide bomber has exploded herself in front of the entrance of the Air Force camp down the C.A. Gardiner road around 5.15PM. One person has been killed and at least 22 others suffered injuries. The injured have been rushed to the National Hospital, Colombo. On Sunday (Dec 28) LTTE carried out a suicide blast close to a Roman Catholic Church at Wattala killing 6 people and wounding 29 others (Full report in Sri Lanka Defence Ministry).
2008 December 29 - LTTE suicide bomb blast near Catholic Church ; 8 killed, 17 injured - Wattala - LTTE terrorists have carried out a suicide bomb attack near the sacred St Ann's church, Hekitta, Wattla in the north of Sri Lankan capital this morning (Dec 28). According to police sources, a male suicide bomber has exploded himself around 9 AM in front of the Civil Defence Force office on the church road. Eight people have been killed and 17 others suffered injuries in the attack. An Army officer and 6 other CDF personnel were among those killed in the bomb blast. 13 CDF personnel and 4 civilians including a women were reported injured due to the bomb blast. The injured have been admitted to Teaching Hospital, Ragama and National Hospital, Colombo. Sources in the Ragama hospital said that 2 of the 10 injured admitted to the hospital are in serious condition. Later, a CDF guard and a civilian who were among injured admitted to the National Hospital, Colombo had succumbed to injuries. According to eyewitnesses, the suicide bomber had exploded himself when he was stopped by the security personnel on guard from entering the CDF office (Full report in Sri Lanka Defence Ministry).
2008 October 22 - LTTE Tamil Tiger Terrorists attack merchant ships carrying essential supplies including food, medical suppliers etc to civilians in Jaffna - LTTE terrorists have carried out a suicide attack targeting Merchant Ship Ruhuna and Nimalawa, in the north sea of Sri Lanka at 5.10, this morning (Oct 22), defence sources said. The attack is viewed as another cowardly attempt by the terrorists to deny essential supplies to the civilians living in war affected areas, the sources added. Meanwhile, Navy spokesperson, Commander DKP Dassanayake told defence.lk that 3 LTTE suicide vessels have come for the attack. Navy sailors providing security onboard the targeted vessels have engaged machine gun fire at the approaching suicide boats effectively, and destroyed two of them before ramming on the ships, he said. However, he added that one of the suicide boats have exploded in close proximity to Merchant Ship Nimalawa causing slight damages to the ship's hull . He further said that the third suicide craft has been captured by navy boats. The LTTE suicide cadre who was operating the boat believed to be killed in the Navy retaliation, he added.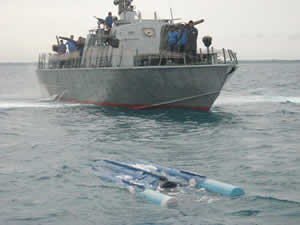 The captured LTTE suicide boat seen floating in the Northern seas. (22nd Oct 2008)
For further details and photos click here
2008 October 09 - Minister Maithreepala Sirisena Miraculously Escapes LTTE Female Suicide Attempt - ONE more LTTE woman suicide bomber this afternoon (9) at about 1.15 p.m. made an abortive attempt on the life of Minister MAITHREEPALA SIRISENA, near KATUWAWALA, PIRIVEANA Road Junction on BORALESGAMUWA and PILIYANDALA main road when the Minister's convoy was speeding past the location. Minister MAITHREEPALA SIRISENA and his convoy however escaped unaffected in the blast that triggered a thundering noise, but the explosion injured seven more civilians moving in the area, of whom two were in the ministerial convoy. Initial reports said the suicide bomber after infiltrating the location has waited for some time until the Minister's convoy passed by, according to Police reports. Mr. MAITHREEPALA SIRISENA, Minister of Agricultural Development and Agrarian Services who has been a vociferous critic of the terrorist organization, was returning after a state function when the suicide bomber blew himself up. However, Secretary to Ministry of Agriculture who had been in one of the vehicles in the convoy has sustained injuries, according to Director, COLOMBO National Hospital Accident Service.
2008 October 06 - Over 25 civilians including Maj Gen Janaka Perera killed in LTTE suicide bomb attack- Anuradhapura- An LTTE suicide bomber blew up himself targeting a function organized by the United National Party (UNP) in Anuradhapura this morning (Oct 6). According to the defence sources, over 25 civilians including, Opposition Leader of the North Central Province (NCP), Major General (Retired) Janaka Perera and his wife were killed in the bomb attack that was taken place around 8.45 AM. Also, over 90 civilians were injured, out of which 15 are in serious conditions, said the sources. Among the diseased, UNP district manager for Anuradhapura, Mr. John Pulle , his wife and several other prominent opposition party activists were also there , the sources added. The bomb attack was taken place at a ceremony organized to open the newly built UNP office situated near old bus stand in the Anuradhapura town. Major General Janaka Perera joined Sri Lanka Army as cadet officer in 1966 and retired after 34 years of service in 2001. After retirement he was appointed as the Sri Lankan Ambassador in Australia. In 2008, he contested for the NCP as the Chief Ministerial candidate of the UNP. Major General Janaka Perera (Retd), RWP, RSP, VSV, USP, rcds, psc also served as the Chief of Staff of the Sri Lanka Army (2000-2001). He was educated at the St. Joseph's College. He received his basic training at the Royal Military Academy Sandhurst in England. He was commissioned as a Second Lieutenant in the Ceylon Engineers. Maj. Gen Perera is a graduate of the Royal College of Defence Studies (read details in SPUR).
2008 September 28 - One dead, nine injured in Vavuniya blast - Vavuniya: One civilian died and nine were injured due to a suicide attack which took place around 3.05 p.m. in Vavuniya town on sunday, 28 September 2008. As a result of the explosion three Army personnel, four police officers and two civilians were injured. The victims have been admitted to hospital, the Media Centre for National Security said. According to police sources, a cyclist who was suspected to have carried the bomb, triggered the explosion when his bicycle knocked against a three-wheeler with Security Forces and Police personnel at Second Cross Street, Vavuniya.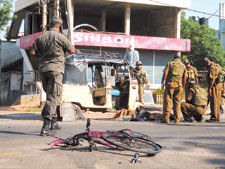 An LTTE suicide cadre on a push cycle blew himself up to avoid being checked by security forces at the Vavuniya bus stand at 3.15 p.m. yesterday. Police said that the LTTE cadre had triggered the blast near a three wheeler carrying some WPCs, killing a civilian. Seven persons, including three WPCs, two soldiers and two civilians were wounded in the blast.
2008 June 16 - Suicide Bomber's Vavuniya Attack Perishes Twelve Police Personnel - VAVUNIYA: TWELVE POLICE PERSONNEL including three Woman Police Constables (WPC) died when the motorbike-riding LTTE suicide bomber blew himself up near the VAVUNIYA Police station Monday (16) morning. Teams of Police personnel were on the spot when the suicide bomber rammed his motorbike against them minutes before those Police Constables were to set off for their routine duties in the VAVUNIYA town area. Some of the victims had just returned from their place of work to hand over duties to their fellow-Police personnel to the venue, about 500 m away from the VAVUNIYA town centre. Three school girls, one elderly man and nineteen Police personnel are among the injured, Police confirmed. SEVVANDHI (10), NAMALI CHANDRIKA (12), G. DILHANI (17) of THEKKAWATTA, VAVUNIYA and JAYASEKARA (63) of ALUTHGAMA, ALAGALLE injured in the blast were rushed to VAVUNIYA hospital. Police personnel who died in the brutal suicide attack have now been identified; Woman Police Constable RENUKA (2440), Woman Police Constable SANDAMALI (2439), Woman Police Constable JAYAMALI (6630), Police Sergeant SENEVIRATHNE (19617), Police Sergeant PUSSELLA (41561), Police Sergeant JAYASIRI (18419), Police Constable PRASAD SUNANDA (44490), Police Constable LIONEL (57087), Police Constable SENEVIRATHNE (60939), Police Constable KARUNAPALA (45484), Police Constable DUSHMANTHA (48016) and Police Constable GUNASIRI (58863). Among the injured were Woman Police Constable CHAMPIKA (6661), Woman Police Constable NAMALI (6513), Woman Police Constable PRASADHI (2596), Sub Inspector T.V. ANURA, Sub Inspector PINTO, Sub Inspector KODITHUWAKKU, Sub Inspector SENAVIRATHNA, Police Sergeant WIJERATHNE (20864), Police Sergeant WANIGASEKARA (57235), Police Sergeant SUGATHADASHA (19934), Police Sergeant JAYASIRI (24811), Police Constable UDAYANGA (61324), Police Constable RATHNAYAKA (36587), Police Constable WEERAWRDANA (49118), Police Constable BANDARA (35410), Police Constable BENADICT (7645), Police Constable RAJAKARUNA (54995), Police Constable NAWARATHNA (7256) and Police Constable SAMANTHA (49719). Magistrate and the government analyst visited the spot and conducted extensive investigations and inquiries as several Police teams assisted by Army troops were busy strengthening security arrangements in the area. Condition of three injured Police Constables was reportedly critical and some of them were to be airlifted to ANURADHAPURA and COLOMBO National Hospitals.  See more details and photos  Policemen die in S Lanka attack (video)  Details and more photos
2008 May 16 - Suicide bomb explosion near Sambuddhaloka temple ; 9 killed, over 95 wounded - Fort [Updated] Nine including seven Police personnel were killed and over 95 casualties reported, following the LTTE suicide bomb attack near Sambuddhaloka Viharaya, Fort at 12.05 p.m., today (May 16). According to the available information, a motor bike riding LTTE suicide bomber had rammed into a bus carrying Police personnel at the Ceramic Junction, near Shri Sambuddhaloka Viharaya. The Police personnel were to serve with security in the area in a possible emergency with related to a protest scheduled by the main opposition party today in Colombo Fort this afternoon. Director General National Hospital Dr. Hector Weerasinghe exclusively speaking to defence.lk said that, over 90 people have been already admitted to the National hospital. Sixty two (62) civilians, 30 Police and 3 Army personnel were among the casualties received, he was quoted as saying. The latest LTTE carnage comes in the eve of 'Vesak' a national and religious festival, and also within a week of the pre-election bomb explosion at Ampara which left dozen killed and 30 others wounded. The LTTE is an internationally banned terrorist outfit, fighting for a mono-ethnic state since 1983 (see details and photos). http://www.spur.asn.au/LTTE_Suicide_Bomb_20080516_Colombo.htm
Names of the personal killed by the LTTE Tamil Tiger terrorists: http://www.spur.asn.au/LTTE_Suicide_Bomb_20080516_Colombo.htm
(1) WPC V.K.D Seneviratne (WPC 403),
(2) WPC Chathurika (WPC 2776), 
(3) WPC Nandana Kumari (WPC 6129), 
(4) PC R.L Edirisinghe (PC 49381), 
(5) PC N. A Bisawakgolla (PC 60378), 
(6) PC W. P Sisira Senaratne (PC 31069), 
(7) PC W.M Bandara (PC 60325) and 
(8) PC Deshapriya (PC 6009) 
(9) Maviyange Don Ravindra Ratnakumara (Minister Lokuge's Driver)of No 27, Champa Devaduwa, Piliyandala and 
(10) Wijesinghe Pandimalage Chandrasena of No 35, New Housing Scheme, Rahula Rd, Madiwela, Kotte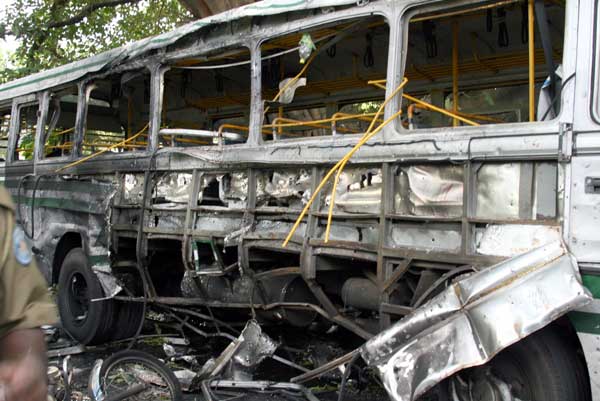 2008 April 06 - Minister Jeyraj Fernandopulle and 12 others killed in LTTE suicide bomb attack LTTE terrorists have exploded a bomb targeting a road marathon organized in the Weliweriaya town around 7.30 this morning. Minister of Highways and Road Development Jeyaraj Fernandopulle, who was the chief guest to the occasion along with many civilians was reported killed in the cowardly bomb attack. According to latest reports received, at least 12 people were killed and over 90 injured in the explosion. K.A Karunarathne is also said to be among the dead who was a former national and South Asian marathon gold medalist. The bomb has been exploded just before the Minister declared the start of the marathon at the Kanthi play ground, in Weliweriaya, corresponding with a 'Hindu-Sinhala New Year' event. Meanwhile, Gampaha Division SSP Hector Darmasiri was also seriously injured and admitted to the General Hospital at Gampaha. Gampaha Hospital sources, speaking to defence.lk said that over 90 people were admitted with serious injuries. 3 civilians were also admitted to the general hospital at Ragama and one was reported in critical condition, according to Ragama hospital sources. Minister Jeyaraj was a politician who represented the parliament from the Sri Lanka Freedom Party since 1983. A lawyer by profession, Minister Jeyraj was a fluent speaker in Sinhalese, Tamil and English languages. Being a faithful catholic the Minister expressed his concerns over LTTE's occupation of scared Madhu church and the removal of the Madhu statue. During his career, Minister Jeyaraj has held the many ministerial portfolios including, the Minster of Catholic Affairs, Minister of Ethnic Concession and National Unity, Minister of Port and Aviation, and Minister of Road Development. He was 55 years old and a father of two children. LTTE is a ruthless terrorist outfit notorious for crimes against innocent civilians. In its pursuit for a mono ethnic separate homeland for Tamils, the outfit has killed and maimed over tens and innocent children, Tamil and Sinhalese political leaders in indiscriminate bomb attacks. FBI in a recent report called LTTE the most dangerous terrorist outfit in the world (Full report in SPUR).
2008 February 29 - LTTE Tamil Tiger Terrorist Suicide Bomb Attack in Colombo Four civilians and three policemen were injured  -Tamil & Muslim civilians among injured in LTTE Tamil Tiger Terrorist's suicide explosion In addition to Police personnel, some Tamils and Muslims are among the civilians who sought admissions to National Hospital COLOMBO following injuries in the LTTE suicide blast at MODERA Friday (29) morning. JEYALAKSHMI PUNYASAMI, UDAYAKANTH AMARASI, PAUSIYA UMMA and LAWRENCE BRANTHO FERNANDO were in the adjacent neighborhood to the place of the explosion when the LTTE terrorist blew himself up inside his room. Woman Sub Inspector RASIKA SUBHASHINI, Police Constable ROSHAN and Police Constable GAMINI were also injured in the explosion and admitted to National Hospital COLOMBO. Four civilians and three policemen were injured on Friday, 29 February 2008 as a Police attempt to arrest a suspected LTTE cadre in Modera ended with the LTTE suicide cadre blowing himself inside his room, Police and Military. The LTTE cadre who blew himself up has been identified as Nadarajah Sherma Vijayatharan alias Vijayan, 28, from Punkuduthivu, Jaffna. A spokesman for Modera Police told the Daily News that the Police team went to Vijayatharan's lodge on a tip-off given by another suspect arrested in Modera on Thursday. The lodge at Aluth Mawatha, Ibbanwala Watta, Modera was cordoned off by Police around 6 a.m. yesterday and the suspect had blown himself inside the room as he felt there was no escape. The injured were admitted to Colombo National Hospital. A Policewoman was in a serious condition when admitted to hospital. Body parts of the Tiger cadre was strewn inside the room after the blast that damaged adjoining buildings. "He had exploded a claymore mine inside the room. This is evident from the number of iron balls which hit the walls," the spokesman added. Investigations are on to ascertain whether the LTTE suspect had used a suicide jacket. According to investigations, Vijayatharan had been living in Modera for several years along with his sister and brother-in-law. His brother-in-law had rented this house three years ago. His sister and brother-in-law had gone to Vavuniya three days ago and were not at home at the time of this incident, Police said. Police in a subsequent search inside the house recovered two micro pistols, one 9mm pistol and another fitted with silencer along with 138 ammunition used for these pistols and two cyanide capsules (read full report in SPUR).
2008 February 24 - Suicide attack in Eastern Sri Lanka kills two TMVP members - LTTE suicide bomber on a bicycle rammed into a motorcycle in at Kalawanchikudi in Batticaloa this morning killing three including the bomber. The two on the motorcycle were members of the Tamil Makkal Viduthalai Pulikkal (TMVP), a political party contesting for local government polls in Batticaloa. A TMVP spokesman said two of their political activists who were canvassing in the area for the upcoming elections were killed as they tried to inspect a suspicious looking man riding a bicycle. Defence sources said a woman who was in the vicinity was also injured and admitted to the hospital. Details in Colombo Page; (Full report in Sifi News).; (Full report in Daily News).;  (Full report in Island).; (Full report in Daily Mirror).; (Full report in AFP). (Full report in VOA News).; (Full report in Sri Lanka Defence Ministry).; (Full report in EPDP).
2008 February 03 - At least seven people died and 97 others were injured on 03 February 2008 in a suicide bomb attack onboard a train at the main railway station in the Sri Lankan capital Colombo. "We received 97 patients," said a spokeswoman for Colombo's main hospital, Pushpa Soysa. "Seven people were dead on admission." A police spokesman said the attack was carried out by a suspected rebel Tamil Tiger woman suicide bomber as a suburban train pulled into the station in the heart of Colombo. "Train services have been stopped and the injured have been rushed to the main hospital with six critically hurt," said the spokesman, N. Illangakoon. Earlier Sunday, at least six visitors to a zoo on the outskirts of the capital were wounded in a hand grenade attack, despite tight security ahead of Sri Lanka's independence day celebrations on Monday.
2008 January 31 - Jaffna suicide bomb: Three killed, 17 injured - A suicide bomber blew himself killing three civilians and injuring 17 others in Thirunalweli, Jaffna yesterday morning, Military Spokesman Brigadier Udaya Nanayakkara said. The Tiger who arrived in a bicycle exploded himself at around 11.20 a.m. at a civilian location in Thirunalweli yesterday. "Four were killed including the suicide cadre while 17 others were injured," Brigadier Nanayakkara said. Meanwhile, three other civilians including a woman were killed by an unidentified group in Mirisuvil, Chavakachcheri, Jaffna yesterday morning (Full details in SPUR).
2007 January 28 - Colombo, Sri Lanka - A disabled female LTTE suicide bomber targeting Eelam People's Democratic Party (EPDP) leader and Social Services Minister Douglas Devananda blew herself up when her attempt to assassinate the Minister was foiled. The woman blew herself near the Ministry's Public Relations Office at Narahenpita around 8.05 am killing the Public Relations Officer and injuring two other Ministerial Security Guards, police spokesman Senior DIG Jayantha Wickramaratne said (Full details in SPUR).
2007 January 27 - Nugegoda, Sri Lanka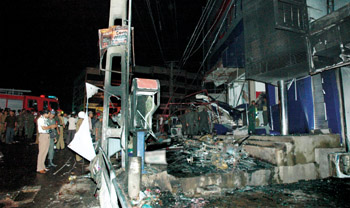 At least 17 civilians were confirmed killed and 37 civilians were injured as a suspected parcel bomb exploded near a popular fashion store at Nugegoda junction around 5.55 p.m. yesterday. Police believe that the parcel bomb had been placed in one of the parcel counters at the No Limit clothing store by a suspected LTTE cadre who had left the scene. The No Limit store and the adjoining building were damaged by the resulting explosion and fire. The shops and the nearby bus halt was crowded during the evening rush hour. The busy Nugegoda junction filled with students after their tuition classes and a large number of home bound office workers witnessed chaotic scenes immediately after the explosion causing a huge traffic jam on the High Level road and Stanley Thillekeratne Mawatha towards Kohuwala Read more details and photos
2007 January 21 - LTTE attacks ship with Indians -  Liberation Tigers of Tamil Eelam rebels rammed an explosive-laden boat against a cargo ship with two Indian in its crew, off the island's northern waters, triggering a major sea battle with the Sri Lankan navy. Military officials said a boat packed with explosives rammed the City of Liverpool cargo carrier off Point Pedro as it was leaving the Jaffna peninsula after unloading wheat flour. "A cluster of Tiger boats attacked the ship while another cluster engaged the navy gunboats," Navy spokesman DKP Dassanayake said. He said the air force was called and said the merchant vessel also had several security personnel who were returning rebel fire. The ship had a crew of two Indians, seven Indonesians and 10 Sri Lankans. Their fate was not immediately known. The attack came two days after the military said it captured the final bastion of the Tamil Tigers in the east of the island and drove off the rebels from the regions after weeks of fighting that killed at least 45 soldiers and over 370 rebels (Full report in DNA World).
2007 January 06 - at Seenigama, near the Kahawa junction, 16 miles North West of Galle - More than 15 feared killed and 40 injured in Bus bomb explosion - Ambalangoda - 15 civilians are feared dead due to an explosion triggered inside a Matara bound private bus from Colombo bearing no - HZ 1709, at Seenigama, near the Kahawa junction ,16 miles North West of Galle, on 06th January 2007, at around 02.35p.m. Police sources suspect the explosion to be a suicidal attack, more likely which holds the trade mark of the most treacherous LTTE terrorist organization. The Ambalangoda Police officials said that. remains of two bodies suspected to be LTTE female suicide bombers were recovered scattered at the scene. The Ambalangoda Police further said that 10 bodies were immediately transferred to the General hospital at Balapitiya and another dozen were admitted. Balapitiya hospital officials said that seven males and three females were among the dead. The Police sources further said that more than 40 civilians are feared seriously injured due to the explosion. Meanwhile, Karapitiya hospital sources confirmed that the casualty figures admitted have risen to twenty(20). Eight of the injured are said to undergo immediate operations as their medical status were feared serious. The traffic along the Galle - Colombo (A-2), is being diverted and the commuters are advised to use alternative routes. The tragedy at Kahawa junction - Ambalangoda, is the consecutive explosion alleged triggered off by LTTE terrorist within 24 hours targeting civilians transportation. The LTTE suicidal attempts targeting civilians transportation has become a custom of the terrorist outfit to repulse the military thrust against its escalation of violence in the North and East. On 15th June, 2006 the terrorists outfit blew a public bus transporting civilians at Kebithigollewa- Anuradhapura, killing at least 64 people including 15 children (Full details in SPUR Web Page).
2006 December 01 -Secretary Defence Escapes LTTE Suicide Attack COLOMBO: LTTE SUICIDE ATTACK targeting the Secretary Defence Mr. Gotabhaya Rajapaksa today (01) morning near the PITTALA junction, Colombo injured seven Army personnel on escort to the Secretary Defence and seven civilians around the location. They were rushed to the National Hospital Colombo with serious injuries. One soldier in critical condition was subjected to immediate surgery, according to hospital sources. Dead body of an unidentified person, believed to be the suicide cadre who rammed into the convoy was found from the scene. At least eight vehicles including the vehicle of Secretary Defence were badly damaged. However, the latest LTTE barbaric mission was foiled with their target, Mr. Gotabhaya Rajapaksa escaped unhurt. TWO SOLDIERS WHO SUFFERED fatal injuries in the LTTE suicide blast at KOLLUPITIYA, COLOMBO today (01) morning succumbed to injuries while being treated at National Hospital and Navaloka (Private) hospital, COLOMBO. Lance Corporal P.H.P. WIJERATHNE from Sri Lanka Amy Service Corps (SLASC) was riding alongside the Defence Secretary's vehicle at the time of the incident. He was undergoing treatment at the Navaloka (Pvt) hospital. Lance Corporal N.K. PIYASIRI from the Gajaba Regiment, the driver of the escort Defender Jeep of the convoy, was admitted to National Hospital for urgent surgery after being critically injured. He later died at the National hospital ICU. According to latest reports, six soldiers and five civilians are receiving medical treatment at the National Hospital and three more soldiers at Navaloka hospitals (Full details in SPUR).
2006 October 18 - LTTE Tamil Tiger Terrorists Suicide Bomb Attack on Tsunami hit town, popular tourist destination, Galle, in Sri Lanka
Details on LTTE's Suicide Bomb Attack in SPUR Website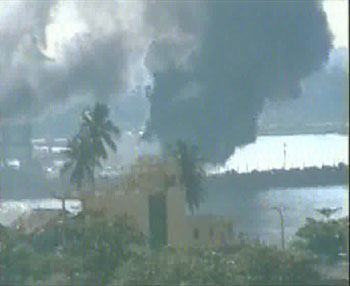 The LTTE terrorist's attempt to ramp explosive laden suicide craft into the Galle harbour and the Sri Lanka Naval camp area "Dakshina", was comprehensively averted together by the Naval and Army troops said the Defence correspondent from Galle. It has been reported that five explosive laden vessels under the guise of fishermen engaged in the attack around 07:45 a.m. Wednesday, the 18th of October. Three suicide boats were completely destroyed by the Navy whilst the other two exploded themselves at the close proximity to the harbour. Naval spokesperson Commander D.K.P Dassanayake, said that two Naval Inshore Patrol Craft (IPC's), were damaged due to explosions. Reports stated that fifteen LTTE terrorists were believed killed and the extent of the damages to civilian property is yet to be assessed due to the terrorist attack. The Special Task Force has sent reinforcements to the location and the security in area is beefed up. Police curfew has also been enforced and a counter terrorist operation is under way. Meanwhile, the Galle- Matara main road is remained closed to facilitate the counter terrorist operation. According to the available information, a civilian and a sailor was reported dead and at least 26 others including civilians have suffered injuries due to the incident. The injured were immediately transferred to the General Hospital Karapitiya. Deputy Inspector General - Galle, Jayantha Gamage, said that Police curfew was imposed in the area to facilitate search operations (Full report in Sri Lanka Defence Ministry).

02006 October 16 - LTTE's suicide attack at Habarana; Death toll rises to 92 - LTTE terrorists rammed the Naval convoy at Digampatana in Habarana with an explosive laden vehicle around 1.30p.m today (Monday the 16th of October). A huge explosion has occurred causing severe destruction to both naval personnel and the civilians in the area. According to the latest information available at least 92 naval personnel were killed and over 100 people suffered injuries in the explosion. The reports also say that there are number of civilian deaths and casualties reported due to the explosion. The naval convoy comprising 24 buses were at the Diagmpatana rendezvous point at the time of the attack. The location has been used by the Navy. Over 340 unarmed Naval personnel who were both going on leave and reporting back to duties were believed to be present at the location. The naval sources further said that 13 buses have also been severely damaged in the explosion. Hospital sources said five buses filled with the victims have reached the General hospital Dambulla. Those with critical injuries have immediately been air lifted to Colombo, Kurunegala and Kandy hospitals (Full report in Sri Lanka Defence Ministry).  Details on LTTE's Suicide Attack on 2006 Oct 15 in SPUR

26 June 2006 - Bomb explosion at Pannipitiya - LTTE Kills Deputy Chief of Staff of the SLA - A LTTE suicide bomber who had come on a motor bike exploded himself at Moraketiya Junction in Pannipitiya , around 08.00 a.m, today(26). Sources said that the bomb was exploded targeting security personnel. Further damages are yet to be confirmed. The explosion set a car ablaze. Hospital sources report that 03 Army personnel including Deputy Chief of Staff, Sri Lanka Army, Major General Parami Kulathunga, were killed due to the explosion . Casualties are yet to be reported. LTTE terrorists are suspected to be behind the cowardly attack carried in the highly populated city area. Latest reports say that four people including three Army personnel were killed and another five more people received injuries due to the suicide bomb explosion carried out by LTTE, today morning in Pannipitiya. People who received injuries were admitted to the Colombo National hospital, Kalubowila Teaching Hospital and Sri Jayawardenapura hospital (Full report and photos in Sri Lanka defence Ministry in http://www.defence.lk/new.asp?fname=20060626_04)..

11 May 2006 - Terrorists target ship carrying 700 troops; * Escort vessel sunk with 17 officers and men * Nordic monitors declare Tigers have no rights at sea and air * Tigers endanger lives of three Nordic monitors * Airforce hits Kilinochchi * Government hopes International community will act even now - The government last night emphasized the immediate need for international action against the Tigers after they blew up a Fast Attack Craft (FAC) providing cover to a vessel carrying over 700 security forces personnel to the Kankesanthurai Navy base. Despite losing one of the escort vessels (P 418), the Navy fought back preventing a direct Sea Tiger attack on MV Pearl Cruiser. The navy acknowledged the attack was undoubtedly the biggest since the Oslo-arranged Ceasefire Agreement (CFA) came into operation in February 2002. The entire crew is reported missing and believed dead. The crew comprised two officers and 15 sailors. Sea Tigers launched the attack around 4.15 pm, military spokesman Brigadier Prasad Samarasinghe said. According to him the Navy destroyed three enemy craft and disabled at least four. Initial reports indicated the loss of two FACs and heavy damages to several other craft. About 90 minutes after the sea-battle broke out the airforce launched strikes on selected targets in Kilinochchi. Speculation is rife that the Iranamadu airstrip had been targeted. Ms Helen Olafsdottir of the Nordic truce monitoring mission last night said that they contacted the Kilinochchi-based LTTE leadership immediately after the Sea Tigers triggered the clash off the Mullaitivu coast. "We urged them to cease the offensive and reminded them of the presence of Nordic naval monitors," she said, adding, "They asked us to get them out." She confirmed air strikes on Kilinochchi. Airforce headquarters declined to release details. The Airforce spokesman said that aircraft and helicopter gunships were deployed in support of the Navy after Sea Tigers triggered the latest clash. She said there were reports clashes at Kattaparichchan in the Trincomalee district. Ministerial sources said that the international community and especially the EU together with the co-chairs would no doubt follow through with intended consequences as indicated to the LTTE on previous occasions. "International sanctions against such acts of terrorism are response to the sense of impunity enjoyed by the LTTE and it provides space for domestic restraint," the sources said. The Pearl Cruiser is believed to have moved further towards the deep seas during the battle. According to Ms. Olafsdottir, two monitors had been moving with the Navy when the Sea Tigers struck. One of them had been on board the troop ship, she said. The Pearl Cruiser is safe and seems to be in Indian waters," she said. She said a Finish truce monitor on board the vessel said it was unharmed but still remained at mid-sea. Subsequently she said that the vessel had moved back towards the Sri Lankan waters. The Nordic truce monitoring mission declared that the LTTE committed gross violations of the CFA in recent days by moving at sea with the aim of provoking the Navy and now finally embarking on an offensive operation against the Navy sinking one vessel and putting SLMM monitors in grave danger. The Mission spokesperson said, "The sea surrounding Sri Lanka is a government controlled area. This has been ruled by the SLMM in line with international law. Non-state actors cannot rule open sea waters or airspace. The LTTE has therefore no rights at sea." (Full report in Island http://www.island.lk/2006/05/12/news9.html).

25 April 2006 - Bomb attack on Sri Lanka army HQ - There has been a suicide bomb attack on the headquarters of the Sri Lankan army in the capital, Colombo, reports say. Police say there have been many injured, including the head of the army, Sarath Fonseka. "A suicide bomb went off near the army hospital aimed at the army commander's vehicle," an army spokesman said, Reuters news agency reports. He said the attacker was a woman. Tamil Tiger rebels frequently use suicide bombers in their operations. There has been an increase in violence in Sri Lanka recently and Tamil Tiger rebels last week pulled out of peace talks.

COLOMBO: WITH THE DEATH TOLL RISING TO NINE IN THE LTTE SUICIDE ATTACK on the Army Commander Tuesday (25) afternoon, authorities at COLOMBO Military Hospital and COLOMBO National hospital on Wednesday (26) morning finalized the identification process of the dead and the injured, many of who are receiving treatment at Intensive Care Units. An LTTE woman suicide bomber, entering the premises as a fake pregnant woman blew herself up near the Military hospital entrance on Tuesday (25) afternoon at about 1.30 p.m. when the Army Commander was proceeding for his lunch. The suicidal blast excluding the bomber has as of Wednesday (26) afternoon caused nine deaths. Twenty-seven Army and civil personnel received injuries in the explosion. Sergeant W.A.M. PRIYANTHA (S/34753) - 4th Sri Lanka Sinha Regiment, Corporal K. WARUSAWITHANA (S/2L00040) - 2nd (Volunteer) Sri Lanka Army Medical Corps, Lance Corporal O.K.D.P. VIRAJ (S/676049) – 3rd Sri Lanka Corps of Military Police, Lance Corporal G.M.S.L. JAGATH (S/408689) – Gemunu Watch, Lance Corporal D.M.S. SUNIL RAJARATHNE (S/34196) – 1st Sri Lanka Sinha Regiment, Private W.D.S.K. DEVASURENDRA (S/409111) – 7th Gemunu Watch, Private DAMINDA ATTANAYAKE (S/602069) – Sri Lanka Army Ordnance Corps and the civilian, Ms. NIRUPA PRIYANGANI of KURUNEGALA died on the spot and Corporal Y.L.A.C.R. YAKANDAWALA (S/675382) – 1st Sri Lanka Corps of Military Police succumbed to his injuries at COLOMBO National Hospital Wednesday (26) morning. Lieutenent General G. S. C. FONSEKA, Commander of the Army, Major P. WICKRAMASINGHE (O/62317) - Sri Lanka Sinha Regiment, Major M. P. RAMANAYAKE (O/3389) – 14th Sri Lanka Light Infantry, Major CHAMINDA EDIRISINGHE (O/3845) – 14th Sri Lanka National Guard, Staff Sergeant J.M.S. WIJESOORIYA (S/82752) – 1st Sri Lanka Army Service Corps, Staff Sergeant S. M. D. DESHAPRIYA (S/42925) - 4th Gemunu Watch, Sergeant H. G. D. JAYANTHA KUMARA (S/550731) – 1st Commando Regiment, Sergeant G.W. RUWAN KUMARA (S/90921) - 2nd Sri Lanka Corps of Military Police, Corporal H. PRADEEP KUMARA (S/401268) – 5th Gemunu Watch, Corporal S. H. SISIRA KARUNARATNE (S/00099) – 2nd Vijayabahu Infantry Regiment, Lance Corporal N. H. SILVA (S/605509) – 1st Sri Lanka Army Medical Corp, Lance Corporal D.A.P. SENEVIRATNE (S/553765) – 1st Commando Regiment, Lance Corporal A.M.A. SUSANTHA KUMARA (S/553785) - 1st Commando Regiment, Lance Corporal P.D.M. PATHIRAGE (S/552247) - 1st Commando Regiment, Lance Corporal P. H. PUSHPA KUMARA (S/460791) – 1st Gajaba Regiment, Lance Corporal G. K. SARATH (S/00427) – 2nd Sri Lanka Army Service Corps, Rifleman R. M. U. KUMARASIRI (S/366578) – 4th Sri Lanka Sinha Regiment, Private P. KEERTHIRATHNE (S/307378) – 4th Sri Lanka Light Infantry, Private L. S. K. SILVA (S/02239) – 5 Sri Lanka Light Infantry, Private K. M. C. L. BANDARA (S/464620) - 4th Gajaba Regiment, Private K. ANURADASA (S/360347) – 4th Sri Lanka Sinha Regiment, Private W. P. RUWAN KUMARA (S/01114) – 12th Sri Lanka National Guard, Private J.R. RAJAPAKSHE (S/379084) – 7th Field Sri Lanka Engineers, Private R.G.S. RANJITH KUMARA (S/412527) – 7th Gemunu Watch, Private SITHARA GUNATHILAKE (S/59427) – 1st Sri Lanka Army Women's Corps, GOONARATHNE (Civil) and W.G. SUNITHA RAJAPAKSA (Civil) are among the total of 27 personnel injured in the LTTE suicide attack (read full details in SPUR http://www.spur.asn.au/LTTE_Atrocities_Suicide_Bomb_Attack_on_General_Sarath_Fonseka.htm).

26 March 2006 - Navy Dvora sunk: 8 sailors missing 11 wounded - 26 March 2006 - Six LTTE suicide cadres yesterday blew themselves up with their trawler sinking a naval Dvora wounding 11 sailors. Eight other sailors missing were believed to have been killed, a senior Navy official told the Sunday Observer yesterday. However, this attack seriously breached the Geneva joint declaration signed between the Government and the LTTE. Six members in the LTTE trawler were also killed in the blast that occurred around 10.30 am yesterday. The Dvora approached the suspected trawler which was said to be carrying weapons and explosives in Kuthiraimalai off Kalpitiya. It was blown up when the Navy personnel advanced to search the trawler. The magnitude of the explosion proves that a large quantity of explosives were in the trawler, Naval sources said. "We detected the trawler which was transporting military hardware to the North. This is the novel method of attacking naval crafts. They wait till we approach" the officer said. A joint operation was launched to rescue the missing sailors and 11 of them were rushed to hospitals. Some of them in a serious condition were air lifted to Colombo. Navy last evening located the area where the navy craft was sunk and complained to the Sri Lanka Monitoring Mission (Full report in Sunday Observer http://www.sundayobserver.lk/2006/03/26/sec01.html).

25 March 2006 - LTTE Boat Blew Destroying A Naval Craft - An LTTE craft, disguised as a multi-day fishing trawler heavily laden with explosives blew itself destroying a Naval Craft around 11.00 a.m. on 25 March 2006. The Navy has received reliable information that some trawlers under Sinhala names had been transporting war-like materials from a ship in the high seas off down south. The Navy then launched a special operation with Naval craft to track down the trawlers transporting the weapons. One of them was observed around 11.00 a.m. on 25 March about 17 Nm off KUDIRAMALAI in between MANNAR and KALPITIYA area. There had been six LTTE cadres onboard the LTTE craft/trawler. The Naval craft went closer to the LTTE craft by ordering it to stop in order to investigate/check. Suddenly the LTTE craft blew itself and the Naval craft affected, caught fire and sank. Eleven persons out of the total crew of 19 were rescued and others went missing. Casualties are being air lifted to COLOMBO (Full report in Sri Lanka Army http://www.army.lk/fulsit.php?idx=143).

08 January 2005 - 13 Navy Sailors Killed by LTTE Tamil Tiger Terrorists - Sunday, 08 January 2005 (Melbourne) : A nearly 4-year-old cease-fire between the Sri Lankan government and Tamil Tiger rebels is coming under pressure after at least 13 sailors were killed when an explosives-laden boat rammed into a Sri Lankan navy vessel early Saturday, 07 January 2005. The 24-foot navy vessel sank shortly after the explosion, which happened shortly after midnight. All 15 sailors on board were initially presumed dead, but fisherman found two survivors clinging to wreckage shortly after sunrise Saturday morning. RESCUE OPERATIONS conducted aftermath of Tamil Tiger (LTTE) pre-dawn attack Saturday (07) morning in the seas off FOUL POINT, TRINCOMALEE were able to salvage two sailors of a total of fifteen who went missing after Tamil Tigers (LTTE) terrorists blew up a Naval vessel Fast Attack Craft (FAC). A huge explosion trigged off by Sea Tigers after their gradual approach towards the Naval Craft mingled with fishing boats in small hours on Saturday (07) at about 1.00 a.m. blew up this Naval vessel with fifteen sailors on board. Initial reports revealed that all sailors aboard had gone missing but subsequent rescue operations rescued two of them afterwards. However, the whereabouts of other thirteen sailors who had gone missing after the deadly attack are yet to be traced.
Naval rescue operations are in progress. 

January 07, 2005 - Deadly suicide bomb attack on Sri Lanka navy - Tensions escalate after apparent suicide attack on vessel - A nearly 4-year-old cease-fire between the Sri Lankan government and Tamil Tiger rebels is coming under pressure after at least 13 sailors were killed when an explosives-laden boat rammed into a Sri Lankan navy vessel early Saturday. The 24-foot navy vessel sank shortly after the explosion, which happened shortly after midnight. All 15 sailors on board were initially presumed dead, but fisherman found two survivors clinging to wreckage shortly after sunrise Saturday morning

July 07, 2004 in Colombo - Tamil Tigers terrorize Sri Lanka's capital, Colombo again - Liberation Tigers of Tamil Eelam (LTTE) had launched their first suicide attack this noon today right in the heart of the capital city of Colombo, since the ceasefire agreement signed two years ago with Tamil Tigers.  Meanwhile, Peace Talks to end Sri Lanka's civil war have been on hold for more than a year. Government and the LTTE have been observing the Norwegian-brokered CFA signed in February 2002.  The Tamil rebel outfit had terrorized the capital Colombo with numerous suicide bomb attacks during last two decades. LTTE Monday marked "Black Tiger Day" to commemorates their suicide cadres.  The police said that the target of the attack would be Cabinet Minister and Ealam Peoples Democratic Party (EPDP) leader Douglas Devananda. EPDP is a rival party to LTTE.  According to reports, CID, Anti Terrorism Unit, and the Crime Detection Bureau have started intensive investigations into the incident. Government analyst is investigating the blast (full report in Asian Tribune).

July 07, 2004 in Colombo - Five policemen killed when a suspected LTTE women human bomb exploded - Five police officers are reported to be dead at the bomb explosion occurred at noon today inside the Colpetty police station.  One police officer dead, has been identified as E.M. Ekanayake – Inspector of Police.  Director of the Colombo Accident Ward Dr. Anil Jasinghe said that eleven injured (three were critically injured) people are undergoing treatment at the Colombo National Hospital. There are police personnel and civilians among them.  An officer of the Colpetty police said the bomb exploded when the police attempted to check a suspected woman. The woman was reported to be loitering in front of the office of Minister Douglas Devananda, which is situated near the police station.  On suspicion the police had taken her to the police station for questioning where the woman had blown herself.  CID, Anti Terrorism Unit, and Crime Detection Bureau have started wide investigations into the incident (full report in Asian Tribune).

July 07, 2004 in Colombo- Five die as suicide blast rocks Sri Lanka capital - By Lindsay Beck. COLOMBO (Reuters) - At least five people were killed and 11 wounded when a suspected Tamil Tiger suicide bomber blew herself up inside a police station in the Sri Lankan capital on Wednesday, shattering more than two years of relative peace. Police said the woman detonated the bomb as she was being frisked, but that the target was government minister Douglas Devananda, a Tamil who is a vocal opponent of the Liberation Tigers of Tamil Eelam (LTTE). "A female has gone into the ministry of Douglas Devananda and wanted to meet him... Permission was not granted. People from ministerial security followed her and these officials took her into the police station. While they (police) tried to search her she exploded herself," said police spokesman Rienzie Perera. "It is obvious Douglas was the target," he said. (Full report in Reuters News)

July 07, 2004 in Colombo - Suicide Bomb Attack in Sri Lanka Kills Five People -  July 7 (Bloomberg) -- A woman suicide bomber killed herself and four police officers in an attack on a police station near the Sri Lankan prime minister's official residence in the capital, Colombo, a police spokesman said. The blast, which injured 11 other officers, took place at around 12:30 p.m. in Colombo. The station is near the U.K and U.S. embassies. The woman ``was being searched in the police station after being arrested and blew herself up and the lady searching her,'' Rienzie Perera, the police spokesman, said in a telephone interview in Colombo.(Full report inBloomberg.Com http://quote.bloomberg.com/apps/news?pid=10000080&sid=ahDiNL3i84CU&refer=asia)

Noverner 15, 2001 in Batticaloa - LTTE suicide bomber kills three and injures nine in Batticaloa  A LTTE Tamil Tiger suicide bomber detonated a powerful bomb and killed three soldiers who went to Batticaloa town to purchase some personal needs this morning around 10.30 AM.   Eight civilians and another soldier were injured and had been rushed to the Batticaloa hospital for treatment following the incident.  The suicide bomber, who mingled with ordinary people, has not yet been identified. 

October 30, 2001: Tamil Tiger rebels staged a suicide bomb attack against an oil tanker off Sri Lanka's northern coast.

October 29, 2001 : Sri Lankan Prime Minister Ratnasiri Wickremanayake escaped an assassination attempt Monday when police intercepted a would-be suicide bomber who detonated explosives strapped to his body, killing himself and five others.
| | |
| --- | --- |
| | |

2001 November 15: Three Army intelligence personnel and a civilian are killed while eight persons sustain injuries in a suicide bomb attack at a high security zone in Batticaloa town. 
2001 October 30: Three soldiers and four of the bombers, including two women, are killed in a suicide boat attack on an oil tanker, MV Silk Pride, off the port of Point Pedro on the northern Jaffna peninsula.
2001 October 29: Two police personnel and an equal number of civilians are killed while 14 persons sustain injuries when a male suicide bomber blew himself up in close proximity to a meeting of Prime Minister Ratnasiri Wickremanayake at Narahenpita in the residential outskirts of Colombo.
2001 July 24: A group of at least 20 suicide squad cadres wearing military uniforms and carrying shoulder-launched anti-tank weapons, mortars, T-56 rifles and RPGs attack the Air Force base in Katunayake and the Bandaranaike International Airport, on the outskirts of Colombo. Eight military aircraft, including Kifr jets, two Mi-17 helicopters, one MiG-27 fighter, three Chinese K-8 trainer aircraft and six Airbus passenger aircraft are destroyed in the attack. Bodies of 13 LTTE cadres were found subsequently, including two of those who had blasted themselves. Six soldiers and an airport engineer were killed. A journalist of the state-run television Rupavahini, who was the only journalist to be allowed access into the airport during the incident, was wounded in the cross-fire. Tiger rebels stage a devastating suicide attack against the main air base and the only international airport in Sri Lanka, leaving 12 people dead and destroying 13 aircraft.

2000 October 19: Three civilians are killed and 21 persons, including three Americans, are injured in a suicide bomb attack near the Colombo Town Hall as the new Cabinet takes oath. 
2000 October 5: At least 12 persons are killed and over 40 injured when a LTTE suicide bomber blew himself up in an attempt to enter a People's Alliance election meeting at the Medawachchiya bus stand, which was being addressed by the Health and Indigenous Medicine Deputy Minister Tissa Karaliyadda.
2000 October 3: National Unity Alliance Trincomalee District candidate M. L. Baithullah, a candidate for the October 10-parliamentary elections, and 20 persons, including four police personnel, are killed and approximately 49 persons are wounded when a suicide bomber attacked an election rally in Muttur town.
2000 September 15: Seven people are killed and 28 others sustain injuries when a suicide bomber, on being detected, blew himself up in front of a busy hospital in Colombo. Health Minister Nimala Sripala de Silva had a narrow escape as he had passed through the site barely seven minutes before the blast.
2000 August 16: (Vavunia) A child was killed and five persons, including three army officials, injured in an attack near an army vehicle outside the Vavunia Town Hall in Colombo.
2000 June 26: MV Uhana, a ship carrying private cargo to Point Pedro from Trincomalee is attacked by a ring of LTTE suicide boats and the vessel was sunk after explosion. Out of 28 members of the civil crew on board the ship, 23 were rescued by Sri Lanka Navy while five were reported missing following the explosion. Three Naval ratings also died in the incident.
2000 June 14: Two civilians are killed and 11 persons sustain injuries during an abortive attempt by a person on a bicycle fitted with an explosive device at the Gemunu Palace Cinema Junction in Wattala to target a Sri Lanka Air Force bus.
2000 June 7: A suicide bomber kills the Minister of Industrial Development, C. V. Gooneratne, and 24 civilians whilst he was in a procession organised to mark 'war heroes' day at Golumadama Junction, Ratmalana.
2000 June 5: Thirty-four naval personnel are killed as a suicide squad of the 'Sea Tigers' sinks a gunboat of the Sri Lankan Navy off Vadamarachchi coast in Jaffna peninsula.
2000 March 10: At least 14 civilians and six police personnel are killed and 46 people sustain injuries when a group of five suicide squad cadres attack a motorcade on a busy highway leading to Ceremonial Drive at Sri Lanka's Parliament in Colombo.
2000 March 2: Col. Piyal Abeysekara is targeted by a female suicide bomber at Inner Harbour Road in Trincomalee. While the Colonel survives the assassination attempt, his driver is killed.
2000 January 5: A female suicide bomber explodes herself while she was under body search by Police on suspicion in front of the Prime Minister's Office at Flower Road in Colombo killing 13 civilians, three police officers and injuring 27 people.  At least 12 killed and 24 wounded when a woman suicide bomber detonates explosives strapped to her body outside the office of prime minister Sirima Bandaranaike.

December 18, 1999: President Chandrika Kumaratunga is wounded and 38 are killed in two separate attacks on election rallies.
1999 December 18: Skandaraja Ashoka, a suicide bomber, detonates a bomb strapped to his body killing retired Major General Lakshman Chula Algama and 11 persons at a United National party (UNP) election rally at Ja-Ela in Colombo.
1999 December 18: In a failed attempt by a female suicide bomber on the life of President Chandrika Kumaratunga at an election meeting at the Town Hall in Colombo, 21 persons are killed and over 100 others sustain injuries. The President is, however, injured in one eye due to shrapnel injuries. Among those killed were four police personnel, including Colombo's Deputy Inspector-General T.N. De Silva. At least three senior ministers and some foreign journalists, including a Japanese television crew, were among the injured.
1999 August 9: In the first suicide bombing within an army camp, a male suicide bomber enters the Vakarai camp on the pretext of collecting weekly food relief and detonates a bomb strapped to his body killing Major T. G. J. B. Karunanayake, the second in command of an infantry battalion. Another Major, identified as J. H. Karunadasa, and three soldiers are wounded in the attack.

1999 August 4: Nine police commandos and one civilian are killed when a woman suicide bomber threw herself at a police truck in Vavuniya, northern Sri Lanka. Eighteen commandos aboard the truck were injured.
1999 July 29: Moderate Tamil politician Dr. Neelan Thiruchelvam, a Member of Parliament representing the Tamil United Liberation Front, and two more persons are killed by a suicide bomber at the Kynsly Road - Rosmead Place Junction in Borella, Colombo.
1999 July 25: A woman suicide bomber targets a ship docked in the Trincomalee harbor, hours before it was to take on passengers killing herself and a civilian.
21 May 1999 - Suicide Bomber of LTTE Tamil Tiger Terrorists killed India's Prime Minister Sri Rajiv Gandhi (see full details in SPUR)