Prabhakaran's Tigers and Mandela's Spears
Part 6
by Sachi Sri-Kantha, March 18, 2012
As such I prepared a table of my own, and provide it here. In this I have included 11 criteria (training location, training period, cadres trained, instructors, functional difference, military adversary, active engagement phase, 'new weapons' to tackle, new innovation, enemy casualties and leadership location) which were missing in the Table 1 of Bakker and colleagues (see, part 4 of this series). The basic functional difference between MK and LTTE was that whereas MK was an 'army in exile', LTTE was an 'army in location', during their confrontations between their adversaries.
Comparison between MK and LTTE: My own table
In concluding what they have labeled an "in-depth"(?) study on MK (the armed wing of the African National Congress) and LTTE, Rene Bakker et al. [Journal of Policy Analysis and Management, 2012; 31(1): 33-62] had written, "Despite the limitations described, we are confident that the key variables we identified in this study…help us to gain a deeper understanding of dark network resilience." This is nothing but academic hyperbole, as I have shown in parts 1 to 5, that their study is full of omissions, filled with errors in data collection and analysis.
Previously I provided a modified table from Rene Bakker and colleagues. I felt that this table was incomplete and needed additional details. As such I prepared a table of my own, and provide it here. In this I have included 11 criteria (training location, training period, cadres trained, instructors, functional difference, military adversary, active engagement phase, 'new weapons' to tackle, new innovation, enemy casualties and leadership location) which were missing in the Table 1 of Bakker and colleagues (see, part 4 of this series). The basic functional difference between MK and LTTE was that whereas MK was an 'army in exile', LTTE was an 'army in location', during their confrontations between their adversaries. Due to this functional difference, the casualty rate of their adversaries also differed drastically. Gotabhaya Rajapaksa, the secretary defence of Sri Lanka admitted last year, in his keynote lecture delivered on May 31, 2011 that, "All in all, by the time our military campaign resumed in 2005, the LTTE had killed more than 26,000 armed services personnel." Coming from horse's mouth, this number can be expected as the lowest figure! In addition, one should add, 1,200 Indian soldiers who died during their conflict with LTTE, between 1987 and 1990.
Comparison between MK and LTTE (prepared by Sachi, 2012)
Criteria
MK
LTTE
training location
Angola
India
training period
1976-1988
1983-1985
cadres trained
10,000 - 20,000
<200
instructors
Cuban, [then] Soviet Union
Indian
functional difference

army in exile

army in location

military adversary

South African

Sri Lankan and Indian

active engagement
phase

1961-1990

1979-2009

new weapons' to tackle

none

computer, GPS

new innovation

none

suicide bombing

enemy casualties

low

high

leadership

Mandela (prison); Tambo (exile)

Prabhakaran (in ground of conflict)
Leading Lights of MK network
A vibrant organization exists because of the presence of exceptional individuals who are devoted to a specific goal. If one checks the paper by Bakker and colleagues, they couldn't identify any single MK personality, other than Nelson Mandela. Sure, Mandela was the leader (Commander in Chief), but he was sentenced to life imprisonment on June 12, 1964. MK did not wilt, when Mandela was inside the prison until 1990 February 10, due to the vibrancy of other exceptional individuals, who opted to lead the struggle against Apartheid policies beyond the borders of South Africa. If these Rene Bakker et al. had consulted Mandela's latest book Conversations with Myself (2010), they could have identified who were the other leaders involved with MK. To rectify, the omission of Bakker and colleagues, I provide the names and brief annotations of twelve leading lights of MK network, identified by Mandela. This information appears in the Appendix 1 of Mandela's book. Arranged in alphabetical order, these are,
Chiba, Isu (Laloo) [1930- ]: Platoon commander of MK. As member of MK's Second National High Command, Chiba was sentenced to 18 years' imprisonment. Released in 1982.
Dadoo, Dr. Yusuf [1909-1983]: Medical doctor. He went underground during 1960 and then into exile to escape arrest. He was the deputy to Oliver Tambo on the Revolutionary Council of MK.
Hani, Thembisile (Chris) [1942-1993]: Member and eventually head of MK. Hani was assassinated on April 10, 1993 outside his home by a Polish immigrant Janusz Walus, at Boksburg, South Africa.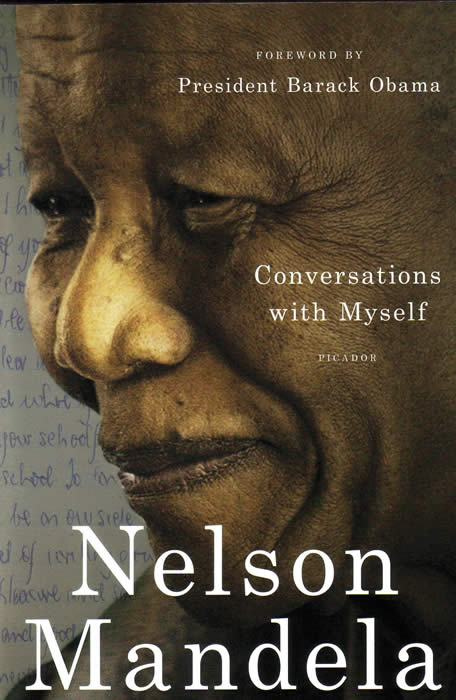 Maharaj, Satyandranath (Mac) [1035 - ]: leading member of MK. Convicted for sabotage in 1964 and sentenced to 12 years' imprisonment. Maharaj secretly transcribed Mandela's autobiography Long Walk to Freedom, and smuggled it out of prison, when released in 1976.
Mhlaba, Raymond [1920-2005]: Commander-in-Chief of MK. Arrested in 1963 and sentenced to life imprisonment. He was released in 1989.
Mlangeni, Andrew Mokete [1926- ]: Member of MK. Convicted in 1963 and sentenced to life imprisonment. Served 18 years at Robben Island and then transferred to Pollsmoor Prison in 1982.
Nair, Billy [1929-2008]: Member of MK. Charged with sabotage in 1963 and imprisoned at Robben Island for 20 years.
Sisulu, Walter Ulyate Max [1912-2003]: helped establish MK and served on its High Command.
Slovo, Joe [1926-1995]: Founding member and Commander of MK. Jewish, born in Lithuania. Slovo was in exile from 1963 to 1990, living in Britain, Angola, Mozambique and Zambia.
Tambo, Oliver Reginald [1917-1993]: established military training camps outside South Africa. Tambo lived in exile from 1960 to 1990 in UK.
Tshwete, Steve Vukile [1938-2002]: Member of MK. Served a prison sentence for 15 years, after being arrested in 1963. He later served as the Minister of Sport & Recreation in President Mandela's Cabinet.
Some other notable personalities associated with MK were as follows:
Kasrils, Ronald (Ronnie) [1938 -  ]: a founding member of MK. Jewish, with grandparents from Latvia and Lithuania.
Molefe, Jacqueline Sedibe [1943-  ]: Served as Chief of Communications for MK. Wife of Joe Modise.
Modise, Johannes Joe [1929-2001]: Served as Minister of Defence in President Mandela's Cabinet.
Moloi, LehlohonoloNtsike (Lambert) [1932 -  ]: Moloi, born in Lesotho, joined MK in 1963, and worked with Chris Hani.
Nyanda, General Siphiwe [b. 1950]: Nyanda joined MK in 1974 and was appointed as the Chief of Staff of MK in 1992. He oversaw the incorporation of MK into South African National Defence Force in 1994.
Phungula, Johannes Phumani 'Passfour' [? – 2009]: recruited to MK in 1962. He received military training in Soviet Union, and later became an MK regional commander for Natal from 1976.
Tabane, Joe alias Cassius Maake [1942-1987]: Tabane left South Africa via Botswana to join MK. He was assassinated in Swaziland in 1987. An ANC notice issued on June 19, 2008 stated that Tabane's remains exhumed in Zambia, would arrive in South Africa.
Zuma, Jacob [1942 -  ]: Current President of South Africa. Zuma became an active member of MK in 1962. He served 10 years imprisonment with Mandela. Then, he left South Africa in 1975, to settle in Mozambique and later in Zambia. Zuma also served as the Intelligence Chief.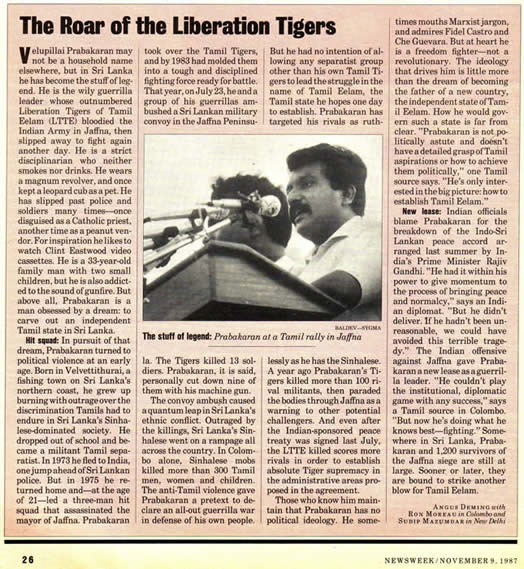 Leading Lights of LTTE network
The Wikipedia carries an entry entitled, 'List of Commanders of the LTTE', listing 59 names [http://enwikipedia.org/wiki/List_of_commanders_of_the_LTTE], which I accessed on March 14, 2012. There is no doubt that this error-prone list was prepared and placed by anti-LTTE enthusiasts, based on the descriptions available in the internet by LTTE chroniclers among Tamils of benign grade (T. Sabaratnam and Sachi Sri Kantha) and hostile grade (K.T.Rajasingham, Rajan Hoole, and D.B.S.Jeyaraj), details available in the TamilNet newswire service, and misleading sources like Rohan Gunaratna. Though I was tempted to revise this list, I felt that it is prudent not to touch that error-prone list in the Wikipedia and comment on its dubious credibility here. Even if I corrected the errors in that list, it would be altered by the anti-LTTE elements in Sri Lanka or elsewhere.
I provide the Wikipedia list below, for reference. Nom de Guerre is followed by the given name. For some LTTEers, the given names are missing!
Thambi and Annan/ Velupillai Prabhakaran
Pottu Amman/ Shanmugalingam Sivashankar
Selvarasa Pathmanathan alias KP/ Shanmugam Kumaran Tharmalingam
Karuna Amman/ Vinayagamoorthy Muralitharan
Lt.Colonel Seelan/ Charles Lucas Anthony
Colonel Kittu/ Sathasivam Krishnakumar
Mahattaya/ Gopalaswamy Mahendraraja
Thamilchelvan/ Suppiah Paramu Thamilselvan
Colonel Shankar/ Vaithilingam Sornalingam
Colonel Soosai/ Thillaiyampalam Sivanesan
Brigadier Balraj/ Balasegaram Kandiah
Colonel Theepan/ Velayuthapillai Baheerathakumar
Ratnam Master
Kapil Amman
Nadesan/ Balasingham Nadesan
Colonel Bhanu/ Sivanadan Somasekaran
Colonel Charles/ Shanmuganathan Ravishankar
Colonel Ramesh/ T. Thurairajasingham
Colonel Sornam/ Soosapillai Joseph Anthonydas
Pulidevan/ Seevaratnam Pulidevan
Shashikumar Master/ Mithiran Selvarathnam
Daya Master/ Velayutham Dayanithi
George Master/ Velupillai Kumaru Pancharatnam
Colonel Gadaffi
Colonel Jeyam
Colonel Raju alias Kuyilan/ Ambalavanar Neminathan
Colonel Pathuman
Colonel Ramanan/ Kandiah Ulaganathan
Nediyavan/ Perinpanayagam Sivaparan
Colonel Thurka
Colonel Vithusha
Lt. Colonel Akbar/ Veerapathirar Perinbarasa
Lt. Colonel Amuthab
Lt. Colonel Appaiah/ I. Irasiah
Lt. Colonel Arivu
Lt. Colonel Gobith
Lt. Colonel Kumarappa/ B. Ratnapalan
Lt. Colonel Lawrence
Lt. Colonel Nakulan
Lt. Colonel Nizam/ Thambirasa Kuhasanthan
Lt. Colonel Ponnamman/ Yogaratnam Kugan
Lt. Colonel Pulendran/ K. Dharmarajah
Lt. Colonel Ratha
Lt. Colonel Santhosham/ K. Umainesan
Lt. Colonel Thileepan/ Rasaiah Parthipan
Lt. Colonel Veeramani/ Subramaniam Vadivel
Lt.Colonel Victor/ Marcelin Fuselus
Major Mano
Captain Miller/ Vallipuram Vasanthan
Captain Pandithar/ S. Ravindran
Lieutenant Sellakili/ Sathasivam Selvanayakam
Cheliyan
Gangai Amaran
Gopal/ Nadarasa Dushiyanthan
Keerthi/ Manickapodi Maheswaran
Marshall/ Rasaiah Ilanthirayan
Nagesh/ Selvarathnam Sundaram
/ Ramalingam Paramadeva
Sothiya/ Maria Vasanthi Michael
One good thing about this error-prone list is that, the guy with the garbled name 'Tjamanabalsingham', identified as the 'most influential member' of LTTE by Bakker and colleagues is missing! I also want to strongly criticize the introductory statement that accompanied this list. It says, "The military designations in front of their names are part of their aliases, and are not recognised military ranks." This statement provides an indirect clue that this particular list emanates from the Sinhalese-dominated Sri Lankan military circle! This comment is erroneous and insulting to the bravery of LTTE army. If the Sri Lankan military had to lose 26,000 of their 'recognized military rank' members and the Indian military lost 1,200 of their 'recognized military rank' members in combat and so many number of 'Operations', then those leaders who led the LTTE military did earn their ranks!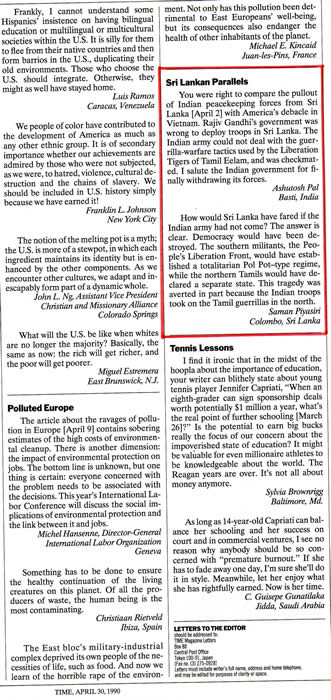 I cite two short letters (one by an Indian and one by a Sinhalese Sri Lankan) that appeared in the Time magazine (April 30, 1990), after the withdrawal of the Indian army from Sri Lanka. A scan is provided nearby. These indicate that the LTTE commanders did earn their ranks in the battlefield.
"You were right to compare the pullout of Indian peacekeeping forces from Sri Lanka [April 2] with America's debacle in Vietnam. Rajiv Gandhi's government was wrong to deploy troops in Sri Lanka. The Indian army could not deal with the guerrilla-warfare tactics used by the Liberation Tiges of Tamil Eelam, and was checkmated. I salute the Indian government for finally withdrawing its forces."- Ashutosh Pal, Basti, India.
"How would Sri Lanka have fared if the Indian army had not come? The answer is clear. Democracy would have been destroyed. The southern militants, the People's Liberation Front, would have established a totalitarian Pol Pot-type regime, while the northern Tamils would have declared a separate state. This tragedy was averted in part because the Indian troops took on the Tamil guerrillas in the north." – Saman Piyasiri, Colombo, Sri Lanka.
It should be understood that, the LTTE commanders who carried the ranks of brigadier, colonel, lieutenant colonel, major and captain and lieutenant, were not members of the Sinhalese-dominated Sri Lankan military ranks. They were members of an incipient separate state Eelam (that flourished from 1990 to 2009), which was in war with the Indian military (1987-1990) and the Sri Lankan military (1979-1987 and 1990-2009). To its credit, LTTE fought with Indian military from October 1987 to March 1990, and by general consensus, LTTE won that engagement. But, independent Sri Lanka's military never faced the Indian military in the 20th century, and it will never happen in the future as well. Numerous Sri Lankan military men (all of them exclusively Sinhalese) since 1948 had received their ranks and medals, based solely on the proximity to the political powers by blood or marriage. They never ever experienced any enagagements in the battlefield. Compared to the performances of these battle-deficient heroes, the military ranks of LTTE commanders were duly earned. When Prabhakaran's army was tackling the Indian army and gaining world-wide recognition (see a scan from the Newsweek magazine of November 9, 1987), guess what the Sri Lankan military was doing? The latter day heroes (Sarath Fonseka and Gotabhaya Rajapaksa) who were in lower ranks then, were hacking time inside barracks. I provide a little more information of this episode in the next part.
Apostles of Mandela and Prabhakaran: My selection
Unwillingness to look earnestly for data publicly available has been a serious threat to academic scholarship. On this issue, I'll give an F-grade to Rene Bakker and colleagues, as they had failed to check the recently published Mandela's Conversations with Myself (2010), for information on MK personalities. Their ignorance and omission on LTTE personalities is nothing but a joke! For the benefit of these academics and others with similar interests, I provide below my selections of Apostles of Mandela and Prabhakaran.
The word 'apostle' is derived from Greek apostolos meaning 'messenger'. In current usage, it has multiple meanings: (1) any important early Christian teacher, (2) the first successful Christian missionary in a country or to a people, (3) a vigorous and pioneering advocate or supporter of a particular policy, idea, or cause, (4) a messenger or representative. Among these, I had chosen the 3rd meaning for this selection.
Mandela's Apostles
Oliver Tambo (1917-1993)
Walter Sisulu (1912-2003)
Govan Mbeki (1910-2001)
Elias Motsoaledi (1924-1994)
Joe Slovo (1926-1995)
Ahmed Katrada (1929 -  )
Satyandranath Mac Maharaj (1935 -  )
Winnie Mandela (1936 -  )
Steve Tshwete (1938-2002)
Helen Suzman (1917-2009)
Chris Hani (1942-1993)
Thabo Mbeki (1942 -  )
I am aware that there are others who deserve inclusion within the top 12 Apostles rank. But, I based this selection from those whose activities on behalf of ANC or MK were included by Mandela in his autobiography, Long Walk to Freedom (1994) and his second book Conversations with Myself (2010).
Prabhakaran's Apostles
Anton Stanislaus Balasingham (1938-2006): theorist
Mahathaya [Gopalasamy Mahendrarajah] (1956 – 1994): identified as a traitor.
Pottu Amman [Shanmugalingam Sivasankar] (1962 -  ): intelligence chief
Colonel Sankar [Vaithilingam Sornalingam] (1949-2001): leader of air-wing section
Colonel Soosai [Thillaiampalam Sivanesan] (1963 – 2009): naval force commander
Colonel Kiddu [Sathasivam Krishnakumar] (1960-1993): policy promoter
Brigadier Balraj [Kandiah Balasegaram] (1965-2008): military leader
Colonel Bhanu [Somasekaran Sivanadan] (1960-2009): military leader
S.P. Tamilselvan (1967-2007): one of the political leaders.
V. Balakumaran (1950? - ): policy promoter
Puthuvai Ratnadurai (1948 - ): poet activist
Adele Ann Wilby Balasingham (1950 - ): woman wing functionary and chronicler
Similar to the list of Mandela's Apostles that I have presented, I'm aware that there are others who deserve inclusion in this list. But, in the absence of an autobiography source book like that of Mandela's for Prabhakaran, I opted for these names (a) from my perspectives as a long term LTTE watcher, and (b) from The Will to Freedom (2001) book by LTTE chronicler Adele Balasingham. Also, only those who survived after 1990 (Eelam War 1, and War with Indian Army) were included. The latter criterion had eliminated Prabhakaran's earlier associates (Pandithar, Seelan, Sellakili, Victor, Ponnamman, Santhosam, Kumarappa and Pulendran) from this list. Please note that this is not a popularity contest.
*****