Get on the Bus 2012
by Amnesty International, New York, April 27, 2012
Protest murder of 'Trinco Five,' Sri Lanka Mission to the UN, 2:15pm, April 27, 2012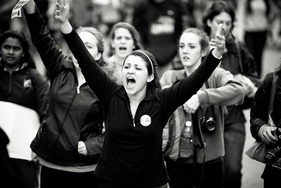 Coming Soon! Get on the Bus NYC 2012. Mark your calendars for Friday, April 27th!
This year's event will focus on human rights in Tibet, Burma, Sri Lanka, and Indonesia. Register Online now. We hope you can join us! 
What is Get on the Bus?
Get on the Bus for Human Rights (GOTB) is an annual day of human rights education and activism organized by Amnesty International USA Group 133 of Somerville, MA and a dedicated team of volunteer community organizers. Now in its seventeenth year, GOTB draws upwards of 1,200 participants riding buses, commuter trains, and carpooling down to New York City to take peaceful action in front of embassies, consulates and corporate headquarters in NYC in support of human rights. 

Sri Lanka: Justice for Ragihar Manoharan


Ragihar Manoharan, a Sri Lankan Tamil student, and four fellow students had gathered for a chat near the seafront in the town of Trincomalee in northeastern Sri Lanka at about 7:00 P.M. on January 2, 2006, when a grenade was thrown at them from a passing auto rickshaw. The students ran, but at least three of them were injured in the explosion. A short while later, a group of 10 to 15 officers in uniform, believed to be police from the elite Special Task Force, arrived. They put the injured students into their jeep and beat them with rifle butts, and then pushed them out onto the road. According to a witness, the security forces personnel then shot the five students dead. Despite subsequent court hearings and an investigation by a presidential commission of inquiry, no one has been prosecuted for these murders. Ragihar's father gave evidence at the proceedings and then received death threats. Ultimately, Ragihar's family was forced to flee the country. We are calling on the Sri Lankan government to effectively investigate and prosecute those who murdered Ragihar Manoharan and the rest of the "Trinco Five".

Given the long history of impunity in Sri Lanka, we are also calling on the United Nations to (1) conduct an international investigation into all reported crimes under international law committed in Sri Lanka, including the killing of the "Trinco Five," (2) make the results public, and (3) ensure that those responsible are prosecuted in fair proceedings."

Online Resources

Take Action Now: Join the South Asia Regional Action Network
Sign up for monthly actions by email on Sri Lanka, Afghanistan, Nepal, India, Pakistan, Bhutan, the Maldives and Bangladesh. Email cgintern@aiusa.org and write "SARAN sign-up" in the subject line.




Schedule of Events


GOTB 2010. Photo courtesy of Scott Langley.Below is the tentative schedule of events for GOTB 2012.

 

10:00 a.m. - 11:00 a.m. Registration Opens

 Location: The Cooper Union (7 East 7th Street, New York, NY 10003

)

11:00 a.m. - 1:00 p.m. Speakers Panel and Performance

 Location:  The Great Hall at The Cooper Union for the Advancement of Science and Art, 7 East 7th Street, New York, NY 10003

.

1:00 - 2:00 p.m. Lunch & Travel to Afternoon Rallies
Bring your lunch or grab lunch on the go
.

2:15 – 5:00 p.m. Actions: Sri Lanka, Burma, Indonesia and Tibet/China 
Various locations in Manhattan.


2:15-2:45pm 
Rally #1 - Sri Lanka Action: Calling on the Sri Lankan government to investigate and prosecute those responsible for the murders of Ragihar Manoharan and the "Trinco Five".
Location: Permanent Mission of the Democratic Socialist Republic of Sri Lanka to the United Nations, 630 3rd Avenue

Walk to next action.

3-3:30pm
Rally #2 - Burma/Myanmar Action: Calling for the release of Khun Kawrio, Ko Aye Aung, and all Prisoners of Conscience in Myanmar (Burma).  
Location: Dag Hammarskjold Plaza 

Walk to next action.

3:45-4:15pm
Rally #3 - Indonesia Action: Seeking the release of Filep Karma, an advocate for the rights of Indonesia's Papuan population
Location: Permanent Mission of the Republic of Indonesia to the United Nations, 325 East 38th Street

Walk to next action.

4:25-5:00pm        
Rally #4 - China Action: Seeking release of Tibetan filmmaker Dhondup Wangchen
Location: Permanent Mission of the People's Republic of China to the Unite‎d Nations, 350 East 35th Street


5:00 p.m. End of Event 
Participants depart from Chinese Mission (1st Avenue between E 35th and E 37th Streets)


Starting in 2011, Get on the Bus expanded to Washington, D.C.  - be sure check out their website too!



Get on the Bus is a project of Amnesty International, Group 133, Somerville MA

GOTB is sponsored by

The Cooper Union