Quo Vadis Karunanidhi?
Part 2
by Sachi Sri Kantha, June 14, 2012
This was the situation in 2006. Now 6 years later, it seems Karunanidhi's clout in New Delhi, with the Congress Party had taken some additional beating. And he awaits for an opportune moment to bolt from the sinking ship in the next two years.
Six years ago, I wrote a 'Quo Vadis Karunanidhi' commentary to this website. The article seems to have a life on its own, as a source material for a few Wikipedia entries on Tamil Nadu politics. Thus, I title this sequel Quo Vadis Karunanidhi? – part 2.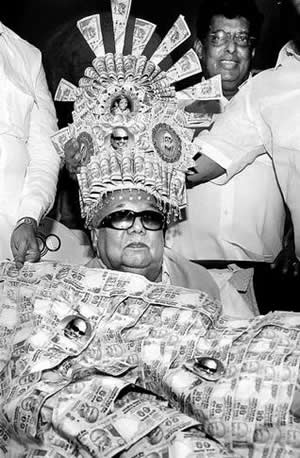 M. Karunanidhi, with a crown made of currency notes garland [The Hindu, Chennai, June 4, 2012]
Money as a metaphor
In a photo which was released during the 88th birthday celebration of Karunanidhi [June 3, 2012], there was this telling image of Karunanidhi being felicitated by his cronies and supporters, with a crown made from currency notes. What an appropriate photo it turned out to be? For the past two decades, Karunanidhi symbolized money politics, and he is willingly flaunting it.
N. S. Krishnan (NSK), the multi-talented comedian actor-singer and a benefactor of Karunanidhi during his early years, directed a movie 60 years ago with the caption 'Panam' (Money). In it, he sang a popular song about the 'wanderings' of money. The song begins with the line, 'Where can I search you, thy money?' and in each subsequent line, NSK humorously ticked off the various incarnations money takes in the hands of human representatives of Tamil Nadu society. One of the early lines of this song read 'Karuppu Markettil kalangukinrayo!' [Have you been groped in the black market?]. The lyricist of this satirical song was none other than King poet Kannadasan (1927-1981), who was then a pal of Karunanidhi and belonged to the DMK party. If he lived now, he might have scribbled the next rhyming line as 'Karunanidhi thalaiyil kireedamanayo! [Have you turned into a crown in Karunanidhi's head?] as a good metaphor to needle Karunanidhi. Lest one forget, Panam was the second movie for Sivaji Ganesan and the script writer of this movie was Karunanidhi himself!
While providing the scanned version of the original, I made an attempt to translate the sentiments of the lyrics into English, for non-Tamil readers.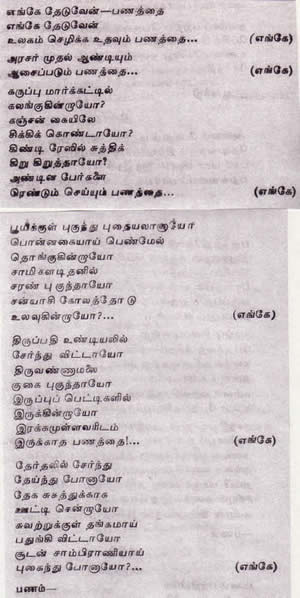 Where can I search you – thy money?
Where can I search you?
Ain't the world flourishes with your help?
Ain't you loved by kings and paupers?
Have you been groped in the black market?
Have you been caught by a miserly guy?
Have you been circling at Guinty race course?
Ain't you twist the hands of those who reach you?
Have you been buried under as a treasure?
Have you been hanging in a woman as a jewel?
Have you surrendered at the feet of a swamy?
Have you been loitering as an ascetic?
Have you crept into a till box of Thirupathi?
Have you entered the cave in Thiruvannamalai?
Have you been procured in iron safe boxes?
Why you avoid the hands of kind hearted?
Have you been wasted yourself in an election?
Have you moved to Ooty to gain your health?
Have you been crouching within a wall as gold?
Have you been smoked as an incense [to God]?
About this Panam movie, Karunanidhi makes only a passing mention in his autobiography [Nenjukku Neethi, vol.1, 1975, p.489], as one of the 21 movies he had written script from 1946 to 1963.
Now to the main focus of this commentary. The ending paragraphs of Vaasanthi's book on Tamil Nadu politics [Cut-Outs, Caste and Cine Stars, Penguin Books, New Delhi, 2006] have the following annotations, relating to Karunanidhi:
"The old man sits like the Buddha, knowing full well the frantic calculations and preparations that are going on all around him, with an eye on the future of the seat he occupies. Who knows what the future has in store? He does not care anymore. He has fought many battles and lost a few. Losing a battle is a humiliation that he cannot take; a loss makes him say in weakness, 'My emotions are dead'. It is now his hour of triumph. Success works on his body and mind like a divine elixir. He is the peerless leader of his party and his followers still accept every decision of his, like it has always been. Never was a regional party leader as respected as he is in Delhi. The Congress heading the government at the Centre obliges him, succumbing to every demand he makes. With remarkable swiftness, he has cleared his own backyard of the snakes in the grass. There has never been such closeness and demonstration of love within the family. Err…between his two families. It seems more than a miracle a man with two wives can hope for."
This was the situation in 2006. Now 6 years later, it seems Karunanidhi's clout in New Delhi, with the Congress Party had taken some additional beating. And he awaits for an opportune moment to bolt from the sinking ship in the next two years.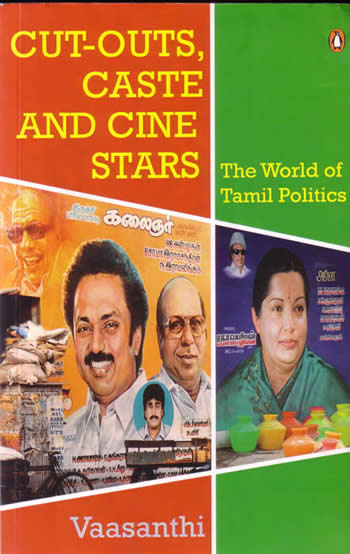 Did Karunanidhi meet Prabhakaran?
In the same Cut-Outs, Caste and Cine Stars book, Vaasanthi reports about a conversation she had with Karunanidhi, as follows: [words within parenthesis, are as in the original.]
"He told me, during a private conversation a few years later, how shocked he was when Pirabakaran and his gang had killed Padmanabha and his men. 'I trusted them, amma,' he said. 'We were all genuinely moved by the Tamils' plight. These boys [Pirabhakaran and his associates] looked so innocent and gentle in their manner. Pirabhakaran was just here sitting in this same chair. I was too shocked when such a massacre happened right here in our streets. From then on I decided to have no more truck with them. I stopped seeing or talking to them." [p. 99]
Now, let me sort out the details of this Karunanidhi-Prabhakaran meeting, revealed by Vaasanthi. Karunanidhi had told Vaasanthi that he had met Prabhakaran face to face. By all accounts, Prabhakaran's benefactor was MGR, who was the chief minister until December 1987. Prabhakaran left Tamil Nadu at the end of 1986. As long as MGR was living, Prabhakaran wouldn't have any specific reason to meet Karunanidhi, first of all not to be at the receiving end of MGR's displeasure.
If any ranking LTTEers met with Karunanidhi, it should have been only after MGR's death. By then, Prabhakaran was safely entrenched in Eelam. Chances are that either Kittu or Balasingham might have met Karunanidhi, on behalf of Prabhakaran. And this is what he might have told to Vaasanthi. Or it could be that, to stretch the story of LTTE's connection to DMK, Vaasanthi might have replaced LTTE's representative name to Prabhakaran. We should not forget that, both Karunanidhi and Vaasanthi are well known for their fiction writing talent. Which of these two did pull a fast one needs some clarification.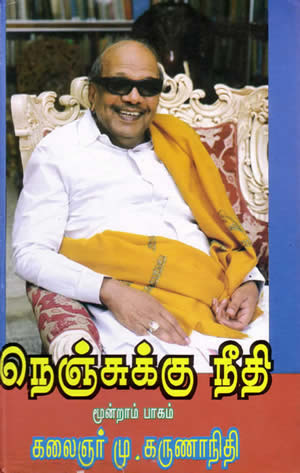 My source of verification
I wanted to check this. The best source available for me at hand was Karunanidhi's four volume autobiography Nenjukku Neethi [Justice for Heart]. These four volumes comprise cumulatively 2,586 pages. In volume 3 (published in 1997, 612 pages), Karunanidhi covers the period from 1976 to 1990. My hypothesis was that, within these 612 pages, Karunanidhi should have mentioned such a meeting with Prabhakaran during the time frame covered. There are altogether 74 sections in volume 3. Among these, in 8 sections, his activities pertaining to the Eelam Tamil issue were described. The final section (74th) makes mention of the 1990 assassination of EPRLF leader Padmanabha in Madras. Not even once, Karunanidhi mentions about meeting meeting Prabhakaran! Only two LTTE activists he mention passingly by name in this volume 3; namely Thilakar and [Anton] Balasingham.
In page 608 of volume 3, Karunanidhi had written as follows: "On 16 May [19]90, the reporters who met me at the headquarters inquired, 'Is it true that Balasingham will meet you on behalf of LTTE?' For this, I answered, 'There was a news item in the papers. But I haven't received any information. Furthermore, if I have to be met on behalf of LTTE, it could happen only after proper permission received from the Central Government."
It could be inferred that, Karunanidhi's autobiography had exposed his deceit. Why Vaasanthi couldn't check this autobiography, before commenting critically about LTTE? At the end of her book, Vaasanthi lists 15 Tamil books in her bibliography. But, Karunanidhi's autobiography is missing there!
*****