The Sepala Ekanayake Story
Hijacker, Drug Courier and a Folk (Fake) Hero
by Sachi Sri Kantha, July 21, 2012
The same Sepala Ekanayake was implicated in the 1983 Welikade prison massacres (July 25th and July 27th), as an attacker...
The SLBC in its first news broadcast the morning after what it described as a triumphal return had a soul-stirring piece about the 'hero'. The daily newspapers went to town about him. They were entitled to cover the story as a sensation with as many 'human angle' flourishes they could drum up but to deal with the return of skyjacker Sepala Ekanayake with a nostalgic slant as if it was the second coming of the legendary father of the Sinhala race Vijaya (as some papers did) was a sad reflection on the state of the Fourth Estate in this country.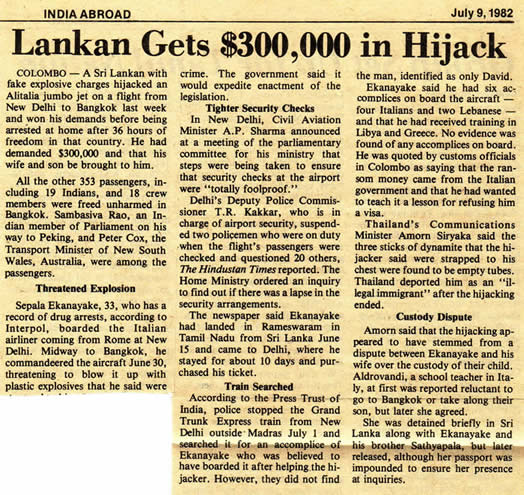 Thirty years ago, Sepala Ekanayake became a household name in Sri Lanka. He gained his 15 minutes of world fame by hijacking a plane from New Delhi to Bangkok by slick tongue, and 'temporarily' earned $300,000. The 32 hour ordeal for 230 passengers who flew on the Alitalia jet from New Delhi to Tokyo lasted during June 30-July 1st, 1982. His hijacking deal placed four nations (Italy, Thailand, India and Sri Lanka) in a confused tangle.
Ekanayake has earned a Wikipedia entry on his own, and the details presented in it appear varnished. The real facts lay distorted in this entry. That Sepala Ekanayake was a drug courier has been omitted outrightly. Even if one attempts to correct the Wikipedia entry, those who see him as a Sinhalese folk hero would amend it, as one would expect. There had appeared a silver jubilee anniversary interview with Sepala Ekanayake by Stanley Samarasinghe to the Nation site. Its caption was 'The hijacker's tale: 25 years down the line'. [http://www.nation.lk/2007/07/15/newsfe5.htm] For this interview also, Ekanayake had hidden his drug courier role. I also provide a scan of a news clipping from India Abroad weekly, which indicates that Ekanayake has a record of drug arrests, according to Interpol. This was cited as one of the reasons why Italy refused to give him a visa.
I checked this Ekanayake hijacking story, from the pages of two prominent English language magazines (Tribune and Lanka Guardian) in the year 1982. The Tribune was edited by S.P.Amarasingam. The Lanka Guardian was edited by Mervyn de Silva. Sadly, both are defunct now. This hijacking story of Sepala Ekanayake received no mention in the July 15, Aug.1, Aug.15, Sept.1 and Sept.15 issues of Lanka Guardian (in 1982). Mervyn de Silva, in his erudition, might have decided that it is of no news value or no value for discussion, while all the other media folks in Colombo went ga-ga over this fake hero.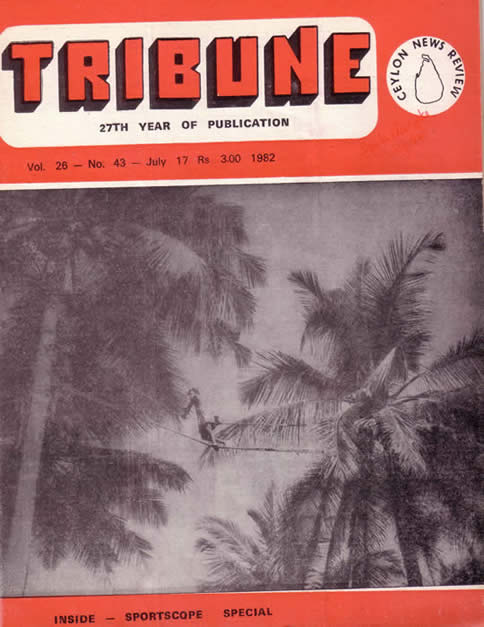 For the record, I provide below how S.P. Amarasingham commented on this affair in his 'Editor's Notebook' and 'Letter from the Editor' in the July 17, 1982 issue of the Tribune. In the second item, Amarasingam quoted a letter he received from R. Kahawita in its entirety. Why? I provide the following reasons. (1)The fickle minds of how the Colombo media and the law enforcement personnel (police) covers a fake hero (a skyjacker and a drug courier to boot!) and the governmental ineptitude have been well eviscerated by Amarasingam and Tribune's regular commentator R.Kahawita. Not only that – the humorous nature of Sri Lankans was also publicly exposed by the showmanship of a 'dangerous man', according to his estranged Italian wife Anna Aldrovandi. (2) The same Sepala Ekanayake was implicated in the 1983 Welikade prison massacres (July 25th and July 27th), as an attacker. As Rajan Hoole had covered this aspect in his book Sri Lanka: The Arrogance of Power; Myths, Decadence and Murder (2001) and in UTHR (J) supplement to Special Report No.25 (May 2007), I refrain from commenting on this theme. Rajan Hoole had identified the hotel into which Ekanayake first landed in Colombo – Hotel Intercontinental. However the hotel management had to force him out because foreign customers objected to share the hotel space with a hijacker. Even, Rajan Hoole had omitted the drug courier role of Ekanayake!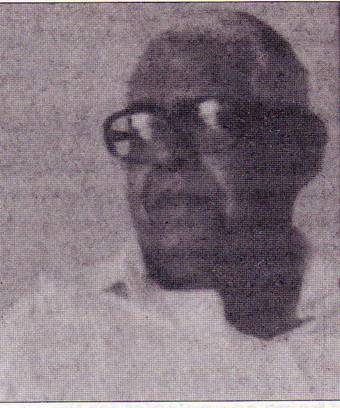 S.P. Amarasingam (Tribune Editor)
Amusingly, Amarasingam used a metaphorical photo of tight-rope walking by a toddy-tapper between two coconut trees. Though one may hardly see such a scene in rural Sri Lanka now, tight-rope walking skill itself had been hijacked and perfected by the Sri Lankan politicians, especially by the politicians of Indian Tamil origin and Muslims. Note that, the words in italics and within parentheses are as in the original.
Editor's Note book: Sepala
"The picture on the cover is a daily scene in our toddy-tapping areas. It is not in any way connected, however with Sri Lanka's recent star turn in tightrope walking in the full glare of global publicity when some governmental agencies and also the local media treated the returning hijacker Sepala Ekanayake, with his air-pirated cash of $297,000 ($300,000 evidently disbursed in Thailand or in the AirLanka plane) as a VIP. The first bloomer was made by the Customs. Ekanayake had declared only $100,000. But the Customs had found $297,000 on him. In view of the false declaration, the least the Customs should have done, was to have confiscated the extra $197,000. They were also no doubt entitled to impose a fine and to seize the entire amount. To make matters worse, the Police assumed the role of guardian angels providing VIP-level escort (even opening vehicle doors) for him. A crowd of toughs from the underworld – to doubt mobilized by the local narcotic syndicate – were permitted to mob the 'hero' and shout 'Jayewewa'. He was thereafter provided top-deck accommodation at a five star hotel – no decent hotel would have given him accommodation except under official blessing. Ekanayake was also permitted to host a press conference, indulge in a spending spree and a wild orgy of entertainment. In fact our governmental authorities – until the pressure of international condemnation began to mount – acted as his unpaid PRO's.

This was not all. The SLBC in its first news broadcast the morning after what it described as a triumphal return had a soul-stirring piece about the 'hero'. The daily newspapers went to town about him. They were entitled to cover the story as a sensation with as many 'human angle' flourishes they could drum up but to deal with the return of skyjacker Sepala Ekanayake with a nostalgic slant as if it was the second coming of the legendary father of the Sinhala race Vijaya (as some papers did) was a sad reflection on the state of the Fourth Estate in this country. Harsh comments in the international press and protests from the International Air Pilots Association brought a welcome change in the attitude of governmental agencies, the police and the local media. Feeble and apologetic editorials were written in the official media denouncing terrorism on land and in the air. The simple position is that a hijacker is a hijacker even though he covers his tracks with a sob story about an estranged wife and a child he allegedly dotes on. Italy has every right to deny him a visa in view of his narcotics record. And nobody yet knows whether the 'estranged wife' story was not part of the bluff with which he pulled off the hijack without any guns or explosives for a sum of $300,000 (a meaninglessly small sum in such transactions) as ransom. For all one knows the entire hijack stunt may have been only a red herring to cover the dispatch of a large consignment of narcotics in another commercial airliner from Bangkok. Everybody's attention would have been on the hijacking and smugglers could have got away with murder. It is also well to remember that the Golden Triangle of the world's narcotics granary lies to the north of Thailand.

Further Sepala Ekanayake, undoubtedly, had the benefit of expert advice about the absence of laws in Sri Lanka about air piracy. That is why he had asked for safe conduct to his 'homeland': with a fortnight's 'asylum' as part of the package to release the hostages. Foreign Minister Hameed's explanation about the circumstances under which Ekanayake was permitted to return on a 'pledge' given by the Sri Lanka ambassador in Thailand does not sound very convincing especially the reasons for not arresting him on arrival. The moment the hijacker stepped out of the plane after freeing the passengers he should have been arrested by the Thai authorities and deported to wherever he wanted to go or could be sent – if they did not want to charge him. All hijackers usually compel the airline to take them to a country outside the orbit of extradition laws. Sepala Ekanayake was not a political figure at a high level who could have sought political asylum. He is only an ordinary narcotics courier presently guilty of international air robbery through extortion. The fact that the Thai authorities behaved in a strange manner in dealing with this airplane hijacker is no reason for the Sri Lank authorities to follow suit.

The moment the hijacker made a false declaration at the Katunayake Customs whatever immunity he enjoyed owing to the 'pledge' given to him by our Foreign Office ended. The 'pledge' itself has no real or legal validity. Can such a pledge be given to our highway robbers even if they act under a political smokescreen? The question that is being asked is whether the Defence Ministry can give such pledge of safe conduct and non-arrest to notorious highway robbers like Podi Wije of Polonnaruwa or some of the terrorists of the North who indulge in criminal acts. The 'terrorists' (the Tigers) of the North are covered by special legislation (which Civil Rights enthusiasts claim is an infringement of Human Rights and the Rule of Law). But the likes of Podi Wije still appear to have the benefits of all the loop holes in the ordinary common law of the land. Retrospective legislation has now been rushed through to bring air piracy within the ambit of Lankan law. If air pirate Ekanayake were allowed immunity even for a fortnight (until he left the country) should Podi Wije not have the same kind of immunity if he choses to bargain with the authorities whilst holding a bus load of civilians or tourists to ransom at gun point or with explosives allegedly strapped around his chest? There is much for the government to think about after the Sepala Ekanayake episode, as a result of which, Sri Lanka's international image dropped to rock bottom. The amends it has sought to make by arresting Sepala and thereafter rushing retrospective legislation to cope with air piracy has the bad odour of governmental ineptitude and ignorance of what goes on in the world outside. No amends can however be made for the way the media official and unofficial, handled the 'return' of the 'hero'. It will be long time for Sri Lanka to live this down."
Letter from the Editor
"Tribune's indefatigable commentator, R.Kahawita now on a holiday in India, sent us a note from Bombay (dated July 5) on the hottest topic of the day. He titled it "We are richer by $300,000". This is what he writes:
'Thanks to a 'dangerous man', as described by his spouse, we have increased our foreign exchange earnings by three hundred thousand dollars just like that. 'The dangerous man' had his own way just for thirty two hours to earn that money, whereas Finance Minister may have to go round the world, spend weeks and months to raise that amount and at the end, his earnings may be in the red when his profit and loss account is prepared to set off his expenditure in collecting the money. This is also much more profitable than exporting 'house maids' and companions to the West Asian countries. We earn quite a lot of dollars from this source too. But these foreign exchange earners do not get the red carpet treatment spread out to the 'dangerous Man' who even had a 500-strong cheer squad to receive him. Violence seems to pay dividends in the modern world. He subjected some 232 innocent victims to a 32 hour ordeal and for this was extended to him VIP treatment with accommodation in a five star hotel. Maybe for his own security. May be he will be quizzed and grilled in due course after his Interpol dossier reaches our Police. But the civilized world is aghast by the initial steps taken by Sri Lanka. A dame who went through the 32 hour ordeal says, 'incredible'. Even people in the Third World, even in little Sri Lanka, cannot quarrel with this reaction. From the point of view of some people in Sri Lanka, such crimes may be outside the jurisdiction of our law. After all laws are man-made and, in the past, we have earned notoriety by enacting laws after the act was committed and bring the past deeds within the oven-hot laws. Many a citizen has suffered under such retrospective laws. According to our legal luminaries we are a signatory to the international law on 'air piracy' but we have not, by oversight, put them into our Statute Book. May be we never expected one of our boys to have that amount of guts and audacious thinking to make a sky pirate. We have one now, and let us do something before we lose faith with the civilized world. In fact, we have already lost faith in the way we handled the case from the beginning.

Was there a need for a Foreign Minister to confabulate with a diplomat for advice on how to act in a situation where several countries were deeply involved? So far as to what had to be done in Sri Lanka, could it not have been handled by the Customs? All they had to do was to question him how he came to bring into the country 300,000 dollars. How did he earn them? What was his source of income and why did he not bring such a large amount of money through a bank, or in traveller's cheques. On his answers, he could have been detained for further investigations, ignoring what the press had reported about his sky piracy. If he had no satisfactory answers, he could have been held as a pickpocket on the Air Lanka plane pending inquiries. So many things were possible as to how he came to be reported in the international mass media and gone on their own lines of investigations and nabbed him. Instead, what did Sri Lanka do? Gave him a right royal welcome replete with cheer squads and accommodation in a five star hotel, until we saw sense and classed him as a criminal and locked him up. It matters little what we do not. We had shown, at the start of the drama, a cloven foot for all the world to see."
Sequence of Developments during July and August 1982
Below, I provide a synopsis of the sequence of developments that occurred during July and August 1982, as culled from the Sri Lanka Chronicle columns of the Tribune journal.
July 13: Fort Magistrate, Mr. Sarath Gunatilleke yesterday rejected a submission by the Defence Counsel for Sri Lankan hijacker Sepala Ekanayake that the court had no jurisdiction to try him.
July 16: Sky pirate Sepala Ekanayake who was arrested and remanded on July 3 is expected to be produced before the Joint Magistrate Fort, Sarath Gunatilleke, today.
July 20: The Court of Appeal yesterday stayed the order of the Fort Joint Magistrate who ordered release sky pirate Sepala Ekanayake on bail on Friday; but Ekanayake was not able to raise the money.
July 22: The anti-hijack Aircraft Bill was passed in parliament yesterday without a division.
July 26: The High Court will decide on the future of Sepala Ekanayake, the Sri Lankan who hijacked an Alitalia jumbo jet on a flight from New Delhi to Bangkok. Although the offences against Aircraft law passed on Wednesday by parliament will become law this week after the Speaker gives his assent, informed legal sources said yesterday the Attorney General would not file fresh indictments against Ekanayake.
July 28: Sri Lankan hijacker Sepala Ekanayake who seized an Italian plane last month and collected a 300,000 dollar ransom will be tried under the new air piracy laws, the Court of Appeal was told yesterday.
July 30: Sepala Ekanayake who hijacked an Alitalia aircraft at Bangkok airport will not be extradicted to Italy; he will be tried in Sri Lanka under the recently passed Offences against Aircraft Act.
August 3: A team of CID officials is likely to visit Italy to interview the pilot and cabin crew of the Alitalia Boeing 707 which was hijacked by Sri Lankan Sepala Ekanayake; according to informed sources a CID team had just returned from Bangkok after interviewing officials and others who were directly connected with the Bangkok hijacking.
August 6: The government has been advised against the extradition of hijacker Sepala Ekanayake to Italy to face criminal proceedings already instituted there; this recommendation has come from Attorney General Shiva Pasupathi who was advised that it would be more desirable to try him in Sri Lanka.
August 7: Sepala Ekanayake, the Alitalia aircraft hijacker who is now in remand will be produced before the Chief Magistrate of Colombo, Mr. Kirthie Srilal Wijewardene, on Monday.
August 11: Colombo's Chief Magistrate Keerthi Wijewardene yesterday remanded hijacker Sepala Ekanayake till August 12 under the provisions of the Offenses against Aircraft Act.
August 15: Hijacker Sepala Ekanayake is to be brought before a 3-judge bench Trial-at-Bar shortly, and the Thai government is to be refunded the ransom money of 300,000 US dollars.
August 24: Colombo's Chief Magistrate Mr. Kirthie Srilal Wijewardene, yesterday refused an application by sky pirate Sepala Ekanayake for the release of 4,500 US dollars of 'frozen' money.
Coda
Then, with Sri Lanka gearing up for its first presidential election (scheduled for October 20, 1982), Sepala Ekanayake's exploits of June 30, 1982, lost its glamor as an attractive story for the press. A parting comment: the anti-hijack Aircraft Bill was hurriedly passed in the Sri Lankan parliament only on July 22, 1982. As per Rajan Hoole's 2001 account, Ekanayake faced trial on June 30th 1983. Dr. Colvin R.de Silva (1907-1987; a dinosaur of Trotskyist politics and historian, who himself was a defeated candidate in the 1982 presidential election) contested the verdict in the Appeal Court, claiming that "Ekanayake was being tried for something that was not an offence at the time it was committed."
*****