GENOCIDE OF TAMILS IN SRI LANKA
A PHOTO GALLERY
Sri Lanka insists that it is fighting a war against the Tamil rebels, and not the Tamil people.
The daily Armed Forces' Bulletins and Press Releases from the Ministry of Information claim casualties to be always that of rebels.
Tamil civilian casualties are regularly denied.
The British Refugee Council, however, says,
"When defense sources say two LTTE arms factories were destroyed in another air raid on 30 July in Vaddukkottai, it means Jaffna student Thayaparan Muhunthan, 20, was blown apart and ten others including two-year old Sunthararam badly injured"
-The British Refugee Council Publication, Sri Lanka Monitor (July 1993)

This photo gallery shows how the Sri Lankan armed forces deliberately target Tamil civilians.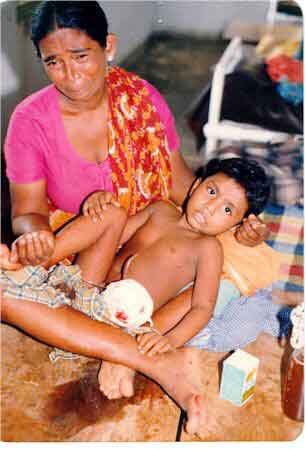 "I attended a press conference where (Sri Lanka) Defense Minister Ranjan Wijeratne told the press that there had been no civilian casualties despite heavy bombing. When I volunteered that I had seen many bomb-blasted bodies, and many hundreds of people injured by helicopter strafing and more, the Defense Minister told me it was a pity I had not been shot...''
- Deanna Hodgin [journalist, Insight Magazine] (7 November 1990)

Since 1995, Sri Lanka army has intensified the artillery shelling (hitting targets 18-20 miles away) and the aerial bombing (from cargo planes) with unparalleled fury.