Asian CineVision (ACV), a non-profit media arts organization, in association with the Asia Society, is organizing the 26th Asian American International Film Festival (AAIFF), a press release from ACV said. The festival - presented this year by Cadillac - will run from June 20 through June 29, at the Asia Society and Museum, 725 Park Avenue, N.Y.
AAIFF - the nation's oldest and longest running film festival devoted to the works by filmmakers of Asian descent - annually showcases over 100 features, short films, documentaries, animation films and experimental works by five established and emerging artists. This year selected films can also be viewed at Flushing Town Hall on June 28 and 29, the release said.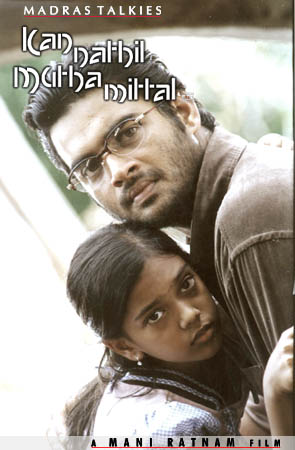 (Photo: Courtesy www.kannathil.com)
The release quoted Dian Lee, festival director, as saying, "The 26th AAIFF continues our heritage of promoting and featuring works by international filmmakers of Asian descent, from Bangladesh to Taiwan. We hope with this year's festival to showcase the depth and diversity within the Asian Diaspora.
One of the festival highlights is the premiere of Mani Ratnam's 'A Peck on the Cheek' on June 20 at 6:30 pm.
R. Madhavan, the film's lead actor and Gopalaratnam Srinivasan, producer, will be present at the screening.
The film revolves around young Amudha who finds out on her ninth birthday that she is adopted.
Consumed by a burning curiosity to meet her natural mother, she embarks on a perilous journey to war-torn Sri Lankan with her adoptive parents. Two-time Academy Award nominee, Mani Ratnam presents a vivid depiction of the brutal, human costs of the war through the story of the little girl.
There will also be a special presentation of 'Remembrance,' directed by Renata Huang, commissioned by the Asian American Federation of New York, which examines the extensive effects of 9-11 on the Asian American community.
Besides the screenings, there will be special panel discussions and workshops. ACV will also present the second annual 'Emerging Director Award' at an awards function that will be attended by Consul General of India, Pramathesh Rath, and New York City Council Member, John Liu, among others.
For over two decades, the AAIFF was the only festival in North America to premiere and introduce to the public now internationally acclaimed directors, including Oscar-winners Aung Lee and Steven Okasaki, as well as Oscar-nominees Zhang Yimou, Mira Nair and Ismail Merchant.
It has also helped establish other Asian film festivals in major cities - including Chicago, Los Angeles, San Francisco, Toronto and Vancouver.
For complete program and ticket information, please visit www.asiancivevision.org or call the festival hotline at 212-989-1422.
(Compiled from a press release by Smita Mitra.)
News India-Times, New York, May 20, 2003
See also the Asia Society site : www.asiasociety.org