Speech by R Sampanthan MP
by Tamil Mirror via TamilCanadian , November 8, 2011
If you take a look at the Canadian Constitution you can see English language in one side and French language on the other side. These people who speak different languages are able to rule themselves. They are able to use their political rights to get political, economic, social and cultural entitlements. This is what we are also asking.
'In Canada, the people who speak different languages, English and French, have the right to rule themselves in their areas. They have the opportunity to get political, economic, social and cultural rights. This is what we are also asking,' said Mr. R. Sampanthan, while addressing a large gathering at the Sri Iyappan Temple auditorium in Toronto on October 30, 2011. He was accompanied by two other Tamil National Alliance (TNA) Members of Parliament, namely Mr. Sumanthiran and Mr. Mavai Senathiraja. They were on a North American visit to meet the government officials and the Tamil Diaspora.
Here is the full speech of Mr. Sampanthan:
"Tamils are a national ethnic people. They have their own language, arts, culture, customs and heritage. They have been living in the Northeast historically. They are entitled for reasonable political, economic, cultural and social rights. In order to get these rights they should have political power. Tamils have been struggling to obtain these rights.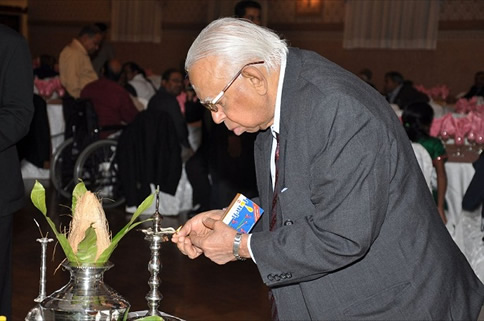 You are here in large numbers and we would like to thank you for that. In Canada, two major ethnic groups, who speak different languages have been living in different parts of the country. These are people who speak English and French languages. They have self- rule in their respective areas where they live.
If you take a look at the Canadian Constitution you can see English language in one side and French language on the other side. These people who speak different languages are able to rule themselves. They are able to use their political rights to get political, economic, social and cultural entitlements. This is what we are also asking.
We have been struggling for this right for a long period of time. No one can deny this. However, so far, the Sri Lankan government has not come forward or agreed to grant these rights to us.
The Bandaranaike-Chelvanayakam agreement was signed in 1957 to obtain these rights. In 1965, Dudley-Chelvanayakam agreement was signed. These agreements were signed especially to protect and to preserve the northeastern parts, as the Tamils' traditional land. Both Mr. Bandaranaike and Dudley Senanayake recognized this aspiration.
They agreed that Tamils in the Northeast have been living as a majority in these areas for a long period of time and this fact must be respected. However, the present leaders of the country think other wise. They think that there is only one solution to overcome this issue. That is that Tamil's identity should not be accepted. Their claim that historically they have been living in these areas should not be accepted. They think that if this situation is changed, these claims would be washed away.
Now, almost one million Tamils are living out side of Sri Lanka. They live in India, Europe, North America, Australia and various other countries. Same way, they think, if the rest of the Tamils in Sri Lanka can be sent out or if the peaceful co-existence in Sri Lanka can be denied, then their demands will disappear. That's why Sri Lankan government is accelerating its efforts to change the demography in Tamil's traditional lands.
After the war, they are not allowing the Tamils to resettle in their own lands. The majority community is being settled in the Tamils' lands through direct and indirect way. Military camps are being built. Military's strength is being increased in the North-east areas. Lands are being given to the majority community under the guise of development. Religious and cultural centers are being destroyed.
Prominence is being given to the majority language and religion and appearances of these places are being changed, although they (Sinhalese) are not living in these areas. By rapidly changing the appearance of Northeast, they are trying to prove that there is no ethnic problem in Sri Lanka and therefore there is no need for any talks. This is the current situation there.
It took 60 years for them to change the eastern province's ethnic composition. However, they think they can achieve their goal in the northern province in 15 to 20 years time.
Recent War
We talk broadly about the recently ended war in May 19, 2009. In fact, the violence against the Tamils started in the year of 1956. It continued in the years of 1958, 1961, 1977, 1981 and 1983. After that only the war was (waged) continuously. There was no organization called Liberation Tigers of Tamil Eelam when the violence against the Tamils started. It was only formed at the latter part of the 1970's or early 1980s.
So, what was the reason for the violence against the Tamils then. It was to defeat the Tamil People's reasonable political demands and aspirations. The violence against the Tamils was to destroy the will of the Tamil people's demand for self rule in their traditional lands. Tamils were affected and started to leave Sri Lanka and it continues to date.
Although the war was ended in May 19, 2009, the manner and the way in which the war was conducted was a continuation of the 1956 violence against the Tamils. The war was conducted not only to defeat and destroy the LTTE but also to subjugate the Tamil people and to force them not to put forward such claims. If our claims continue, the violence against our people will also continue.
As such, what happened to the ordinary Tamil civilians when the war ended in May 19, 2011 should be revealed. The world should come to know the truth. Because, the violence started not in 2007, 2008 or 2009 but in 1956. If the Tamil people want to live in peace, the truth has to come out or the violence may continue. Therefore, it's not only the right and the duty of Sri Lankan government, but also the duty of the International community, to bring out the facts about what happened to the Tamil civilians in the last days of the war.
Human Rights are not only confined to a country. No rulers or leaders should breach the Human Rights. It's the duty of the International community to safeguard Human Rights, not only to defend the sovereignty of a particular country, but also to uphold Human Rights.
Therefore, we would like to stress that it's not only the duty of the Sri Lankan government, but also of the International Community to find out whether the International Human Rights Law and International Humanitarian Law were breached.
U.S. Visit
During our visit, we met many at the U.S. State Department. We met the members of congress, senators and people in Charge of Human Rights. We have explained these facts to them clearly. If our rights are not protected, definitely the Tamil ethnicity will be wiped out. There is no doubt about that.
If we observe the happenings after the war, they (GOSL) are talking about humanitarianism, peace and political solution, but the government has done nothing constructively on these matters.
We are not only clearly informing about this to the International Community, but also providing them documentary evidence to validate our arguments. All that happened during the war, such as, how our people got killed, how they got injured, how hundreds of thousands of Tamil people got uprooted, places where milk powder was stored were attacked and how hospitals got attacked and people got killed, and how people died of starvation without medicine, have been already recorded in Parliament. We have got all of them recorded in the parliament proceedings and at that time none of the members of Parliament nor ministers ever denied our accusations. Now, how can they say that they are not true? We are putting these questions to the International Community.
Why we are saying this is, we are not against peace. Thanthai Chelva was never against peace. He always stood for a just, lasting and implementable political solution. He would have accepted any such solution. Even today that is our stand. We are ready for peace.
We consider Sinhalese as our brothers and sisters. Many are ready for a just solution. A just, implementable and lasting solution should be found. But, I would like to make it clear that if such a solution was not put forwarded, we will not accept any other mirage of a solution.
Therefore, it's the responsibility of the government to make a decision about these matters. We also would like the Diaspora Tamils to understand this situation. If our struggle for our rights is to continue, if we are to reach our goal, International community's support is needed.
India is asking the Sri Lankan government to talk to TNA and bring about a solution. We have met Bharatha leaders, senior ministers and officials and all of them have said the same thing. U.S. is also saying, talk with TNA and they will accept whatever solution that may be arrived at.
There is a reason for this. It should be noted that for the first time, U.S. has invited a Tamil political party and its State Department has had talks with them. It is our duty to understand this and to act with caution. We also implore with affection, to understand this situation and to offer your support.
We are aware that we cannot trust the government of Sri Lanka. However, we realize that they would be pressured to find a solution within a certain period of time. We will do all that we can to create that situation. If that agreement is reached, we will request for the International recognition. Therefore, you would understand that we need the support of the International community.
We are a people with a separate language, culture and heritage. We could claim that we have been living in Sri Lanka even before the arrival of others. We are not saying that Northeast belongs to us. However, we have concerns in preserving and protecting the language based heritage in that land. We are saying that the Sri Lankan government should not alter that situation.
We also feel that the political solution should be acceptable to our Muslim brethren as well.
We have lost many opportunities before. There were many opportunities for a political solution. However, they did not materialize. We realize that and acting according to the situation. If we had acted with caution, we could have achieved it earlier. We should not forget that. We have another chance now. In the mass destruction of our people, we have another chance. We should not miss this opportunity to arrive at an appropriate solution.
We firmly believe that our people, specially the Diaspora Tamils will offer their support to our efforts. Your large gathering here shows one thing, that although you are living abroad, you haven't forgotten your land of origin and your villages. You haven't forgotten your brethren. You should never forget them. You should come back. You should help the people living there at the right time. You should try to uplift them.
The government not only refuses to give the political rights, but also denies help to our people. They did not do much for these people. They did not build houses the people needed, neither they created any job opportunities for them. They did not allow our people to live in peace.
The purpose of not helping our people is the fear that if they do all these, our people will live there permanently. If they don't attend to their needs, people will get frustrated and won't live in peace. Through this they think they can uproot our people, change the ethnic composition and proceed accordingly. This is the truth. This is the reason why they don't have the will to bring about a political solution and time to time perpetrate violence against them. So, without solving the problem, if they can change the demography of the region and make them (Sinhalese) the majority community in our region, then there will be no issues.
In these circumstances, we are trying to solve the problem with care and caution, without giving in, but at the same time without stubbornness, to find a political solution. It is all our duty. We therefore request the full cooperation of all of you."