Eelam Encounters – 1 : Women in Tamil Society
by Revd. Chandi Sinnathurai
When I reached Vavuniya town I experienced a strange feeling. It was evident that I was at a border town and I'm quite literally going to enter another country. I hailed an autorickshaw to go up to Mugamalai checkpoint. Here the Sri Lankan army checked me in. They spoke to me in broken Tamil: 'Father, Happy New Year!' they greeted. [April Sinhala / Tamil New Year]. I smiled, and responded in Sinhalese: 'Subey Aluth Avurudey vewa'. Very quickly they security cleared my luggage.
I was now going to endure the noonday sun and walk across the so-called no man's land. I was thirsty. My mouth was dry. My mind was occupied with TV ads on Coca-Cola and Sprite. As I got closer to the other end of the border, I read the sign in Tamil: "Thamil Eelam warmly greets you". I made sure that I wasn't hallucinating.
The Thamil Eelam officials greeted me: Vannakam. They checked my credentials swiftly. My luggage was thoroughly checked. I jokingly said to the Tamil official: "Thamby, I don't have any weapons." He politely chuckled and gestured to the packet of ballpoint pens and the Reporter's Notebook I was carrying in the hand luggage. "Father, shall I get you an Auto that would take you to Kilinochchi?" he asked. As I boarded the auto I noticed that the vehicles in Eelam had Thamil number plates. I was moved when I recollected the State violence against the Gandhian style "Sri protest"… Look! I convinced myself that I'm standing on Tamil soil. I felt this was truly a spiritual pilgrimage. Our spirituality cannot divorce itself from politics (I don't mean here party politics). Politics governs us. In this case, it oppresses our people. Can we, as spiritual people, avoid such disparity and worship God as though God doesn't care about human suffering, oppression and, moreover, our emancipation? How on earth can we sit on the fence and hide behind the holy smokes? God shatters our conceptions of holiness. At least, that's what I think for what its worth.
Tigers
I decided to arrange some meetings [Santhippu, as they call it] with some top Defacto State officials. I wanted to converse with them in order to understand them; so I told the officials who book appointments that I would record my conversations and publish them; they agreed to the project.
I was expecting these "Tiger top guns" to appear in revolutionary beards; rolling their eyes and spitting fanatical rhetoric. On the contrary, these were clean-cut, decent men and women. Opening chats with them would reveal that most of them have endured tremendous suffering. In fact, they don't hate the Sinhalese. Our struggle, they confess, is against Sinhala hegemony.
Conversation
My first Santhippu was with Ms.Thamilini, Head of the Political Wing (Women's Section). As I sat comfortably in her office, an uniformed woman cadre with a guarded smile served me a chilled glass of Necto. She switched on the BBC news for me to watch and relax. A few moments later Thamilini entered the room and greeted me warmly. Having spoken in Tamil about the weather and my travels, I gently conveyed to Thamilini that I was going to tape record our formal conversation [Recorded on 17 APRIL]. She courteously agreed. I fired questions as I rolled the tape:
Q: The role of women in society is going through considerable change, positive evolvement in many respects. The Tamil National struggle must have surely impacted the traditional conservative view of Eelam woman. Can you please comment on your observations of changes, if any?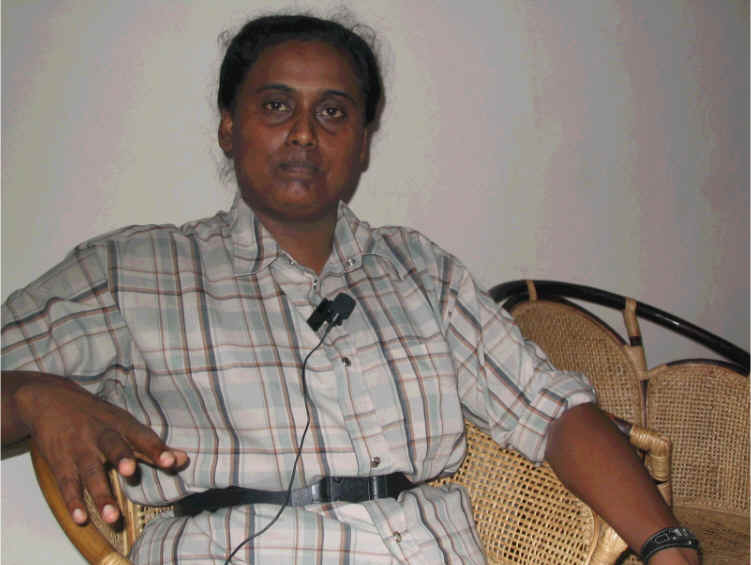 Thamilini 2005
Thamilini: "The Tamil community is very conservative; backward-looking in general. In this context, women are second class citizens. Therefore, women are not permitted to be decision-makers. They are expected to be dependent. This is the sort of attitude the society has had with regard to women. There are also deep-rooted tradition and false belief systems in our society. All these have contributed to forming such archaic attitudes. Women were not brought up to be leaders of society. They were automatically expected to be behind the scenes. Society thrust upon women a small circle; a limited scope; it is within such boundaries that women were expected to function. They were considered to be "good" women. Don't cross the boundary – that was the core message. After puberty, we were reared and prepared for marriage. After marriage, of course, what else? Bring forth children, then look after the family. Even within the family, women had to adhere to the role of a service provider. In such a society, Tamil women are affected by another evil: Sinhala domination and oppression. In any society when oppression is rampant the first to suffer would be the ones who are considered to be weak. Society has reared women to be weak and vulnerable. For example, when the enemy rounds up a village, the men will run away, the wives and daughters will make sure that the men quickly vanish. Men have to escape into relative safety. They are the breadwinners. Therefore, it is the women who are captured. Often they are raped and murdered. Hence, Eelam women were forced to re-think; they began to discard traditional understanding of women."
"At the inception of the liberation struggle, only men's involvement was called for. The struggle sprouts out of the grassroots of society. Women are a vital part of our society. In this rationalisation, our leader developed the view that our women should play a pivotal role in our freedom struggle. More than 50% of our women must first experience freedom. They must partake in our struggle, not only as nurses, doctors, paramedics, and cooks… our leader felt that we must take this matter a bit further. 'Women should not play a secondary role in the struggle; they should have equal status and should be involved in the front line,' he was convinced. Our society found it hard to accept such a radical departure from tradition. Our society was accustomed to a 'cadjan fence' culture."
"At this juncture, theTamil women also felt that they should be trained to be front line freedom fighters. In 1984 women were first trained to take part in the armed struggle. Our first training camp began at Thindukkal, in South India. Of course, now we have grown into a mature fighting force. We have various women fighting regiments. For instance, the 'Kittu artillery regiment'; 'Sea tigers'; 'Black tigers' and various military administrations. In all of these our women play an important role. We have lost many women as martyrs.
So Thamil Eelam women will not be confined to their kitchens, so to speak. The traditional image of women has altered. My own sister is telling my mother, "If akka [Older sister] has the liberty to drive heavy vehicles and fight in the front line and win, why can't I ride a motor bike?" Likewise women have dared to think; we have been challenged to explore new things. We have, in a very small way, pioneered the way for other women to follow in the path of freedom. That awakening is slowly catching on. We are not copying other people's liberation ideas. That sort of thing won't work here. Our women's emancipation is according to our context. It's quite indigenous. We are not following any far-fetched theories. The common people cannot comprehend such philosophies. We don't simply talk liberation. We live it. Our women are reaching great heights. That's good news!"
Q: Has the struggle effected any long-lasting reformation of deep-rooted ills in Tamil society? (Of course, such change cannot occur overnight). Say for instance, the dowry system, casteism, to name but a few…
Thamilini: "I wish we could make changes as easily as we switch on a light bulb. The deep-seated plagues in society have indeed become part and parcel of our traditional thinking. A 30-year liberation struggle cannot effect change as easily as we would like to. Change is a slow process. Even now, there is the problem of the dowry system [bride money]. Currently, our primary focus is the liberation of our homeland. However, we are also effecting change at a grassroot level. Within the territory which is under our governance, we have passed reformation laws. The Tamil Eelam Special Bench has declared that Dowry is taboo in our society. It must be stressed that an awakening concerning the ills of society is yet to happen among men as well as some women. It is an honour, some women feel, to take dowry from her father's house. Especially among the so-called 'enlightened' Tamil Diaspora the dowry system is thriving in Dollars and Pounds. In spite of the moral and financial support of the Diaspora, to which we are deeply thankful, yet I must be frank and honest with you, Father. Truth, however, must be faced. Our people should liberate themselves from archaic thinking while they take pride in modernity. When we have recovered our traditional homeland, we will proceed to eradicate completely the system of dowry."
"Now the curse of caste. Within our movement there is no room for caste. We will take strict actions against caste discrimination. We equip our women, through women's groups in every village, with fresh thinking. We develop self-help programs".
"Just imagine a baby elephant captured in the jungles and you bring the Baby home and tie its feet with iron chains. When the Elephant is full-grown, still it has not reached realisation that it has got within itself enormous strength, power and energy. Our women are faced with a similar situation. Our girls grow up being tied down. 'Don't smile.' 'Put you head down.' 'Walk gently.' All these are unwritten codes of conduct. If any woman were to act differently; it is viewed as though the whole world has collapsed on our shoulders. Father, look now at our women cadres! We have discovered our strength. We have broken the chains of slavery. We have unleashed that power within us. We have the brains to think; and we can do it! Such examples have made our women wake up. We are urging women to discover their strength. Our society is changing rapidly."
Q: You are, if I may say so, a smart person and a woman leader. Many Eelam women do look up to you as a role model. What are your dreams and goals?
Thamilini: "I live a life of freedom. I have the boldness to think that I can do what I want to do. There are women in society, even for a small blunder, they shrivel up and walk stooping down with shame. My dream is that these women should experience the freedom and liberty we enjoy".
Q: What is your message to the Diaspora women?
Thamilini: "Women in the Diaspora are burdened with lots of problems. Many of our women were 'exported' from here for the sake of marriage. They have flown over there with many dreams and imagination. It is sad to witness that some of these women lead very depressive lives. They are experiencing difficulties with their children being brought up in a new culture. What we could say to our women in the Diaspora would be: Let's not protect our identity by holding onto backward thinking. We must be quick to adapt to forward thinking. This will re-form the way we view women. Women have a great role to play in Eelam. We must build our families and should make a positive impact. Both, women in Eelam and women in the Diaspora, have an enormous responsibility…our children are the treasures of tomorrow. We must guide them well. They should feel part of Tamil Eelam."
I concluded recording the formal conversation. Having switched off the tape recorder, we briefly engaged in off-the-record chat. I found Thamilini to be a very interesting person: A no-nonsense person, beaming with dynamic ideas. I shook her hands and thanked her for the time she had given for this interview.
I shall continue to write about my conversations with others that are making impact in Tamil society.
###
Posted May 5, 2005