Memorial Service for Mamanithar Dharmaratnam Sivaram (Taraki)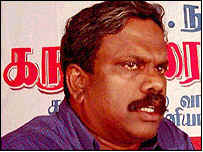 on Sunday June 05, 2005
evening 4 to 7 PM
Piscataway, New Jersey
Mr. Sivaram was a popular and well respected Tamil journalist of recent times. He wielded his pen effectively to espouse Tamil sentiments in a civilized manner. He articulated and defended Tamil rights publicly. Despite the threat to his life from state security establishments as well paramilitary groups working with the Sri Lankan government, he continued to challenge the government propaganda effectively through his well-written political analysis. He sacrificed his life for the advancement of Tamil nationalism.
"Death never destroys great men who lived for lofty ideals" said V Pirapaharan in a message conferring the "Maamanithar (Great Human Being)" award on Dharmeratnam Sivaram.

Please save the date. We urge Tamil Americans to participate in large numbers and pay tribute to Mamanithar Dharmeratnam Sivaram.
Please inform all your friends and family and urge them to attend the memorial.
For more information please call 732 754 1145
###
Posted May 18, 2005