Review of Sachi's Autobiography
by Arul Pandian
The first volume of our regular correspondent Sachi Sri Kantha's autobiography Tears and Cheers has recently been released for limited circulation among friends in Japan.
Recently I had the opportunity to read the autobiography of Sachi Sri Kantha titled Tears and Cheers – Tale of a Tamil Scientist. (Publisher – Bose Design, London 2004) In this volume Sachi covers his life till his completion of a PhD in the University of Illinois. I am a regular reader of Sachi's columns in the Sangam website and I found it quite interesting to read about his struggles early in his life in an environment where Tamils are denied academic opportunities in favor of Sinhalese. Since I am a Tamilian from Tamil Nadu, Sachi's autobiography gave me a unique opportunity to understand the racist policies unleashed by the Sinhala state. Till then, most of my knowledge about the atrocities of the Sinhala state is through news reports only. Sachi has nicely balanced his story along with the major events in the suppression of Tamils by the Sinhala state.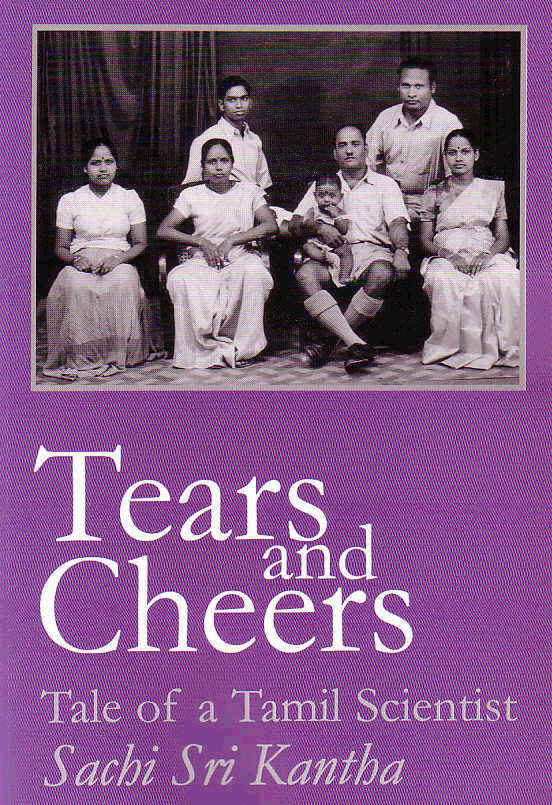 The description of many of Sachi's childhood events made me relate to events in my own life. In particular, I enjoyed the description of his eccentric teacher 'Suruttu Kanagar,' who gave permission for the class to go to see MGR when he visited Colombo. Sachi describes his teenage pranks in a very funny way.
It is interesting to know that many Sri Lankan Tamil elites were not objecting to the racist educational policies of the Sinhala state when it was introduced, just to save their positions. He exposes them in his article 'Tamil Elites' published by Tribune magazine. It is a pity that still such a group of self-promotors are selling the Tamils' future for their own benefit. It is easy to imagine the hostility encountered by Sachi when he published articles like 'Plebiscite Verdict' regarding the TULF victory in 1977. The advice given by the humanist James Rutnam to Sachi is very valuable, 'Thamby, don't expose yourself too much, you have to survive to fight for another day.' Hope Sachi will continue to fight using his pen for a long time.
Sachi is totally unafraid to challenge authority. Even very early in his scientific career he was bold enough to break tradition and published scientific papers with himself as the sole author without adding higher-ups just to please them.
When Sachi gets rejected in the interview for a permanent faculty position in Peradeniya University and a Sinhalese candidate who is less competent than him is selected due to a pro-Sinhalese policy, he takes it as a challenge instead of getting dejected. In fact, all Eelam Tamils must have undergone this kind of discrimination at some point of their life. When they read Sachi's story, they should be definitely able to identify themselves with him. The evil policies of the Sinhala state has one good impact…the formation of a global Eelam Tamil community, which supports the Tamil cause at home.
Sachi is quite open about his days at the University of Illinois. He casually mentions about porn films screened on the university campus. It is this openness that makes his autobiography relate to us.
In one of his letters to his sister, Sachi briefly narrates how the armed struggle of the Tamils resonates with Hindu Dharma. The Tamil God Murugan himself is our God of war. The Bagavad Gita advises us to kill our enemies even if they are one's own relatives. I remember Pirapakaran quoted the Bagavad Gita when he ordered the elimination of Sri Sabaratnam. In war the goal only matters and all enemies have to be eliminated irrespective of who they are.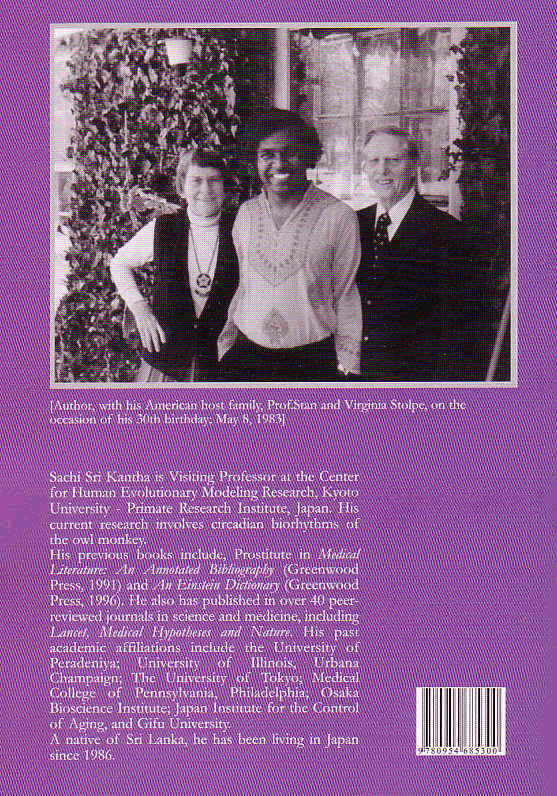 The dedication shown by Sachi in collecting documentation on Eelam history is amazing. In many of his communications to his friends and relatives he requests news articles and other documents relating to th Eelam freedom struggle. Even though he lives far away from his homeland, he has managed to have a personal collection of resources on the Eelam freedom struggle. In the pre-internet and pre-email age, it is a true achievement. [We have always wondered where he keeps that treasure trove in a normal Japanese residence! -- Editor]
The articles that Sachi produces based on those resources are a great service for the younger generation. To quote one example, he mentions a letter from an American (who lived in Sri Lanka) published in The Wall Street Journal on Sep. 27, 1983 which compares the Tamils' sufferings to that of Jews under Hitler.
Sachi is a prolific writer and it is interesting to note that he wrote so many letters to his Japanese friend Eri in the University of Illinois who was living just next door! His habit of letter writing fetched him his ultimate gift of life. He fell in love with his pen pal Saki who was living in Japan!
Sachi's philosophical depth is evident from the poem written by him to be his epitaph. At the end of the autobiography, Sachi is very frank about assessing his achievements till the age of 32. He openly admits that his PhD research area is not in a cutting edge field. His real achievement is in building a successful scientific career after his PhD and at the same time emerging as one of the leading columnists on Eelam affairs.
###
Posted May 25, 2005