Locals Fear Government Land Grab
by John Lancaster
After tsunami, plan calls for paving paradise...
ARUGAM BAY, This was a peaceful chunk of paradise, where the people were neither rich nor poor. They fished the emerald sea in outriggers, cast hand nets in the lagoon and - increasingly in recent years - put up surfers in simple guesthouses, feeding them feasts of grilled shark and tuna and serving up cold Lion beers after days in the dazzling sun.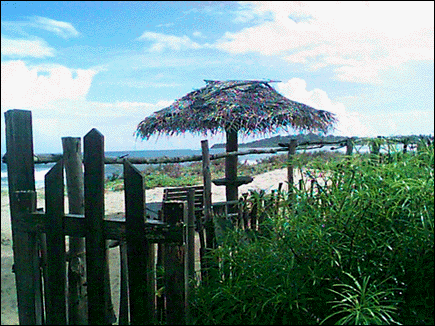 Arugam Bay before the tsunami (photos courtesy TamilNet)
After the Dec. 26 tsunami, which killed about 350 people here and left hundreds of homes and businesses in ruins, the people of this predominantly Muslim community on Sri Lanka's heavily damaged east coast set to work with one goal in mind - to put things back the way they were.
But the government had other plans. Residents, who say their views were never solicited, were shocked last month when planning agencies in Colombo, the capital, unveiled an elaborate reconstruction blueprint that would transform the community into an upscale resort of five-star hotels, rental cottages, restaurants, a marina, a seaplane pier, even a helipad.
To make way for the new development, hundreds of fishermen, along with their boats and families, would have to leave beachfront land they have occupied for generations. Dozens of small guesthouses and other locally owned tourist businesses, many of which have only recently reopened, would have to be moved, as well. Government officials recently threatened to bulldoze structures whose owners do not comply with the new plan.
"I have put so much effort in this place, and there's nothing else that I know," said H.M. Hanifa, 47, a burly, bearded father of four who vowed he would "take poison" if the government made good on its threat to demolish his small hostel in a newly declared conservation zone. "They are trying to grab the land and give it to big rich people of their own." Described by government officials as a model for other tsunami-damaged areas, the plan would require the relocation of up to 5,000 people, according to an estimate by the Sewalanka Foundation, one of the country's largest nongovernmental organizations.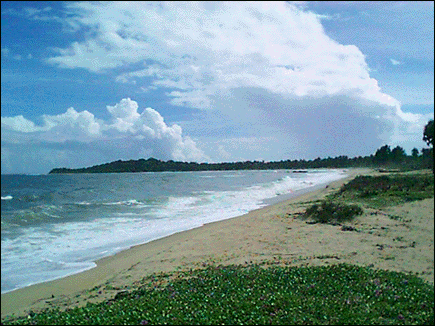 The controversy shows how problems of governance - including highly centralized decision-making and a lack of accountability - are complicating reconstruction efforts even in the face of abundant foreign aid and expertise. The tsunami killed more than 30,000 people in this lush island nation of 20 million off the tip of southern India. It displaced about 800,000 people, more than half of whom are still awaiting permanent homes, according to U.N. statistics.
"It's a highly centralized, bureaucratic approach where the affected people's voice is never listened to," said Kusal Perera, a human rights organizer who is coordinating a legal challenge to the plan. "There's no transparency in any of these things."
Mano Tittawella, who chairs the Task Force for Rebuilding the Nation, a government body formed after the tsunami, acknowledged that "probably . . . we had insufficient consultation" with residents of some areas, including Arugam Bay. He also conceded that some property owners - especially those who had reopened businesses in the conservation zone - could lose their livelihoods.
At the same time, officials said the plan was necessary to protect the environment, curb unregulated and often illegal development and attract investment that will create new jobs and help alleviate poverty. One of its major features is the conservation zone, a 200-yard natural buffer that would extend along much of the east coast.
As elsewhere in the country, the government has promised to provide land for new homes for residents who will be displaced by the buffer zone; small-business owners will in many cases have an opportunity to shift their operations, provided they meet government standards and can raise the funds to lease or buy new land, officials said.
Udaya Nanayakkara, the chairman of Sri Lanka's tourist board, said that the tsunami had provided "an opportunity for . . . sustainable tourism" and that the Arugam Bay model could be replicated in more than 30 other coastal areas.
The United States has pledged about $8.5 million for sewerage and transportation projects in Arugam Bay.
Because of a long-running civil war between government forces and ethnic Tamil rebels who claim the north and east as a homeland, large-scale tourism investment in Sri Lanka generally has gone to the southwest, across the island from Arugam Bay, which is about 130 miles east of the capital. The government and the rebels have observed a cease-fire since 2002.
As in most of the east, the government has traditionally exerted little sway in Arugam Bay, whose ramshackle charm has been threatened in recent years by poor sanitation and unchecked, if small-scale, building. Planning problems have been exacerbated by confusion over landownership in the community, a patchwork of private holdings, squatters' residences and public property, some of which is occupied by permit.
The reconstruction plan calls for the creation of "a unique tourist destination with world-class facilities based on the eco-tourism principle." It emphasizes natural amenities such as wildlife sanctuaries, and it preserves a role for locally owned businesses. But it also calls for hotels, a beach club, a health spa, a shopping complex and "chalets" renting for up to $300 a night.
"There is a lot of interest from international chains" as well as Sri Lankan hotel developers, said Nanayakkara, the tourist board chairman, adding that one such inquiry had come from the Hilton chain. Shelley Winkel, a Hilton spokeswoman, said the company has "no immediate plans" for Arugam Bay but was interested in expanding its resort investment in Sri Lanka generally.
Nanayakkara said no private property would be seized. Holders of legitimate deeds in the buffer zone would be able to keep their land, officials said, but in most cases would not be allowed to use it for a business or residence. The government is considering a loan program to help displaced businesses relocate, according to Tittawella of the reconstruction task force.
In the absence of any firm commitments, business owners remain skeptical. And the plan has generated strong opposition from fishermen, who would have to move to new housing settlements on the inland side of the new hotels, while their boats would be shifted to a smaller strip of beach outside of town.
"I will never benefit out of it," said Hayathu Ibralebbe, 56, a gaunt, bearded man who has been fishing out of Arugam Bay for four decades and lost all his gear to the tsunami. "The fishermen will get scattered everywhere."
The plan acknowledges that "the fisher community could feel an initial disadvantage" but asserts that it eventually will profit from the area's development. President Chandrika Kumaratunga has "endorsed the plan and is keen to see that the action projects proposed in this report are implemented without delay," the document says.
Although the report says the plan was developed in consultation with local "stakeholders," that claim is disputed by, among others, the head of the Arugam Bay Tourism Association, the president of one of its main fishing unions and the local government official who oversees development in the area.
Several business and community leaders said they did not learn of the government's intentions until May 18, when they met with Nanayakkara, the tourist board chairman, at his office in Colombo.
Nanayakkara warned the group that if they "built any illegal structures in Arugam Bay, the army and police (would) have to come and remove them," according to notes taken by a representative of Sewalanka, the nongovernmental organization, which arranged the meeting. (Nanayakkara does not dispute the account.)
"Until then we had no idea," said Ajith Waduge, 34, the president of the Totupola Fishing Society, which represents deep-sea line fishermen in Arugam Bay.
Hanifa, the guesthouse proprietor, is typical of the local landowners. The property to which he now holds a deed was settled around 1950 by his grandfather and father, who worked as fishermen, he said.
Hanifa followed them into the fishing trade, then eased his way into the tourist business in the late 1970s, renting palm-frond huts to itinerant surfers. Later, he added a brick-and-concrete guesthouse that he has slowly improved with money earned during stints as a cook in Saudi Arabia and Kuwait.
Hanifa expressed disbelief that the government was now telling him to shut down. "We are the pioneers in developing tourism in Arugam Bay," he said.
The Washington Post
###
Posted June 6, 2005