Eelam Encounters – 5: The Master & the Author
by Revd. Chandi Sinnathurai
Navam was an 'up-country' Tamil. They are descendents of Tamils who were shipped across the Palk Strait by the Colonialists as indentured laborers from the Raj. They literally slaved, in appalling conditions, in Ceylon tea and rubber estates. Soon after independence, as from insult to injury, the Sinhala state disenfranchised these Tamils for shrewd political gain.
Porali Navam poured out his life in action during the battle with the IPKF (people dubbed it the Innocent People Killing Force). The Veteran's Institute of the Tamil Tigers is appropriately named after this honourable emancipator.
Navam Arivu Koodam
We met with Kalai Kone Master, who himself a veteran, is now actively engaged as an educator in this vast training complex in the Vanni. These young women and men of valour are being equipped with various skills – such as technology, computer science, languages, literature, history, political science, statecraft, peace studies, psychology including art and classical music. Kalai Kone spoke chaste Tamil with a beautiful melodic rhythm. Many of the veterans were once frontline fighters who have borne the brunt of warfare. However, none of them are given to focusing on their heroism; neither are they enveloped in hatred, nor are they distracted from their Goal. They are down-to-earth individuals: speaking only when they are spoken to - often with a tinge of shyness! Get them to speak on the suffering of the Tamil Nation… Their ears perk up; and they blossom like a lotus. We in the Tamil Diaspora, one would think, can best served by taking a few lessons from these youngsters – learning a thing or two about self-giving modesty.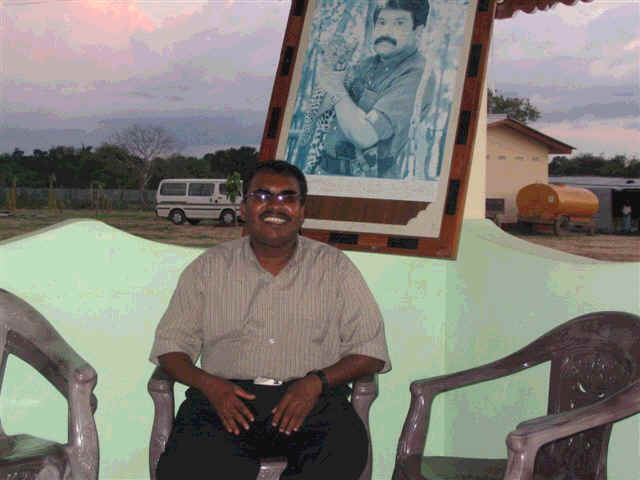 Kalai Kone Master
I do not want to dwell on what I saw here in every Tamil son and daughter. The Sinhala State's economic embargo, including on all medical and food supplies for years to the Tamil territories, has had an impact. It is sufficient to say that emancipation from slavery is indeed a very costly matter. These young valiant spirits weren't allowed to be snuffed out. Instead, they have been rescued by the skin of their teeth, by faithful comrades, during the heat of the battle. Some are psychologically and mentally affected. Many have lost limbs; some are visually impaired; while others are paralysed. What none have lost, however, is their dignity and their sense of humor.
Kalai Kone took us to witness a young veteran training to sit for a National classical music exam in Miridangam. The Music tutor was coaching her Talam; the exam was due in a few days! This Miridangam player was rescued in the nick of time, only with both her artful hands intact – thankfully! She too wore dark glasses.
Over a cup of freshly brewed Tea, we discussed with Kalai Kone Master the plight of the current peace process. I was also going to touch on this matter, among other points, at a meeting with the Police Chief Mr. Nadesan. During the course of our conversation, Kalai Kone wondered whether I would have the time, before leaving for Jaffna in a couple of days, to meet with an author.
The Author
Muna Thirunavukarasu was a tutor (Political Science) at the Jaffna University. He had to go "underground" he said, soon after the IPKF came to town. He reckons the Indian Peace Keeping Force had an aversion particularly towards intellectuals!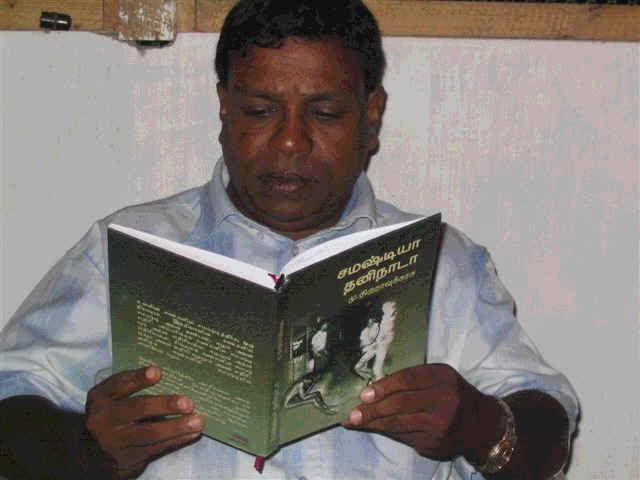 Muna Thirunavukarasu
Once again, it was Mr Asok who radioed that "tomorrow night we'll journey to meet with Thiru Master around 9pm." At 9:40 Asok and I found ourselves in the company of Thiru Master in a hut full of books, dimly lit with the help of a generator. We discussed while sipping Cream Soda about the progressive history of the liberation struggle, at length casually dipping briefly into Thiru Master's expository writings. His lucid reading of the struggle was incisive. Here is a learnéd humble man whom I greatly admired, by choice decided not to sit in some ivory tower churning out ideas for cerebral consumption – instead he, too, has tasted the hard life of the Struggle; stretching ends to meet as an underground fugitive; moving from one place to another. And the only "crime" he has done, was to be born a Tamil and to have heartily embraced the idea of freedom! Mr. Asok had great respect for his former tutor.
I asked Thiru Master whether this struggle has produced many thinkers and writers among the Tamil people. He replied in the negative. Education for the Tamils, he recalled, "is still a cash crop." Hence, learning is viewed only in terms of money-making, dowry bargaining, and economic prosperity: "In a such context, who will have the means, courage, and intellectual integrity to spend time on researching and thinking and publishing materials in order to equip others to think differently?" It is not economically a viable option. However, Thiru Valluvan saw Kalvee – enlightenment and Arivu - Knowledge as illumination and emancipation for the heart, head and soul – the whole being!
Thiru Master explained that there is yet to be a seismic shift in the thinking of the Tamils. The struggle has yet to have an impact on the caste-conscious Tamil society! "We still have Hindu festivals being celebrated in the temples, by allocating ceremony dates on the basis of castes." In spite of all these negatives, Thiru Master insists that the Tamil Eelam will bring about the best in the Eelam Tamils.
In his book written in easy–to-read Tamil: Federalism or Separate State? (Samastiya? Thani Nada?) Thiru Master carefully examines the diverse interpretations of Federalism. He explains to the reader the complex equation of Landed gentry/ political elites + Racism + Opportunism = Senanayake / Bandaranayke/ Jayewardene (including current Sri Lankan politics).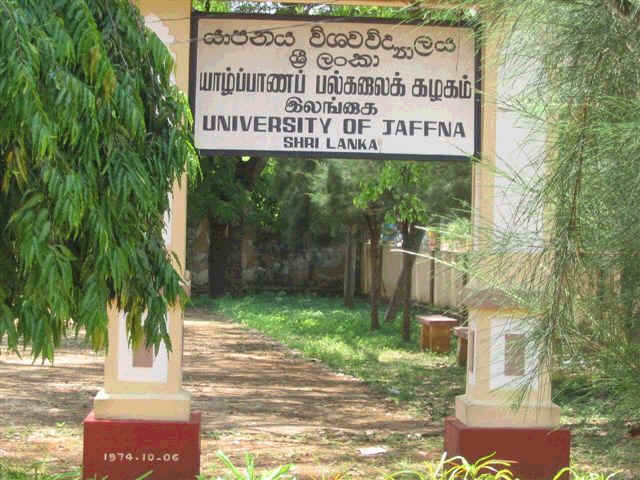 Thiru Master further analyses the Tamil Federal Party. The failure of such politicking, he writes, was that the leaders of this party were Colombo-based and, hence, lacked the understanding of the grassroots' aspirations. Since this party was Colombo-oriented, and depended on the South for their economic sustenance, he argues, they would not wage an effective battle, non-violent for most part, for the cause of Tamil rights. They could not expose, or even make a dent in, the Institutional racism, repression and travesties of justice!
Thiru Master pointed out the core difference of strategy, character and calibre between those leaders of the past and Thalaivar, Mr. V Pirabakaran. Those former leaders, in spite of their learning, were blinded by the Sinhala leaders' games of carrot and stick. On the contrary, Thiru Master observed that, "Now Thalaivar is in a strategic position to call the shots! Thalaivar could not be bought over – he is above all that…that's the key; he has proved his mettle; he is indeed a colossal character and the Enemies of freedom know that. That is the backbone of our success. We are already in control of the most part of our territories. The Sinhala regime cannot hoodwink the Tamil masses."
Thiru Master nonetheless warned, that the Tamils "will need to be extremely vigilant about the actions of today's Tamil parliamentarians."
For all the Tamils who love and cherish their freedom, Muna Thirunavukarasu's book: Samastiya? Thani Nada? is a must read. It is published in Tamil Eelam by Arivamuthu.
You may contact them by phone: 0212283961; alternatively by E-Mail: arivamuthu2000@yahoo.com.
"Thalaivar could not be bought over…" these words began to grip my imagination. What strength of martial character! A few days ago, I was listening to a newly-released CD track by Van Morrison (Exile Productions). The title of track 12 is 'They Sold Me Out.' The lyrics go like this:
Sold me out for a few shekels and divided up my robes

They sold me out

It's the oldest story that's ever been told

They sold me out

Didn't even give it no shred of doubt, no, no

They sold me out

Didn't even sit down and try to figure it out

They just sold me out.
The stories of betrayal of the Tamil cause are a crucifying gospel. It is a collective grief. The exodus and exile of the Eelam Tamils have a spiritual force. Hence, there is the eschatological hope of resurrection.
I shall be writing about my continuing pilgrimage towards Jaffna. And, possibly, there a perchance meeting with a journalist named Thurai from Vallvetti - His convenient nom de guerre being "Vallvetti Thurai."
###
Posted June 18, 2005