Personal Effort to Aid Homeland
by Lisa M. Krieger, June 12, 2005
COLOMBO - It took a bloody civil war to drive Yasodha Natkunam out of her Sri Lankan homeland.
It took the tsunami to pull her back.
Twenty-one years after fleeing, the Stanford pathologist returned with medical supplies, skills and three other doctors to help a wounded nation that had just begun to heal from one tragedy, only to be hit by another.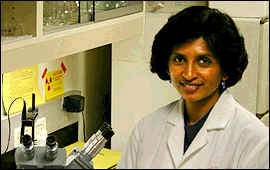 It had long been Natkunam's dream to return to her homeland and help rebuild a medical system corroded by decades of civil war. The tsunami provided the impetus. In March, she undertook to hand carry five high-tech microscopes to the impoverished flatlands of northern Sri Lanka, deep in the area hit hardest by the war and the tsunami. She saw them as the first step in creating rural medical laboratories that could diagnose illnesses on the spot.
It was her first time back in the country she had left as a teenager, and a rare reunion with her father, also a doctor, who had taken refuge in Australia.
Natkunam and her father's travels became a journey of personal discovery, and a lesson in the reality of postwar disaster relief: That even in the midst of great human suffering, help can be slowed by distrust, bureaucratic inefficiency and ethnic strife.
Return home: Tattered region looks to exiles
Natkunam was only 19 when she last saw Sri Lanka, a frightened student whose dreams of practicing medicine were suddenly clouded by conflict. The child of two doctors, her youth had been serene, comfortable and sheltered. But her family was part of the Tamil ethnic minority, and in 1983 tensions with the Sinhalese majority were worsening. Eight classmates in her college class were missing or imprisoned. Many others had already fled.
Now, on a steamy night 21 years after she left, Natkunam's father is waiting for her to arrive at the airport in Colombo, Sri Lanka's capital. ``We sent her off to the States, all on her own, where we knew she'd be safe,'' he recalls.
He waits patiently, his hands in his pockets, watching as each traveler comes and goes. At 71, he is still energetic, a lean man with graying hair and a soft, steady voice.
``We are proud,'' he says. ``She's very focused.''
Yasodha Natkunam's 40-hour trip will bring her from half a world and a lifetime away. Now on the faculty of Stanford University Medical Center, she is also a Sunnyvale wife and mother, and an American citizen, with the confidence and resources to aid a devastated region.
The country has changed, too. A tropical island nation off the southeast coast of India, the former Ceylon is emerging from two of its darkest decades. The civil war between the Hindu Tamil minority and the Buddhist Sinhalese majority ravaged the country and claimed more than 64,000 lives; most of the fighting occurred in the northeast coastal Tamil homeland.
Isolated during fighting, the region had seemed poised for recovery late last year. A cease-fire had been in place since 2002. Gone was an economic embargo that blocked food, fuel and medicine. Survivors were returning to rebuild their homes, businesses and farms.
Then came the giant waves of Dec. 26, crushing not only lives but the confidence of a people. Of all the nations hit by the tsunami, Sri Lanka suffered more deaths per capita. And of all Sri Lanka, the north and eastern beaches of the Tamil region suffered the most. The territory's small hospitals, scarcely recovered from the war, turned into morgues.
The region, carved from the country by rebels during the war, desperately needs help. Although Tamil territory is officially part of Sri Lanka, it is run as an autonomous region by the Tamil leadership. Tamils have their own language, religion and culture, even their own time zone -- a half-hour behind the rest of the country. But the region is poor and badly damaged by the war.
Its brightest hopes lie in its exiles -- like the Natkunams, two of the estimated 1 million Tamils who had the wherewithal to escape years before.
On a mission: Making sure donations arrive
The best way to give aid, Natkunam has heard, is to get it there yourself.
The idea of delivering microscopes and restoring labs to the isolated Tamil-held northeast has been simmering in her mind for years. The tsunami opened the world's eyes to the plight of Sri Lanka and spurred Natkunam to undertake her dream. She well remembers the reality -- the dirt roads, the scarce phones, the unpredictable electricity -- but she envisions a series of laboratories in rural towns where specialized equipment and training can help detect cancer quickly.
As she pushes an airport luggage cart piled high with boxes past armed security guards, Natkunam looks much as she always does: refreshed, cheerful and optimistic.
``It's so good to be here,'' she says brightly to her father, stopping for just an instant to flash him a warm smile.
Accompanying her are three other doctors: Doruk Ozgediz of the University of California-San Francisco, Rochelle Dicker of Stanford's Department of Surgery, and Julie Adams of the Cleveland Clinic in Ohio. They are bringing donated medications and surgical supplies, and also hope to provide hands-on care to victims of poverty, war and the tsunami.
Natkunam is convinced that the technicians in rural northeast Sri Lankan hospitals are smart and skillful, capable of utilizing advanced equipment.
They just need more powerful tools. Their current microscopes are rudimentary, adequate for finding malarial parasites in blood but not much else. Natkunam's microscopes could help them identify cancerous cells on the spot, rather than having to send tissue samples by bus to a lab in Colombo, delaying a diagnosis by weeks, if it comes back at all.
Natkunam brings with her five elegant high-powered instruments, donated by Stanford and Scientific Instruments of Sunnyvale. When new, the microscopes cost about $25,000 each. They're headed to a region where the per capita annual income is less than $700.
``They're just like the ones used at Stanford,'' she says proudly.
By transporting the boxes themselves, the doctors intend to ensure that their equipment won't suffer the fate of so many international donations, lingering in docks and warehouses in Colombo.
Other doctors and charity workers tell tales of supplies stacked high on pallets for weeks, awaiting inspection. Some donations are taxed at rates as high as 35 percent, they complain. The paperwork is laborious, requiring a series of signatures from authorities who are hard to contact. A group from North Carolina waited weeks for 54 boxes of supplies. A London doctor has not yet received dental chairs she had sent months earlier.
The delays anger Tamils, fueling a perception that the Sinhalese government doesn't care about their region -- in fact, would be happy to see it fail.
The Tamils live in the flat and arid northeastern part of the country, starkly different from the Sinhalese parts of the country. This is not the Sri Lanka of tea plantations, mountain monasteries and tourist hotels; it is a place of displaced families, of land mines, rice paddies and lagoon fishing, of damaged roads. Doctors call it the snakebite capital of Sri Lanka.
It doesn't take much to ignite suspicions on either side. The decades of civil war were marked by murderous brutality by each side, and have ended in a cease-fire, not a permanent peace.
The tsunami shook the delicate balance of power, causing the Tamil leadership and the government to jockey over access to aid. The Tamil Tigers, who have military authority over the Tamil region, initially tried to direct aid through their own organizations, but are limited because they are considered a ``foreign terrorist organization'' by the United States, Britain, India and other major countries. The government decreed that it was in charge, but critics say it is using the tsunami damage as a way to regain control over Tamil territory.
The Sinhalese government responds that it has tried to help, but is rebuffed by Tiger soldiers. Shipped goods need to be inspected for security reasons, it explains. Weapons and bullet-proof vests have been found hidden in a container carrying relief items.
Whoever is to blame, civilians bear the brunt of the suffering.
To the border: Trip stirs up distant memories
At midnight, the city of Colombo rests in deep slumber. Natkunam's team is wide awake, gathered in a hotel lobby, preparing to depart. Natkunam calculates the time it will take to reach the border, then checks her watch. She wants to arrive at dawn, when the roadblocks reopen.
Two drivers have been hired to transport the team and the boxes of medical supplies, duffel bags, assorted backpacks -- and five microscopes.
Natkunam worries that a valuable teaching microscope, with its extra eyepiece and hardware disassembled for transport, could look threatening. She buries it in the deepest part of the van's storage trunk and places a traditional microscope by the door, where it will be the first one inspectors see.
At 1 a.m., the drivers start the engines. The two vans begin the long, slow journey out of town, headlights piercing the deep darkness. Smooth city streets give way to rough macadam, potholed by years of heavy use and neglect.
So much has changed since she last traveled this road in 1984, a dangerous time.
``There were protest marches, strikes, riots,'' she recalls. She had been a strong student, graduating in the top 2 percent of students in the country, and had just won acceptance into a medical school in Colombo.
The family's goal had been to send her to medical school in the north coastal town of Jaffna. For generations, they owned property near the school, and her father built a home there. It would be where the family would live while she studied, and where her parents would comfortably retire.
``They had all these hopes and plans for the future,'' she says. ``They were at the pinnacle of their careers.''
The decision to send her to safety came hard. An overseas education was too expensive for a government doctor, even an accomplished open-heart surgeon like her father, practicing at the nation's largest medical center, Colombo General Hospital. He asked the government for a leave of absence so he could work outside the country while his daughter studied. His request was denied despite his 30 years of service in an elite and essential specialty.
``They made him resign,'' she says. ``They never gave him a break.''
Her parents sought work in Hong Kong and then Australia. By then in his 50s, her father took a job as a general surgeon in a remote mining town. Years later, the Australian government awarded him the prestigious Order of Australia Medal.
``It took a foreign country to appreciate him,'' says Natkunam.
At the checkpoint: Moment of truth with authorities
The first streaks of color light the morning sky, revealing a changed landscape. Amid the cattle fields, rice paddies and wilderness that were once part of Tamil lands, Sinhalese military bunkers are protected by chain-link fences. But the people in the villages are Tamil. Through the cacophony of town-square traffic, Natkunam hears a familiar melody.
``Oh, hear that music? I know it, that is Tamil music, I know it well, from my childhood,'' she says nostalgically.
The dense forests shrink and thin as the caravan heads further north, out of the hills and toward the dry jungle plains of the Tamil lands.
At length, the doctors reach the first border. To exit government-held territory and enter the Tamil homeland, the Natkunams need permission.
The vans halt at the government military checkpoint, a hut of cinder block and corrugated metal surrounded by rolls of barbed wire. Large signs in Tamil, Sinhalese and English warn against unauthorized entry.
A long line of truck drivers has already formed, awaiting entry. Some doze in the heat. At the head of the line, a driver watches as his cargo of cement powder is emptied and searched for weapons.
The doctors climb out of the van into the crushing heat. Because Natkunam's father speaks Sinhalese, he is to be the team's spokesman. This is no small responsibility; to be turned away now would be a huge blow. Their supplies could be seized.
His face is weary but his shirt and trousers are clean and pressed. He carefully lifts the paperwork out of his briefcase and hands it to the soldiers. The meticulous letter of authorization lists each name and passport number and their purpose of travel.
The doctors fall into uneasy silence, the mood hanging between tedium and tension. The sun climbs higher in the sky. A goat walks by, nibbling at the dry grass.
Finally, a long discussion ensues. The Natkunams are asked their destination. They say that they are headed through the Tamil region to Jaffna, the ethnic Tamil city at the far north of the country, which is now under government control -- an answer that the guards should accept.
Their answer is only partly true. Yes, they plan to visit their property there. But the Jaffna of their past is gone and they are outsiders now. Jaffna is not their chief destination. Instead, they will bring their microscopes to the towns in the Tamil-controlled region along the way.
With great formality, an imposing officer inspects the letter of authorization, then carefully copies the doctors' names and numbers into a ledger. He stamps their documents: Approved.
Back at the vans, a young soldier is using a large mirror with wheels to inspect the undercarriage. Another scans the contents of the passenger section of the van: cookie wrappers, empty water bottles and assorted shoes.
He takes an interest in the boxes in the back. Natkunam opens the white box by the door and politely explains the microscope is a donation. As proof, she shows him a letter on embossed Stanford stationery, describing the cargo.
The young soldier studies the letter, as if some secret is hidden in its sentences. He eyes the instrument again, intrigued. He smiles.
Natkunam senses an opening. She brightens, describing the wonders of the instrument, much as she would to a Stanford student. The soldier smiles again. Then he nods his consent. They're cleared to proceed.
Natkunam celebrates the crossing with crackers and bottled water. She feels kindly toward the soldier. ``He seemed really curious,'' she says happily. ``He was interested.'' As the vans push north into an increasingly arid landscape, the heat continues to climb. So does Natkunam's mood.
``It's like coming home,'' she says. ``I feel welcome here.''
First delivery: A microscope and a lesson
Crossing the border into Tamil territory doesn't end the checkpoints. Once inside, the team must be cleared by Tamil military police. That evening, they assemble around a large wooden table at Tigers headquarters, beneath the stern faces of dead war heroes gazing down from photographs on the wall. Small yellow geckos skitter across the walls, chasing mosquitoes.
But the doctors feel welcome here in this land of rebirth, after so much destruction.
After 12 hours on the road, the equipment and the doctors -- sweaty, weary from heat and tropically disheveled -- settle into a pleasant concrete dormitory in the town of Kilinochchi. Fresh running water is intermittent. And when the electricity quits at night, stopping the overhead fans, mosquitoes rush in. But the rooms are blessedly quiet and dark, shared only by the occasional toad.
Natkunam and her father kneel on the concrete floor of the hall and start unpacking the equipment. Like a child at Christmas, she happily unwraps dozens of pieces and lays them side by side. Her father hands her each piece as needed, and they work seamlessly together to assemble the microscopes. He admires her handiwork.
After the miles of rough roads, only one metal plate is damaged. It's an almost imperceptible chip. ``That's OK,'' Natkunam says. ``It's not important.''
Finally, the first microscope is ready and packed again in its box. The driver carefully loads it back into the van. He drives down a dirt road to a village hospital, then carries it down a long dark hall to the hospital laboratory, as Natkunam follows behind.
Inside, the air is fresh and cool. Four young Tamil lab technicians, dressed in sunflower-colored saris, cluster around Natkunam as she sets up the microscope.
Here, far from Stanford's leafy campus, she stands in the small room, lecturing on introductory pathology. Outside the window, a thin dog wanders by.
``How do you detect infection?'' Natkunam asks. ``If it's not an infection, what is it? Might it be a malignancy? What kind?'' These are the questions this microscope can answer, she says. If the technicians can prepare a slide carefully, she tells them, a doctor can interpret it.
The lesson is thorough but brief, because she must prepare four more microscopes for distribution to other hospitals. She leaves behind not only a valuable tool, but an education.
``This will work,'' she says.
Final reflections: Trip's effect on father, daughter
Later that night, Raj Natkunam says he is proud of the role played by the region's expatriates scattered across the world. But rebuilding such a battered society has proven to be far harder than he expected.
``I had hoped, after the peace, that things would progress quickly,'' he says. ``I expected much more.'' He fears the region has lost momentum, sliding back decades, or even more.
During their years abroad, Raj Natkunam and his wife have considered returning to their homeland in retirement. ``Australia is OK, but I don't feel perfectly at home. You feel foreign there,'' he says.
Now he is questioning those plans. ``When I come back, 10 percent of my friends and colleagues are dead. Fifty percent have migrated,'' he says. ``Ultimately, it is foreign even here.''
For Yasodha Natkunam, though, today has brought a small success, and that is enough. Using one of the new microscopes, she examined tissue from a 56-year-old woman whose face was mysteriously swollen. Doctors had feared it was an aggressive form of cancer, but Natkunam identifies it as lymphoma, which has a far better prognosis.
She is just one patient in a region of vast need, Natkunam says, but it's a beginning. The doctor plans to return. Someday, perhaps, she will have helped build a network of pathology labs.
``I've been away so long. Things have gone back here. They're 50 years behind,'' she says. ``But they said: `Your coming is absolutely wonderful.' They thank me. They want it.
``There is more work to do than I ever thought.''
Mercury News, San Jose, California
###
Posted June 22, 2005