Eelam Encounters – 6: The Threat of Resurrection
by Revd. Chandi Sinnathurai
After the Santhippu with the Eelam Police Chief, we left the police HQ feeling unburdened, as one would, at the conclusion of a pastoral session. This writer found Mr. Nadesan to be a man endowed with a gentle spirit coupled with attentive ears. If he ever were to choose to switch vocations - no pun intended; one would find him eminently suitable to be the "honorary bishop" of Vanni! Nadesan comes across as a self-deprecating man, who is slow to speak and swift to think. Anyone would find great ease in communicating "strictly confidential" matters with him because he is skilled at creating an environment of trust. He would politely listen with tilted head and would promptly assure: "Father, leave that matter with me; I'll do the needful."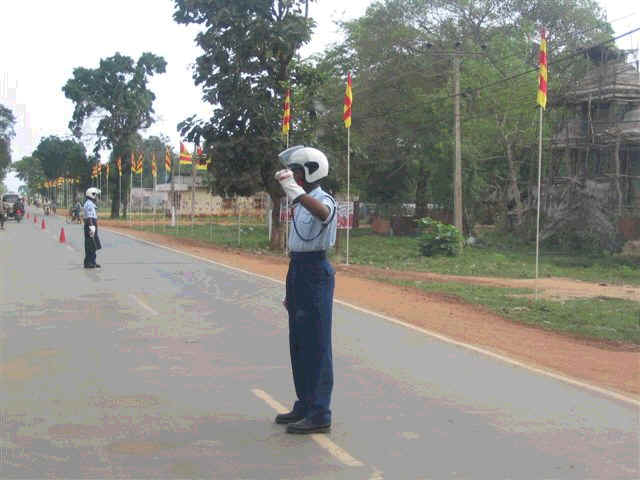 Eelam police along A-9
This writer expressed how gutted he felt, while staying in East Eelam a week after the tsunami, when he heard over state radio the shocking story of the "demise" of both the Tiger Supremo and his brilliant intelligence chief. Mr Nadesan explained how such experiences in the past have educated the Eelam Tamils to cut through the vicious 'spin doctoring' of state propaganda. Within the lapse of only a few hours, one was convinced beyond any figment of doubt, that these seemingly "dead" de facto State leaders are not only exceptionally alive, but also alert to out-smart the deceptive state every time. One knows a corpse when he sees it – the state media engaging in tomfoolery is no doubt brain-dead!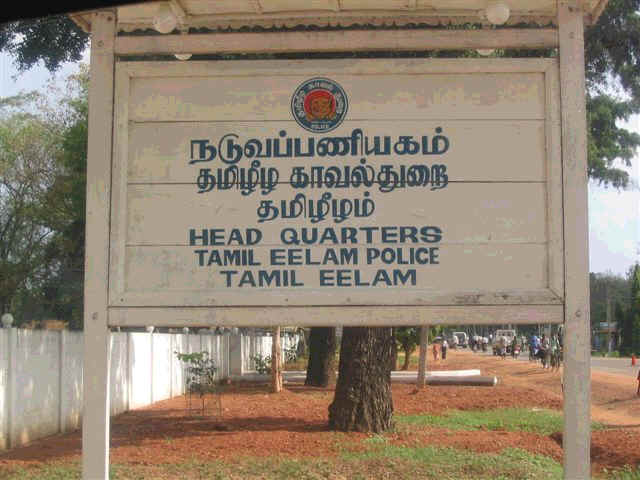 Police headquarters, Kilinochchi
The Police Chief's spouse is a Sinhala woman and he chuckled when saying that the good lady speaks Tamil fluently and, like icing on cake, - even with Jaffna accent. Alongside Mr Thamilselvam, the police chief is actively engaged in talks for a negotiated settlement. It is believed that the latter is acting in the background as "the eyes and ears of Thalaivar" in the West-orchestrated overtures of peace.
"Even if the Sri Lanka state is not willing for a peaceful settlement," Mr Nadesan underscored, "it's still worth trying to give peace a chance. That'll unmask to the international community the true face of the racist hegemony."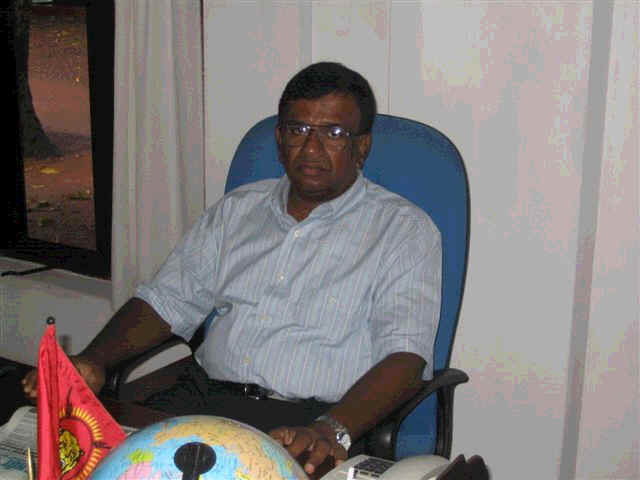 Mr. Nadesan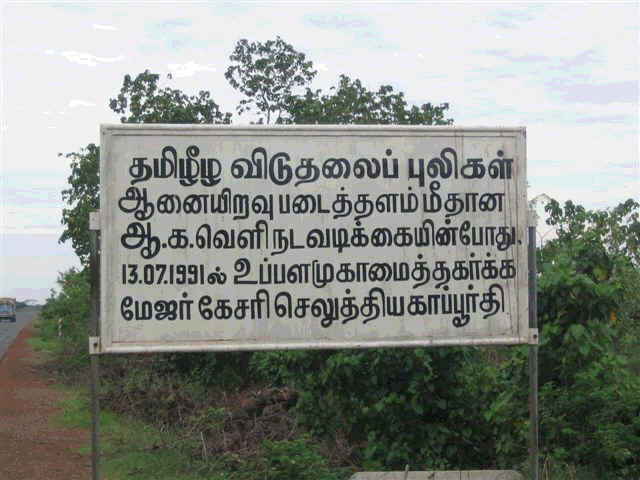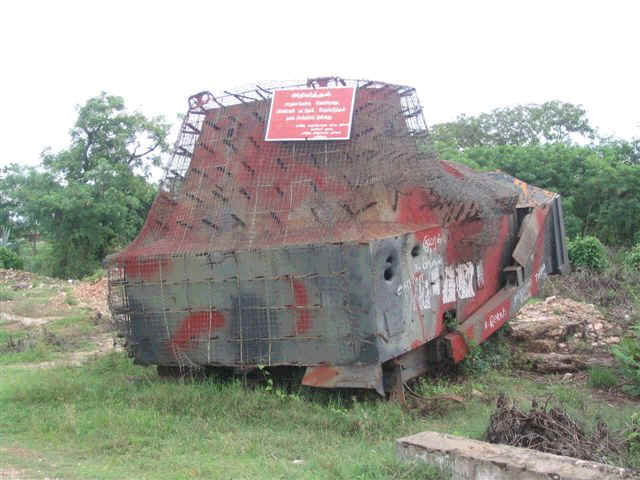 Yarlpanam
Having stopped at the Nallur temple for worship, the hired vehicle was to take the South African ladies back to Vanni once I'd found a lodge in Jaffna town. After some rest in the comfort of my AC room, I took a stroll down Hospital Road. The State Forces will make you feel, with their inquisitive stares, that you are an "outsider" even within the boundaries of the land of your birthright! The moment you ask for directions in Sinhala, they soften up like pumpkins in Sambaru. I felt compassion for these young Sinhala soldiers; they are being duped into this misery. I met some Army officials treating themselves to large portions of Banana Split in a 'Cool Bar' downtown, where I sat to quench my thirst. I walked up to them and jokingly hinted to the officials in polite Sinhala: "If you all keep eating such massive portions of ice cream daily, you'll become out of shape and won't be able to fight with our boys." They laughed their heads off…Oops, I've got to be careful here with my choice of words!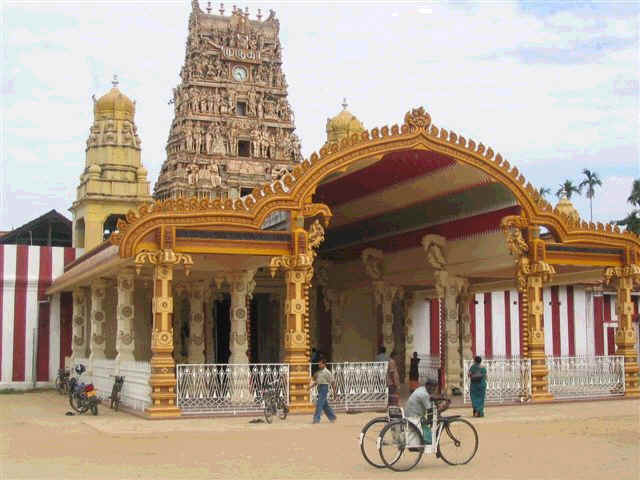 Nallur Temple, Jaffna
Having quenched my thirst, I turned to walk towards the burnt down Railway Station. At a distance, I thought I saw the spitting image of a man whom I had met many moons ago. Yes, this is the person whom I wanted a Santhippu with. One has no other choice left in such instances, but to confirm one's belief in divine appointments rather than mere coincidences. The man, "Vallvetti Thurai" (VT), was standing in front of me trying to work out as to how this chance meeting had occurred! As we walked up to the disused train station; lo and behold we bumped into a van-load of saffron-robed monks who have come to Jaffna town looking for "lost property" [real estate], which according to them, belonged to the Buddhist Pansala. VT spoke in fluent Sinhala and inquired "Hamaduru are you planning to return to Jaffna to settle?" The monks were careful to divert the subject rapidly.
Bhikkus in Jaffna town
After a hearty chat about the good old days, VT kindly decided to stay overnight and travel with me the next morning to Vallvettithurai - the village of nativity for both Mr. Pirabakan and Mr. Nadesan. "You must first visit Pirabakaran's house and take some snaps," he insisted. In the meantime, "How about some Palmyra toddy?" he challenged! I chickened out. "Anything you have read that's worth recommending?" VT queried. "Oh, yes," I spontaneously replied: "Have you read the splendid series on the history of our liberation struggle, written on the Sangam website, by T Sabaratnam?" Puffing the Yarlpanam Churutu (cigar) with a dram glass of local spirit at hand, VT spelt out the action plan: "I'll arrange for you to meet up in the next couple of days with some journalists and some interesting people at Jaffna University, including the veteran activist, now a National list MP, Mr. Eelaventhan." That's splendid! I thanked our friend.
It was tragic indeed to hear that many journalists have hung up their pen to rust, for fear of assassination. VT has also followed suit; having experienced displacements and personal turbulence. This has brought him to a plight of stoic existence; soaking up information at various libraries and frequenting the 'water holes'; yet having made redundant the fine art to articulate himself via the print media. VT's case is quite representational of that "lost tribe" of talented ilk. "There is no freedom of the press here," they all echoed in unison. I was also shocked to hear from someone, who shall remain nameless, that Mr Mavai Senathirajah MP did not actually get enough votes to enter parliament. In fact, this person showed me some local paper cuttings to this effect. However, owing to the new "representational system" by political parties, the person who actually won on the party list was able to give his place to Mavai in order to get into parliament – this is apparently legal, I hasten to add. However, what a weird system, that. End of the day, Mavia is not really the people's choice!
There was a world of difference in attitude between state-controlled Jaffna and Tiger-governed Vanni. In Jaffna, people seem to be very suspicious and cynical of many things – this may be a reflection on their war weariness. They are deeply resentful of the presence of the alien state forces. Yet the chattering classes are stuck with oscillatory opinions regarding liberation, whilst being solely bent on preserving the status quo - an unhealthy symptom of being trapped in a time warp.
Looking at the Jaffna Railway Station and many such haunted places would instantly reveal to a newcomer the hard life endured by fellow Tamils for over some 30 years.
Mr A J Canagaratna, a senior journalist, during an informal conversation in his humble abode, gave an excellent critique of Jaffna society. Mr Canagaratna commented that there is a legitimate fear among practising journalists that they too would be silenced by murder. So, in short, everyone here lives in fear of a "cut throat context."
Even among mainline Christian clerics, finding one too many from this liberative context, are yet to climb down from the mental slavery of caste hierarchy! Confidential substantiation of facts seems to reveal that there are in all sectors, including even among a few Eelam protagonists, counterfeits nestled among rare diamonds!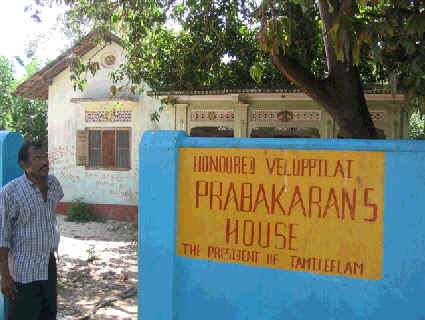 The Tamil Catholic Bishops of both Jaffna and Mannar are held in high esteem by the people of all persuasions as champions of human rights. The national Protestant establishments, however, in spite of their good works, have become cripplingly insular by sitting on the fence; while regurgitating pious clichés with little concern for social and racial justice! Their outdated imperialistic models of theology, one would have thought, are crying aloud to be knocked out of joint.
When will Yarlpanam be liberated? That's a million dollar question. Looking through the clouds of the ceasefire, it is expected that this strategic strike cannot be less of a priority for the Tigers. It is more of a matter of precise timing.
Valvettithurai
VT and I took an early bus to Valvettithurai. I was surprised to witness the way in which the atate has destroyed the surrounding villages by indiscriminate aerial bombings. VT's rented property did not have any electricity; that too was partly burnt down by bombing. The village has been policed every nook and corner – not to mention constant military surveillance. As our auto rickshaw stopped in front of Mr. Velupillai's residence, the auto driver reverently whispered: "This is our Thalaivar's house; even this house was bombed, not once but numerous times." This must have been a beautiful house when it was the home of Mr. Pirabakaran. I could not help but imagine how his parents would have felt the pain of parting on that fateful day they had to leave their home village and go somewhere else for safety. Many people who have visited the house from around the globe have autographed the walls of the house, scribbling information as to where they have come from. I silently took it all in as I clicked some snaps…To me, this spot, these walls, will always speak of the longing and the pangs of our nation.
Threat
I left with a heavy heart. It is then, on my return bus journey, I found comfort in remembering a poem written by Julia Esquivel, an exiled Guatemalan… herein below some lines from it for your personal reflection:
There is something here within us
Which doesn't let us sleep,
Which doesn't let us rest,
Which doesn't stop pounding deep inside,
It is the silent, warm weeping
Of women without their husbands,
It is the sad gaze of the children
Fixed there beyond memory,
In the very pupil of our eyes
Which during sleep,
Though closed, keep watch
With each contraction of the heart,
In every awakening.
They have threatened us with Resurrection
Because they do not know life (poor things!)
That is the whirlwind
Which does not let us sleep,
The reason why asleep, we keep watch,
And awake, we dream.
To dream awake,
To keep watch asleep,
To live while dying
And to already know oneself
Resurrected!
This is my concluding scribble. Many of the Sangamites I hope have journeyed alongside and would have shaped their own reflections.
My sincere thanks to Mr. Arun for helping me to make the right connections in Eelam; Mr & Mrs. Orlando for their pastoral encouragement and Ms. Nimdra for helping me to register sights and sounds via digital electronics:
To the conscience of the Buddhist-Sinhala state this chapter is humbly dedicated.
###
Posted July 6, 2005