Ex-US Ambassador Suggests US Make Contact with Tigers
from Daily Mirror
A former US Ambassador to Sri Lanka and a US Deputy Assistant Secretary for State Teresita Schaffer suggest that the United States make contact with the LTTE, an organization her country has banned and listed as a terrorist organization.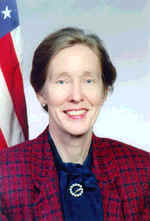 Schaffer, who is currently the head of the South Asia Programme of the Washington based Think Tank CSIS made this suggestion in a paper presented in Colombo last week, at a seminar organized by the CPA on `The International Dimension of the Sri Lankan Peace Process.`
A few years ago Schaffer created a controversy by suggesting a Confederal model for Sri Lanka.
She said `Those working for peace, including the United States government need to be able to communicate directly with the LTTE and so to strengthen its motivations to leave terrorism behind. Given the importance the LTTE attaches to being treated on a par with the government, this makes it important to avoid occasions where LTTE peace negotiators are unnecessarily kept out of peace related gatherings on account of terrorism policy. This may mean that meetings where the LTTE has a logical claim to participate should not be held in the US or in other countries with similar policies.`
Schaffer had pointed out that the third effect of US terror laws and of the terrorist organizations list has been a problem for US diplomacy and it had not been handled wisely. Making reference to the US/PLO relations Schaffer said `US relations with the Palestine Liberation Organization (PLO) were plagued by the same issue for decades, and there is no easy answer perhaps some kind of step by step policy in which contacts are expanded based on specific improvements in behaviour could help.'
However, Schaffer had faced strong criticism from Senior Lecturer and Analyst Dayan Jayatilleke and another senior journalist at the seminar. They told Schaffer that LTTE Black Tiger week was celebrated in Western Capitals in the same week the blasts took place in London and the double standards adopted towards the LTTE by the West, especially western liberals, have proved to be counter productive in their own societies
Last week the United States government said they would not contribute money towards the donor fund of the P-TOM because the LTTE, a banned terrorist organization in the US, will chair the group that administers the funds.
###
Posted July 11, 2005