The First Generation of Theravada Buddhism in America
by Wendy Heartwood Cadge
Fall, 2004, University of Chicago Press
The origin of Theravada Buddhism in America can be traced to a speech made by Anagarika Dharmapala at the World Parliament of Religions meeting in 1893.
Theravada is one of the three main branches of Buddhism. In Asia it is practiced widely in Thailand, Laos, Burma, Sri Lanka, and Cambodia. his fascinating ethnography opens a window onto two communities of Theravada Buddhists in contemporary America: one outside Philadelphia that is composed largely of Thai immigrants and one outside Boston that consists mainly of white converts.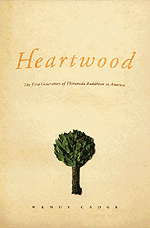 Wendy Cadge first provides a historical overview of Theravada Buddhism and considers its specific origins here in the United States. She then brings her findings to bear on issues of personal identity, immigration, cultural assimilation, and the nature of religion in everyday life. Her work is the first systematic comparison of the ways in which immigrant and convert Buddhists understand, practice, and adapt the Buddhist tradition in America. The men and women whom Cadge meets and observes speak directly to us in this work, both in their personal testimonials and as they meditate, pray, and practice Buddhism.
Creative and insightful, Heartwood will be of enormous value to sociologists of religion and anyone wishing to understand the rise of Buddhism in the Western world.
TABLE OF CONTENTS
1. Arrivals and a Map of the Journey
2. The History of Theravada Buddhism in America
3. New Organizations: Wat Mongkoltepmunee (Wat Phila) and the Cambridge Insight Meditation Center (CIMC)
4. Lived Buddhism: The Construction of Teaching and Practice at Wat Phila and CIMC
5. Refuge in the Sangha: The Shape of Buddhist Communities
6. Ascribed and Achieved Buddhist Identities
7. Observations through a Gendered Lens
8. Taking Stock, Looking Forward
Appendix A. Research Methods
Appendix B. Refuges and Precepts
Reference List
AN EXCERPT
The origin of Theravada Buddhism in America can be traced to a speech made by Anagarika Dharmapala at the World Parliament of Religions meeting in 1893. Born in 1864 in Sri Lanka (then Ceylon), Don David Hewavitharne became a celibate layman and adopted the title Anagarika Dharmapala, meaning "homeless one," "guardian of the Dharma." Heavily influenced by Henry Steel Olcott (1832–1907) and Helena Petrovna Blavatsky (1831–1891), Theosophists who first visited India and Ceylon from America in 1878 and 1880, Dharmapala spent his life spreading Buddhism around the world. At the Parliament, Dharmapala spoke about how Buddhism, Christianity, and scientific approaches to the world overlap, saying that the "Buddha inculcated the necessity of self-reliance and independent thought," and "accepted the doctrine of evolution as the only true one." Theosophists and others in the United States were influenced by elements of Theravada Buddhism in the late nineteenth and early twentieth centuries. Groups of Burmese and Sri Lankan monks visited the United States before the first Theravada Buddhist organization was formed in Washington, D.C., in 1966.
The Washington Buddhist Vihara and the Buddhist Study Center in New York, the first two Theravada Buddhist organizations in the United States, were both founded and supported jointly by Asian and American-born people. The Washington Buddhist Vihara began in Washington, D.C., in 1966 following the 1964 visit of Sri Lankan monk Most Venerable Madihe Pannasiha Mahanayaka Thera. Sent by the Asia Foundation on a tour, he happened to be in Washington on Vesak, the Buddhist holiday that commemorates the birth, death, and enlightenment of the Buddha. He celebrated in a park with a few people from the Sri Lankan Embassy and, after conversations with an officer from the embassy, decided to begin a temple in the United States. Most Venerable Madihe Pannasiha Mahanayaka Thera returned to Sri Lanka and collected funds for the temple from the Sasana Sevaka Society, an organization of Sinhalese lay Buddhists, and from Sri Lankans and Americans living in the United States. Another Sri Lankan monk, Ven. Bope Vinitha, had recently returned to Sri Lanka after two years of study at Harvard University and was asked to return to the States to direct the temple in Washington. He arrived carrying a Buddha statue and relic of the Buddha, and in December 1966 the Vihara held its first meeting at the All Souls Unitarian Church on 16th Street NW. In 1967 the Vihara purchased a building at 5017 16th Street NW from the government of Thailand for a reduced price, where people continue to meet today. The Washington Buddhist Vihara has been an international temple from the beginning, where services are held in English and Buddhists and friends of Buddhism from Sri Lanka, Thailand, Bangladesh, Burma, and America are included among the temple's regular members. Sri Lankans and other Asians tend to come for devotional services and ceremonies, while white Americans come for meditation sessions and sutta study classes. Monks from many countries have lived or stayed at the Vihara over the years. In January 2001 the Vihara housed four monks, two from Sri Lanka, one from Nepal, and one white American ordained in San Francisco according to the Burmese tradition. Also in the late 1960s, Thai and American Buddhists founded the Buddhist Study Center in New York, which led many years later to the founding of Wat Vajiradhammapadip, a Thai Buddhist temple in New York.
1970s: The Beginnings
In the early 1970s, Sri Lankan and Thai lay people and monastics began to organize temples, first in California. The group of white people who would form the first vipassana meditation retreat center in the United States met, and the Insight Meditation Society (IMS) was born. In 1972, Ven. Ananda Mangala Thera, a Sri Lankan monk who had been living in Singapore, visited Los Angeles and was asked by a handful of Sri Lankan families to start a Buddhist society. In 1973 this group of Sri Lankan immigrants began an informal committee and consulted again with two visiting Sri Lankan monks. They incorporated as the Sri Lankan–America Buddha Dhamma Society in 1975 and a few years later began to collect funds to support a temple. Ven. Walpola Piyananda, who would become the head monk at this temple, arrived in the United States on July 4, 1976, and was brought from the airport to the bicentennial parade in San Francisco, where he rode in an open-topped car with another monk and a Buddha statue. He went from there to Northwestern University and then returned to California, at the request of the Sri Lankan community, to be the head monk of the still developing temple. He was joined by another Sri Lankan monk, Ven. Pannila Ananda Nayake Maha Thera, and together they lived in a house purchased by the Sri Lankan–America Buddha Dhamma Society in Hollywood, California, that became the Los Angeles Buddhist Vihara. Like many early Sri Lankan and Thai temples, this temple was attended not just by Sri Lankans but by Laotians and Cambodians as well. A conflict developed in the late 1970s over who was in control of the temple, and Ven. Piyananda was expelled from the temple. He and his supporters started a new temple in 1980, Dharma Vijaya Buddhist Vihara, a name that means "victory of truth."
Between 1970 and 1974 Thai immigrants also began to organize temples in Los Angeles and Washington, D.C. In 1970 a Thai monk Ven. Phrakhru Vajirathammasophon of Wat Vajirathamsathit in Thailand was invited to Los Angeles to teach and perform Buddhist ceremonies. The Thai community formed the Thai-American Buddhist Association that year, and three additional monks visited the United States to plan the founding of a temple. In June 1971 a mission of Thai monks led by Ven. Phra Dhammakosacharn arrived in Los Angeles, and lay people began to raise funds to purchase land. In 1972, land was donated and construction began on a main hall, a two-story Thai-style building, that was completed and dedicated in 1979. Buddha images for the shrine hall and two sets of scriptures were carried to the United States by monks and lay people from Thailand, and in 1979 His Majesty the King and Her Majesty the Queen of Thailand presided over the casting of the principal Buddha image for the temple at Wat Po (officially called Wat Phra Chetuphon, or the Monastery of the Reclining Buddha) in Thailand. Wat Thai L.A. has grown dramatically since 1971 and is currently the largest Thai temple in the United States, serving thousands of people per year. As in Los Angeles, a group of Thai lay people in Washington, D.C., began to raise funds for a temple of their own, and two Thai monks took up residence there in 1974. Vajiradhammapadip Temple in New York, Wat Buddhawararam in Denver, and Wat Dhammaram in Chicago were also started before 1979. These temples were attended largely by Thai people and also Lao people in the early years. The Council of Thai Bhikkhus, an umbrella organization designed to oversee all of the Thai temples in the United States, was started in 1977.
The Insight Meditation Society (IMS), the first Theravada Buddhist organization founded completely by non-Asians, also started in the mid-1970s. At the end of the 1960s and beginning of the 1970s, largely white native-born Americans who would start this organization were returning from their travels in Asia. Jack Kornfield returned to the States as a monk in 1972 after spending several years in the Peace Corps and in various temples and monasteries in Asia. Joseph Goldstein returned as a lay person in the 1970s, also after spending time in the Peace Corps in Thailand and in monasteries and meditation centers throughout Southeast Asia. Sharon Salzberg, the third founding teacher of IMS, returned after studying Buddhism with teachers in India, Nepal, Bhutan, Tibet, and Burma. In 1973, Jack Kornfield met Tibetan teacher Chogyam Trungpa at a party in Cambridge, Massachusetts, and Trungpa invited him to come to Boulder, Colorado, in the summer of 1974 to teach at a new school he was starting, the Naropa Institute. It was at the Naropa Institute in the summer of 1974 that Jack Kornfield met Joseph Goldstein and the two formed a relationship that shaped much of the way Theravada Buddhism was taught to white people in the United States for the next decade.
While the Thais and Sri Lankans forming temples were looking to import Theravada Buddhism as it was practiced in their home countries, Kornfield, Goldstein, Salzberg, and other early teachers were not interested in Theravada as practiced popularly in Thailand or Burma. Rather they were interested in vipassana, or insight, meditation. First popularized for lay people in Burma, this form of meditation emphasizes being aware and present with physical and mental experiences as they are happening so as to see things clearly as they are. Believing that most Asian Buddhists do not actually practice Buddhism, Kornfield explained that the early teachers "had to learn to simplify the practices we learned in an attempt to offer a clear straight forward form of Buddhist practice in the West. We left much of the Eastern culture, ritual, and ceremony also behind in Asia…we felt that for Americans it was an unnecessary barrier. It seemed to us that for our culture the simplicity and straightforwardness of mindful practice itself would speak best to the heart of those seeking practice." Leaving behind what they often called the "cultural baggage," the first white teachers sought to find the "original teachings" of the Buddha, which they believed were centered in vipassana meditation, and to pass them on through "a container provided by the west." Psychedelics and other drugs brought many early practitioners to the meditation practice.
After meeting at the Naropa Institute in 1974, Jack Kornfield and Joseph Goldstein began to teach meditation retreats around the country, and with Sharon Salzberg and Jacqueline Schwartz they started a meditation center for teacher and self-led meditation retreats. Called the Insight Meditation Society (IMS), the center was incorporated on May 19, 1975, and aimed to "provide a secluded retreat environment for the practice of meditation in the Theravada Buddhism tradition." A letter was sent to possible contributors in November describing the purpose of the center and requesting donations toward the purchase of a building. In January 1976, IMS purchased a building on seventy-five acres of rural farmland in Barre, Massachusetts, about two and a half hours outside Boston. The building, a mansion called the Father of the Blessed Sacrament, was sold by the Catholic novitiate and had single rooms plus dormitory space, a large chapel, and kitchen and dining facilities. Shortly after the building was purchased, someone climbed to the top of a twenty-foot extension ladder and rearranged the letters over the main entrance to read "Metta," a Pali word meaning loving-kindness...
###
Posted July 19, 2005