New Institute to Boost Tamil Education in the NorthEast
by TamilNet, July 19, 2005
In an event held in the Kilinochchi zonal education office in Kilinochchi Sunday, the Education Development Institute of the North East (EDINE) was inaugurated to develop Tamil medium education in the northeast province, education sources said. Professor C. Mohanathas, Vice C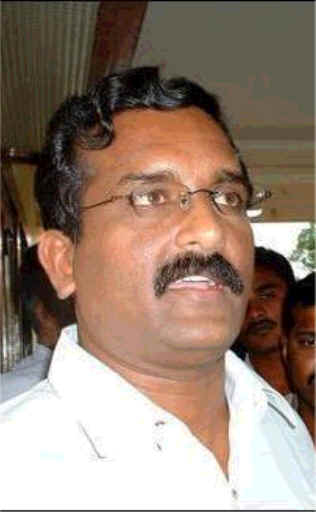 Chancellor of Jaffna University, unveiled the name board of the office and Mr. R.Thiakalingam, from the North East Provincial Education Ministry, declared the office open.
At the commencement Mr. S.Thangan, LTTE deputy political head, hoisted the Thamileelam national flag.
S. Thangan, 2003
Mr. K.Saravanapavan, former Deputy Director of Education, was appointed as the Co-ordinating Officer of EDINE, sources said.
Mr. Sundaram Divakalala, former secretary to the North East provincial education ministry, made the introductory address, outlining the objectives of EDINE to act as a parallel entity to Sri Lanka's National Institute of Education (NIE), sources said.
Mr. V. Ilankumaran, head of the Thamileelam Education Development Board, was the keynote speaker at the event.
According to education officials, the objectives of the new Education Institute are:
To develop appropriate and innovative strategies to strengthen curriculum designing, curriculum development, and curriculum delivery.

To enhance, support, and promote the quality and professional competence of all those involved in teaching-learning processes.

To monitor and evaluate the functions of the education system in order to suggest appropriate measures to promote equity, equality and excellence.

To initiate and promote research activities by optimally utilizing resources with a view to achieve sustainable development.

To foster healthy linkages with similar national, regional, and international organizations and institutions.

To support and strengthen the activities and programmes of the tertiary education institution to suit the needs of the North East Province, and

To undertake relevant intervention whenever and wherever necessary to promote and develop education in the NEP.
Currently the Education Ministry has entrusted NIE with preparing Tamil medium textbooks and the NIE does so by translating Sinhala medium textbooks into Tamil. This has led to serious shortcomings in preparing standard Tamil medium textbooks. Tamil education officials often accuse the NIE of distorting the history of Sri Lanka and the Tamil community in Tamil textbooks.

V. Ilankumaran, 2003
The NIE also has failed to set up a separate unit to prepare Tamil medium textbooks, ignoring repeated requests made by Tamil educationists and trade unions, NIE's detractors say.
Tamil teacher trade unions and Tamil educationists for the last several years have been accusing the NIE, which is dominated by Sinhalese educationists, with ignoring the development of Tamil medium education in Sri Lanka, especially in the Tamil-dominated northeast province, sources said.
###
Posted July 20, 2005