Images of the Divine
South and Southeast Asian Sculpture from the Mr. and Mrs. John D. Rockefeller 3rd Collection at the Asia Society, 725 Park Avenue, New York City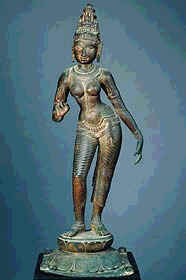 July 1 - January 8
Tuesday thru Sunday, 11:00 am to 6:00 pm; closed Mondays and major holidays
Cost: $10 adults; $7 seniors citizens; $5 students with ID. Free for members and persons under 16.
Tel: 212-517-ASIA
Web: http://www.asiasociety.org/arts/imagesdivine/
This exhibition focuses on the Hindu and Buddhist sculptural imagery of South and Southeast Asia. Hinduism and Buddhism both originated in India and spread across these regions through the sacred language of Sanskrit, creating ties that began as early as the first century C.E.
Parvati
India, Tamil Nadu
Chola period, early 11th century
Copper alloy
H. 35 in. (88.9 cm)

In the early period, Indian immigrants brought Hinduism and Buddhism with them to Nepal, while traders, missionaries, and scholars from India and Sri Lanka introduced these belief systems and their imagery to kingdoms of Southeast Asia. These include the countries that we know today as Indonesia, Thailand, Myanmar (Burma), and Cambodia. In Southeast Asia it is likely that local rulers first invited learned Indian Brahmans to court. These scholars imbued royal rituals and ceremonies with their knowledge and helped to legitimize the rulerís power. By the seventh century both Indian and Chinese forms of Buddhism had been known and practiced in Tibet, although it was not until the eighth century that Tibetan rulers adopted Buddhism as the state religion.
Blended with indigenous beliefs, aspects of Indian Hinduism and Buddhism were incorporated in the art and architecture. Even in kingdoms where one of these belief systems came to dominate, deities from the other religions also found an important place. Often the same artist made sculptures for both religions. Moreover, the Buddhist and Hindu rulers of Southeast Asia frequently asserted their power by constructing a capital city with a temple at the center, providing a state setting for religious representation. Geographic and political ties among Hindu and Buddhist kingdoms led to further cultural and artistic exchange.
Here is another essay which may be of interest, on 'Devotional Images in Hinduism': http://www.asiasocietymuseum.org/essay.asp?EssayID=1
###
Posted August 5, 2005