Pilgrimage to the Sacred City
by K. Mylvganam
I have been itching for the past few months to make a visit to Manal Aru, where the Liberation Tigers of Tamil Eelam (LTTE) defeated the third world power India in 1990. Since the delay had something to do with security clearance, it took a few months before the green light was given. One day last week at about 9.00 p.m. I got the message that I would be taken to Manal Aru on the following morning. I was over the moon and I admit that I could not sleep well that night. My thoughts were centered entirely about the trip on the following day.
I am sure most readers know about Manal Aru very well. However, with a view to refresh their memories, I may take you all back briefly to the unforgettable events that took place in 1990. The Indian Peace Keeping Force (IPKF), notoriously known as the Indian Peace Killing Force, landed in Jaffna under the pretext of an "invitation" from J.R. Jeyawardane, the then President of the Sri Lankan government, in 1987. The IPKF, who the Tamils thought of as their saviours coming to redeem them from the atrocities of the Sri Lankan forces, turned their guns against those who were to be saved. More than three thousand innocent Tamils were killed and properties worth several hundred millions were destroyed by the IPKF. The LTTE were reluctantly forced to face the Indian might to save our people.
The IPKF came with all their heavy and sophisticated artillery and with nearly one hundred and twenty five thousand men. They not only killed over three thousand of our people, but also raped many of our mothers and sisters. In addition, they tortured many of our youngsters, both boys and girls. The IPKF was out to capture the leader of the LTTE, Mr.V. Pirabakaran.
The LTTE, while giving the IPKF strong resistance, retreated into the thick jungle of the Vanni. Mr. Pirabakaran was conducting the operations from the thickest parts of the jungle called Manal Aru. There were no roads then, I was told. The LTTE cadre used the paths of the elephants and other animals to get to their destinations. This was intentionally kept so as the LTTE did not want to open up a path to facilitate the IPKF. The LTTE got well accustomed to the jungle terrain. It was almost impenetrable to the IPKF and it was suicidal for them to attempt it. With such a natural fortress around them, the LTTE staged their war against the IPKF. The boys and girls from the LTTE fought a severe and ferocious battle to safeguard their leader. Many of them gave their lives in this holy mission.
Some of the readers may remember on of my earlier articles titled "Who is Navam and What is Navam Arivu Koodam?" It was in this battle Lt. Colonel Navam led his battalion that fought fiercely and lured the IPKF in such a way that he broke open the IPKF cordon and let Mr. Pirabakaran out of the enclosure to a safer place. Lt. Colonel Navam, who had only one arm - he had lost the other in an earlier encounter with the Sri Lankan forces - was seriously injured in his attempt to save his leader, whom he loved very much. Finally Navam succumbed to his wounds. Mr.Pirabakaran said in one of his books "if Navam had not been there then, I would not be here now." But Navam passed away with the full satisfaction that his leader was saved and the IPKF was beaten.
Our trip started at 7.00 in the morning. One high ranking official (Thalapathy) picked me up in his four-wheeler. There were three additional three LTTE cadre in the back seat fully armed to the teeth. The vehicle pulled up at another LTTE camp near Visvamadu and another Officer with three more of his cadre also fully armed joined us in their vehicle. Let me call the Thalapathy in the vehicle I was in Kalai Mannan. He was talking to someone on his walky-talky. Once we passed Mullaitivu and were nearing Kumulamunai two boys in full uniform and fully armed joined us in their motorcycles and one of them went ahead of us and the other followed our two vehicles. That explained the walky-talky call by Kalai Mannan. Frankly fear was creeping into me and Kalai (I call him Kalai) must have noted the fear on my face. He smiled and said, "Appa, don't worry. These are nothing but safety precautions because we are nearing the Sinhalese border now. We have already sent two more motorcyclists ahead to clear the way." That was reassuring a little, yet I admit I was a bit nervous, alright.
The road was no motorway that we in the West are used to. It was rugged and winding. It was getting worse as kilometers passed. Even though the vehicle was equipped with automatic gears, yet we were driving very slowly in second gear.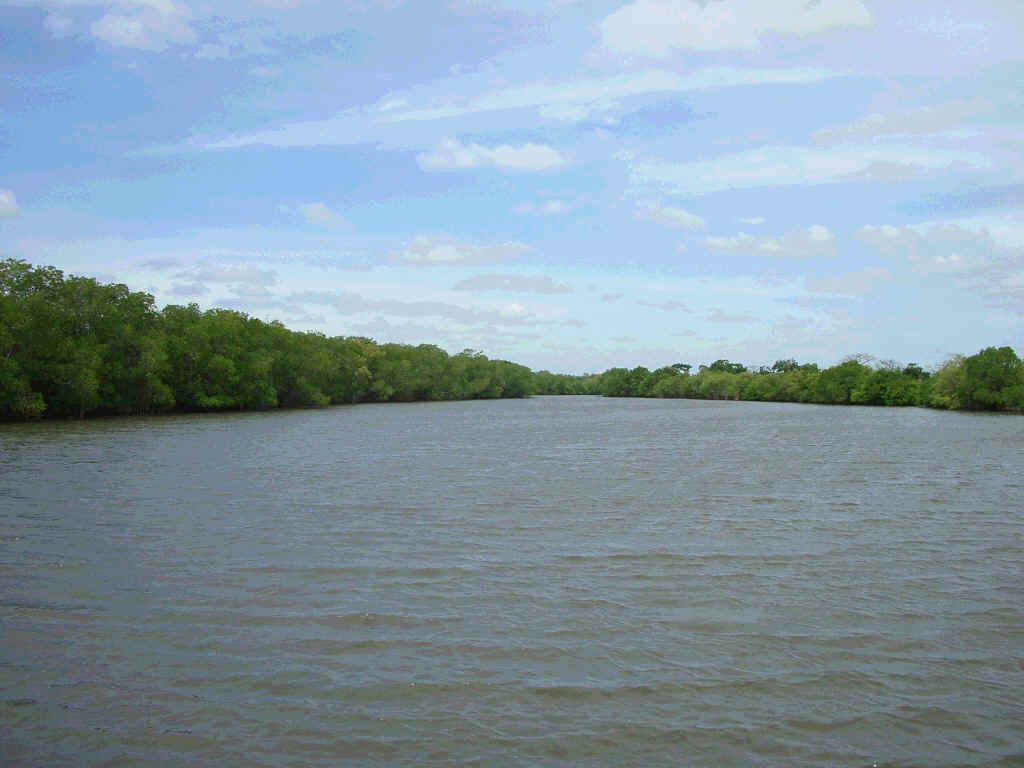 Manal Aru
When we sighted Manal Aru, Kalai said that we were going to drive over the bridge of the first section of the Manal Aru. It was no bridge, but an apology of one. It was sand-filled for a short distance on either side and in the middle wooden logs were spread over I did not know what. I asked Kalai whether there were iron girders underneath those logs. Again, with his characteristic smile, he said, "Yes, Appa ,there are two girders on either side - not the girders you have in mind, but Yalpaanam girders." I thought that he must be meaning the railway lines removed by the LTTE in Jaffna, but I never realized that he meant the trunks of Palmyra palms. Thank God that we had passed the bridge by the time I knew that fact. Now I started worrying about the second one that was only a few hundred metres ahead. Foolishly I asked him whether that, too, was built on the same girders and his answer was just his usual smile. I really admired the guts of these boys. It was so simple for them while my heart was palpitating at some rate. However, I, too, was getting bold eventually. I got them to stop the vehicle and walked back to the bridge and stood there speechlessly admiring the natural beauty of that river, the Manal Aru. It was so beautiful with buttery green vegetation bordering the sides of the river. I folded my trousers and walked down into the river. The water was crystal clear and I was so tempted I even collected some water in my folded palms and drank it without bothering about the lack of immunity in me after living in the west for thirty years.
In a few minutes from there the jungle became thicker and thicker and nature has been left intact, unspoiled. The trees are huge and tall. I saw what a dense forest looks like. The sun was scorching when I got down near the river, but here it was completely shady and cool. The atmospheric temperature must have dropped by at least five degrees Celsius. The vehicles came to a halt and Kalai got down and walked a few metres away to talk to somebody on his walky-talky. I took this opportunity and wandered in the opposite direction into the forest a bit. It was pin drop silence there. Not even the faintest rustle of leaves broke the profound tranquility of that solemn scene. Kalai came back and said that the "coast is clear."
At 10.30 we reached our destination – the area where the leader Mr.Pirabakaran stayed. It was here he conducted the historical war where the IPKF fell for his wits and for the fierce fighting of his cadre. There were only two small buildings, one was 10 feet by 20 ft and the other was an open shed which was only 10ft x 10ft. The former has a partition in the centre allowing a room in the rear. It was here Mr.Pirabakaran lived. The photo attached below is self explanatory. When I stepped into the building – I should call it a hut to be appropriate - I had a sort of celestial feeling. I am out of words to express how I felt. It was like walking into a temple. I bent down, touched the floor and put it on my eyes. There was something magnetic about it. A sense of purity and sanctimony prevailed there. I stood there with my eyes closed and dumbfounded. Here I had gotten jolted for several hours, yet all the tiredness of traveling for three and a half hours on that rugged terrain vanished and I felt rejuvenated. Believe me, readers, I am not exaggerating. I am 73 now and I know how tired I get even after traveling for two hours on the motorways in the UK. Actually, one should be in Manal Aru personally to undergo that experience that I underwent.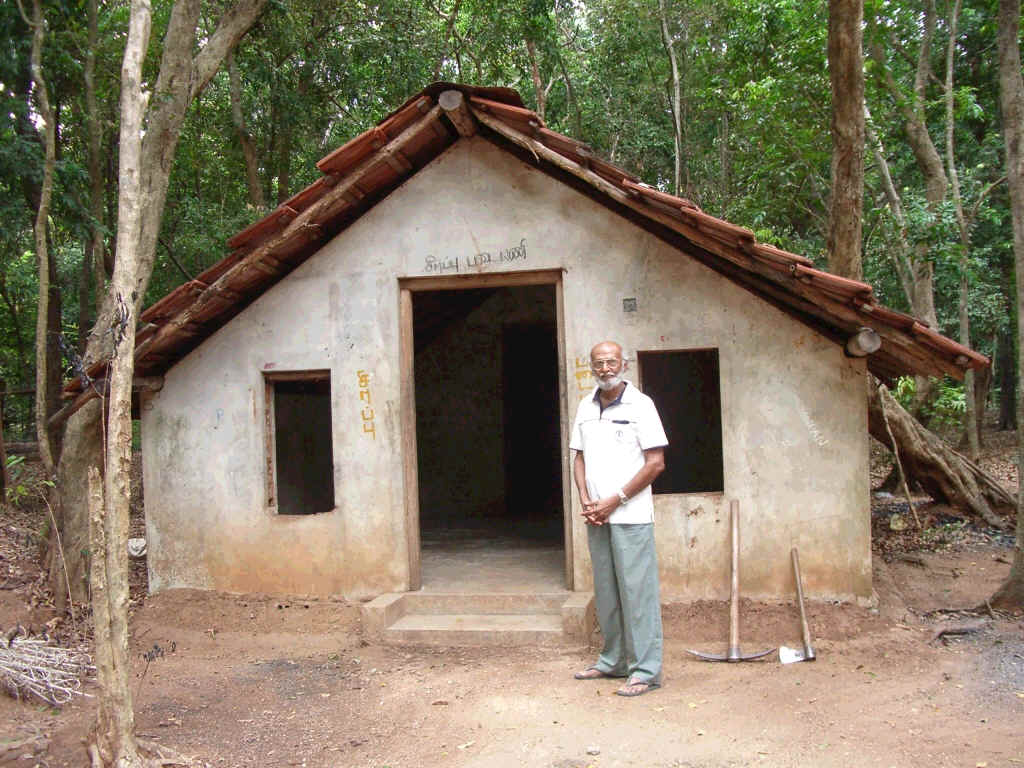 This is why I called Manal Aru a Sacred City. It will definitely find a place in our history. It is to this place I was dying to visit.
There was also the tomb of one LTTE cadre, Satheesh. I was told that the Leader would daily visit it first thing in the morning and stay there for a few moments before he started his day's work. A well in that vicinity was square instead of the round ones we are used to. It was dug out of rocks. Its water was unusually cold. I wished I had taken a temperature gauge with me. It, too, tasted excellent.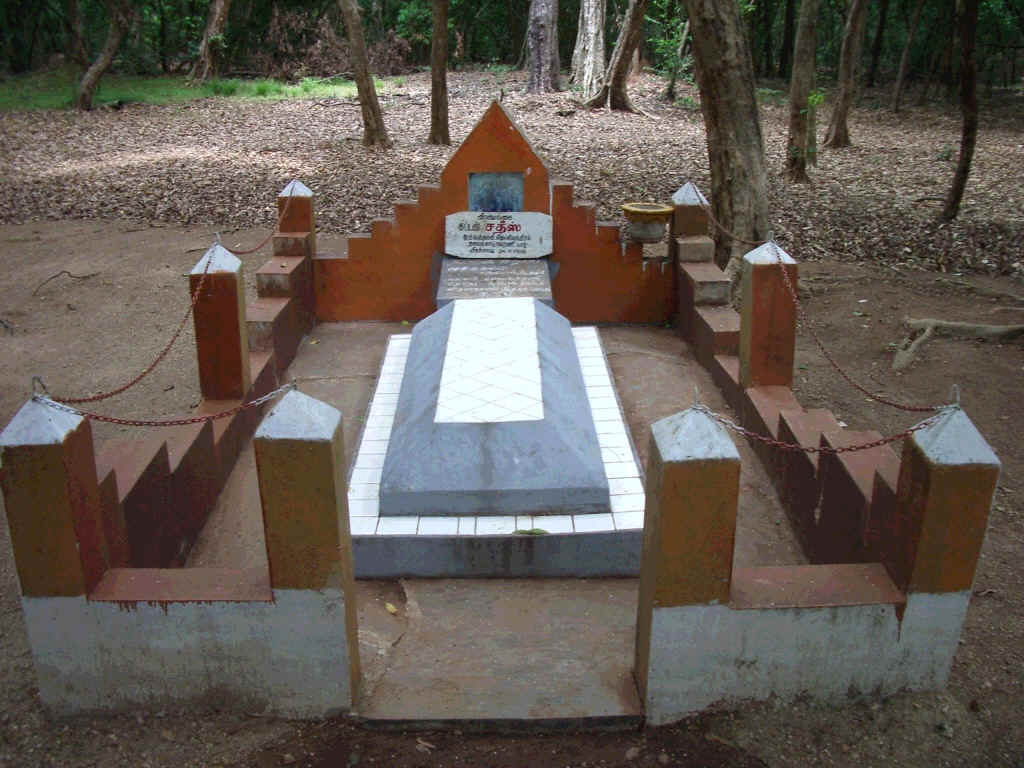 We spent a few hours there and on our return the vehicles deviated a little and within five hundred metres we came to a lagoon. It was so nice to sit on the sandy beach. Kalai said that one could buy fish, prawns and crabs for a song there in the evenings.
That was a day I will always remember and cherish for the rest of my life. I can visualize that Manal Aru will be very famous one day and become a holiday resort. Before we parted, I gave Kalai a big hug as I did not have words to thank him.
Manal Aru it is undoubtedly sacred indeed.
###
Posted August 6, 2005