Close Encounter with a Tamil Tigress
by Nachammai Raman, Christian Science Monitor, Aug. 9, 2005
When Thamilvilly walked in to meet me, I wondered if she was some big cheese's assistant coming to tell me my interview was canceled. In neatly pinned-up pigtails, austere pants, and a belted baggy shirt, she looked more like an intern than the deputy head of the women's wing of the Liberation Tigers of Tamil Eelam (LTTE).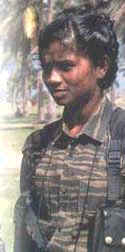 Tigress (photo courtesy TamilCanadian)
The LTTE, also known as the Tamil Tigers, is a secular separatist group that has fought a sometimes brutal war for independence against the Sri Lankan government for decades. They have used conventional, guerrilla, and terror tactics, including more than 200 suicide bombings.
But this Tamil Tigress looked less than ferocious.
Thamilvilly shared with me that her resolutions for the year were to be able to write essays in English and to speak English fluently. I asked her if it was to get a better position in the rebel movement. "If you build up your capacity, your positions will come," she said.
From talking to her, I found out that the LTTE invested heavily in the education of its members. All new recruits were given a year's basic training. This included literacy skills for those who couldn't read and write. In addition to the physical component, there was a big chunk on the history of freedom struggles/wars, political science, and medicine. Depending on recruits' interests and capabilities they were given advanced training for the jobs they would take up. But all recruits were trained for combat and had to take up arms when called.
"Our leader [Prabhakaran] is very particular about giving both men and women the same opportunities," Thamilvilly said. The LTTE started taking in women cadres in 1985 although its spokesperson wouldn't share how many female members it currently had.
Thamilvilly joined the LTTE some ten years ago when she was 17 or 18. Her studies were disrupted because of heavy fighting. She and a group of friends thought they were going to die anyway from the army's bombing and shelling and decided to dedicate their lives to the LTTE's "freedom struggle," in which case, even if they died, they would die for a cause.
Even now, Thamilvilly and her peers have little to gain personally from their association with the LTTE. "If I die, what political power am I going to gain? We are sacrificing our lives for our people. 18,000 Tigers have died on the battlefield." Tigers get no salaries. They are all volunteers.
Why was she so devoted to the LTTE then? "The LTTE gave me dignity, a job, a purpose in life. Otherwise, I would have had to go from place to place as a displaced person."
Did she want to die? "All everybody wants is to study, be good in life …. Nobody wants to die. The basic human instinct is for self-preservation," she said. "If somebody is willing to die, then, there must be a grievance that is stronger than the instinct for self-preservation."
I couldn't help but wonder, then, what some of these Tigers could achieve if they didn't have a rebellion for which to fight and - if need be - die.
###
Posted August 12, 2005