TECH Celebrates Graduation of Computer Students
by TamilNet, Sept. 12, 2005
Trinco TECH celebrates graduation of 42 Students completing London City and Guilds Computer Training Course in Trincomalee.
The Trincomalee district branch of The Economy Consultant House (TECH) held its first anniversary event Saturday evening in Trincomalee Sri Koneswara Hindu College Hall. 42 students who successfully completed the City and Guilds Computer Training Course, conducted with the sponsorship of the London TR TECH received certificates. Medals were awarded to students who excelled in computer-information technology. TECH Trincomalee district branch was formed on 10 September 2004.
Twelve students who are currently undergoing computer education in the Trincomalee TECH Institute were provided with financial assistance to pursue their studies for two years. Each beneficiary is paid five hundred rupees per month for two years.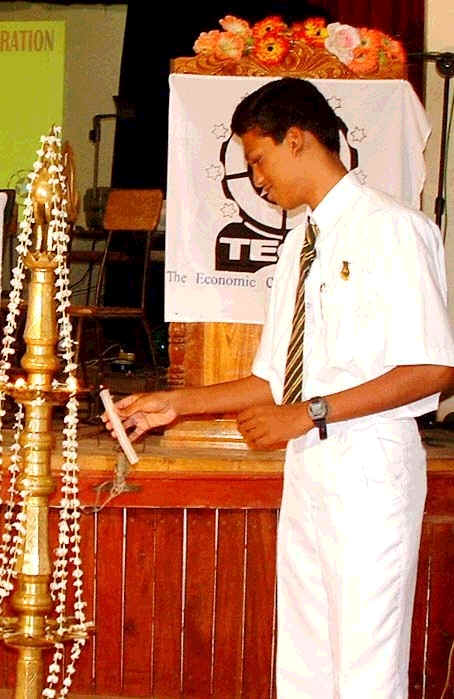 A student lighting the traditional oil lamp at the anniversary event.
In the computer knowledge quiz contest held to mark the first anniversary, Trincomalee Sri Koneswara Hindu College emerged the winner with 18 points and runner up was the Trincomalee St. Mary's College with 12 points. Other two schools participated in the contest, Muttur Al-Hilal Maha Vidiyalayam and Thampalakamam Aathi Koneswara Maha Vidiyalayam secured 10 points each.

Mr.R.Thiakalingam, North-East Provincial Ministry of Education Secretary was the chief guest and Mr.S.Thandayuthapani, Zonal Director of Education for Vavuniya North the guest of honour.

Mt.T.Perinpanathan, President of Trincomalee TECH presided. He said Trincomalee TECH has been providing assistance not only students in rural areas to learn computer knowledge, but also to war and tsunami-affected people to rehabilitate their lives.

Mr. Thiagalinkam commended the Trinco TECH for creating awareness among the younger generation to learn information technology.


Students of four schools, Trinco Sri Koneswara Hindu College, Trinco St.Mary's College, Thampalakam Aathi Koneswara Maha Vidiyalayam and Muttur Al-Hilam Maha Vidiyalayam participating the computer quiz contest.

Mr.Thandayuthapani said students in urban areas in the northeast province are provided with the facility to undergo computer education but not so with rural students. Trinco TECH has established several computer-training centres in remote villages in the Trincomalee district to cater rural students.

Mr. S.Sugunan, Executive Director of the TECH, which has its headquarters in Kilinochchi, said in his message when the souvenir was released at the event that the TECH has established its branches in all the districts in the northeast province to increase the standard of living based on the modern technology in every sphere.

Trinco TECH has been conducting computer awareness programmes in seven schools in the district and providing solar power units to rural villages, which are not provided with electricity, on credit basis and in some instances on subsidy. TECH also supplies sewing machines to women-headed families as livelihood assistance. TECH is to implement several development projects in the future, Mr.Sugunan said in his message.

Professor A.Navaratnarajah, Chairperson of the TECH said in his message that many more information and communication centres are planned to be established in various places in the northeast province. He commended the services rendered by Trinco TECH and assured continuous support for the future projects.

Mr.K.Umashankar, Secretary of the Trinco TECH, proposed the vote of thanks.
###
Posted September 13, 2005