Vanni Institute of Technology Convocation
Fifty two students, who have completed a one-year course at the Vanni Institute of Technology since its inauguration in 2003, had their convocation today, 8th of August 2004, in a well-attended ceremony presided over by Siva Gobal, President of the Vanni Institute of Technology.
Mr.S.P Tamilselvan, Head of the LTTE Political Wing who was the guest of honour, congratulated the passing out graduates.
Excerpts from his speech:
'While congratulating those graduates who are passing out today after a year of intensive training, I wish to call upon you to give your maximum gained in this cou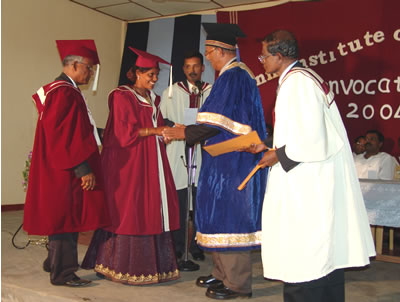 rse to the welfare of the Tamil nation which has witnessed a devastating war of two decades. The Tamil Nation needs the support and initiative of people like you to upgrade the standard and pattern of learning in the field of technology. Please understand that your brethren who migrated to locations all over the world due to anti-Tamil communal riots and marginalization in the field of education and social advancement, have always remembered and continue to contribute to the rebuilding of their motherland. It is such an initiative taken by the Tamil Technical Professionals' Organization that has helped to make this venture a success.'
Professor S. Mohanathas, Vice Chancellor of the Jaffna University, in his chief guest address welcomed the initiatives of this private institute. He further said that Jaffna University is already loaded to capacity in accommodating any further disciplines and it is high time, therefore, that urgent steps be taken to begin a university in the Vanni.
The Vanni Institute of Technology has a noble mission that includes,
Bringing together technical professionals around the world.
Development of advanced technology in the NorthEast.
Helping the NorthEast region to be technically on par with developed countries.
Providing resources for advanced technology education and generating a high-tech work force.
Facilitating local and global private ventures in high-tech arenas to increase employment.
The immediate goal of the founders is to build a permanent compass on their own land and to make the 9 months program into a two year degree program. Vanni Tech will eventually become an institution that offers undergraduate and graduate degrees in numerous disciplines.
08 August 2004
[N.B.] Sangam understands that all those graduates not going on to higher studies have succeeded in obtaining employment. Congratulations!
###
Posted August 9, 2004