Grace Care Center Reports
Number 1
Dear friends,

I am sorry I could not write you earlier due to my busyness in doing things in Batticaloa and Trincomalee. Besides the power lines and the telephone lines were broken down and we could not communicate with each other. I am glad Internet services are also resumed today.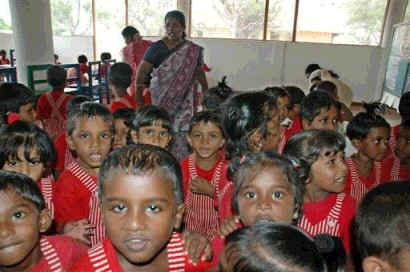 This is unfortunate the present tidal wave has hit many South Asian countries. Sri Lankan East and Northern costal areas are also hit very badly.
The first wave came just after 9.30 A M on Sunday 26th December. Fortunately it was daytime. Within 45 minutes time, four times the waves came, in some areas 30 to 40 feet high. Almost all the villages in the Northern and Eastern costal belt are washed and destroyed. Many thousands people are killed, wounded or missing. The real numbers are not known yet. The official figures announced this morning is 27 000 reported to be killed. I am sure this will go up that side of 40 000. In Batticaloa and Ampara alone more than 10 000 people are killed. Many thousands bodies are under the rubbles, or trapped under destroyed buildings or buried under the sand or taken away in to the ocean.
The whole of Batticaloa is in funeral mode. Every family either has lost their home or lost someone from their family.
The immediate needs are food, clothes, shelter, and basic cooking utensils. We are mobilizing all our resources, institutions, and staff and are doing the best possible.
Grace Care Center in Trincomalee has been affected very badly. Fortunately ,none of
our staff and children who were there are affected. But many children went home for a week during Christmas. We are yet to know about their situation. All our furniture, beds mattress, linens and cloths are taken away by the water. Buildings are partly damaged. Three parish members who returned from the worship service are reported washed away by the water, including two children.
Rallodai Church and the Day Care Center building on Vaharai Road in Batticaloa are completely destroyed. All the villagers have been brought in to Valaichchernai to different camps.
Hermans Girls Home in Periyaneelavanai is completely washed away. Even the coconut plants and Mango trees are uprooted. The trees are closer to the main road. We could see the ocean from the road.
All the children were worshiping in the Church during the time of the incident. Boys Home Samuel and the Church buildings are partly damaged. People who were inside the Church are safe. 6 worshipers, with Pastor Selvantha's wife and 11 month old son, were washed away and killed. We couldn't recover the bodies which must be buried under the sand. We are searching for the bodies.
There is 6 feet of sand at Hermans Girls Home and Boys Home Samuel.

We are recovering the bodies with the help of St. John's VTC students and burying in the places where they are as most of the bodies are decomposed.

We are distributing food and clothes and utensils to the families in unreached pockets. Many villages are still not reachable. No roads and water is running across still.

Clean water is also a need. We are trying to clean a few wells and chlorinate them.

Please do pray for us.

At this time of Crisis everyone is together. Many people give their support.

We are grateful to our friends and partners for their support and concern.

We are grateful to God for His Mercies. It could have been worse.

I will keep you informed and update you on our operations.

Many people are asking for our bank account for sending donations. If anyone wants to send any contribution you may send your money straight to the bank. Please write to us and notify so that we can acknowledge the receipts and send you the reports.

Name of Bank - Hatton National Bank Limited,
Batticaloa,
Sri Lanka.

Name of Account :- St.John's Church
Uranee,
Batticaloa,
Sri Lanka.

Account Number : - 01 - 0196601 - 8

Please do uphold all the families affected in your prayers. And also pray for us for our operations.

Thanks.

Rev S Jeyanesan
-------------------------------------------------

REPORT ON RELIEF AND SERVICES TIDAL WAVES 2004
My Church and I are extremely thankful to all those who sent us letters of condolence and encouragement thus expressing their solidarity at the hour of very deep grief and misery caused by the tidal waves.

There were two things that delayed this activities report to you all, one being the non availability of Internet facilities and the fact I could barely manage any time at all to sit down on a report. There were many urgent services and decisions required of me despite the presence of volunteers and members of the Church. This consumed a lot of my time. I shall in the following para very briefly outline the overall position of
the daily activities and the operations.

FOOD DISTRIBUTION:

We commenced food distribution on the 26th itself ( The day of the Tsunami Waves) by supplying cooked food to the refugees who were brought into premises under our control in various areas. This numbered roughly about 3000 cooked parcels that were distributed to refugees camps in the proximity of our Church institutions. As most of the areas were totally inaccessible I had to get the boys with us, to take these parcels on pedal bicycles to be distributed to the needy. We specialized in servicing areas
that appeared to be uncared and neglected. These were done by the Boys of the VTC as well as St.John's Boys Home.

As to date of this report we have distributed 5600 packets of dry rations to various camps consisting of Rice, Flour, Milk food, Dhal, Sugar, Soya meat, Tea Leaves, canned fish and noodles etc…

At the moment we are in the process of packing more dry ration parcels for distribution in the next few days.

Utensils:

No one has so far given utensils for the people to cook themselves. We have purchased three thousand sets of utensils from an aluminum factory from Colombo, Consisting 1 Rice pot, 1 water boiler, 2 cooking pans, 2 spoons, 3 plates, 2 covers, 2 lids and 1 plastic water carrier. This morning three groups of people left for Vaharai, Kathiraveli, Ralodai, Periyaneelavanai and Trincomalee to distribute these items to the needy families.

It appears that no Institutions had so far serviced this need and therefore there is a very severe demand for these items. We are now exploring the ways and means to raise funds sufficient to cater to a percentage of this need.

CLEARING THE DEAD BODIES:

Dead bodies were strewn all over and were not cleared by the relevant authorities. Therefore decomposition set in and it emanated a bad stench and risk of the spread of decease was widely feared by all concerned. We identified this as a very urgent and important matter and lost no time in getting around 80 boys of the VTC and the Boys Home to clear the dead bodies and bury them. The boys did a splendid job and recovered 15 bodies and burnt them, working amidst decomposed bodies is no easy task and the boys accomplished this in a spirit of service to the humanity. In the
process they cleared few roads enabling people to use them. These services
will be continued.

WATER AND SANITATION:

Almost all the wells in areas penetrated by the Tsunami waves have become salty and also polluted by over flow of septic tanks and have become unsuitable for drinking. We have purchased heavy-duty pumps and five gangs of boys are involved in completely draining the wells and treating with chlorine and other chemicals for purification. As of this time many wells have been cleaned and treated and the water tested and confirmed clean for drinking and this is displayed with the notice in every well that was
cleaned. This program will be an on-going process to be continued until the demand is over.

We have also provided to the needy people with disinfectant lotions creams and soap varieties and educating the people to use these things to ward off infections, etc.

CLOTHING AND SHELTER:

VTC sewing section Girls and St John's Girls are stitching cloths for women and Children. We have purchased necessary under pants and other sanitary items for women and children. We have distributed 3420 units of clothing which consisting of Bed sheets, sarongs, and sarees and nighties etc.

We have provided material for temporary shelter such as plastic roof covers, mats and cadjan for the roof.

MEDICAL &HEALTH SITUATION:

There is wide-spread diahorea in many camps. Few of our social workers are visiting the camps and distributing tablets and Jeevany (local oral saline) to prevent dehydration. At the request of the director of the General Hospital of Batticaloa, we purchased and supplied some important medicines that were not available in the hospital for treatment of people for injuries and disease caused by the tidal waves.

CONCLUSION;

We presume that by this time you would have fully known the total devastation caused by this Tsunami waves in South East Asia specially the havoc that it wreaked in this poor Island of ours in the Indian Ocean. The Extent of damage caused surpassed all imagination and it will take a long time to rebuild the costal economy and the affected people to return to their normal lives.

Statistics at the moment puts the death toll around 30,000 in Sri Lanka. But it is being speculated that it may rise to over 50,000. Persons who are listed as missing have not been properly accounted for.

We believe that The God provides, He sustains and showers blessings on His People. He chooses His people to help and to be helped.

While I was concluding the report the electronic media in India and Sri Lanka reported of an impending tidal wave attack in South India and Sri Lanka consequent to a tremor in the Sea of Andaman Island. People panicked again and ran hither and thither for shelter and safety. Later just now the same media announced that the tidal waves drifted away and there is no imminent thread but requested the people to be vigilant and alert as fresh tremors if any could alter the situation.

We cannot express in mere words our thanks for your concern, solidarity, assistance, encouragement and prayers. Our people and we are immensely grateful to you all, for at the hour of our great need and calamity you have always come to our rescue and we therefore solicit the favor of your continued support and prayers.

Yours in His service
Rev S Jeyanesan
Manager/Parish Priest

Number 2
REPORT ON RELIEF AND SERVICES TIDAL WAVES 2004 - No 2.

We are happy to give you another update on our emergency rescue and relief operations in the Eastern region.

The Government today announced that the death toll has risen to 31000. But according to the other agencies it will be about 40000 or more.

FOOD DISTRIBUTION

I am glad to report that food and clothing truck has arrived in Periyaneelavanai yesterday - 31st December 2004. Distribution is being done, which will be a great relief to the villagers. The survivors couldn't run
to other places because they were trapped.

Ours is the first consignment which reached the village. It took 17 hours to reach there through various ways. I am glad that they have gone. As you know Periyaneelavanai, Thuraineelavanai, Kallaru, are land locked because all the roads reaching these villages are breached.

Today a team of people tried to reach Periyaneelavanai again to stay, give support, start cleaning and putting things correct at Boys Home Samuel and also support the villages with relief measures.

The rains and the floods have submerged many roads in Eastern parts of our Country.

We couldn't go there.

We tried many ways, unfortunately we could not reach there. The boat riders said the water is so fast they will not go into it. We have to return. On the way we distributed the clothes and the food we took with us for Periyaneelavanai in two refugee camps in Kurukkalmadam and Kaluwanchikudy.

CLEARING THE BODIES FROM DEBRIS

Our search for bodies is continuing. There are heavy rains for the last two days which hampered our efforts. Our community and I are very grateful to the Staff and Students of St John's VTC. They are our great resource at this time of crisis. I do not think at this juncture any other equipment will help us. This programme cannot be postponed because of the urgency.

CLEAN WATER AND SANITATION:

Well cleaning is also under way. We have drained and cleaned 46 wells. The necessary high powered pumps and equipments are already purchased.

OPERATION IN TRINCOMALEE

Food lories reached Trincomalee this evening. We also dispatched plastic roofing and cloths packets to Trinco. These items will be distributed in Uppuveli, Nilavali, Kenniya and Kanniya.

"Grace Care Center" restoration work is already commenced. We were housing 102 orphans girls in the Home, 92 Children in the Day Care Center, 68 Youth in the Vocational Training Center and a programme for 75 Widows.

A new complex which was under construction for 100 destitute elders is also damaged.

MEDICAL PROGRAMME

Our mobile Medical unit and the Staff stationed at "Grace Care Center" is working overtime in the villages.

We are happy to report that six doctors have arrived from USA this morning in Colombo. They will be driven to Trinco today and they will be based at Grace Care Center at Uppuveli. They will join the team of our mobile unit and start their clinics from tomorrow onwards.

There are two doctors coming from Australia to St.John's, Batticaloa tonight. They will join the team with the General Hospital in Batticaloa and help the victims. Medicines and other equipments are ready at St.John's.

We will continuously supply medicines to the clinics and the Hospitals. Even in normal times the Government Hospitals do no get some important medicines.

SHELTER AND CLOTHING

As it is continuously raining roofing sheets are the immediate requirements for the families. These are not readily available in the market. We are only using the thick polythene sheets as a emergency measure. Also we are mending the coconut leaves and supplying as roofing.

CONCLUSION

We are ready to plan for the next phase of our action. We have to consider some temporary housing and job support. That means we need to provide temporary housing and purchase nets and other fishing equipments for the fisherman, so that they can start earning for their livelihood.

We need educational materials, uniforms, schoolbooks and exercise books for the Children to start with their studies. Otherwise parents may not send their Children to Schools.

The loss of life and the properties are so great and valuable. What we do comparatively is very little.
It is our earnest prayer, that our good Lord will grant all of us the strength and wisdom to continue with this tremendous task on His behalf. to which we have been Created and called for.

Rev S Jeyanesan, St
John's Center
Manager/ Parish Priest. Uranee,
Batticaloa,
Srilanka.

###
Posted January 1, 2005