Tragedies of Tsunami
by K. Mylvaganam
With the days passing after the havoc created on 26.12.2004, more touching stories come to light.
To start with, let me refer to the tragedy that befell a family in the south. Mr. Marono Amit, Editor of Hansard Parliament and his wife Mrs. S.Kanthi Wickremasinghe Amit, Chief Parliamentary Interpreter, Parliament, together with their two daughters Shenya and Tanya, left their Panandurai residence in their vehicle JN 2841 at 7.00 a.m. on the fateful day to Kathirkamam. They pulled up at Ambalangoda for breakfast at about 9.30 a.m. It was then the dreaded deadly tidal wave struck the shores. Only their driver survived to narrate this sad story. None of the four have been traced so far.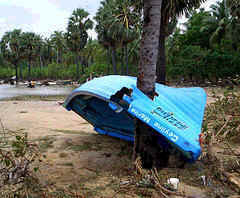 There are many families among the 25,000 reported dead so far. In certain cases one or two of a family four, five or six have survived to undergo the agony of mourning for their beloved ones. It is so hard to visualise or swallow the fact that family members who were together just a few minutes ago were torn apart for good within a matter of split seconds.
A Bit of Luck Amidst the Tragedies
A family known to me, presently living in England, was in Jaffna for holiday. They, six of them, were in Casuarina Beach bathing early in the morning on the same day, 26.12.12. It was sheer luck that they left the beach around 7.45 a.m.
I met them today when they called on me at Kilinochchi on their way to Colombo. They have still not got over the shock that death was only a few minutes away. The mother of the family under normal circumstances is a very pleasant person and talks very freely with my wife and me. But I noticed her to be extremely quiet while their family were with us for over an hour. I took my friend aside and suggested that he consult a psychologist in Colombo before proceeding to UK.
This is not a stray incident. There are many who have lost either their entire family members or most of them. I noticed a good number of such cases in the refugee camps.
We need Psychologists, who could help these people. Unfortunately they are very few - only two, I know of - who are available in the North to render the necessary help to these people who need psychological treatment.
One of those who go round helping these grief-stricken people is one Rev. Fr. Reginald, who is attached to the "Annai Illam" in Kilinochchi. Many children are said to be shrieking in the nights while in bed. They are unable to withstand the mental torture. Facing DEATH eye to eye is no easy task.
I WISH TO MAKE A HUMBLE APPEAL TO THOSE READING THIS ARTICLE TO LOCATE A FEW PSYCHOLOGISTS, WHO WILL BE WILLING TO COME OVER AS EARLY AS POSSIBLE TO VANNI AND TO THE EAST.
They could ring the TRO office in Kilinochchi. All arrangements will be made to accommodate and look after them. But they should ring first before they depart from their country of residence.
The number is 00 94 21 228 3957 or the press secretary of the Peace Secretariat on 00 94 21 228 3947. Or they may contact the TRO or the TCC offices in their areas.
One of the many sad episodes in this tragedy I was able to notice was that some, luckily only a few, resort to hitting the bottle. They resort to this perhaps in order to escape, temporarily at least, from the mental torment they are undergoing after loosing their beloved ones. This creates a problem in the camps. But they get hurriedly, but gently escorted away by the helpers.
Some bodies were located on trees. Not only bodies of people were found stuck on top of the trees, but there are also carcasses of cattle and big furniture still hanging from the branches of trees. Even a Toyota Hiace minivan was lodged in a huge tree. It was rescued by felling the tree. It reflects to some extent the height of the waves that swept through.
Racial Discrimination Even at This Juncture
It has been reported in the local press that relief goods are not fairly distributed to the Tamil areas. Mr. S.P. Tamichelvan has reported this to the Sri Lanka Monitoring Mission (SLMM) and to the heads of the 20 Non Governmental Organisations that met him at Kilinochchi two days back.
Lorry-loads of goods sent by the Tamil Rehabilitation Organisation (TRO) have been intercepted and diverted to Sinhalese areas. In one such incident timely intervention by the Mr. A. Sampanthan (member of parliament) averted the deviation.
Out of some tents received as relief, 77 were sent to Pathavi Sripura and 40 to Komarankadawela. These areas were not affected at all by the floods. Only 40 tents were sent to Kuchchveli. Some Sinhalese government officers, in connivance with some army personnel, were reported to be behind such heartless atrocities.
The worst-affected area in the whole of Sri Lanka is Amaparai. Those who suffered most are Muslims and Tamils, but government relief is yet to reach there.
I append the latest statistics that were released by the Peace Secretariat in Kilinochchi at 5.00 p.m. on 31.12.2004.
DISTRICT DEAD INJURED MISSING HOMELESS FAMILIES
Jaffna 771 539 2000 16174
Mullaitievu 1622 4817 3180 5800
Trincomalee 947 2238 2431 37821
Batticaloa 2040 2100 6000 52617
Amparai 11225 2800 5300 44000
Total 16605 12494 18911 156412
The total number of people displaced in the NorthEast is said to be over 10 laks (1,000,000).
###
Posted January 3, 2005