Tsunami's Toll in Tiger- controlled Uncleared Areas of Eastern Belt
S.S.Selvanayagam reporting from Vakarai
The uncleared areas of the eastern belt from Sampur to the Verugal River in the Trincomalee district and Panichchankerny bridge are more vulnerable to epidemics, given the extent of malnutrition, lack of sanitation, transportation as well as shelter, volunteers told the "Daily Mirror".
Villages in the Vakarai Divisional Secretariat in the Batticaloa district are cut off from the Batticaloa mainland as the linking Panichchankerny Bridge collapsed in the Tsunami disaster.
Disaster victims in these villages are lacking essential items and living a life of woe and agony. Civilians - Tamils, Muslims and Sinhalese - and NGOs rushed in assistance without any racial or religious colouring even though some victims faulted the government and its administrative machinery for not being prompt in alleviating their sufferings. Some 350 civilians who died in the disaster were buried.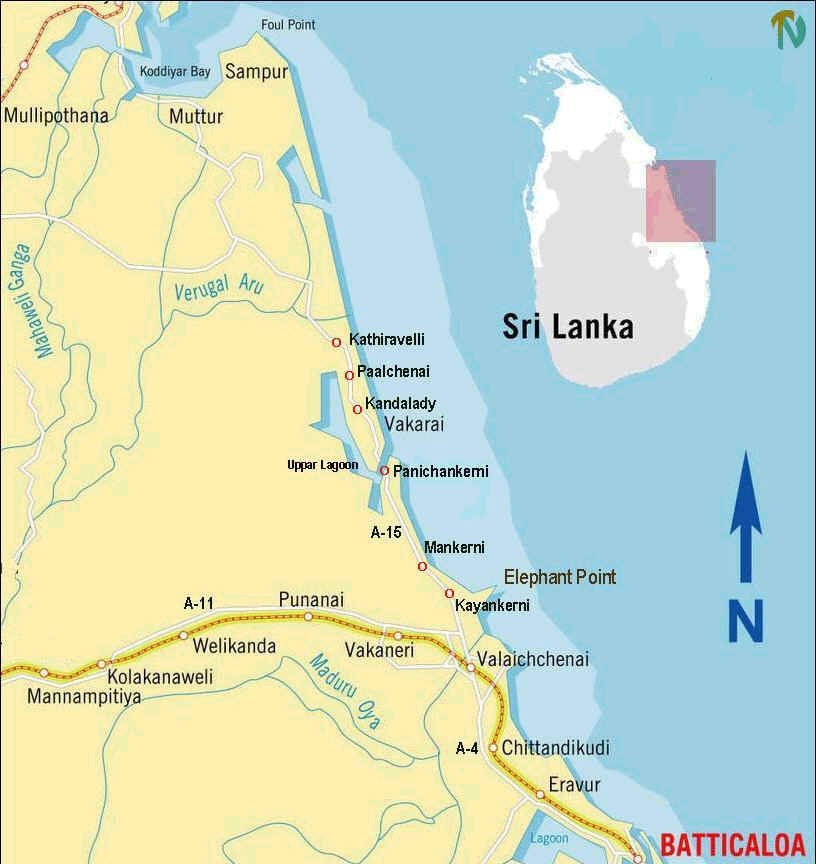 The Vakarai Divisional Secretariat, the Guest House, St Joseph's Church, the Selvavinayagar Temple, sprawling government buildings, civilians' houses and huts are among those devastated by tsunami. The disaster has uprooted several trees in these areas while the stench is further aggravating the problems there. Of the 4,000 odd population in Vakarai, most are fisherfolk including 1,200 Roman Catholics.
When the sea surge devoured St Joseph's Church, there were Catholic civilians waiting for Sunday mass in the Church. The Parish Priest had not arrived at that moment. Before the commencement of the mass, the Tsunami tidal waves instantly killed seven people. One of them is Thambirajah who is the father of LTTE's Ampara district political commissar Quilan.

Vakarai North Grama Sevaka Division has a population of 2,521 people. In this division, 41 had died and two are missing. Some 435 people have been affected and lost their houses or in some cases huts. Some 577 people are sheltered in the welfare centre set up in Kandaladi Arunthathi School. Fearing another Tsunami, women and children have moved to an adjoining village Puliankandaladi and put up tents there.

Though there are 160 families, only 50 families have got tents, forcing a majority of them to share tents with others. V. Selvarani (33) said that in one tent three to six families were huddled together.

K. Kanapathipillai (44), a fisherman, said he along with his elder brother went fishing on that fateful day. They saw tidal waves rising to a height of 30 feet at the shore and their boat was dashed by the waves killing his elder brother. Kanapathipillai caught hold of a log, but was dashed onto boulders and injured.

Mrs Vasanthan Arulchelvi (30) - a widow- narrated her tale of woe. She said she lost her husband in 1995 in the armed conflict between the army and the LTTE. Her husband who was tapping toddy died in the cross fire when the LTTE and the army battled it out. The breadwinner in her family, her 13-year old son, who went fishing that fateful Sunday was killed by the tsunami waves. She is left with three children.

In the government-controlled Nilaveli area in the Trincomalee District, a welfare centre has been functional. Muslim civilians said for five days no relief reached them from the government but individuals from Puttalam and Akurana brought in relief items. Of the 430 families in the area, 35 people died in the Iqbal division, and 32 died in Velore.

Dr Indrani Akureliya, a volunteer from Colombo, who came with the Future Peace Group, was conducting a medical clinic for the victims. She said five diarrhoea cases had been reported in this area and more cases were expected.

She added that there were no drugs for hypertension or diarrhoea. She said civilians continued to use the wells which have got salinated and contaminated. The toilet facilities are woefully lacking and proper hygienic conditions are absent.

The Director of the Tamil Rehabilitation Organisation, C. Kumaraguruparan, said his organization was prepared to keep off from relief activities if the government requests them.

He said the TRO was serving the people irrespective of race and religion from Tiriya of North Trincomalee up to Eechilampathu in East Trincomalee as well as Vakarai in the Batticaloa district. TRO runs 87 refugee camps in the Trincomalee district alone.
He said to travel to the LTTE-controlled Eechilampathai of Trincomalee east, he had take a long route through Kantalay and Seruwila as the Trinco - Batticaloa Road remained closed since 1985. People are using a boat service from Mutur.

Kumaraguruparan charged that the government did not despatch relief items to the affected people in these areas though it promised to do so.

"In these circumstances, we don't know why we are being asked to hand over all relief items to the Kachcheri," said Kumaraguruparan adding that they were engaged in individual medical activities with the assistance of medical students from Jaffna, Moratuwa, Colombo and Sri Jayawardane Universities.

He said the Chalappai Bridge, north of Trincomalee, was breached and relief items were brought up that to point by road. He also said that police officers too had helped the disaster victims and Sinhalese civilians distributed relief items. He claimed that the disaster had made people to think that all were Sri Lankans.

He said that SSP Upali Hewage with DIG Neville Wijesinghe sought help from them to get accommodation for 100 children who had been traumatised by the Tsunami .
He said they agreed to accommodate them at "Anbu Illam" orphanage which is run by the TRO for three days for medical treatment.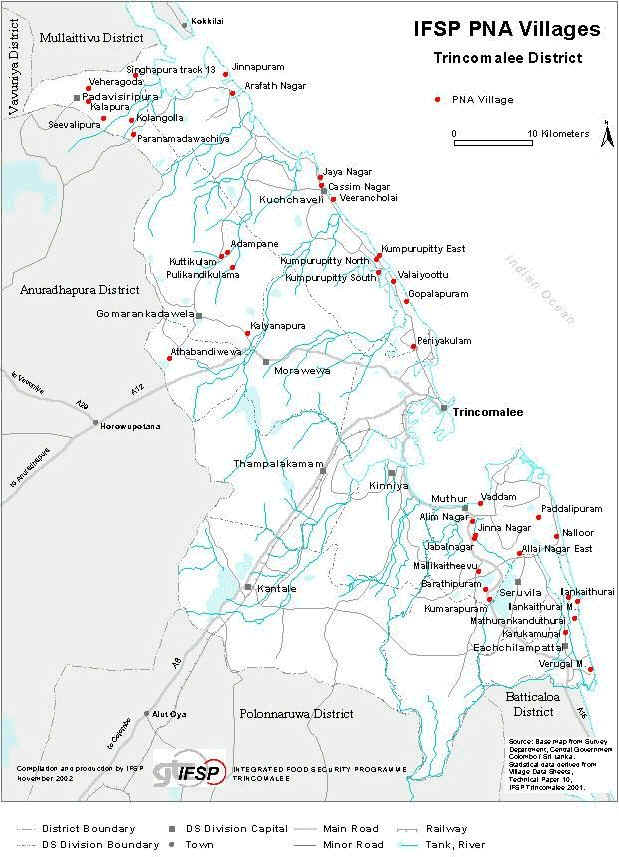 Another Director of the TRO, Shahul Hameed, denied the allegation that the LTTE was preventing direct distribution of the relief items by individuals or organizations. He said anyone who wanted to provide relief items directly to the civilians could do so. He pointed out that Sinhala civilians from Mahindapura, the border area, crossed over Nallur through the barrier and provided relief items and engaged in rescue work without even telling the LTTE.

High Priest Ven. Dehiwatte Premarathna Thero and Ven. Neelapola Dhammasena Thero of Manalagiri Vihara, Serunuwara visited the Vakarai area to find out the needs of the affected civilians.

Ven Prematathna Thero said that in the wake of the Tsunami disaster they came with relief items to be distributed to those affected Tamil civilians but they had been turned back at the LTTE barrier. Later, the LTTE had apologized to them through the police.

He said that he had already brought cooked food and other items to the Tamil victims and that they are now on a visit to find out the needs of the civilians such as mats, pots, baby nets, water tanks etc.

Civilians told the "Daily Mirror" that these monks had given transistor radios to refugee camps in the Vakarai area.

Muslims of Palathoppur, Mutur too brought in two lorry loads of cooked food and distributed them to refugees in Uriyankadu. Several Muslim youths on motorcycles accompanied the convoy.

Jaffna University Medical Faculty 4th year student Ms R. Kavitha was assigned to the Vakarai welfare centre to attend to the medical needs of the victims. She said more than 80 Jaffna Medical Faculty Students are part of the mobile volunteer team to provide medical treatment to civilians in Batticaloa, Mullaitivu, Palai and Kilinochchi.

She said the drugs are inadequate and just 10 cakes of soap were provided for some 500 people. She said the medical students who are there have no experience while medical officers were not available.

She said there were 500 families but toilet facilities were woefully inadequate and sanitation and hygienic conditions were poor.

Koralapattu North Development Union President K. Kesendran said that the LTTE was providing transport and personnel for the distribution of relief items.

Trinco District NGOs Consortium Chairman C. Thavasilingam said Trincomalee is unique in that there are three communities in equal-proportions. He said Trincomalee town was not badly affected as it had boulders along the shores while Kuchchaveli, Mutur, Kinniya and Eechchilampathu villages were badly affected by the Tsunami disaster. Thavasilingam said they were in need of mats, infant food and feeding bottles.

He said females had no privacy while a single toilet caters to some 1,200 people. Provisional refugee camps set up in schools too have limited toilets and were likely to allow diseases to soar to epidemic proportions.

Clean drinking water was urgently required and the wells had to be cleaned up and chlorinated.

More than physical injury, victims who have lost their loved ones are in a state of trauma and need counselling and treatment. Eighty percent of the victims are fishermen who have lost their fishing gear. Victims can't go back to their homes as they have lost their houses. Relocating, sheltering and housing are going to be big problems.

Thavasilingam said the immediate need is to divide the rehabilitation programme into three phases: (1) Within the camps; (2) continuing to feed them; (3) clothes. He said that there is a massive problem in clearing the debris, garbage and also the displaced landmines.

Daily Mirror, January 4, 2004
###
Posted January 3, 2005