Aid Reaches Marooned Sri Lankan Village
By Sanjoy Majumder, January 5, 2005
The only two roads connecting the village of Pediyatala in eastern Sri Lanka to Amparai, the nearest big town, lie under eight feet of water.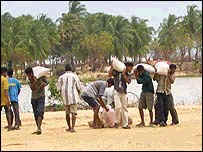 Inhabited entirely by Sri Lanka's Tamil minority, the village is flanked by a river on one side and a lagoon on the other.
Last week's tsunami and heavy rain in the past few days have virtually transformed Pediyatala into an island.
To get to and from the village, one has to navigate raging currents of water on narrow wooden boats.
"Everything lies on the other side," explains Karunaraj, a bus driver who lives in Pediyatala.
"The major markets, the hospital, the post office and the police station."
Bad weather
Pediyatala is symptomatic of the problems that Sri Lanka's aid operation is now confronted with.
It has taken the authorities several days to get supplies of food, water and medicine transported to Amparai, which is also the district headquarters.
But because Pediyatala is cut off, the only way of getting some of those supplies to the village is to ferry it by helicopter.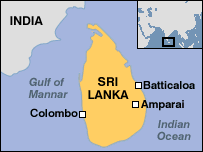 And for the past two days, bad weather has meant that all flights have had to be cancelled.
Like many villages on the east coast, it is desperately poor, with fishing the main form of employment.
And unlike the more accessible and developed south, it has taken a long time for the aid operation to reach these areas.
"We have only had a few NGOs and other private organisations working here, bringing some food and medicine," says Kamaladasan, a student at Jaffna university.
"We have been equally badly affected - people have lost their homes, there's no electricity and phone lines are down.
"Many people haven't had a proper meal in days."
Help of another kind did appear on Sunday.
Tamil Tiger rebels, who control the area north of here, brought in supplies of food and water by boat, before leaving swiftly.
"They came in from the north and dumped their supplies which were then distributed by volunteers," says Manivannan.
Kamaladasan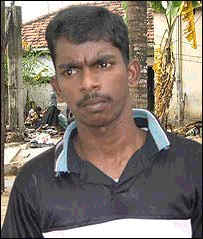 "It was the first major supplies we had seen in a while."
Aid flights
But with the skies clearing, the government's aid operation also got under way.
On the beach, a company of Sri Lanka's elite Special Task Force is busy holding people at bay while an air force Bell helicopter makes a dusty landing.
Several sacks are quickly unloaded before the aircraft lifts off for what will be one of some 30 flights on the day.
"We were brought in to control the crowd because the pilots are nervous about landing with so many people rushing to the chopper," says police inspector Pathirana.
"We don't want anyone to get hurt."
But it's taken the government more than a week to get here and nobody wants to leave without getting a fair share.
"Back, back," shouts one of the heavily-armed policemen, trying to manage the hordes reaching out for the supplies.
Tempers rise and a fight breaks out as several men try to snatch clothes from the arms of one of those fortunate to get in front of the line.
Older men and several women on the fringes of the action look on helplessly.
"It's useless," says Manivannan in disgust.
"Only the fittest manage to get in front. They should have brought in more men to control the situation."
Down the road, inside the battered walls of the village school, a team of doctors from Batticaloa, 30km north of Pediyatala, have arrived - the first medical team seen here since the tsunami struck.
Health fears
But it may already be too late.
"Nearly a third of the people here already have diarrhoea," says Dr Suresh Nagalingam.
"And I am concerned that there could be some cases of cholera."
Villagers say the rising waters around them present a major health risk.
"There is very little fresh drinking water available," says Kamaladasan.
"Sea water has entered most of our wells, contaminating the water."
Twenty-five villagers lost their lives to the tsunami here, considerably less than in other parts of Sri Lanka.
But a third of Pediyatala's residents now live in refugee camps, with very little food and water to share and hardly any toilet facilities.
"Disease might claim more lives here if something is not done immediately," says Karunaraj.
"With water all around us, we are very vulnerable."
BBC
###
Posted January 6, 2005