A Grief Observed
by Revd BJ . Alexander
Reporting from Batticaloa on January 12/05
I arrived in Batticaloa on the 3rd. of January around 1:30 pm. I was preparing my mind to see the worst. And I did, with the help of God. The suffering and the torment of the people are immense. The NGOs and the INGOs are doing their utmost. Everywhere, one can witness the overflow of grief…whole families have been swept away…
One local Newspaper reported, that to learn the new word 'Tsunami,' the people of Sri Lanka had to pay a heavy cost of over 30,000 lives! [Now it has risen up to over 40,000].
In the midst of such a background I took time to meet with Mr. Joseph Pararajasingham. I began by asking: "Mr. Joseph, you are a senior parliamentarian who has served as an MP for the last 15 years. You have continued to be among one of the few moderate voices that has spoken against human rights violations in this country. Could you now tell us whether the public perception is accurate that the International aid is not properly administered and distributed and therefore slow in coming to the Tsunami victims – particularly in the Tamil areas?"

Mr. Joseph: "I would say that there is some truth in this. As a person who has been here since the day 2 of this calamity – the relief was very slow indeed. Aid was flowing in from well wishers; local NGOs; Tamil Refugee Organization. Aid was coming from them. But there was a significant point, I would say, that there had been large numbers of lorries which were bringing food items from the South – the Sinhala people brought it –, and there was a significant presence of Bhikkus who came with the goods. This has given a sort of picture and indication that when a calamity like this happens there is no difference in ethnicity; no difference in race or religion – All were united. This was a significant turn of events.
"Subsequently, during the first 10 days of the calamity, the Government aid was not coming at all! It was the private sector; the NGOs who came to our aid. But during the last 5 days the World Food Organization has been channeling through the government. I'm one of the persons who is in the Disaster Committee; being a senior parliamentarian, I attend all the important decision-making Steering Committee meetings in the Kachcheri [District Secretariat]. I can say that there is now an ample stock of food available for the next 2 to 3 months. However, there are still a lot of shortcomings and complaints.
Displaced people in Batticaloa approach the M.P. with numerous complaints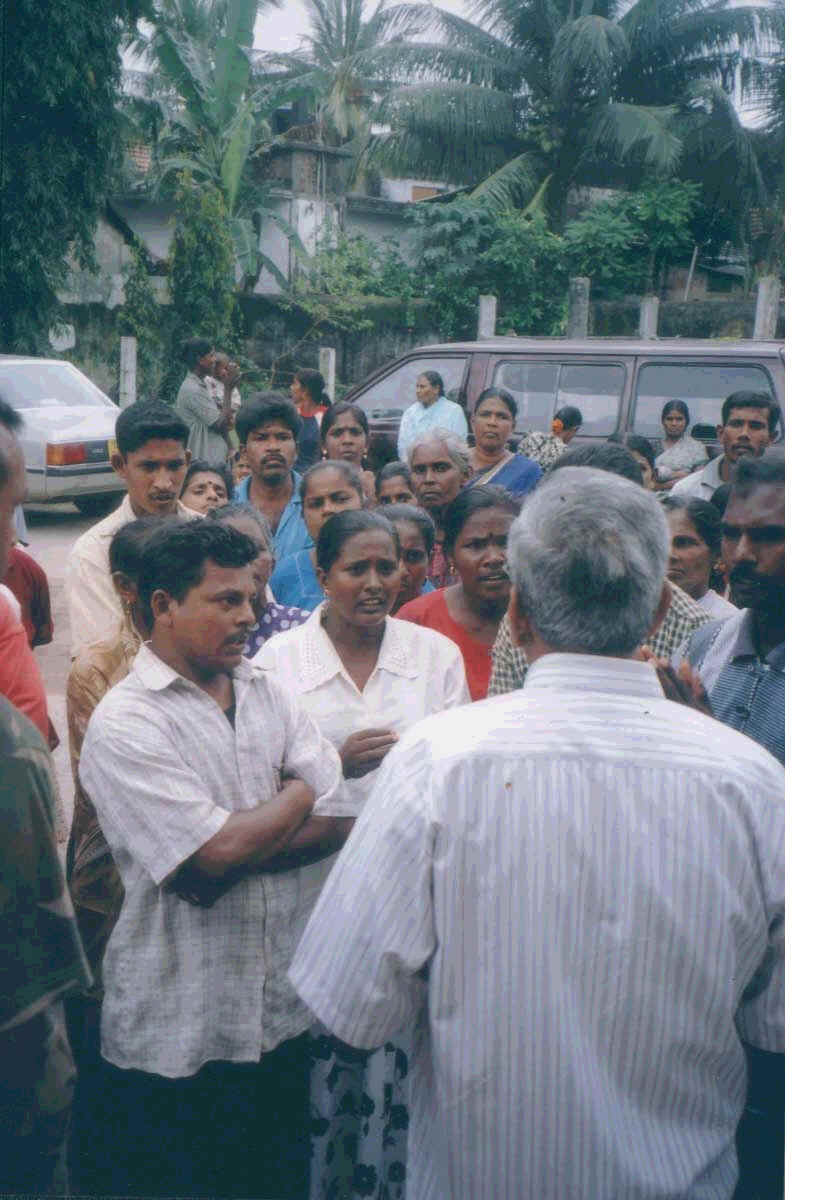 "On December 27th, here was 100 refugee camps maintained by the NGOs and we had almost 46,000 displaced families living in those camps. There were about 17,000 families who were sharing accommodation with families and friends. Now the number has been scaled down. Two days ago a report was brought to the Disaster Committee which says currently we have only 66 camps in which there are about 17,5000 families and about 8,000 families residing with friends and families. I must stress, however, that the people have not been given what the Government has promised. The position now is that, if a person chooses to leave the camp, each person is entitled to receive a ration of 400 grams of rice and flour; 600 grams of Dhal; 30 grams of sugar – and this will be provided for 15 days if they have houses to go back to. That'll work out to 6kg of rice per head and 1 kg of Dhal; ˝ kg of sugar. But there are complaints coming to me, that this ration is not given as stipulated in the government mechanism.
"We have set up Task Force Committees for various sectors. Say for instance, education; infrastructure; food supplies etc. All the NGOs have been told as to what sectors they are able to undertake: how they are able to support construction of makeshift camps and house all the refugees. Two areas have been identified by the Government Agent (GA) and lands have been allocated for this purpose.
"We have to really speed the process up. There had been many requests made to the government. The GA must have written, in my opinion, about 10 to 15 letters to the Presidential Secretariat [Colombo] appealing for aid. I have also spoken to the Prime Minister. There is a communication gap – I hope all these things can be sorted out quickly. In the meantime, I could say that the Government aid is not coming much."
Q: "Is there a particular reason for aid not coming through?"
Mr. J: "You see, most of the representatives of International agencies who arrive in Sri Lanka satisfy themselves by visiting only the South – Galle or Matara and return without getting the whole picture. For example: UN Secretary General Kofi Annan who visited Sri Lanka. He is in charge of an organization which looks into all sections equally. But he failed to visit NorthEast Sri Lanka. The worst affected areas are in the NorthEast. I think, the UN and the International Community know that there are two territories in the NorthEast. One is under the control of the LTTE and the other is in the control of the Sri Lankan military. This was designated following the Ceasefire Agreement signed on the 22nd. Of February 2002. Likewise, there are also two administrative structures. Taking all these into consideration, the Secretary General of the UN should have visited the LTTE-controlled areas."
Grieving Families search for their loved ones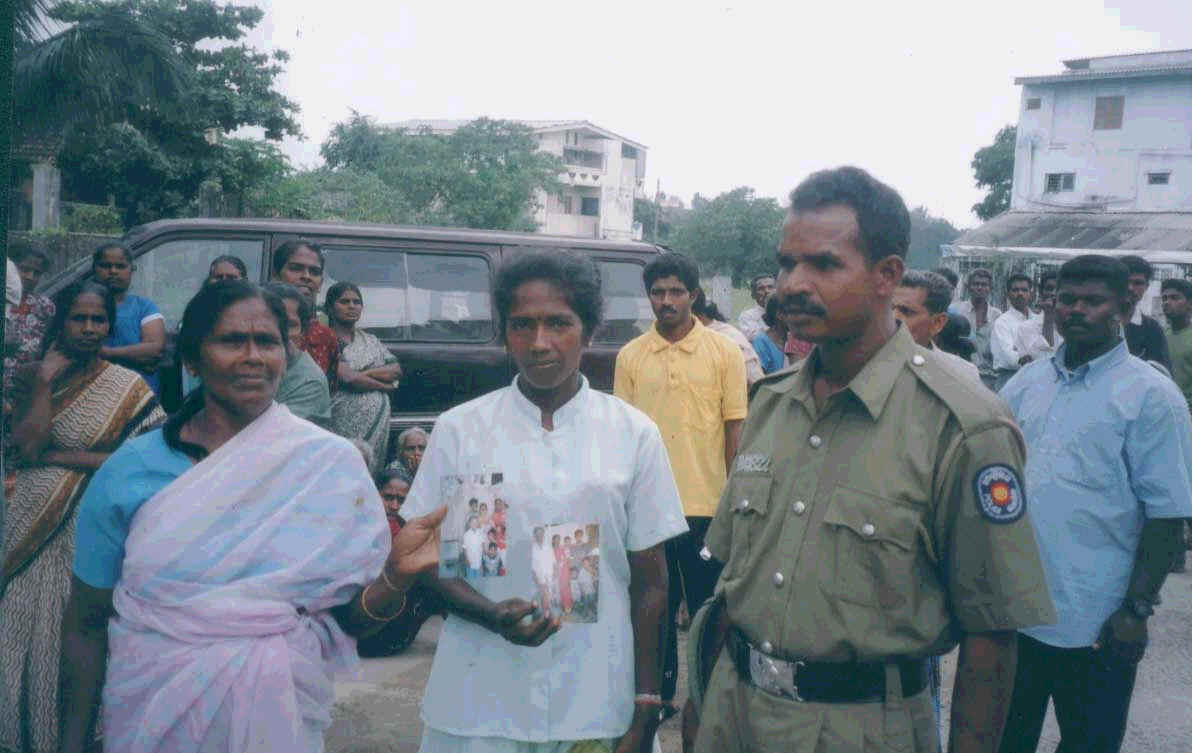 Q: "Could you confirm whether the Government politely declined Mr. Kofi Annan' s entry into the Tamil areas?"
Mr.J: "In fact, when Kofi Annan met with the TNA [Tamil National Alliance] representatives, he confessed that he wanted to visit the Tamil areas, but, of course, the Government prepared the itinerary. So it was the work of the Foreign Ministry. They are the people who prevented his visit."
Q: "The Foreign Ministry is headed by a Tamil, isn't it? "
Mr.J.: "The Minster in charge is a Tamil – yes!"
Q: "Let's turn our attention now to re-habilitation; re-construction; and development. The International Community has responded by offering aid in cash and in kind and expertise. Churches and other aid agencies are offering vital support and the Tamil Diaspora is continuing its financial aid. In light of this background, I want to put to you two questions: 1) How soon do you think that these displaced persons will be re-housed? 2) In terms of the psychological effects of this trauma – how do you envisage that these victims will be offered both short-term and long-term assistance?"
Mr.J: "There are two issues involved in this. The sector that got affected as a result of the Tsunami, I could say 80% of them were from the fishing community. As far as the fishermen are concerned, they like to live together as a community. Secondly, in order to execute their fishing industry they want to be close to the sea. Now this trauma has given a sort of a psychological effect to the people – most fisherfolk, some of the families whom I spoke to, indicate that they couldn't go back to their original places of habitation. They fear they'll be facing the same calamity in the future and as a result will loose their families… In the meantime, there are other folks whom I spoke to who are of the opinion that they are indulging in an industry in which daily they face many dangers. So they feel that they have to face the reality of the calamity. They would like to be closer to the sea to continue their livelihood.
The Government has come out with the Gazette Notification that no structures should come within 500 meters from the seashore. In which case, these villages which got completely marooned in the Batticaloa district – if you were to fix the 500 meter perimeter area, of course, one cannot re-settle people in these villages. We are trying to impress upon the Government that there has to be a certain amount of flexibility. They should not impose the so-called "500 meter theory". Until this is determined, there is an issue as to how we are going to re-settle the people.
Secondly, if the people are not willing to return to the original places of habitation, where are you going to re-settle them? Where are you going to construct houses? There needs to be a well-planned re-habilitation programme. Roadways have to be re-constructed; infrastructure has to be rebuilt; electricity has to be connected; water supply has to be given – so all these have to be seriously looked into. So this is a long-term process. I think the Foreign Governments should not only give aid; they also should provide expertise; how to plan and get things done efficiently.
We had a meeting with the National Water Supplies and Drainage Board. The Engineer in charge was telling us that in certain areas the water has become completely salty. He doesn't have the expertise. So we may have to appeal to the International Agencies.
My view is that there should be a well-planned mapping out system whereby we can effectively look in all the aspects – social, psychological and economical problems and prepare a project and settle these people. The Government must give us all the support needed.
We have a fear after the bitter experience of the last 50 years after independence. We don't get the fair share of the deal. I t is because of the inequality; discrimination; and the disparity. This is our plight. Our fears are legitimate in that - any aid that the government receives - whether the Tamils are going to receive their fair share. So my appeal to the International Community is that they should monitor the aid that is given to the State so that the NorthEast areas will receive the share that is required. The International Community should apply pressure on the Government."
Q: "The Tamils in general are quite suspicious given the history, and in most cases, quite nervous of the presence of foreign troops – particularly the U.S marines especially in places such as Batticaloa. You are best placed to interpret such actions – Would you please comment?"
Mr J: "Definitely. What was the reason for us to fight for last 20 years? Why this 20 year conflict? If one looks into our history, we are always saying that the Sri Lankan forces are alien which are occupying our traditional homelands. So we wanted them to exit from our soil. It is an army of occupation. How can anybody justify, particularly the Tamils, justify foreign troops coming? There is a stigma against foreign troops and fear among people. There is no need for alien forces to enter our territories. There is suspicion: To what extent can we believe that they are really here to do humanitarian work? There is always the suspicion whether there are CIA agents or RAW spies. So these suspicions have to be eliminated."
Q: "The Batticaloa Teaching Hospital is in desperate need of resources – such as medical expertise; medicines and vital equipments to name but a few… I observed that the over-worked medical staff did not have any access to clean drinking water. The patients – including the victims of the Tsunami – women and children – all these vulnerable people have no access to basic needs that very often we take for granted – like clean drinking water.
"Now Batticaloa has 5 MPs in Parliament. I wonder whether political pressure could be brought to bear on the Minister of Health…would that radically change the situation on the ground?"
Mr.J: "The Batticaloa Teaching Hospital has got 600 beds. As a result of this calamity the resources have been stretched. As you correctly pointed out, there are indeed problems connected to sewage and water systems. With the overload of people, the facilities for drinking water have been seriously lacking. I would agree with you that there is a lot that can be done to improve things. Batticaloa Hospital staff and doctors have done a commendable job. They worked around the clock with few available resources.
"I think the TRO is providing lot of medicine. I was also informed, that through your good offices, the London Tamil Christian Congregation has donated goods that would provide boiled water to patients that is worth Rs.200, 000. So these are examples of concerned individuals and organizations taking an interest and offering much needed help. This is how the situation can change. I urge the International community to offer whatever help and assistance they can give to the Batticaloa Teaching Hospital."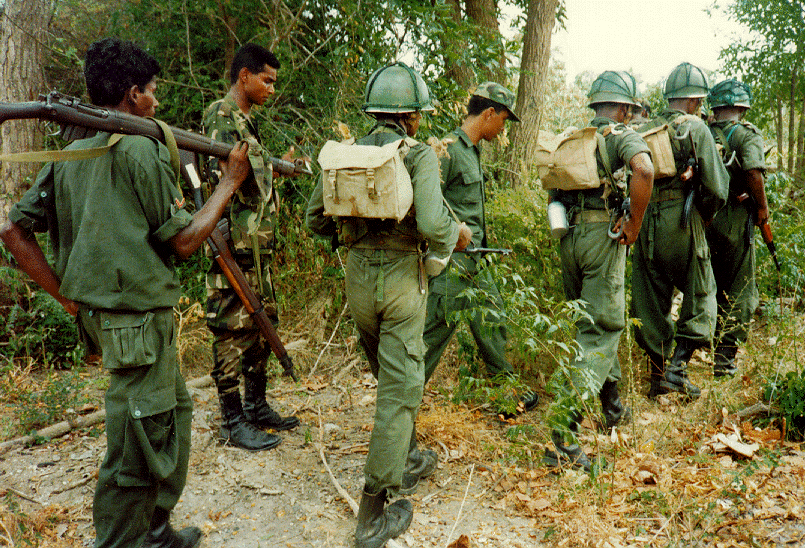 Q: "Finally, the State Media is speculating regarding the non-visibility of the Tamil National Leader and his Intelligence Chief. Can you confirm that the Tamil leadership is safe and active?"
Mr.J: "It is again the misinformation of the Government propaganda. They want to put fear in people's minds. Yes; I can state that the Tamil leadership is safe and concerning themselves with the relief work. I'm happy to announce that our National Leader is in good health."
I thanked Mr. Joseph for giving me his time. It was around 10:30pm. As Mr. George Pillai and I walked across the Koddaimunai Bridge, I was able to see the Special Task Force marching around with submachine guns. I was able to understand why Mr. Joseph would call these soldiers –"alien forces." We finally managed to hail an auto rickshaw and rode the bumpy roads…
###
Posted January 14, 2005