Jamaica Lutherans Donate Goods to Tsunami Victims
By Matthew Monks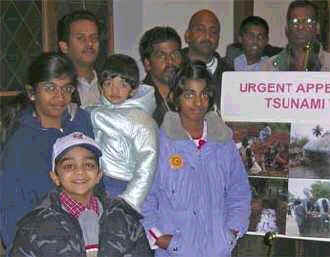 Our Savior Lutheran Church in Jamaica [Queens, New York] held a prayer service Sunday to mourn tsunami victims and shed light on a donation drive for northern Sri Lanka, where critics fear the ongoing civil war will hinder relief efforts.
"We know friends and family who lost their lives, who lost their homes. They pretty much don't know what to do. It's like starting from scratch," said Queens Village resident Jebashini Thevarajah, 27, of the Tamil Rehabilitation Organization, which will bypass the Sri Lankan government's relief efforts by shipping goods directly to rebel regions in the north.

"We feel helpless because we're here," Thevarajah said. "That's why we're doing this, because we want to help out."

Our Savior, which boasts a congregation from 24 nations, has catered to Queens Sri Lankans for years with a program that teaches Tamil language, dance and culture. There will be another memorial entirely in Tamil at 6 p.m. on Feb. 6 at the church at 90-04 175th St. in Jamaica.
"Stuff like this happens and we question what's God doing with all this. We take inventory of our lives," said the Rev. Robert Fritch. Sunday's service was an opportunity "to pray together, tosing together, to be together as a community. There's healing in that."

He selected Biblical passages and hymns that strived to make sense of awesome tragedy, such as the Dec. 26 tsunami that killed an estimated 175,000 in a dozen countries.

"Who is wise enough to understand this?" the congregation asked reading from Jeremiah 9:1. "Why is the land ruined and laid waste like a wilderness?"

The pastor said the answer was beyond mortal comprehension.

"In times of disaster and great suffering we can only turn to God," he said. "We have done this tonight."

And they also collected offerings for the TRO, which to date has collected $75,000 in tsunami relief within New York City. The organization has also collected scores of summer clothing, food and medical supplies including medication, wheelchairs and crutches, Thevarajah said.

Sri Lanka, a tear-shaped nation off the southern tip of India, took a heavy hit from the tsunami with 30,000 of its 20 million residents killed along the coast.

Thevarajah said the government has been slow to aid victims in the northern provinces. That's why the TRO, a non-profit registered charity, aims to ship its first 40-foot long container of donations to the area in roughly two weeks.

"This way people don't have to wait," she said.

To make a donation visit the Web site at www.trousa.org .

Times Ledger
###
Posted January 21, 2005