Eastside Doctor Went Home to Help with Tsunami Relief
by Sonia Krishnan
Dr. Sumathy Pathy has seen her share of trauma.
The Bellevue-based family practitioner endured years of civil war in her home country of Sri Lanka and survived medical school there through bouts of bombings and gunfire. But for some reason, it's the 15-year-old boy from the tsunami she can't get out of her mind now.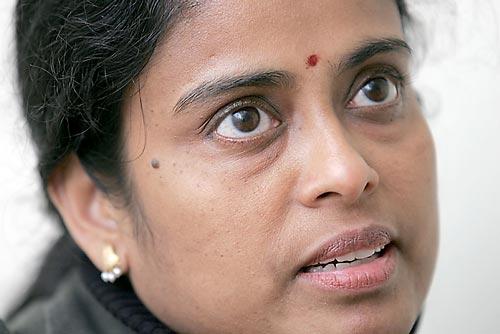 Pathy met him during her two-week trip this month to Sri Lanka on a volunteer journey to provide medical help to the victims devastated by the waves. When she thinks of him, she sees an orphaned and malnourished teenager, looking like an 8-year-old, depression sinking in his eyes. "It's your people and they are suffering," said Pathy, who returned to the United States this week. "It's just horrible."
Pathy, 37, joined five doctors from the International Medical Health Organization, a Maryland-based nonprofit helping with relief efforts in Sri Lanka, an island nation off the southeastern tip of India.
The Dec. 26 disaster killed more than 200,000 people across Asia and left millions more homeless. More than 30,000 of Sri Lanka's 19 million people died and more than 390,000 were displaced.
Arriving in Sri Lanka on Jan. 9, the physicians traveled to Batticaloa, about 200 miles east of Colombo, to help those along Sri Lanka's battered East Coast.
Dilapidated school buildings were turned into medical camps, Pathy said. Victims convalesced on mats with flies and mosquitoes buzzing overhead. Rainwater poured in from above as the injured lined up for care, waiting to be sutured and bandaged.
Pathy saw as many as 20 to 30 patients a day, she said. They would come in with infections, cuts and broken bones. But the most painful wounds surfaced when she questioned them about the tsunami.
"Once they started talking, they would just cry," she said. "Sri Lanka is already a war-torn area. They have lost so much."
The country has suffered through a two-decade civil war between the Sinhalese government and the ethnic Tamils, in which 60,000 Sri Lankans have been killed.
The war left an indelible mark on Pathy, who is Tamil.
She fled to the United States nearly 10 years ago under a shroud of fear when fighting erupted in her hometown of Tamil-dominated Jaffna, in the north. Her family also left the country.
She returned to Sri Lanka for the first time this month. She paid $1,400 for the flight and took a 70-pound suitcase full of drugs and medical supplies.
"I had to do something for the victims," she said. "If I am there, at least I'm making somebody feel better."
Pathy and her husband, Jay, are part of the Seattle-area Sri Lankan community that has raised $80,000 for tsunami victims, she said. Some 35 families, all with ties to Sri Lanka, have been actively involved in the effort.
Pathy said going to Sri Lanka helped her reconnect with her past and got her thinking about her future as a physician. She wants to return to Sri Lanka at some point.
"We take so much for granted here," she said. "There, people are just fighting for basic needs. I want to help them as much as I can. That's the reason I became a doctor."
Sonia Krishnan: 206-515-5546 or skrishnan@seattletimes.com
Seattle Times, Seattle, Washington
###
Posted January 28, 2005