Proposal for Rebuilding of Sivananda Thapovanam
(An Ashram that Shelters the Orphaned, Disabled & Destitute Children of the Nation)
(Govt.Approved Charity No.13998 of 28.03.1964)
Affected by Tsunami on 26th Dec 2004
Proposal by
SHIVANANDA THAPOVANAM TRUST BOARD
Trincomalee Contact

Mr. K. Vinayakasothi

Dip.in.Accountancy (Lon), Dip.in.Agriculture

Senior Technical Officer (Civil)

Trustee

Uppuveli, Trincomalee

Colombo Contact

Mr. Vyasa Kalyanasunderam

Trustee

No.03, Ridgway Place, Colombo-04

Tel : 2554759, Mobile : 0777-274859

Email : vyasa_ks@yahoo.com
The Ashram
History of the Ashram :
In Trincomalee, in the east of Sri Lanka, is situated the seaside town of Uppuvel. Her Holiness Sri Swamy Sivananda Satchithananda Saraswathi Mathaji, a disciple of the Himalayan Saint of Rishikesh H.H.Swamy Sivananda Maharaj, after receiving her orders and blessings from her preceptor the Himalayan Saint, proceeded to her home town of Trincomalee and began her spiritual work. She chose Uppuvel where her inherited lands were and set up an ashram in the year 1953, naming it after her revered Guru H.H.Swami Sivananda.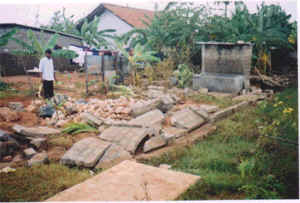 This ashram is a home for the destitute, the orphaned and the handicapped for whom there was no sanctuary to shelter them. Mathaji began work with a handful of children. Girls and boys and certain willful helpers organized the ashram in a very systematic manner; her experience as a respected senior English teacher affording her strength and knowledge to run the ashram.
Sivananda Thapovanam is a vortex of spirituality and good training for growing up children. The ashram is functioning as a trust. A state-approved charity named after Sivananda's parents as the Nagaratnampillai Thangammal Trust.
Extent of Land :
Sivananda Thapovanam is situated upon 20 acres of land.
The main building is of 11,000 sqft in extent.
Girls are being brought up in a building, which is 11000 sqft in extent with all facilities.
Boys are homed in a similar building, which is 24km away from the girls' home. This building is 7000 sqft in extent with all facilities.
Number of Children Living at the Ashram :
Registered children under 18 years - 171 children
The Board of Trustees
Late. Mrs. Selvam Kalyanasunderam. B.A., Bar –at –Law Attorney – at – Law
Mr. K. Vinayagasothy. Dip.in Accountancy (Lon), Dip.in.Agriculture, Senior Technical Officer
Mr. Visakan Krishnadasan, Bar – at – Law, L.L.M. (Lond)
Ms. K. Kumarasinkam B.Sc (Hons) London
Mr. N. Chandrakanthan B.A. (Hons)
Mr. P. Kandiah, Retired Teacher
Mrs. P. Cassipillai
Mr. Vyasa Kalyanasunderam
Activities undertaken by the Ashram:
Admission to Sivananda Thapovanam conforms to the rules set by the state.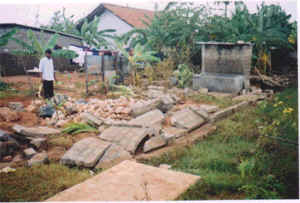 Children between the ages of 5 to 15 are admitted. Children who have lost their parents or with a single parent with meager income and abandoned children qualify for ashram care.
The girl inmates are looked after until they are married. The boys are looked after until they are found a suitable occupation.
Sivananda Thapovanam administers 5 religious training schools and in all 1000 students benefit by this endeavor.
Mannar - the ancient Mathotam where Thiruketheeswaram stands suffered the lose of its luscious vegetation useful to the people and environment through infantry attack, and also aerial attack. Sivananda Thapovanam took up extensive replanting of 5000 different type of trees on 11.12.2003 to restore the lost vegetation
Details of the tree planting:
Coconut sapling (1000), King coconut saplings , Mango (500), Jack (500), Orange , Lime, Nelli, Wood apple, Tamarind, Eastern olive, Teak, Palmyrah.
There is a greenhouse,where plants are grown and given away to the interested public.
The Ashram children involve themselves in Scouting, Guiding, and first aid training.
A Montessori school educationally benefits the children from the village around.
Teaching the fine arts – Bharathanatiyam, vocal and instrumental music.
Effects Caused by Tsunami Disaster :
From time to time Thapovanam has undergone vicissitudes of political nature and also that of nature. The natural calamities that affected the ashram was first in 1964 when the eastern province, lying in the cyclonic belt, experienced the trauma of a severe cyclone. The ashram was badly affected.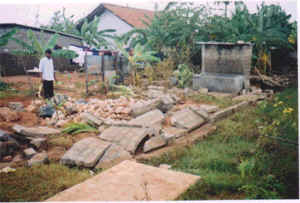 The ashram suffered great loses due to the civil disturbances of 1983, and the inmates of the ashram had to be evaluated due to the immense damage to the building, which was uninhabitable. Despite all these problems, Sivananda's devoted disciple Srimathy Selvam Kalyanasuderam, Barrister at Law (who has now passed away) shepherded the ashramites and with untiring work rebuilt on the original site a habitable section in 1996 and the children returned happily to Uppuvel to reside and continue their educational and spiritual activities. Generations of children have benefited through the monumental work done at the Sivananda Thapovanam.
The most recent Tsunami affected the eastern province and Sivananda Thapovanam took a heavy beating, lying only about 200 meters away from the ocean.
The boundary walls of the ashram, the habitation of married ashramites and all the personal belongings were lost to the immense tidal wave. It can be said the ashram buildings and the environs have to be totally restructured for proper ashram living.
Lost items due to Tsunami Disaster
| | | | | |
| --- | --- | --- | --- | --- |
| No. | Description | Qty | Rate | Amount |
| 1. | Bed single | 140 | 5000/- | 7,00,000/- |
| 2. | Matress | 140 | 1000/- | 1,40,000/- |
| 3. | Study table | 35 | 9000/- | 3,15,000/- |
| 4. | Study bench | 55 | 1500/- | 52,500/- |
| 5. | Lockers | 140 | 1200/- | 1,68,000/- |
| 6. | Dining table | 20 | 7500/- | 1,50,000/- |
| 7. | Dining bench | 40 | 1500/- | 60,000/- |
| 8. | Shoes | 140 | 500/- | 70,000/- |
| 9. | Stockings | 140 | 75/- | 10,500/- |
| 10. | School bags | 140 | 250/- | 35,000/- |
| 11. | School uniforms | 280 | 280/- | 39,200/- |
| 12. | Tie | 140 | 80/- | 11,200/- |
| 13. | Dresses of the children | 560 | 375/- | 2,10,000/- |
| 14. | Bed sheets | 280 | 200/- | 56,000/- |
| 15. | Pillows | 140 | 180/- | 2,52,000/- |
| 16. | Plastic chairs | 100 | 400/- | 40,000/- |
| 17. | Kitchen utensils | Item | sum | 1,75,000/- |
| 18. | Electrical appliance | Item | sum | 2,42,400/- |
| | Total damages | | | 25,00,000/- |
Cleaning and bailing out water from the wells ……………….. 25,000/-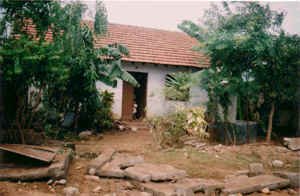 Details of the Children Presently Being Sheltered at Sivananda Thapovanam(School going Children)
[Deleted for privacy reasons - Editor]
Needs of the Children
1
Out of the 171 registered children, many are being educated in schools. Out of them 110 are girls and 30 are boys. It is thereby very important to see that their basic needs such as books, schools bags, schools & socks are provided. We provide the following details on these needs:
Number of Shoes and Socks needed:
For the girls -
White shoes with white socks
| | |
| --- | --- |
| Size | Numbers Required |
| 03 | 40 |
| 05 | 38 |
| 06 | 25 |
| 07 | 19 |
For the boys- Black shoes and socks

| | |
| --- | --- |
| Size | Numbers Required |
| 03 | 05 |
| 04 | 10 |
| 05 | 03 |
| 06 | 08 |
| 07 | 04 |
Number of School bags needed:

140 Nos of school bags are needed for both boys and girls.

Books

The government of Sri Lanka is providing textbooks, but it would be appreciated if work books and other recommended books on the subjects of Maths, Science, English and Tamil are provided for the children to gain extra knowledge.

Needs of the Children

II

Cupboards & Beds

Children were provided with beds and cupboards in a form of lockers to lock in their personal belongs and etc. These were taken by the tide.

The number of lockers needed:

19 lockers are required with 09 units being in a locker.

Intended size of a one unit locker:

Width : 5ft

Height : 6ft

Thickness : 1 ½"

Providing with steel cupboards is mostly welcome considering the long use.

G.I. Pipes needed for Beds:

½" heavy quality - G.I. pipes of Pakistani make are needed for this.

Intended length:

200 pipes in 18 ft length

Needs of the children

III

Security Parapet Wall

The extensive walls of the Thapovanam to ensure the security of the children have been totally affected by the heavy gale and tide. The Tsunami has blown Thapovanam off its feet. It has been estimated as follows to reconstruct the wall: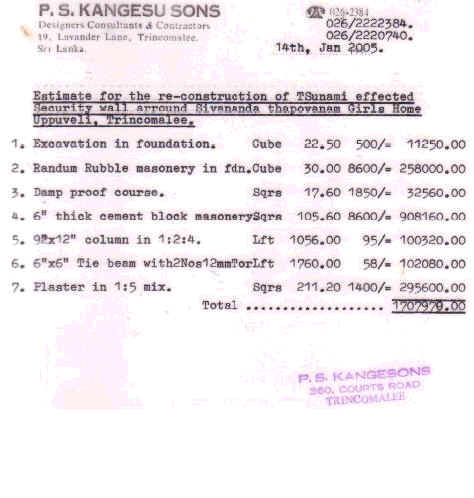 The Ashram & the Affected Dependent Families
Sivanantha Thapovanam, which is 11 acres in extent, was started in the year 1953 by the great of Her Holiness Swamy Sivananda Sachidananda Saraswathi Mathaji of Uppuveli, Trincomalee, disciple, of H. H. Swamy Sivananda Maharaj of Rishikesh, India. It is a shelter for nearly 171 children both orphan and destitute. The main purpose of the Ashram is to educate and uplift these children and make them well settled in their life.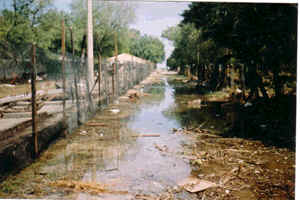 The Ashram also concerns on settled life of handicapped and disabled children. In that manner six children were brought up and were given in marriage. They were settled down in houses within the boundary of the Ashram and were helpful to the Ashram in securing the surrounding.
"Tsunami" which affected most countries including the coastal regions of Sri Lanka on the 26th of December 2004 has destructed the houses of these dependents.
1. Ms. Malini

2. Ms. Rathika

3. Ms. Parameswary

4. Ms. Ranjani

5. Ms. Thayalini

6. Ms. Chithrangi
Out of the six houses affected three are damaged to the extreme and need immediate reconstruction. The Ashram is bound to help them resettle in their lives.
This proposal contains details of the proposed project and we shall be very much thankful to donors willing to help with necessary monetary funds.
Cost Estimation
A cost estimation to reconstruct these destructed houses has been estimated by our contractor " P.S.KANGESONS". It is annexed herewith for your kind presence.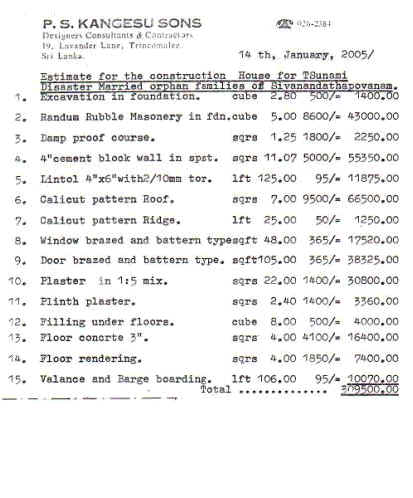 New admissions after Tsunami
Nearly 103 children in Trincomalee were made orphans as a result of Tsunami. Sivananda Thapovanam is making arrangements to admit 50-75 of those children to the ashram as no other alternatives are provided for those children.
Death toll of Children in the Trincomalee district as a result of Tsunami

i) From the divisional secretariat of Trincomalee Town and suburb - 29

ii) From the divisional secretariat of Kuchaveli - 75

iii)From the divisional secretariat of Muthur - 165

iv)From the divisional secretariat of Kinniya - 76

v) From the divisional secretariat of Eachilampatru - 34

Total = 350

Children who have been made orphans

i)From the divisional secretariat of Trincomalee Town and suburb - 08

ii)From the divisional secretariat of Kuchaveli - 02

iii) From the divisional secretariat of Muthur - 08

iv) From the divisional secretariat of Kinniya - 14

Total = 32

Children left with single parent

i)From the divisional secretariat of Trincomalee - 05

ii)From the divisional secretariat of Kuchaveli - 30

iii) From the divisional secretariat of Kinniya - 35

iv) From the divisional secretariat of Eachilampatru - 01

Total = 71
Paddy Cultivation by Ashram Children
Out of the total extent of land paddy is being grown in nearly 09 acres. Children too join in this paddy cultivation and this partially meets the food and needs of the inmates for an year. In the past years the ashram had been able to crop nearly 1350 bushel of paddy but as a result of the Tsunami this year only 700 bushel of paddy was cropped and thereby fulfilling the food requirement of the children too is in question.
Our Appeal
By all the above we have tried our best to bring in the needs of the ashram for your attention. We hope large-hearted donors can help to enliven ashram life and equip the children to meet the future.
Our Banker
Indian Overseas Bank,
Extension counter
New Kathiresan Temple.
Galle Rd,
Colombo-04,
Sri Lanka.
Account Details
Name of the Account:
"SHIVANANDA THAPOVANAM"
Account Number : 92
###
Posted February 10, 2005