Direct Contact with Children's Homes
Patrick Harrigan of the Living Heritage Trust in Sri Lanka is offering a novel way to assist a number of orphanages in Sri Lanka impacted by the tsunami.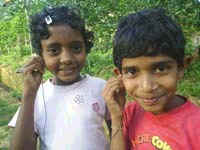 "Our Sri Lankan NGO, the Living Heritage Trust, has undertaken, among other disaster relief projects, one that aims to connect donors with particular orphanages in tsunami-affected areas of the east coast of Sri Lanka," he says.
The project web site, www.anathi.org was launched only days ago but already provides complete contact information for nine children's homes, with more homes being added almost daily.

In time, each orphanage will have its one web presence on this site, so that each can tell the world its own story.

This is an alternative to a general donation to UNICEF, for example, and ensures not only that the money reaches the children, but that people elsewhere in the world can even select the home and correspond with them directly.

In response to a teacher in America who wanted her class to adopt an orphanage there, Harrigan pointed out that by providing a computer system to the orphanage at a cost of US$700, her students could be in direct touch with the children at the orphanage.

'This way, the teacher initiates two-way learning between her students and the children in Sri Lanka' Harrigan adds.

###
Posted February 14, 2005