On LTTE Eastern Political Wing Leader Kousalyan's Killing and Karuna's Vengeance
by Sachi Sri Kantha
Last year, for a few weeks from March to mid April, following Vinayagamoorthy Muralitharan's desertion from the LTTE, Jeyaraj contributed 'pigs are flying' commentaries. By Easter Sunday of 2004, all his predictions had gone abysmally awry. Then, for six months Jeyaraj lay low for understandable reasons, since his image as a seer of Eelam Tamil politics had been busted.
In October of 2004, Jeyaraj contributed an eulogy to Sinhalese movie star Gamini Fonseka. Here are a few sentences, he wrote then:
"I had planned in March to write an article in appreciation of Gamini Fonseka. Due to many reasons it got postponed. Then other pressing matters and a feeling of revulsion about Sri Lankan politics caused a mental block. The very question of writing became anathema for a while. The whole business of writing on matters Sri Lankan seemed purposeless." [Sunday Leader, October 3, 2004]
Jeyaraj didn't openly explain to Eelam Tamil readers why he had suffered "a mental block". I thought that Jeyaraj had learnt a lesson of his life in trying to project Karuna as the next formidable leader of Eelam Tamils. But, I admit that I have erred. Now Jeyaraj is back at his game of promoting Karuna's hopes. One should not be thin-skinned when deserved criticism is served. For the benefit of those who haven't read the latest of Jeyaraj's scribbling, I provide the item below:
"The military wing of the new outfit is known as the 'Tamil Thesiya Padai' or Tamil National Force (TNF). On Thursday, February 10, a statement was issued in Europe by a person called Cheran. It was openly claimed that the TNF was responsible. By this time the Batticaloa grapevine was humming with the news that five people comprising both ex LTTE and ENDLF cadres were responsible. The actual firing was done by Mangalam Master and Thooyaseelan.

LTTE and pro-Tiger elements however allege that it was a deliberate operation clearly aimed at Kausalyan. The notion that the security forces were involved to some extent is believed widely. The statement issued by the Tamil National Alliance (TNA) insinuates this clearly.

Given the propaganda barrage unleashed by the pro-Tiger sections, few Tamils will believe that the security forces had no role. There is also suspicion that the assassins could have simply taken refuge at a military installation. After the Karuna revolt, the LTTE maintains a stance that it was only a one man show and that there are no Karuna cadres in the east. This is simply not true. Cadres loyal to Karuna are living in areas north of Batticaloa town from Arumugathankudiyiruppu onwards.

The areas between Chenkalladdy and Valaichenai along with areas like Vaaharai, Kirimichai, Omadhiyamadhu, Mankerni, Panichankerny, Kalkudah etc., are Karuna strongholds. The jungle areas around Kudumbimalai, Tharavai, Kattumurivu. Vaganeri and Vadamunai are also no go areas to the mainstream LTTE because of a strong pro-Karuna cadre presence. The border areas along Batticaloa and Polonnaruwa too are infested with Karuna's cadres. The mainstream LTTE will simply not acknowledge this.

Whatever the outcome of these charges and counter charges, there is no doubt that the Karuna and Paranthan Rajan combine has made a significant hit. Further attacks of this nature are on the cards. It is reported that Karuna is back with a vengeance. The anniversary of his inglorious exit from Batticaloa on April 12 is drawing near. The renegade Colonel has sworn that the Batticaloa situation will be transformed by the April New Year. The LTTE will certainly resist. This means that terrible bloodshed is on the cards."
I double-checked with my Batticaloa native friend S.Sivakumararan on the analysis of Jeyaraj. According to my friend,
"As is usual, Jeyaraj had mixed some well known and already published facts with a bit of his imagination to portray a distorted picture of the East, using phrases such as 'no go areas,' etc.

1.The distance between Chengalady and Valaichenai is exactly 10 miles. Along this straight road (northwards), there are seven big army camps, with all the wartime fortifications. So one could state that there is a camp every one and a half miles. Every such camp houses its share of Tamil coolies from PLOTE, ENDLF, EPRLF(one faction), and the latest addition of Karuna's boys. The Tigers were shot at along this Chengalady-Valaichenai road by these coolies operating from these army camps. Kalkudah army camp is not included in the above seven camps, as Kalkudah camp is three miles east of the Chengalady- Valaichenai road.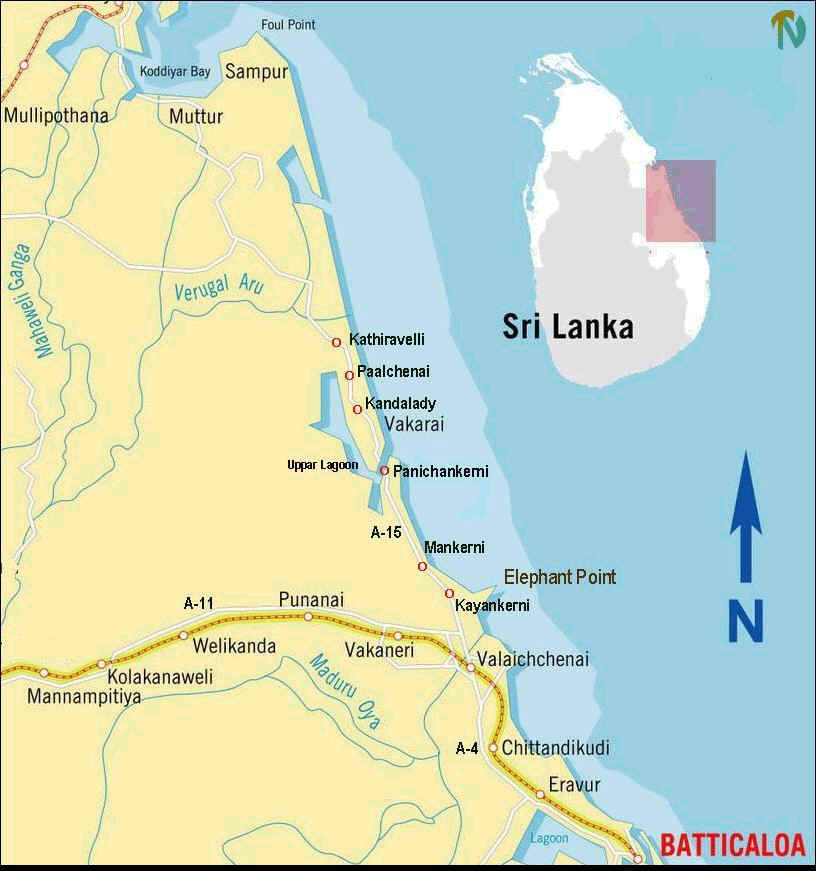 2. Vaaharai, Mankerni, Panichankerny are along the coastal road to Trincomalee from Valaichenai. There are big army camps in all these three locations. Thus, the inevitable activity of Karuna boys. Regarding Omadhiyamadhu, one could refer to T.Sivaram's analysis (A setback for the peace process, Daily Mirror-February 9, 2005), where he had mentioned the presence of Karuna boys. Kirimichai is another paddy-cultivating border area to Polonnarura district. Kattumurivu (tank) is about 6 miles west into the jungle from Kathiravelly, along the coastal road. Kathiravelly is one mile south of the Verugal river. Another six or seven miles west of Kattumurivu, there is a Sinhalese settlement, the name of which eludes me now. Kirimichai and Kattumurivu are the logical choice of areas from where the Sri Lankan army and Karuna's boys have their access to coastal areas, such as Vaharai, Mankerny, and Panichankerny.

3. From Punanai army camp and from Vahanery Army camp, the Sri Lankan army and Karuna's boys can operate into the Kudumbi Malai area. Yes, the LTTE do not venture into these areas unguarded, as they are well aware that government's deep penetrating ambush teams operates here.
In sum, whereever there is an army camp, there are Karuna's coolies. Also, it is well known and long suspected about the Paranthan Rajan [the link of the Indians] and Karuna combine. Jeyaraj, by mentioning this combine and also setting the anniversary date for Karuna's 'second coming', is merely trying to drive the LTTE sympathizers into a panic mode. It is as simple as that."
So, let's wait and see whether this year's 'Pigs are flying' story by Jeyaraj turns out to be a fact or fiction.
###
Posted February 18, 2005