'Baby 81' Arrives in America for TV Appearance
by Frank Eltman
NEW YORK (AP) Tsunami survivor ``Baby 81,'' the 4-month-old Sri Lankan infant whose parents fought a court battle to get him back after the disaster, arrived in New York with his parents Tuesday for an appearance on American television.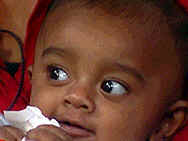 Baby 81's real name is Abilass Jeyarajah. He and his parents, Murugupillai and Jenita, were granted expedited visas by the U.S. Embassy so that they could appear on ABC's ``Good Morning America'' on Wednesday morning. ABC paid for the trip.
Abilass was pulled from his mother's arms by the tsunami of Dec. 26 and was found, caked in mud, hours later by rescuers who took him to a hospital, where he was dubbed Baby 81 because he was the 81st person admitted that day.
The couple could not immediately prove he was theirs because they had lost their records and home in the killer waves, and eight other couples initially claimed him, making the baby a symbol of the desperation of survivors seeking their kin.
A court said the baby had to stay in the hospital until DNA testing could prove his parentage. He was finally reunited with his parents on Feb. 16.
At one point during their ordeal, the parents barged into the hospital and scuffled with nurses in an attempt to reach their child.
The reunion was a rare bright spot in a disaster that killed more than 172,000 people in 11 nations along the Indian Ocean.
The family arrived at Kennedy Airport after a 20-hour flight. The parents were smiling, while Abilass, dressed in a blue snowsuit and pink hat, went back to sleep.
###
Posted March 1, 2005