First Female President of the University of Alberta
Dr. Indira Samarasekera, nee Arulpragasaham, a Vermbadi and Ladies College product, was inaugurated as the first woman president and vice chancellor of Alberta University on September 25.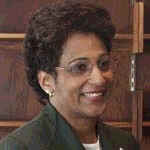 Dr. Samarasekera is the daughter of Dr. and Mrs. A. C, Arulpragasaham.
The inauguration ceremony was most impressive with cabinet ministers of Canada in attendence. Dr. Samarasekera made an outstanding inaugural address. It was followed by a dinner for the family and a separate dinner for the faculty. The dinners were followed by a spectacular concert.
Among the relations who attended were Dr. Samarasekera's parents, her sister and family, her two children and former husband, her uncle, the former Ceylon civil servant L.C. Arulpragasaham, who was later with the World Food Organization in Rome for many years, her other uncle, Jega, a retired business executive from Canada, and her father's first cousin, Wakeley Paul, a retired lawyer from the United States and an active member of the sangam.
Dr. Samarasekera has been awarded the Order of Canada and is a science advisor in the field of heat sensations to the Government of Canada.
Dr. Samarasekera's inaugural speech can be accessed here: http://www.expressnews.ualberta.ca/media/6977_2.pdf or