Refugees International Visit to East
The issue of underage recruitment has generated a good deal of heat, but little light. Refugees International, a Washington, DC organization that deals in policy and information, rather than assisting refugees directly, recently made a trip to the East of Sri Lanka and looked into the issue of underage recruitment.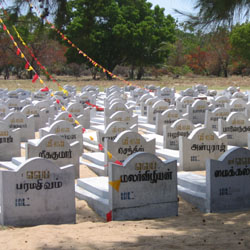 We post this report because it is a significant improvement over most other reports written on the issue. First, RI attempted to do some investigation themselves, by talking to school officials, rather than getting their information through third parties - those not-so-neutral NGOs. Secondly, RI has a firm grasp that the issue of underage recruitment is completely tied up with the overall situation of children in the East and cannot be solved without improving all children's lives.
This report is definitely not perfect. For instance, who knows where UNICEF gets its information, some of the boiler plate from the government's propaganda campaign creeps in here and there, and RI seems to have spent most or all of their time in government-held territory.
The Refugees International mission report can be found at http://refugeesinternational.org/content/article/detail/6958/?mission=6734
-- Editor