Charles Gnanakone and the Kadirgamar Killing
by D.B.S. Jeyaraj, Morning Leader, October 30, 2005
The story of Mr. Gnanakone, unfortunately, is an all-too-familiar story of efforts to decimate Colombo's Tamil business class. Unsupported allegations of links to the LTTE, or even Tamil nationalist ideals, are all that needed on many occasions to wreck someone's life and business. -- Editor
The Colombo Crimes Division (CCD) informed the Colombo Chief Magistrate and Additional District Judge Sarojini Kusala Weerawardena on Monday Oct 24th that they have detained Charles Selvakumar Gnanakone an Australian passport holder for questioning in connection with the assassination of Former Foreign Minister Lakshman Kadirgamar.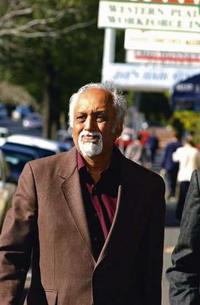 Responding to a request made by the CCD Judge Weerawardena extended the detention period of Gnanakone for a further 90 days. He was taken into custody on Oct 10th.
According to some media reports Gnanakones lawyer Ananda Wijesekera had no objections to his clients passport being impounded and had told the judge that he would get it surrendered to court as early as possible.
Unusual circumstances
Gnanakone's arrest on October 10 took place under unusual circumstances. Apparently the army received a mysterious tip-off that some Tigers were hiding at No. 36, Nikape Road, Dehiwela. It is not clear as to what offence the allegedly hiding Tigers had committed.
Acting under powers bestowed by emergency regulations a special anti terrorism unit of the armed forces effected a search and found no Tigers in the house. But Gnanakone was there. The house belonged to Australian nationals of Caucasian stock connected to a NGO doing work in Hambantota.
The army then took Gnanakone into custody and handed him over to the Dehiwala Police, which then sent him over to the CID, which in turn transferred him over to the CCD.
The arrest by the army took place between 1:30 to 2 a.m. Gnanakone was expected to present himself in court on Monday with his lawyer. Police had earlier requested court that Gnanakone's Australian passport be impounded to prevent him leaving the country. According to the CCD, Gnanakone's presence in Sri Lanka was required for the ongoing probe into Kadirgamar's assassination.
Gnanakone along with his lawyer was to present himself voluntarily in court on October 10 and inform the judge that he would be available for questioning at all times. The army special unit acting on the alleged tip-off had preempted this and arrested him beforehand.
Interestingly enough the CCD officer in court on October 10 was unaware of Gnanakone being taken into custody in the night. The CCD later told court that a report on the full status of the investigation into Gnanakone would be submitted to court on the following date.
The CCD however was not ready with the report on October 24 and requested further time from court. This led to Judge Weerawardena extending Gnanakone's detention period for a further 90 days. The CCD assured court that a full report would be prepared by that time after further investigation.
'Trial by media'
'Captain' Charles, an Australian citizen of Sri Lankan Tamil origin, has been the focus of much media attention from the time of Kadirgamar's death. This focus to some extent amounted to what one may call a 'trial by media.' This process itself was/is of two parts, the pre and post arrest periods.
The pre-arrest period saw reports about Gnanakone's alleged involvement with the Tigers and the role played in the Kadirgamar killing. During the post-arrest period media reports continue in the same vein.
Furthermore 'stories' about Gnanakone's alleged frauds in Australia are being given much publicity. Even if true as alleged one does not know of what relevance these stories are to Gnanakone's detention on suspicion relating to the Kadirgamar murder.
Prior to his arrest, sections of the media reported that Gnanakone had befriended Kadirgamar with mala fide intentions. He had frequently visited Kadirgamar and apparently informed the Minister that he faced no threat from the LTTE as long as he was Foreign Minister and the cease fire prevailed.
According to these reports Kadirgamar had been lulled into a false sense of security by these assurances and had relaxed his guard. Therefore Kadirgamar had become easy prey for the two-legged felines. One report even alleged that Opposition Leader Ranil Wickremesinghe had introduced Gnanakone to Kadirgamar.
Allegations
These allegations are being exploited by many of those campaigning for Prime Minister Mahinda Rajapakse, notably Sripathi Sooriyaarachchi. The purpose seems to be a crude attempt to paint Wickremesinghe as an accomplice of Gnanakone, the 'Tamil Tiger' in the Kadirgamar assassination, and derive political mileage at the hustings.
This is not the first time Wickremesinghe was 'linked' to Gnanakone by his political rivals and sections of the media. It was alleged some years ago that Wickremesinghe had visited Gnanakone in Singapore and had breakfast with him.
An alleged UNP-LTTE deal was cemented there, it was said. The Tigers had given large sums of money to Wickremesinghe, it was alleged. Ranil was also charged of doing a deal to divide the country.
Despite this barrage of accusations Wickremesinghe was never questioned by the authorities. Gnanakone was an old acquaintance of Wickrem-esinghe. The fact that they met each other was not denied. But Wickremesinghe emphatically denied the Tiger conspiracy charges.
It was this 'dirty' campaign linking him to the LTTE via Gnanakone that led
Wickremesinghe to quit the constitutional reform discussions the party was engaged in at that time. Wickremesinghe has also reacted strongly to current accusations by interested parties like the Patriotic National Movement and obtained a media apology and retraction.
It appears that the Gnanakone family in general and Charles in particular are being targetted in the media due to the Wickremesinghe relationship and alleged Tiger connections.
Targets
In August 2000, Sharmalee Fernando, Charles's brother Donald's Sinhala wife, was arrested by the Colpetty police after a midnight search of her father's house. She was released as a case of 'mistaken identity.'
There were sporadic yet frequent reports in the media about the Gnanakones and the LTTE and Wickremesinghe.
This targetting received a fresh lease after Kadirgamar's death. Emergency regulations were promulgated. Both Charles and Donald were then staying at the family residence on Hampden Lane, Wellawatte. Security personnel entered the premises and conducted a midnight raid. Charles was 'interviewed' for two hours.
His 89-year-old father and teenage nieces were terrified. Michelle Gnanakone, a 17-year- old US citizen, wrote to the US Ambassador and complained about the experience. It was raised in parliament. The explanation proffered was that it was a routine search in the aftermath of the Kadirgamar killing. It was pointed out however that five Tamil houses in the neighbourhood were not searched.
Though sections of the media allege that Charles Gnanakone befriended Kadirgamar recently as an agent of the LTTE to provide a false sense of security, the facts of the matter seem otherwise.
Apparently the Kadirgamar and Gnanakone families were known to each other for decades. Lakshman's elder brother Sam Kadirgamar QC had attended to some legal matters concerning the Gnanakones. Another brother, Rajan Kadirgamar, the former navy chief, had worked in the firm owned by the Gnanakones prior to his becoming Shipping Corporation chairman in 1977.
Close interaction
Charles Gnanakone, a diabetic patient, had been a frequent visitor as a family friend to the Kadirgamar home. One reason for Gnanakone's close interaction with Kadirgamar was due to both working together on a project to prevent the Anti Conversion Bill being presented in parliament.
He, like Kadirgamar, was a Protestant Christian. The proposed anti conversion legislation was essentially targetted against the Christian Church in its various forms.
Also it is an insult to the intelligence of the brilliant former Foreign Minister that he would let assurances from a person allegedly connected to the LTTE lull him into a false sense of security.
It is also noteworthy that Charles Gnanakone had made no attempt to flee Colombo despite the various media reports about his alleged role in the Kadirgamar killing or his alleged LTTE connections.
Since he was in possession of his passport prior to his arrest Gnanakone could have hopped an easy flight at least to Singapore in order to avoid arrest.
If he had close LTTE connections as alleged in the media, he could have gone to the LTTE controlled Wanni for safety. Instead he stayed put in Colombo and was about to present himself in court when he was arrested.
Another feature of the media campaign was confusion of identity. It was reported in the media that Gnanakone had been present at a demonstration opposite the Indian High Commission in Colombo to protest against the Sethusamudram canal project. A photograph was also published.
It was however a colossal mistake as the Gnanakone in the picture was not Charles but his US based brother Donald. Jayantha Donald Gnanakone was the man who participated in the demonstration as he was involved with the Manitham organisation that opposes Sethusamudram as a possible environmental hazard.
While media attention continues to be directed against Charles and some other Tamils arrested in connection with the Kadirgamar killing, sufficient attention has not been paid to the security lapses that led to the Foreign Minister's death.
Security lapses
Only The Sunday Leader in an earlier article pinpointed the various shortcomings in the security for Kadirgamar. Though retired Col. Sarath Jayewardena was in verall charge of security arrangements, there have been no reports in the media about any explanation being called for regarding the security lapses.
Jayewardena is the husband of Suganthie Kadir-gamar's sister. He is also the brother of Defence Secretary Gen. Asoka Jayewardena.
A consular official of the Australian High Commission is looking after Charles Gnanakone's interests, it is learnt.
According to knowledgeable sources the publicity surrounding Gnanakone has political undercurrents. The issue is likely to be kept alive until the presidential election is over.
There is no doubt that if an impartial investigation is conducted, truth will prevail. In the meantime it is to be hoped that justice will ultimately triumph in the case of Gnanakone's arrest and detention.