India as Mediator
by Old Jaffna Man, Island, November 12, 2005
Readers are encouraged to send their own experiences and information about this period in Jaffna's recent history to editor@sangam.org . Please note how the author here has given details such as full name, date, and place for incidents. These details are important.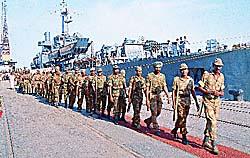 It appears that the JVP and Presidential candidate Mahinda Rajapakse want to invite India to come in as Mediator/Facilitator, to deal with Sri Lanka's problem. The Sri Lanka Tamils are a part of this problem. I, for one, will find it extremely difficult to accept any role by India because of what India did to the Tamils in the 3 1/2 years from 1987 to 2000 when their Army was occupying the NorthEast province. The Indian Army came with the designation Indian Peace Keeping Force (IPKF), but when they left it was felt that they were a Indian People Killing Force. There were no people to send them off in Trincomalee and no one to receive them when they landed in Madras.
Civilians Massacred by IPKF
Jaffna Hospital:- Perhaps the worst atrocity committed by the IPKF was the massacre of 68 innocent civilians inside the Jaffna Teaching Hospital in Oct. 1987. The uneasy truce that prevailed after the Indo-Sri Lanka Accord and the LTTE had handed over some weapons and been granted an amnesty, was broken when 13 Tiger cadres travelling in a boat, with their personal weapons were apprehended by the SL Navy and taken into custody. Attempts to have them freed failed; Mr. Lalith Athulathmudali, the Minister of National Security insisted that they be brought to Colombo for interrogation. At Palaly Airport, as they were asked to board the waiting plane, all swallowed cyanide capsules an 11 died on the spot.
Two of the dead were very senior cadres, Kumarappa and Pulendran, who had been in the movement from the start. One of these two had got married only one month earlier.
The truce was shattered and the LTTE struck back. The IPKF embarked on a 4 pronged drive to capture Jaffna. The LTTE retreated slowly. During the final stages, as the IPKF reached the centre of Jaffna 'own, the Tigers retreated along Clock Tower Road in front of the Jaffna Hospital, ran through the Jaffna town, hospital, jumped over the rear parapet wall and escaped.
The IPKF coming in pursuit entered the Jaffna hospital, and shot people indiscriminately. A niece was a doctor serving there at that time and escaped by crawling on all fours to escape detection by the IPKF soldiers. This information was provided by her. She has migrated to New Zealand with her family and is safe and doing well there.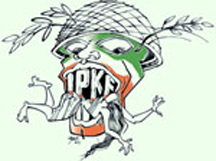 The names of the people massacred are:- Dr. A. Sivapathasuntheram, Dr. M. K. Ganesharatnam, Dr. Parimelalahar, Mrs. Vadivelu, Matron, Mrs. Leelawathie, Nurse, Mrs. Sivapakiam, Nurse, Mrs. Ramanathan, Nurse, Mr. Shanmugalingam, Ambulance Driver, Mr. Kanagalingam, Telephone Operator, Mr. Krishnarajah, Works Supervisor, Mr. Selvarajah, Works Supervisor, Eleven (11) Minor employees and forty six (46) patients. One of the doctors killed was a Consultant Paediatrician and he was coming down the stairs wearing his cloak and with his stethoscope. When he saw the Indian soldier, he shouted "Doctor, but Was shot down.
Duraiswamy brothers :- On the way to the hospital, the soldiers passed the ancestral home of late Sir Waithilingarn Duraisamy, Speaker in the State Council. Two of his sons, retired and past 70 years, were residing in their ancestral home next to the Jaffna Clock Tower. One was R. Duraiswamy (SLAS) Retd. Secretary. Ministry of Local Government and M. Duraiwswamy Retd. Staff Officer Bank of Ceylon. Both were shot and killed.
Sivasubramaniam Family:- Mr. S. Sivasubramaniam, retired Director of Irrigation (now designated Director General), his wife, Mrs. Sivasubramaniam, retired teacher and their only son, a brilliant boy who had studied at St. John's College, scored 4A's in the GCE (AL) and was in the second year of Medical College.
Mr. Sivasubramaniam was a personal friend, a quiet soft spoken gentleman, brilliant in his professional field. His entire family was erased from the face of the earth.
Chief Justice Sharvananda's sister and her family :-- Chief Justice S. Sharvananda's sister, her husband, son and two domestic helpers were shot dead. Justice Sharvananda, far from attending his sister's funeral, did not even know for over one week that his sister and family had perished. There was blanket censorship over what was being done to the Tamils in Jaffna.
Other Civilians Killed in Jaffna:- Prof. P. Chandrasekeram, University of Jaffna, Dr. R. W. Crossette Thambiah (must have been 80 at the time), Dr. Selvaratnam Former DMO Maskeliya, Dr. S. Pararajasingham JMO, L. F. M. Samuel Rtd. Teacher (St. Thomas College, Mt. Lavinia & Royal College, Colombo - older Thomians and Royalists might remember him), K. J. Sambanthar Retd. DLO & Asst. Land Commissioner, Jaffna, Mrs. S. Sivanandaraja (mother), Mohanraj (son) Technical Officer, Irrigation Dept., Mrs. Krishnam, Mrs. M. Sebastiampillai, Mrs. N. R. Thuriappa, Mrs. V. Ruthiralingam, C. S. Aaron.
Urumpirai:- A. Subramanium Attorney at Law, Mr. & Mrs. Pancharatnam, Rtd. Teachers, K. Navaratnam Rtd. Divisional Supdt. of Post Offices, S. Nadarajah, Formerly SLBC, Tamil Service, P. Arooran , M. Nadaraja, S. Rasanayagam Rtd. Credit Controller CCC Ltd.
Anaikoddai:- Mrs. M. Weerasegaram Pillai, (Mother), Pillai Yasotha Weerasegararn (Daughter), Mrs. S. Thanapalasingham (Mother) Miss N. Thanapalasingham. (Daughter) S. Kulasegerampillai, Retd. Station Master, Mrs. M. Arumugam Mrs. R. Gnanamuttu, A. Candappu Rtd. State Officer, S. Selvaranee.
Pirampadi, Kokuvil etc.:- A large number of civilians were killed in Pirampadi and Kokuvil and buried in mass graves. The whole matter requires a book to do full justice. Among those who managed to escape was late Justice K. Palakidner, who was then High Court judge Jaffna, his wife and two daughters.
My village :- From Oct. 10, 1987, we lost all contact with our relatives who lived in Jaffna, among them my wife's 71 year old mother, her sisters and their children, my close friends from my boyhood days in Jaffna. For twenty one (21) days, there was a continuous curfew imposed by the IPKF with half an hours notice. The local and foreign media were completely cut off from the scene of operations and terrible things - yes, I use the words carefully, TERRIBLE THINGS, were done to the Tamils in Jaffna.
Eighty-year-old Mrs. Thambimuttu was a refugee inside the temple. But an old lady cannot easily adjust to conditions inside a tightly packed temple - and Hindu temples do not have toilet facilities, as devotees are expected to come in a 'clean' state. So she went, before dawn, to her home within 250 metres of the temple for her morning ablutions. She was walking back feebly, with the aid of a walking stick and holding a flickering lamp, and was within 50 metres of the temple when she was shot by the Indian soldiers, from a school they were occupying. They discovered who they had killed and set fire to the body where it lay, using a tyre. She and my late mother had been classmates in Chundikuli Girls's College, Jaffna and she had been a source of comfort to my mother when we lost our father when mother was 28 years old. I felt so deeply about her loss that I ventured into blank verse.
The Gentle Old Aachi
The gentle old aachi,
Weak and wobbly with age,
Walking with her pollu,
Slowly to the temple.
Husband gone long before,
Children retired or about to,
Grandchildren in their prime,
Great grandchildren by the dozen.
Weak of eye, weak of limb
Fond of memories of yester year,
Longing to meet her God,
Slowly walking to his abode.
Om Ganesha!, What hit me?
What burning pain,
What great thirst,
She writhed briefly on the road,
And then lay still,
White saree bathed in blood.
The gentle old aachi,
Felled by an alien bullet,
Fired by an alien hand,
In this our free land,
The gentle old aachi,
Shot like a dog and burnt at the spot.
More than our relatives, we mourn the death of the elder son of the chief priest of our temple, Subramaniya Kurukkal. He performed the ancient Hindu marriage ceremony for me and my wife in 1962. He repeated it for our elder daughter and son-in-law in 1982 On Deepavali (Festivel of lights) Day in Oct. 1987 - I am writing one day after Deepavali in 2005 - Kurukkal was getting ready to go to the temple to open the inner sanctum and light the lamps inside.
The inner sanctum had not been opened or lit after the curfew and the influx of refugees. Only Brahmin priests can enter the inner sanctum.
Young Kannan Iyer, 28 years old, very fair, very handsome, well versed in Sanskrit and Hindu neethi and also a fully qualified Accountant, managing his own Accounting firm in Jaffna told his father to stay at home and that he would go by bicycle by a circuitous route to the temple to light the lamps.
Instead of going to the temple, he went to heaven. He was shot just outside their gate and as it was raining heavily and the curfew was in force, nobody discovered what had happened till the following day. If anyone is interested, I shall take him or her to speak to Kannan Iyer's mother. Kurukkal is a learned and pious man and he has the spiritual resources to withstand the loss of his elder son. But his wife cried for the entire 45 minutes we spent with them in March 1988, five months after the joy of their life was snuffed out by the Indian army. Now Kurukkal is old and sickly and when we visited them in 2004, the atmosphere was the same.
Twenty six persons lost their lives in my village alone, during the Indian army's campaign to gain control of Jaffna Peninsula in October-November 1987.
Rape by Indian Soldiers
The IPKF Operation in Jaffna did not stop with massacres of civilians. A large number of women were raped. The following quotation is taken from Prof. Daya Somasundaram's book Scarred Minds - The Psychological Impact of War on Sri Lankan Tamils. Prof. Daya Somasundararn is the Professor of Psychiatry in the University of Jaffna and concurrently Consultant Psychiatrist, Teaching Hospital) Jaffna. He was one of the four authors of the book, Broken Palmyrah, which was critical of the LTTE, a co-autj/or of Mental Health in Cambodia, where he served as a Consultant Psychiatrist and Manavadu in Tamil.
"From time immemorial, plunder and rape have been considered the spoils of war. A form of psychopathic liberation' resulting in looting, rape and heavy drinking is reported to follow major stressful events (Kinston and Rosser, 1974). Although the total number of rapes during the Indian army operations are not known, it seemed to reach epidemic proportions. It has been verified that quite a large number, ranging from young girls who had just attained puberty to old women well past the menopause stage, were brutally raped.

What is said about violence in general is applicable to sexual violence. However, aggressive sexual assault has its own unique characteristics and consequences.

Thus, Rape is a violent crime in which sexuality is used to express power, anger and aggression, with a core meaning of devaluation, humiliation, sheer terror and most intimate violation of the self for the victim.

What is translated to the victim is the life-threatening nature of assault, her helplessness, her loss of control and her experience of herself as an object of the assailants' rage (Mezy, 1985).

Rape became common in the context of total war as it obtained in the months of October to December (1987), when all the customary discipline and restraint operative in the army disappeared. As discussed earlier, there appears to have been a policy decision to apply terror in the face of early losses and frustration over the prolongation of the conflict.

The public was seen as being too sympathetic to the Tigers, harbouring and helping them against the Indian army. Thus terror became an instrument of control, a punishment for the lack of support and a lesson to the public.

The army hierarchical structure worked to allow the Jawans to carry out the acts on their behalf, although at times lower-rank officers also vented their pent up frustration in this way. But rape was much more gruesome as it was aimed specifically at women. It was carried out with considerable brutality and impersonality, where the victims were publicly defeminised and destroyed.

Rape can be seen as a loss-event for the victim where she loses her trust in others, self-respect, sense of security, chastity and virginity, social identity and becomes liable to secondary victimization due to social norms and values. The psychological reactions to rape have been described as a three stage phenomena with an initial state of 'shock and disbelief' disruption of normal behaviour. This may be followed by feelings of guilt, self-blame, and physical complaints. If the resolution to the psychological trauma is incomplete, long-term consequences include depression (40 per cent of victims), psychosomatic problems, sexual dysfunction, specific rape-related phobias, impaired task performance, social maladjustment and risk of suicide attempts (Mezey, 1985).

In our cultural setting, sexual violence takes on a more serious significance and has a severe psychologically traumatizing effect on the victim and her close relations, including her husband. Chastity is traditionally considered one of the supreme virtues of women, to be safeguarded with the same diligence as their life. The screams and pleading of a young, attractive girl, whom three soldiers were trying to rape at gun point, still echoes in my ears. She fell at their feet and begged, 'Please, brother, shoot me, but don't do this...' Fortunately for her, her pleading got through to an officer who took pity and let her go, after slapping her. A young rape victim in Tinnavelly immediately attempted to commit suicide by jumping into a well.

Loss of virginity in a young girl even if against her will, meant that she could not aspire to marriage in our society and if already married, there is a good chance that she will be abandoned. All rape victims are socially ostracized and this usually extends to the family also. It is not surprising that rape victims were not forthcoming to report such incidents and usually swallowed the suffering and injury silently.

These incidents of rape, the lack of protection for women and the rumours that spread, created great fear among the women of Jaffna. The threat to womanhood was very real in the months of October and November. Most women experienced sexual anxiety and felt exposed and vulnerable, . Many fled to areas they felt were safe, a large exodus reaching Colombo in December, when transport became available. Those left behind started acting with circumspection by following the well-meant advice of sympathetic, Tamil-speaking jawans of 'wearing saris, putting poddus and staying indoors'.

At the beginning, there was lack of action by the commanders, probably because they had to maintain troop morale in a difficult situation during the first two months and rape itself became part of army action. Later, disciplinary action was taken with identification parades and punishment, usually in the form of public thrashing and transfer to another unit. After December the jawans were more discreet and circumspect. By 1988, the higher authorities showed much sensitivity to the issue of rape, probably due to the wide publicity outside Jaffna. They even brought in female police and paramilitary to ally the fears of local women.

The public outcry and wide publicity of this aspect of the Indians' occupation that gained momentum from December reflected the deep-rooted feeling of insecurity and the cultural significance of this threat to our women."
This ends the quotation from Prof. Daya Somasundaram's book. But there was other evidence as well. Inside our village temple, where people had gathered as refugees, young village girls were molested by the Indian soldiers. Dr. W. Paramanathan, great grandson of Proctor V. Casipillai who had rebuilt the temple in 1900, after its destruction during the Portugese occupation, was an eye witness. "My blood boiled; but I was helpless" he told me. In fact, being a young man, he was taken out twice to be shot as a Tiger and only the strong pleadings of his aunt Miss K. Charavanamuttu, retired Principal of Vadamarachchy Hindu Ladies College saved his life. Dr. Paramanathan has migrated to the United States and is living there.
Plunder
The 21 day curfew proved to be a golden opportunity - in a real golden sense - to the Indian soldiers. They broke into every house, broke open every almyrah and stole the valuables inside. As everyone knows, all Jaffna Tamil Hindu women wear a lot of gold jewellery. When they had to flee at half an hour's notice, they could not remove all their valuables. When the families returned, they found their gold jewellery, imported watches and Parker pens missing. In 1987, India was still a closed economy and these imported items were not available in India. Not merely the soldiers, even the officers helped themselves. This is what the Island of 22 Feb. 1988 reported.
"IPKF Major Returning to India Apprehended - Alleged Contraband Jewellery:

A Major of the IPKF who is said to have returned to India from Jaffna on a month's holiday is alleged to have been apprehended at Chandigarh airport with having carried jewellery believed to be contraband.

A news report appearing in the "Rani Weekly" of January 31, 1988 published in Tamil Nadu state that this Major serving in Jaffna had flown to Madras by plane and then to Chandigarh in Punjab on a month's holiday. The Police there had searched him like any other passenger and found in his possession 100 sovereigns of jewellery consisting of bangles, broken chains, necklaces etc".
The story states "The Police suspect that he might have snatched them from Sri Lankan Tamils. But he says they were bought by him. The magazine asks, "if they were bought by him, could the jewellery be broken in pieces?"
India's My Lai - the Valvettiturai Massacre
On 2 August 1989, the so called Indian Peace Keeping Force deliberately killed over 50 Tamil civilians in Valvettiturai in the Jaffna Peninsula in a massacre that was later described as India's Mylai.
David Housego reported in the London Financial Times on 17 August 1989:
"On... Tuesday I was the first western reporter to visit Valvettiturai, a small coastal town near Jaffna, where Indian troops carried out reprisals on August 2 after the Tamil Tigers, the -Tamil guerrilla movement, ambushed one of their patrols close to the main square, killing six Indian soldiers and wounding several, others.

After 4 1/2 hours of walking around the town and questioning many people, it becomes clear that angered soldiers deliberately shot dead unarmed civilians, burnt a large number of houses, and brutally beat many of the boys and men they caught.

The local Citizens Committee has identified 52 bodies and says that over 120 houses were burnt - making it by far the worst atrocity alleged against Indian troops in the two years they have been in Sri Lanka.

Most of the killings took place in the hours after the ambush, but the burning and ransacking continued , for another two days while Valvettiturai was under curfew and surrounded by Indian troops.

What is also certain is that the official Indian explanation for the deaths - that civilians were caught in crossfire in the wake of the ambush - has no credibility. Mr. S. Selvendra, the president of the Citizens Committee and a chartered accountant, is calling for a public inquiry.

Almost a fortnight after the event, a smell of charred remains hangs over Velvettiturai. Of the 15,000 people perhaps half have left in fear or despair. Many who remain are distraught over the loss of relatives or belongings, and uncertain how to begin again or where. What seems to have happened an August 2 is that two patrols of Indian Peace keeping Force (IPKF) troops about 30 men in all approached the centre of the town on foot in parallel columns at about 11.15 in the morning. This was market time, when the streets were most crowded. They were ambushed by firing from the roof and the street. Six soldiers were killed and 13 injured, including an officer...

What follows are abbreviated eyewitness' accounts of four particular incidents that occurred after the ambush.

Mr. N. Senthivadivel, 50, was in his photographer's shop overlooking the square when the firing began. He threw himself to the ground. Later he was taken out and made to sit cross legged with about 25 people on the square. From there he saw soldiers set fire to some of the shops and throw kerosene to add to the flames.

At about 2 p.m. a soldier came along and said in broken English that he was going to shoot them. Two jeeps arrived and firing began. The soldier then turned round to those seated and fired on them. Two people, Mrs. K. Sivapackiyam, a washerwoman, and Mr. K. Thangarajah were killed and 10 more injured.

S. Rajeswary, 52, is the wife of the head of the divisional land survey office. After the firing about 50 people sought shelter in her house well over 200 yards from the square - because it has a concrete roof and thus offers protection against shelling.

About 1.30 p.m., four soldiers broke into the house. She came out of the kitchen into the hall with her husband; they were holding their hands up. She pleaded with her husband not to step forward but he advanced to speak to the soldiers. They shot him. They then called for the other men and shot four of them.

After that they sprayed bullets killing four more people and injuring nine. Apart from her husband, Mrs. Rajeswary also lost her eldest son, 28, who was trapped in his shop which had been set on fire.

Mr. A R. Sivaguru., 68, a retired postmaster. With some 70 other people - he took shelter in the house of Mr. Sivaganesh which also has a concrete roof. About 4 p.m., some six soldiers climbed over the back wall of the house and entered the courtyard. Women fell at their feet crying and pleading with them not to shoot but were kicked aside.

A sergeant then separated off the young men ages ranging from 18-35 and told them to sit in front of the cow shed next to the house. The soldiers then fired on them, killing four. When one woman screamed at her husband's death she was told to be silent otherwise she would be killed.

Mr. Nadarajah Anantharaj, principal of a local school and secretary of the Citizen's Committee, still bears the mark on his face of wounds he received. This account of his treatment at the Udupiddy IPKP camp nearby is taken from his sworn affidavit. "There (at the camp) I saw many people who came along with me bleeding and crying. Four Sikh soldiers then started beating me with heavy wooden rods and with their fists.

"One soldier dashed my head against the wall. One soldier pressed a wooden rod on my throat and was standing on the rod which was preventing my breathing. At that time I heard a voice shouting "Kill him, kill him." I was almost losing consciousness when I managed to push the rod on my throat away, toppling the person who was standing on it.

"The next day, the Commanding Officer of Vadamaradchi (region), Brigadier Shankar Prasad, the Deputy Commander, Col Aujla, and the Udupiddy Commanding Officer, Colonel Sharma, met me and expressed their apologies... The Brigadier told me I had been ill-treated by mistake..."..........
Why did the Indians respond so brutally? Part of the answer is that their troops have been under great strain in the Vadamaratchi region, with isolated patrols coming under fire and the Tigers firing rockets into the IPKF camp. This has left officers and men with nerves on edge.
Were the killings and the brutality the result of soldiers running amok or did they have the approval of their officers? With substantial reinforcements brought into Velvettiturai in the wake of the ambush, officers were certainly present in the town during the shooting and the burning of homes. Some inhabitants believe that senior officers gave their tacit approval to the reprisals, if not more.
One of my informants claimed that he had heard a senior officer say in anger not long before "I will burn Point Pedro" (a neighbouring town where there has also been trouble). "I will kill everybody.' This may have been ill chosen words of intimidation not meant literally..."
Rita Sebastian reported in the Indian Express on 24 August 1989 about this incident and also included other massacres, in Pt. Pedro.
George Fernandez, Indian Opposition M.P. one time Cabinet Minister and later Defence Minister commented a few months later:
"When in early August, 1987, I had said that Mr. Rajiv Gandhi's military adventure in Sri Lanka would be India's Viet Nam, I had not anticipated that India's Viet Nam would also have its own My Lai. Of course, I was aware and I had also said repeatedly that soldiers everywhere alike, their training and the rigours of their life, not to speak of the brutalisation caused by war, making them behave in the most inhuman ways when under pressure.

That is why when in the early days of India's military action in Sri Lanka, stories of rape and senseless killings by Indian soldiers came to be contradicted by the India government publicists I joined issue with everyone who came to accept that our soldiers were cast in the moulds of boy scouts who went around the fighting fields of Sri Lanka looking out for opportunities to do their day's good deeds, particularly for damsels in distress.

Now, in Velvettiturai, the Indian army has enacted its My Lai. London's Daily Telegraph commenting editorially on the barbarism exhibited by the Indian army in Velvettiturai says that, if anything "this massacre is worse than My Lai. Then American troops simply ran amok. In the Sri Lankan village, the Indians seem to have been more systematic; the victims being forced to lie down, and then shot in the back".

But that is not the only contrast. My Lai was brought to the notice of the world by American journalists. The fight against the American army's atrocities against civilians in My Lai was led by the American people, particularly the American press and the youth and students.

Valvettiturai was uncovered by David Housego, the Delhi-based correspondent of London's Financial Times who visited the scene of the massacre 13 days after the black deed had been done on August 2. His report appeared in his paper on August 17, though London's Telegraph had carried on August 13 a story on the incident from its New Delhi correspondent, Jeremy Gavron, based on the information that was already circulating in India's capital.

The Indian press - a miniscule section of it - caught up with it only on September 3, with a report by Rita Sebastian in the Indian Express. In fact, there was a planned black out of the news of Velvettiturai by the Indian government, in which a large section of the Indian press was only too happy to collude. The armed forces are India's most sacred cow at the best of times, but when they indulge in atrocities, they are more so..."

(End of quotation)
The behaviour of the Indian Army in Jaffna was so atrocious that even Sinhalese politicians were moved to protest. Prime Minister R. Premadasa, Minister of National Security Lalith Athulathmudali. Minister of Rehabilitation Lionel Jayatilleke and Opposition Leader Anura Bandaranaike condemned the atrocities in strong language in Parliament on 21 Jan. 1988. Mr. Bandaanauke spoke of the massacre of the family of the Chief Justice's sister. Please see Hansard Vol. 47, Section 14, Hansard Vol. 50, Section 2 . In fact, the Prime Minister spoke of a "79 year old woman having been raped."
One can understand the JVP's attitude now. Earlier, one of their 5 lectures when Rohana Wijewera was the leader, was about Indian expansionism. After the Indian Army came in 1987, they led a violent campaign against even food imports from India. Boutiques had to put up notices that they were not selling any Indian goods, Mysore Dhal disappeared from our diet and Bombay Onions had to be renamed Big Onions. But they observed that the Indian Army, instead of helping the Tamils, was killing them. So now their stance has changed. India is welcome to return and finish off the Tamils.
If the Sinhalese think that Norway is not being fair, perhaps another small distant country can be invited if they are prepared to spend their time and money on a very difficult problem. Perhaps Switzerland, Ireland or Canada, with their experience of handling their multi cultural populations. But India - NEVER! If India does come in, I - for one - will feel the need for some meaningful action, not mere words. Perhaps a 'fast unto death' may be in order and not like the fast unto death by two Buddhist bhikkus recently.