Tales From True RN Volunteers
by Mala Kadar, RN, MPH, Nursing Spectrum, November 7, 2005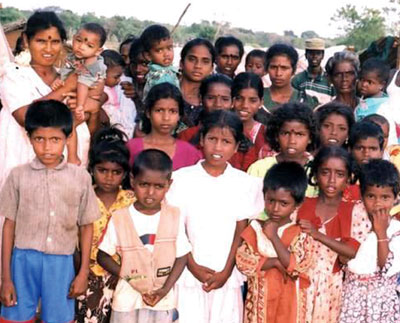 The camps in Batticaloa housed approximately 1,500 refugees.
Two nurses tell their stories of volunteering abroad to help those who needed help most.[see the Nursing Spectrum website for the story about Zambia]
As health care practitioners, nurses spend their professional lives caring for and comforting patients. More amazing, most nurses continue to provide care on their personal time as well. Following are two tales of "nurse volunteerism" that we'd like to share. We hope they serve as an inspiration to you to take the time to volunteer and one day be able to "spin a tale" of your own.
Nursing the Tsunami's Displaced in Sri Lanka
Mala Kadar, RN, MPH
In the aftermath of the devastating tsunami that slammed African and Asian countries last December, the International Medical Health Organization (imhousa.org) flew teams of physicians and nurses to northeastern Sri Lanka to set up medical clinics in refugee camps in the districts of Batticaloa and Mullaitivu. The teams included Tamil-speaking physicians and nurses, along with health care professionals of other nationalities like myself. The areas that were populated by the Tamil-speaking minority had experienced the brunt of the tsunami's fury, causing the displacement of a large percentage of the population who lived by the sea.
We flew to Colombo, the capital of Sri Lanka, and then traveled on land to Batticaloa. It was an eight-hour journey because of the poor condition of the roads and the numerous army checkpoints. Sri Lanka had been embroiled in a brutal ethnic war between the government of Sri Lanka (the Sinhalese Buddhist majority) and the Tamil minority from the northeast for the past 20 years. The logistical support for our medical clinics was provided by the Center for Healthcare (centerforhealthcare.org), a nongovernmental organization (NGO) that serves in the northeastern regions. More than 66% of the damage had been in the northeast, with an estimated 30,000 deaths, according to World Health Organization figures.
The village schools had been converted into refugee camps and there were approximately 1,500 people in each camp. At Batticaloa, there were an estimated 75 camps. At least five to six families at a time occupied one classroom, each family consisting of an average of three children and grandparents. They all slept on shared mats on damp floors and had limited toilet facilities. International organizations, such as UNICEF, Oxfam, and the International Red Cross, provided chlorinated drinking water and dry rations, along with basic medical services. A committee of local village elders supervised the camps.
We set up the clinic in a classroom and organized it into three stations – physicians, nurse practitioner, and pharmacy counter – and instituted a triage system. The majority of the cases were children with respiratory illnesses; the rainy season had begun and the cold, damp floors and crowded living conditions were contributing factors. Most of the women presented with symptoms of reactive depression, anxiety, and apathy.
There was an urgent need for public health education for those in the camp to prevent the outbreak of communicable diseases such as diarrhea or hepatitis A. Using visual aids, I explained the etiology, signs, and symptoms of respiratory, gastrointestinal, skin infectious diseases, and mental illness. We also discussed the importance of hand-washing after toilet use and before meal preparation.
After exploring the areas surrounding the school with the committee of elders, we decided that all waste had to be buried and containers with stagnant water needed to be removed to prevent malarial and Dengue-producing mosquitoes. To make even small changes needed gentle persuasion, but the committee agreed that it was best to prevent an outbreak of communicable disease. I participated in the first cleanup campaigns, collecting glass and debris that would cause injury, removing cattle droppings, and disposing of unused containers that could become a breeding ground for mosquitoes. The debris was also harboring snakes that had been displaced, and some children had already become victims of snakebites.
I helped implement a health education training program for the health care workers in the camps that included creating a public health training manual. The workers' public health knowledge was limited because of the decimation of the health system in these districts due to war. I spent five days presenting the information to students who had been selected by the various NGOs. More than 100 students received certificates for training.
Upon returning to Colombo, I submitted a report that discussed the need for continuing education programs. Nurses with public health knowledge could contribute immensely. However, their was a shortage of nursing staff in Sri Lanka as well. The Tamil nurses with whom I spoke were frustrated with the central government's discriminatory policy toward those who worked in areas of conflict, denying them the pay increases that nurses on the rest of the island received. Moreover, they, too, were being lured away by offers of foreign employment.
My accommodations were always in a village with the most basic amenities. I bathed in well water, slept on mats, and watched out for snakes. I experienced the kind of poverty in which an average family lived on an income of just $20 per month. However, the people showed such appreciation for and kindness to a stranger who had come to teach their children. I listened to their stories of sorrow, loss, and a life of "darkness" that never seemed to lift — more than 20 years of civil war and, now, nature in its fury — yet their resilience remained unfazed.
Mala Kadar, RN, MPH, is a volunteer with the International Medical Health Organization.
http://community.nursingspectrum.com/MagazineArticles/article.cfm?AID=18383