Tripartite Strategic Considerations
by Chandi Sinnathurai
The strategic ambition of the U.S is to align itself overtly with India. If the U.S policy toward China; and broadly Asia, is to be successful, India's help is increasingly crucial. In the recent Iran nuclear wrangling, India's vote proved, as we all know, to be a decisive factor. The geo-political aim is to serve the US's long-term interests, by inducing 'the potential regional power' to act as lever for U.S policy. The leverage role, however, does not come cheap, as happened in the aforementioned Iran affair.
Conn Hallinan – a foreign policy analyst, in his perceptive article ('Iran, India and the U.S,' Counter Punch, 25 October, 2005) revealed the sleight of hand behind the scenes.
India produces around 300 tons of Uranium a year; but a bulk of that goes to civilian power plants. When the Indian Defence Chief, Mukherjee met Rumsfeld to sign the Defence Agreement on June 28th things began to shift. This Agreement gave India access to sophisticated missile technology under the guise of aiding its space program.
Furthermore, on July 18th, the meeting of Prime Minister Singh and President George W duly ended the U.S restrictions on India's civilian nuclear power program which would allow Indians to purchase Uranium on the international market.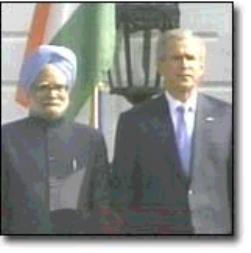 India, therefore, assumed her role judiciously and voted to drag Iran before the UN Security Council.
By refreshing our memory, one would recollect, during the early 1960s even before becoming president; JF Kennedy [JFK] argued that the U.S., along with her Western allies, must put together a package of aid "designed to enable India to overtake the challenge of Communist China."
The U.S efforts to put together such a package were not welcomed by Nehru. The 1961 meeting between JFK and Nehru was "particularly frustrating," owing to Nehru's repeated refusal to "accept the mantle of leadership in Southeast Asia."
Nehru, on his return home, explained his refusal by saying: "they [U.S] expected something more than gratitude and goodwill and that more I could not supply them."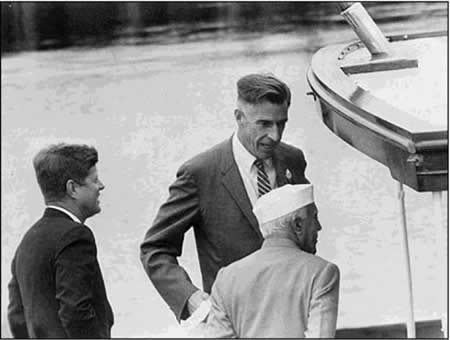 May 1963 reports reveal (recently declassified) that the Kennedy administration considered whether and how the U.S might support India in case there was another China-India war. General Maxwell Taylor, the head of the Joint Chiefs of Staff, pondered on "the overall problem of how to cope with Red China politically and militarily in the next decade." The defence Secretary Robert McNamara argued that "…in order to carry out that commitment [to defend India] against any substantial Chinese attack, we would have to use nuclear weapons." Kennedy's position was that "We should defend India, and therefore we will defend India."
The founder and head of Atomic Energy, [in 1965] Homi Bhabha urged 'the U.S to give India a nuclear device or just the blueprints for one to help it catch up with China's nuclear development.'
When the U.S increasingly got bogged down in Vietnam it realised its future wars in the Third World would be even more frightening if nuclear weapons continued to spread. As a result, the U.S joined with the Soviet Union to stem the spread of nuclear weapons and crafted a nuclear non-proliferation treaty in 1968, which was enforced in 1970. In conjunction with that, the U.S made attempts to improve its relations with China.
In the post-cold War era China became a major political and economic power in international affairs. In 1996 President Jian Zemin visited India and signed an agreement on "Confidence-building measures along the 'line of actual control' in the border areas." This was built upon a previous agreement on "Maintenance of Peace and Tranquillity" signed in 1993.
When President Clinton visited India in March 2000, the joint statement he issued with Prime Minister Vajpayee noted that "There have been times in the past when our relationship drifted without a steady course. As we now look toward the future, we are convinced that it is time to chart a new and purposeful direction in our relationship."
This statement was significant progress. This new direction was described as one in which, in the new century, "India and the U.S will be partners in peace, with a common interest in and complementary responsibility for ensuring regional and international security."
Both countries vowed to engage in regular consultations on the shared goal of "strategic stability in Asia."
Zia Mian a Pakistani physicist at Princeton, in September 2005, interpreted that this new direction could be regarded generally as India 'finally accepting U.S ideas about what should be the relative balance of power in Asia, and in particular, U.S concerns that a rising China could in time constrain the exercise of U.S power.'
Mian analysed that the U.S – India Strategic Partnership includes civilian nuclear activities, civilian space programs, and high-technology trade, as well as on missile defence. "Cooperation in this context." Mian warns, "is a euphemism for the United States providing India access to aid, information, and technology in these areas."
It is in the U.S interests to "help India" with early warning and missile defence. This is a dominant consideration in order to prevent any hostile power taking control over the region. The official stance after the Joint Agreement is that "[the U.S] goal is to promote India to become a major world power in the 21st. century." This statement includes military implications.
Robert Blackwill (former U.S ambassador to India), however, enquired over the interference caused by the efforts to "help India" and wondered 'Why should the U.S want to check India's capability in ways that could lead to China's permanent nuclear dominance over democratic India?'
Bush and Singh released a joint statement in July 2005. Both world leaders declared their resolve to transform the relationship between their countries and establish a global partnership.
As the U.S leads and India follows, both countries are convinced that this partnership will "promote stability, democracy, prosperity, and peace throughout the world."
Against this triangular balance of power; and in the background of strategic partnerships, what China has got up its sleeves is a riddle still. Only time will tell for how long this marriage of convenience will last!
**Chandi Sinnathurai is a native of Thamil Eelam.