No 'Peace' Rice in Empty Pot
by K.T.Kumaran, TamilWeek
"No matter how much we scrape this pot, an empty pot cannot deliver any "peace" rice from it" - Pathmini Sithamparanathan, MP, TNA Parliamentarian

"The recently concluded Sri Lankan Presidential Election was an empty pot.
There was no cooked rice called "peace" in it. And the results have shown that no peace would have been fetched by using a "vote" spoon in it," said Pathmini Sithamparanathan MP, (Jaffna) TNA Parliamentarian, speaking at the commemorative meeting for the LTTE Great Heroes' Day held on December 3 in New Jersey.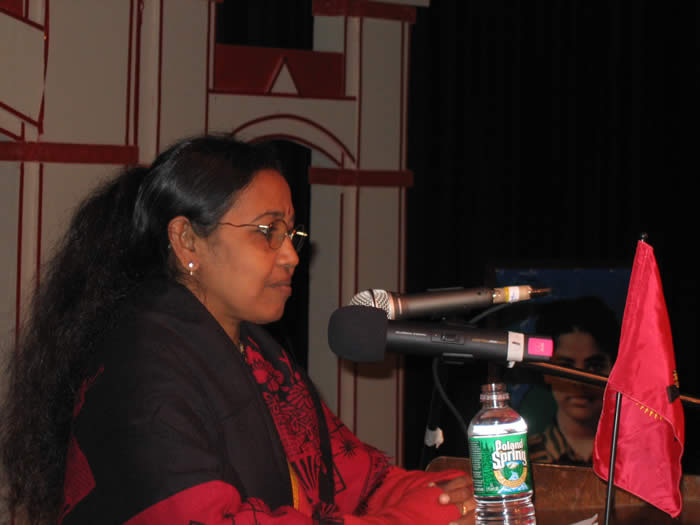 Standing at a lecturn with a backdrop of an arch memorial - tomb to pay tribute to fallen LTTE soldiers and portraits of fallen first male cadre Shankar and first female cadre Malathy, the teacher turned Member of Parliament said, "The great heroes possessed in them the full and complete sacrifice of their lives against immense challenges," and stressed the importance of paying tribute to them.

Characterizing the large parts of the NorthEast under LTTE control a result of their sacrifice, the TNA MP said the LTTE's administrative structure, along with their humanitarian efforts, has created a "model" that even some Sri Lankan MPs speak very highly of. The Tamil speaking people want to extend this to the entire NorthEast region. Through "Pongu Thamizh" (Tamil uprising events), people have been seeking recognition of this " model administration" and the withdrawal of armed forces, declaring their right to self determination, Mrs. Sithamparanathan s said.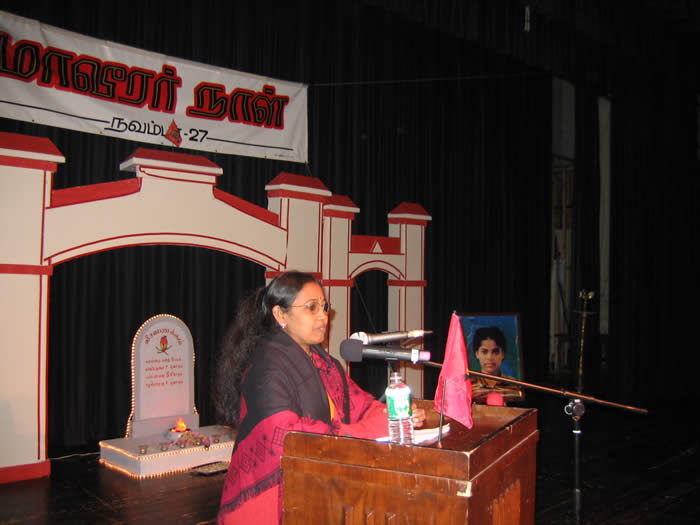 Speaking on the presence of 40,000 Sri Lankan forces in areas under the control
of the GOSL, she said they pose a threat, particularly to women.

The TNA MP spoke of her involvement in a Theatre Action Group ( Aranga Seyatpaattu Kuzhu) hosting artistic plays, events and interactions around many Tamil speaking areas of the island. The theatre group was successful in creating imageries and found women to have more than forty main fears. She said the group found out that the greatest fear in many women was fear of sexual assaults by the Sri Lankan military, which held them back from venturing on their day to day activities. Other fears included, for example, that the women were afraid of sporting twin plaited hair and being dark in complexion; because these may be a cause for suspicion by the security forces, that these women are undergoing training to be LTTE cadres.
"No matter how much we scrape this pot, an empty pot cannot deliver any "peace" rice from it"
Mrs. Pathmini Sithamparanathan said that staying out of the Presidential election was an "intelligent decision." She pointed out that, when the TNA Parliamentarians met diplomatic circles in Colombo, they are assured that "Chandrika is committed" (to peace), but the "results of this election are not for peace." The Tamil people did not show any interest in this election. She said they were not ready to put their faith on this exercise to bring their political rights from a government that found hurdles to implement a simple humanitarian legislation such as the P-TOMS. She added that the LTTE leader relented in his Great Heroes' Day speech this year and was willing to give an opportunity to the newly elected President, calling him "a practical man," even though there is a large gap between his policies and our entreaties.

Mrs. Pathmini Sithamparanthan said many aspects of the "model administration" in an exemplary state today are due to contributions from the diaspora.

She appealed to those present that Action Committees should be formed and work in the diaspora communities to seek greater international recognition for "our quest for self determination."