Archbisop of Westminster to Visit Sri Lanka on Christmas
by AFP, London, November 29
The leader of England and Wales's Catholics said that he plans to visit Sri Lanka for Christmas to mark the first anniversary of the deadly Indian Ocean tsunami which battered the country.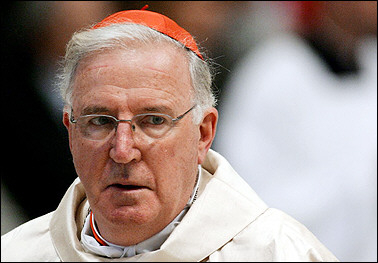 Cardinal Cormac Murphy-O'Connor, the Archbishop of Westminster, was to inspect reconstruction and relief projects in the tsunami-hit country alongside Chris Bain, director of the Catholic Agency for Overseas Development (CAFOD).

More than 31,000 people in Sri Lanka were killed and a million were displaced by the giant waves which struck on December 26, 2004. Most of the survivors were provided with temporary shelter, but the disbursement of aid has been generally slow.

Some 6,500 temporary homes have been built on the island by CAFOD's partner Caritas Sri Lanka. It is hoped that 400 permanent houses, funded by CAFOD, will have been completed in time for the anniversary.

The cardinal plans to arrive in Sri Lanka on Christmas Day, December 25. He was to join Archbishop Oswald Thomas Colman Gomis of Colombo in handing over keys to new houses the following day.

He was then to visit Batticaloa, on the east coast, the focus of CAFOD relief work, and other disaster-hit sites, before returning to Britain on January 6.

Murphy-O'Connor said the tsunami caused suffering across the Indian Ocean rim and "inspired an unprecedented level of compassion and generosity around the world.

"I'm travelling to Sri Lanka to see how reconstruction efforts have progressed, to join with the church and people of Sri Lanka in marking the anniversary, and to hear the stories of those affected."

The UN special envoy for tsunami recovery, former US president Bill Clinton, arrived in Sri Lanka on Monday to inspect reconstruction efforts, UN officials said.