Healing and Awareness through Theatre
by K.T. Kumaran, TamilWeek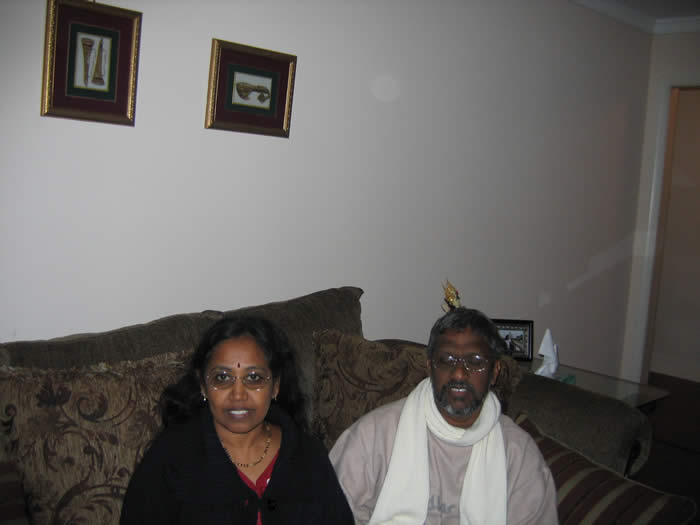 Ms Pathmini Sithamparanathan MP is currently in the US on a speaking tour. Her husband Dr. Kandasamy Sithamparanathan, Head of the Faculty of Fine Arts, University of Jaffna is also visiting the US. Many friends and well-wishers were dropping into see them last week, and TamilWeek spoke to Ms. Sithamparanathan about her activities through the Theatre Action Group and as a Member of Parliament:

"When people are left to adrift amidst several political and natural crises, they continue to live in fear and without any hope for the future. A group setting provides much needed confidence to begin a new life and bring upon awareness. The Theatre Action Group has traveled to many towns and villages in the North-East over the past several years to alleviate these fears, and held several interactive cultural events in those communities," said Ms. Pathmini Sithamparanathan MP, TNA Parliamentarian from Jaffna.

Theatre Action Group

Dr. Sithamparanathan is the founder Director of the Animators Theatre, a group having origins in grassroots level campaigns in the early nineties to assist the Internally Displaced People from High Security Zones in the North. Their initial efforts were guiding these people who were then new to living in welfare camps.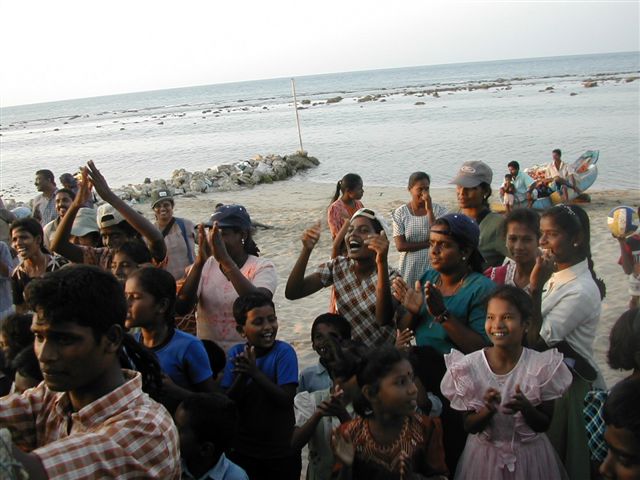 Theatre Action Group in
Munai
Photo by Dushiyanthini
Kanagasabapathipillai
"We visited many camps and performed many cultural activities that made the people at ease to live in such settings and also in the use of sanitary facilities", said Ms. Sithamparanathan.

Ms. Sithamparanathan was a teacher at Chundikuli Girls School prior to becoming a Member of Parliament in 2004. Dr. Sithamparanathan, nurtured the Theatre Group through political plays such as "Mann Sumantha Meniyar," (Soil Hauling Mortals) since the late eighties.

The couple visited many towns and villages in North and East, such as Vavuniya, Muttur, Trincomalee and Batticaloa, working with the children who are traumatized due to war. They did plays in the schools to make them laugh and forget the past. Workshops for adults were held, consisting music, dance and meditation. Workshops were held to mark the Human Rights Day, Torture Victim's Day, etc.

Ms. Sithamparanathan said people in the East were very forthcoming and expressive in bringing out the atrocities and difficulties they have gone through during and after the Sri Lankan military crackdowns.

"There are many widows in the East. The deprived of the already impoverished and underdeveloped areas of the East bored the brunt of the assault during the war years prior to the signing of the 2002 cease fire agreement, and several atrocities are not known to the outside world", she said.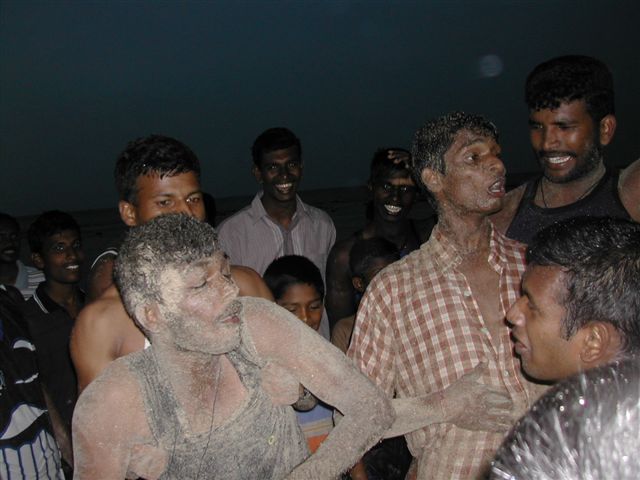 Unlike several NGO programs that function in the North-East that carry their tasks as if the participants gather just for food, the Theatre Action Group structures participants to come out of the work shops having gained greater self esteem and confidence to revamp their future. Many such people have gone onto pursue higher studies etc, said Ms. Sithamparanathan.

Political Awareness

The Theatre Action Group's activities are strengthening political awareness across all segments of the people in the North-East, said Ms. Pathmini Sithamparanathan.

"Payamatra Vazhvu Meendum Veendum" – "Want a return to life without fear", is the theme of such plays and Workshops.

People of all ages and segments have fears, particularly women. Being driven out from their own homes and lands, the fears and a feeling of living in an "open air prison" is starting to bring a political consciousness; the workshops of Theatre Action Group strive to alleviate fears of having such consciousness, Ms. Sithamparanathan said.

"The living conditions of the people undoubtedly make this political awareness process to take place, its an unavoidable phenomenon", Ms. Pathmini Sithamparanathan said.

She recalled the 2001 "Cultural Pageant", held at the Kailasapathy Hall, a forerunner to the current day "Pongu Thamizh" - "Rising Thamizh" events. The theatre goers that day were subject to a surprisingly heavy security cordon by the organizers themselves, depicting the conditions that the people of North-East are living under. Political enlightenment is brought by famous plays such as "Engal nilame emakku vendum'", ("Its our land, that we want back"), which was titled by a mother, during a workshop at Pavatkuzham, in Vavuniya district in 2003.

Today "Pongu Thamizh" events have more than 150,000 participants and they are being held as mega political conventions, she said.

Tsunami Relief

Theatre Action Group has carried out several workshops and events to eradicate the fear of going into the sea.

Maintaining the entire social structure for people to get back to their normal life and helping children and adults to overcome the fear of sea; programs were carried out through audience participatory workshops in tsunami affected areas. Everything is carried out according to local traditions and customs.

Discussions are held with Southern counterparts as well on theatre oriented - direct participation methods.

Ms. Sithamparanthan said the tsunami re-construction is adversely being affected due to curtailment of the enactment of P-Toms and many earlier promised foreign NGOs falling behind on their relief effort citing lack of funds. Some foreign NGOs are severely ignorant about local needs, traditions and customs.

Recipients of double whammy in tsunami relief efforts are once again women.

Many relief programs were carried without consultations and input from women. Roofs were built without proper ventilation for smoke escape. Relief supplies were given to women without a consideration whether they are useful for them to make a living. Nets were handed out to widows, who will not have means to go out to the sea.

As Parliamentarian

Ms. Pathmini Sithamparanathan said as a Member of Parliament she now liaisons with the diplomatic community in Colombo and other Members of the Parliament; her first hand experience in working with people living under trauma and continuous hardship serves well for her to tell their plight to the world.

She also said with the funds allocated to her as Member of Parliament, Handicraft Training Centers are being established in Jaffna peninsula. Women are being trained in making palmyrah, choir, pottery and batik.

Ms. Pathmini Sithamparanthan queried about the Tamil community in New Jersey and appealed to maintain increased cultural and political awareness about the plight of the people in the North-East.