M.I.A.
Guerrilla Goddess
by Mark Binielli, Rolling Stone, December 15, 2005
One unseasonably warm November weekend, just before embarking on a tour with Gwen Stefani, the Sri Lankan rapper M.I.A. went apartment hunting in New York. She'd given up her London flat in March and had been living out of suitcases ever since. M.I.A. ended up taking the first place she looked at, in a semi-gentrified neighborhood in Brooklyn. "I told some of Kanye West's guys, and they were like, 'Yo, man, that's too far in the hood!'" M.I.A. says. "'Don't you wanna be able to get a cup of coffee in the morning?'"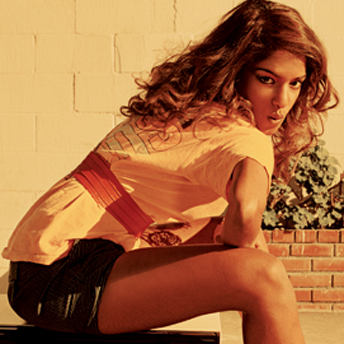 With her debut, Arular, released in March, M.I.A. became one of the most critically hyped musicians of the year. The album blends hip-hop, dancehall, stuttering bass lines, crazy samples -- the horns from the Rocky theme song, a melody from the obscure disco group Dr. Buzzard's Original Savannah Band -- and M.I.A.'s own distinctive vocals, playground chants delivered in a thick English accent, mixed with snatches of Tamil and British and Caribbean slang.
Just as interesting as the music are M.I.A.'s back story -- her family fled Sri Lanka as refugees when she was ten -- and her politics. In interviews she denounces violence, in part because her work is infused with violent revolutionary imagery, much of it inspired by the civil war in her native country. Her CD booklet and Web site are decorated with her own artwork -- graffiti-stencil images of tanks, guns and Molotov cocktails. Oh, and tigers -- the mascot of the Tamil Tigers, a guerrilla movement in Sri Lanka that has been fighting the government for nearly thirty years and that the U.S. labels a terrorist organization. She may be the world's only stylish twenty-eight-year-old who wears Day-Glo camo pants as more than a fashion statement, and she is certainly the hottest thing to happen to revolutionary chic since Patty Hearst slipped on a beret.
Born Maya Arulpragasam, M.I.A. grew up in a village in the northern end of Sri Lanka, part of the Tamil minority, which had been systematically discriminated against by the ruling Sinhalese majority. Her father, Arul Pragasam -- her album title was taken from his nickname, Arular -- was a founder of a revolutionary student group that eventually merged with the Tamil Tigers; in the 1970s, he trained in Lebanon with the PLO. By the Eighties, the conflict had become bloodier on both sides. Anti-Tamil riots killed hundreds, while Tamil Tigers became notorious for their suicide bombings as well as for conscripting child soldiers.
M.I.A. rarely saw her father growing up -- when she was young, he was introduced as her uncle, as a safety precaution -- and he stayed behind when the rest of the family fled to London. She last heard from him about a year ago. "He sent me an e-mail just before the tsunami," she says. "'Hi, this is your dad. Change the name of the album. Bye.'" She shrugs. "I can understand. If my kid named a record after me without asking, I wouldn't be happy either. "
In London, M.I.A. fell in love with hip-hop and reggae, but never considered becoming a musician herself. Instead, she enrolled at Central St. Martins College of Art and Design. She found art classes "just rubbish, so boring and bourgeois. I didn't fancy sitting around laboriously painting a church for two weeks." Instead, a television documentary about homophobia in dancehall-reggae culture inspired her to switch to filmmaking. In 2001, she returned to Sri Lanka with her mother, with the intent of making a documentary that would retrace the steps of her childhood and discover the fate of a cousin who had joined the Tigers and died under mysterious circumstances.
"We were partners in crime when we were kids, soul mates," M.I.A. says. "At ten, I left. He stayed and joined the Tigers. He died the same week I graduated with a fine-arts degree. At that time, for me, everything was London, London, London. You know, Stella McCartney, fashion. Then you get a phone call, that your cousin died for a cause. How do you communicate that to anyone in London, dying for a cause? It was just amazing to me that someone my age, who had the same start I did, who was better in school than I was -- I would always copy off his papers -- he ended up dead. And I didn't."
Shortly after M.I.A. arrived in Sri Lanka, she says a Tamil woman was raped in public by soldiers and police officers, prompting a wave of Tamil protests. M.I.A. wanted to film the action, but her mother considered it too dangerous. "If you get caught in the wrong place with film equipment, you can get arrested or shot," M.I.A. says. "My mom kept me locked up in my room for a week." I assume she is speaking figuratively, but she says, "No, she locked the door. We were staying at my grandma's house. She would give me food; that was it. The only things in the room were a shelf with every Hindu god you could think of -- all 184 of them -- a locked cabinet and a sewing machine. By day three, I started taking down the curtains and making outfits. There was nothing else to do!"
Later, while traveling in the north, the Arulpragasams were two of only four Tamil women on a bus. A group of army men boarded and immediately surrounded M.I.A. "Two were practically in my seat," she recalls. "My mom freaked out. She said, 'Don't look up or make eye contact.' They were rubbing up on me. Every time the bus moved, they'd fall on me and take the opportunity to grope me. They're standing there with machine guns, and tears are running down my eyes. I never, ever felt so powerless. I showed them my British passport, but they didn't care. My mom said, 'Shut up! They'll take you off this bus and rape and kill you, and they'll do the same thing to me.' And for her to have to sit there and watch this. I mean, a Sri Lankan mom doesn't even know you have a boyfriend. When I got back to London, I couldn't stop talking about Sri Lanka. My friends were like, 'Why do you feel the need to go on about this?'"
Back in London, M.I.A. met Damon Albarn (of Blur and Gorillaz) in a club. "We weren't that nice to each other," she recalls. But through Albarn, she met his ex-girlfriend Justine Frischmann, of Elastica. Seeing Peaches open for Elastica inspired M.I.A. to get her own beat machine (Frischmann sprang for it) and begin making demos. Her original intention was to become a producer. "I was scouting Caribbean girls in clubs, trying to get them to do my songs," she recalls. "I was like, 'I can't sing. Just put your personality into it.' But they would say, 'We can't do what you're doing.'"
Soon her demos began getting club play. American DJ Diplo heard her music and used her vocals on a popular mix CD, Piracy Funds Terrorism. After a performance at the Coachella festival this past spring, the buzz about M.I.A. got out of control. "It was mad," she says. "I got three movie offers. MTV called about a TV thing. Every rapper I'd have rolled over and died to meet called. Ricky Martin called! He was one of the first. He thought I was cool before Kanye did!"
She'd like to return to Sri Lanka and finish her documentary. And after the Stefani tour, she'll begin work on her next album, which she plans to produce herself. "For the first album, I had one 4-track, one sequencer and five producers I could afford because they were cheap." She laughs. "With some producers, I would be like, 'I understand you've been in music for ten years. But what I don't know might be what's good about this.