Old Prejudices Keep Tsunami Aid From Tamils
by Dean Nelson, Sunday Times, London, December 18, 2005
THE moustachioed face of Mahinda Rajapakse, Sri Lanka's president, beams down from a hoarding over the neat housing estate built for tsunami victims at his constituency in Hambantota, in the south of the island.
In a jungle clearing on the outskirts of the town where 4,500 people were killed last Boxing Day, smart avenues of two-bedroom brick bungalows are rising from the dust, each with its own veranda and gardens.
P M G Reynauke, 35, moved into her new home last month with her three daughters and elderly mother, and transformed the living room into a shrine to her husband Dayanand, who was swept away by the sea as he shopped in the market.
"It's a really sad village. Everyone has lost someone," Reynauke said. "My next-door neighbours on one side lost three — a baby, a son and and a daughter. On the other side they lost two children. I'm really happy to have a house and I'm grateful to the president, but I still don't have my husband."
Reynauke and her neighbours are at least fortunate to live in an area dear to Rajapakse. According to the first official report on the effort to rebuild Sri Lanka's shattered coastal areas, aid agencies are constructing 4,478 houses in Hambantota, even though only 2,445 are needed.
It is a different picture elsewhere on the island. In the Tamil-dominated area of Ampara, the worst affected district on the east coast where more than 10,000 people died, a mere 3,136 houses are being built for the 18,800 families whose homes were destroyed.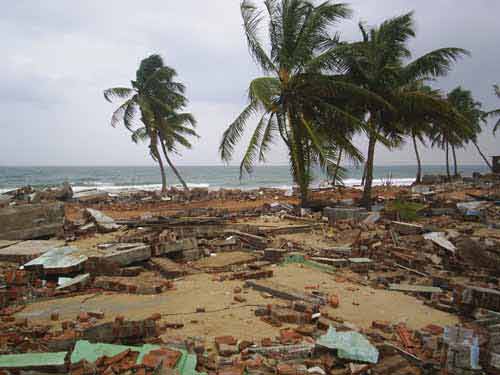 Tsunami damage in Kalmunai, courtesy

Padayatra.org

News of Hambantota's aid bounty was received with anger in Ampara last week. At a temporary camp for Tamil victims in the village of Kalmunai, Jehan, 26, a pharmaceuticals salesman, blamed anti-Tamil feeling for the discrepancy.

"We have one well for 240 families," he said. "It is dirty. We have sanitation problems, malaria and diarrhoea in the summer. Why have they been able to build houses in Hambantota but not here? I think it must be because we are Tamils."

The roofs of the camp's squalid huts do not meet the walls, leaving their inhabitants exposed to the elements. They have no washing facilities.

Mohan, a labourer, and his wife Pushparani lost their two daughters in the tsunami and are now living with their surviving son in a two-room hut. There are charred sticks on the floor where they have been cooking on an open fire.

"We need a new house immediately. I need a job but I have lost my daughters and now we have nothing," Mohan said. "We even lost our photographs of them. They were eight and 18 months."

The 240 families living in the camp lost 102 people in the disaster. According to Jehan, all want to return to their beach village and rebuild their homes.

Today all that remains of Kalmunai's beach settlement are the concrete foundations on which their homes once rested and the remnants of children's clothes. More than 40 children were drowned when the waves crashed through the village's seaside nursery.

The camp's residents have received promises that new houses will be ready soon, but construction has yet to begin. They were initially prevented from rebuilding homes by a law banning construction within 200 yards of the sea. After opposition leaders threatened a national campaign against the ban, the exclusion zone has been cut to 65 yards.

The contrast could not be greater with Hambantota where Rajapakse, who was prime minister before becoming president in November, launched a campaign after the tsunami to attract aid donors to his constituency. His opponents accused him of using the tragedy to make political capital as he prepared his presidential bid. A police investigation was also launched following a complaint over £500,000 in tsunami aid held by Rajapakse in an account for the Helping Hambantota campaign. The inquiry was put on hold by the Supreme Court after Rajapakse's lawyers said the allegations were politically motivated.

M A Piyasena, Hambantota's district secretary, defended Rajapakse, saying he had merely used his influence as prime minister to help local officials to cut through red tape and speed up the work. "If the PM had not been interested in this, I could not have done it."

The authors of the official report, to be published this week, said responsibility for the aid anomalies rested with both officials and non-governmental organisations, which had failed to co-ordinate their work.

James Terjanian, of the Food and Agriculture Organisation, said many aid groups had arrived in a hurry to spend their funds to show donors at home that they had made an immediate impact.

"Maybe some people got aid twice — there was poor co-ordination," he added. "People want to get going, they don't want to sit in meetings. We're learning from the mistakes."

Terjanian also confirmed claims in the report that donors provided almost 100 more small fibreglass fishing boats than had been destroyed. By contrast, not one of the 187 large fishing vessels lost to the tsunami had been replaced.

"If you give small boats, you can give to more people and you can say you helped the poorest of the poor," he said. "But if you give one large boat to one guy, you're giving to the capitalist guy."

The contrary fates of the Hambantota and Kalmunai communities will be reflected in commemorative ceremonies on Boxing Day. In Hambantota the president will hand over the keys of new bungalows to victims in the village of Siribopuri.

The Tamils of Kalmunai will gather amid the ruins of their former homes. "It will be a memorial service," said Jehan. "But although everyone was scared after the tsunami, we want to be here. Everyone wants to come home."

http://www.timesonline.co.uk/article/0,,2089-1937712,00.html