Relief & Rehabilitation First Anniversary Report of St. John's Church, Batticaloa
Dear Friends,
Greetings from St. John's Mission
Most of you are aware that the Tsunami Tidal waves hit the coastal areas of Sri Lanka as well as some of the other Asian countries on 26th December 2004. The aftermath of the Tsunami waves is death and destruction of alarming proportions. This is the first time all of us experienced such a terrible destruction and sufferings. This is now history. But the trauma and the consequences linger on and are very vivid in the minds of the people who went through this sordid experience. It is a fact that those who survived this tragedy do not seem to like, even to look at the sea. Perhaps it will take a longer time for the people to totally come out of their traumatic conditions.
Even though one year had lapsed, yet the basic needs of the victims have not been met. The victims are more and more dependant on the NGOs and Churches than Government This is very clearly evident in the Northeastern areas of Sri Lanka. The Non-Governmental Organizations, having seen the plight of these hapless victims are doing their very best to offer them relief in many ways. This offer of help is certainly a great blessing from God to this poor people.
We thank God and all Charity & Care Institutions, corporate bodies and individuals who generously contributed and continue to do so with their time and money to offer redress to this people.
Basic Needs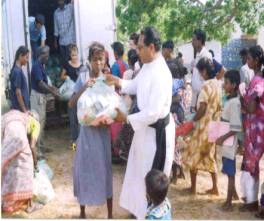 Basic needs such as food, water, sanitation, clothing, health education, childcare and connected services are being provided in an adequate manner at the present. The need for supplying food items are very much reduced as the people have begun to generate income through various cash for work programme offered by us others and on their own too.
Rev.Dr. S. Jeyanesan distributing food items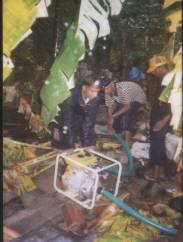 Cleaning wells for drinking water
We still have problems with drinking water. Only 20% of the wells we dug produced good drinking water. The rest were saline of different levels, but suitable for washing and irrigation. We now supply tankered drinking water and some wells with good water are also being used. Sanitation had been taken care of through health education and the provision of proper toilets, drainage etc;
Health needs are very well taken care of. As reported earlier, with the assistance of volunteers from many parts of the Globe, we were able to conduct regular medical clinics.
At the present regular clinics is permanent feature and the villagers under our purview are being serviced twice a month. We have established a well equipped medical facility at Grace Care Centre Trincomalee.. This facility will take care of the medical needs of the Children and elders under our care as well as offer medical services to the villagers around Grace Care Centre. Additionally we have also established a medium size medical centre at Periyaneelavanai in our Church premises to look after the medical needs of the inmates as well as the villagers. Further in the last three months we have conducted a few on the spot medical clinics at Vaharai, Ralodai villages with the help of Northwest Medical Aid Team. Hopefully from January 2006 onwards we are likely to join them as partners to offer medical services in a more regular and meaningful manner to a few villages in Batticaloa and Ampara District.
Child Care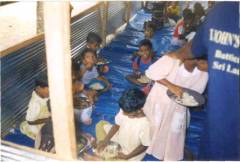 As you all are probably aware, Childcare is a very important ministry for us and therefore this receives our utmost attention at all times.
Feeding time at DCC
We have 514 boys and girls in our 6 Orphanages in the eastern coast from Periyaneelavanai in the Ampara district through Batticaloa District to Uppuveli in the Trincomalee District. Additionally we are running 4-Day Care Centres looking after 318.children.
Our 5 Nutritional Feeding Centre looks after the needs of 273 Children. Most of these centres are situated in Tsunami hit areas. At the present, we are constructing 3 Day Care Centres one at Ralodai, one at Batticaloa and another at Periyamneelavanai. The steele Day Care Centre that was partly destroyed by the Tsunami was renovated and running to capacity.
Training Programmes
With regard to the training activities, we have 368 Students in the various faculties of the Vocational Training Centres in Batticaloa and Trincomalee. Currently we are conducting 3 Village based Mobile Vocational Training Centres in 3 different villages in Tsunami affected areas with the view to give the Tsunami victims on the spot basic training in Carpentry, Masonry, Electric welding, Agriculture and Sewing so as to improve their skills and provide them the necessary training to fit into some livelihood activity. For instance those who learn Carpentry and Masonry find employment in the village itself where Permanent houses are built for them. The programmes in respect of Agriculture, Sewing and Welding are designed to encourage self-employment for the trainees. This effort has taken care of the shortage of skill workers in the villages. Additionally some who received training form us have found employment in neighboring rebuilding villages.
Shelter
Permanent shelter to the Tsunami victims is a burning issue at the moment. To the best of our knowledge and belief the Government did not do anything appreciable in this regard in our areas. Some Non Governmental Organizations have just commenced construction of permanent houses. We at St John's are glad to report that we have handed over 172 Permanent houses to the Tsunami victims. 80 in Periyaneelavanai in Ampara District, 52 in Ralodai in the Batticaloa District 30 at Sampur in the Trincomalee District and another 10 at Kattankudy, a predominantly Muslim village in the Batticaloa District.
It must be mentioned here that we are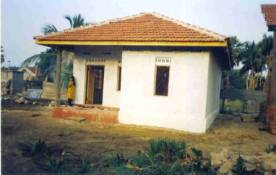 the first Organization to hand over Permanent houses in Ampara, Batticaloa and Trincomalee Districts.
One of our rebuilt houses 11.30.05
This was possible because of the very quick and prompt responses we have had from our major partners in Tsunami Relief and Rehabilitation Programme, namely; Woord en Daad – Netherlands, Kinder Not Hilfe – Germany, Ceylon Christian Care Foundation – Netherlands. Uniting Church Overseas Aid – Australia, VeAhavta – USA and Other Churches and individuals.
We are hoping to build a total of around 1100 houses at different locations. At the moment we are handling a total of 510 houses and the construction is in progress.
Livelihood
A solid means of livelihood is an essential requirement for a person to stand on his own feet and to care for his dependants. The Tsunami deprived the victims of their means of livelihood and these people are forced to look for alternate ways of generating income. These people who were gainfully occupied in the pre-Tsunami period had to be found alternate employment or some kind of self-employment. We have designed and devised certain on the spot training programmes for the victims to improve their skills and to receive training certain areas that would help them to find employment or be self-employed,. We have succeeded in finding employment for quite a number of them at the building construction sites., We have also provided SLR 80 000 of worth sea going canoes, nets and fishing gears each to about 86 fisherman thus providing employment for another 100 fishermen who will be involved in assisting and mending nets etc. As for the womenfolk we are training them on the spot in agriculture and sewing so that they can earn money by cultivating vegetables and sewing garments So far we have had good response and the villagers are fully occupied as they earn a living and they are happy too. However the other programmes we had in mind such as handlooms, weaving of mats, pottery did not receive much interest among villagers.
We are also glad to report that by way of helping skilled men to carry on their different trades we supplied Masonry, Carpentry and Agriculture tools and implements to 672 persons.
We have given over 1500 bicycles to fish, vegetable and other small - time vendors who go from village to village selling sundry items. Bicycles were also given to needy students.
325 sewing machines for distributed to village women who lost their machines in the Tsunami.
We are now looking at the prospect of finding more ways and means to improve on the livelihood matter. We welcome suggestions and support.
Grace Care Center
We are pleased to report the entire Grace Care Centre facility had been repaired and renovated.
The Mercy Home to house 100 destitute elders had been constructed and declared open. We are in the process of filling wit needy inmates.
Herman's Girls Home & Boys Home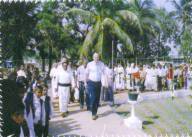 We are glad to report that completely destroyed Herman's Girls Home had been built in a new location and is fully functional. We have also taken some of the Tsunami orphans in to this new home. Partly damaged Boys Home Samuel is also repaired. Additionally living quarters for the Pastor, general Office and a unit to house the Medical facility too also built.
Future Projects & Development Programmes
We have carried out a survey of post Tsunami situation and performed a needs assessment and through this process, have identified number of areas that required our attention and service. We have some programmes in the pipeline and we are now engaged in negotiation and seeking out partners who would extend support towards implementing these programmes.
6-Day Care Centres in Ampara, Batticaloa and Trincomalee District.
6 Nutritional Feeding Centres in Ampara, Batticaloa Trincomalee District.
2 Widows Empowerment Programmes.
Construction of 2 Primary schools one at Ralodai the other at Periyaneelavanai. Both being severely affected by the Tsunami.
2 numbers English Medium International schools.
Teaming up with Northwest Medical Aid to offer medical services to the needy.
Construction of additional 500 Permanent Houses for Tsunami victims, ethnic war victims and poor villagers.
Providing means of livelihood for about 600 Tsunami affected families.
Providing basic furniture and household goods for about 1000 Tsunami affected families.
Setting up a toy library
Village Based Vocational Training centres in 6 locations.
A permanent unit for Trauma Therapy and Counseling.
Conclusion
We at St John's take pride in humbly reporting that we have out-performed most other Organizations engaged in Tsunami Relief, Reconstruction Rehabilitation programme. Almost all the major partners visited us and the sites of our operations and were fully satisfied with our performance. In fact some of the major NGO's expressed the view that they have to learn a lot from us, perhaps because of our efficient planning and handling. This was very encouraging and a pleasant surprise too. At this juncture I would like to thank all the officials in the team, who worked tirelessly and with dedication to accomplish this mission.
All these would not have been possible if not for the timely response and the support extended by the international communities to which you all belong. We thank every one of you be it Institutions or Individuals for your most generous contributions to help the victims in many ways.
Visits by representatives of institutions as well as individuals with various missions of support were very encouraging and we look forward to future visits too. You are all welcome to visit us, to be with us and see for yourselves the relief work that is being done by us. We certainly value your advice and guidance as before.
"Wishing you the very best
This Holiday Season
And continued happiness
In the coming year – 2006"
Yours in His Service,
Rev.Dr.S.Jeyanesan
St. John's Church
Uranee, Batticaloa
Sri Lanka