Music is the Food of Love
by K.Mylvaganam
Shakespere in one of his great plays - Twelveth Night - said "If music is the food of love, play on." I have been longing for many years to be in Chennai during the month of Markali (December) to enjoy the luxury of the famous Thiyarajar Utsavam.
Frankly my knowledge of Tamil Classical music was virtually nil during my young days. I was then, like the boys of my age, attracted by the cinema songs. But my brother was fully immersed in classical music. Listening to cinema songs was taboo at home. Whenever my brother was around, he would tune into either the Madras Vanoli Nilayam or its counterpart in Trichchi. Once he left home, the radio would be tuned into the "Commercial Service" of Radio Ceylon.
After listening to classical music for some time, I, too, started appreciating that fine art gradually and finally turned crazy over it. My favourite artists then were G.N.Balasubramanium, Thandapani Thesikar, M.L.Vasanthakumari, M.S.Subluxmy, T.K.Pattammal, Sembankudy Vaithiyanathar and Mathurai Mani Iyar, to mention a few.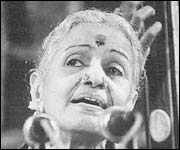 When it comes to instruments, I fell for K.Balachandran (Veena), Karaikudy Vaithiyanathar (Violin), T.R.Mahalingam (Flute). One of the songs among many that still rings in my ears is a Telugu song "Ninnuvina" in the Ragam "Navarasa Kannadam." One can listen to it forever. That is the beauty in the classical music. Those songs never die, unlike the pop songs.
I do listen to English pop songs, even from my young days. The king Elvis was my hero. Brotherhood of Man, Queen, Bonny M and a few others did attract me. But their songs are short lived. One gets fed up of listening to most of them after a short while. But the Tamil Carnatic music goes on indefinitely.
My lifetime ambition came true two weeks back when I got the chance to come over to the City of Fine Arts - Chennai - to experience the annual musical festival. There are humpty number of musical acadamies here who conduct musical programmes starting from the middle of December to the end of the first week of January. Every day the first thing in the morning is to buy the local paper to find out the details of the recitals for the day. At times there will be even two programmes in the same hall for the day.
I had the luxury of listening to some of the famous singers of today in India. They are Bombay Jayashree, Aruna Sai Ram, O.S.Arunan and a few others.
Thirumathi Aruna Sai Ram impressed me a lot. She commenced the concert with notes in Giriraja Sudha of the famous Thiyagarajah in Balagala ragam. Another song that captivated me was again a keerthana by Thiagarajah Swamikal, Raka Sasivadana. But I could not frankly decipher what its raga was. Luckily for me the person who sat by my side seemed to be better informed than me. He said that it was raga Takka. I admit that I had never heard of that raga before in my life. I noticed that several new songs and ragas have popped up during the past thirty years of my absence from my motherland.
I had the opportunity to listen to the Chandrasekara sisters with their flute. They started with the traditional Hamsathuvani raga. Instead of the usual Vathabi Ganapathim, they selelcted Vaaranamuga. Pleasing tonal quality, perfection of notes and effortlessly fluid technique marked the flute concert of the vibrant sisters. The most popular song that received the maximum applause of the audience was the well known song by Venkattasubier "Alai Paayuthei Kanna in raga Kannada. The highlight of the kachcheri was the song Mahaluxmy in raga Sankaraparanam. The Ragamaliga was Kurai Onrum Illai. It was a cocktail of well selected ragas.
I would strongly recomend anyone interested in our classical music to take a trip next year and share the celestial outpour of great and tantalising music.
I stayed in a place called Palavakkam, which is centrally situated. A double room cost us Rs.500.00 plus meals, if wanted. It is a detached house, very clean and quiet. It is much better than staying in a hotel. If anyone is interested I can give them the contact details.
My email kandiah_mylvaganam@yahoo.com