Pongal Greetings to All!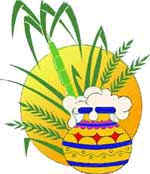 Thai Pongal is celebrated on January 14th every year. The month of Thai (January) is the harvest season in the Thamil homeland spanning from Thamil Nadu to Thamil Eelam. Pongal refers to rice cooked in milk and sweetened with brown sugar (chakkarai, from which the English word jaggery is derived). On a full scale it is a three-day festival of nature-worship. It includes feeding the birds that are part of the beauty of nature, and offering thanks to the cattle, Mattu Pongal, which gives milk and plough the fields. Jallikkattu is a peaceful sport involving bulls celebrated by young men as a part of 3-day Thai Pongal.
Pongal Recipe:
1. Pongal Paanai (clay-pot) is decorated around its neck with mango leaves.
2. Boil water & milk (without the rice) in the paanai.
3. When the milk spills over say "Pongal, Oh Pongal" and add rice to the paanai.
4. Once the rice is cooked, add chakkarai, katkandu (sugar), honey, raisins & cashews.
5. Few pods of Cardamom enhance the flavor of pongal.
6. Once the mixture is ready for serving set up the Padayal on three banana leaf plates.